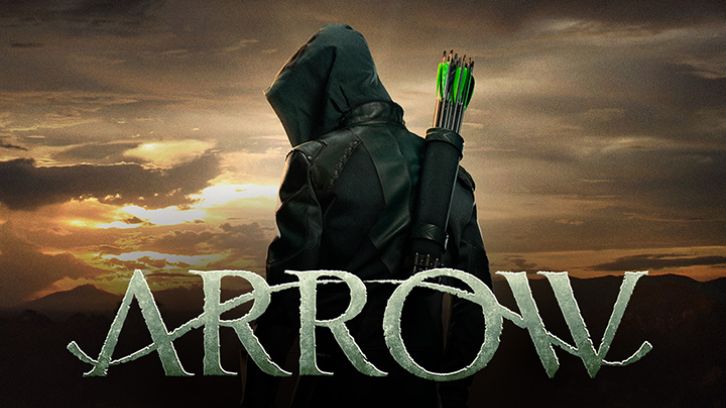 Arrow
continued this week with the pilot for the spinoff "Green Arrow & the Canaries" written by Beth Schwartz, Marc Guggenheim, Jill Blankenship and Oscar Balderrama and directed by Tara Miele. Frankly, any show that needs four writers is bound to be a bit choppy and uneven. Guggenheim took to Twitter to ask everyone to actually refer to the episode as "Livin in the Future" which appears to be where the new series will be set. It is certainly a complete reimagining of the universe that incorporates the female "empowerment" that the CW seems committed to endowing on all its DC shows.
The three female leads are front and center for the episode. Laurel (Katie Cassidy) shows up in 2040 to reactivate Mia (Katherine McNamara) as Star City is about to be rudely broken out of 20 years of safety and crimelessness. Laurel first goes to Dinah (Dianna Harkavy) who mysteriously found herself in 2040 after Oliver's (Stephen Amell) death. She has opened a bar where she sings and has embraced landing there with no identity.
Mia is in a relationship with JJ (Charlie Barnett) and the two become engaged. She's also just graduated from college. She is very unhappy when Laurel gives her back her memories of her other life – where JJ was evil. Zoe (Andrea Sixtos) is alive in this reality and Connor (Joseph David-Jones) is the bad brother. But he isn't as bad as Mia and JJ's friend Trevor (Chad Duell) who kidnaps the daughter of Helen Bertinelli – Bianca (Raigan Harris) who also happens to be his girlfriend.
There are some good fights – and some dreadful fashion and make up choices as the episode unfolds. In the end, of course, Mia decides to live a double life – she'll marry JJ and keep him in the dark while she takes up the mantle of the Green Arrow. Dinah also decides to get back in the hero game and Laurel will be sticking around too. Dinah is ready to start training new Canaries. Just me or is it a little weird for Laurel and Dinah to be total besties?
Trevor introduces a new big bad – who also happens to be a woman – and he has a tattoo of the Hosen. So clearly a link to the League of Assassins? Purgatory? I was mostly disappointed that William (Ben Lewis) had very little to do in the episode as he has really been the break out star of this storyline for me. But then, the men are out… We get a final scene with him and Mia at a monument to Oliver. He tells her the papers think he is the new Green Arrow and pulls out the Hosen, which sparks Mia being able to identify the tattoo on Trevor – just before they are both darted and William is dragged off. Meanwhile, JJ is also attacked and someone gives him back his memories – but of course, his memories show him he was evil. Will he join the Deathstrokes now and keep Mia in the dark?
As much as I've always loved Katie Cassidy and I've enjoyed Ben Lewis, I can't say that this pilot really did much for me. It was the chemistry between the three original team Arrow members that hooked me in the beginning – David Ramsey, Emily Bett Rickards, and Stephen Amell. It's that trio that I miss and this just didn't fill the void for me. I have to wonder if Grant Gustin would need to worry more if his show wasn't the top rated CW show? But then, there is also a female Flash now too, isn't there? Will you be tuning in to this new version of Arrow if it gets a series order? Let me know your thoughts in the comments below.