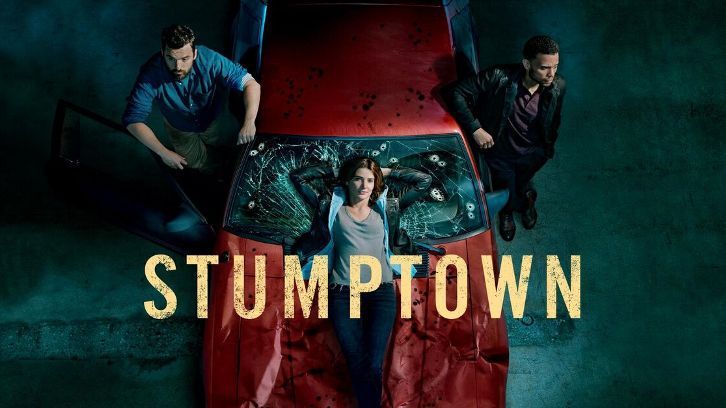 Stumptown goes into its mid-season break with an up and down episode in Ep. 108 – Dex Education. This one was more about the people than the case. Things may not be as they appear to be and characters were acting, well, out of character. The episode did have one big surprise and left my SpoilerTV colleague, Ellys Cartin and I with more questions than answers. Read what we thought in our latest Stumptown Review Roundtable below. Share your thoughts in the comments after the article and don't forget if you have any questions, you'd like to submit for our first roundtable of the New Year when the show returns in January, post them there as well.


We've been speculating from her first appearance that there was more to Liz (Monica Barbaro) and her intentions. What was your reaction to how her story was seemingly concluded?
DC:
First, I don't believe for a second we've seen the last of Liz. Now, whether they take her the Glenn Close, Fatal Attraction route, or in some other direction, I think she'll be back to stir things up even more than she already has. I've not trusted her since she so conveniently sashayed into the bar and inserted herself into Grey (Jake Johnson), Dex (Cobie Smulders), and Ansel (Cole Sibus)'s lives. It's just been all too easy for me. Chalk it up to the suspicious mindset I'm usually in when I watch detective shows, I don't generally trust everybody.
EC:
What was that? I am left befuddled. With all the time the show spent on Liz, what was this exit? Liz got so jealous, desperate, and worried that she decided on the spur-of-the-moment to make Dex look bad, in hopes that Grey would cut all ties with Dex in favor of Liz? I am not sure that any of the Liz stuff really makes sense. I get that they are saying that Dex has made big mistakes in the past which led her to doubt herself in this scenario, but Liz's behavior feels both extreme and underwhelming.
Liz's deceit left us with the possibility of another love triangle. Do you think Stumptown will benefit from this new situation or is it best left alone?
DC:
This is likely to evolve into a love quadrangle, roping in Dex, Hoffman (Michael Ealy), Grey with Liz being a likely puppet master or pot-stirrer. I don't mind it in the show as long as it doesn't detract from the show's original premise and we get more compelling cases. Love triangles certainly mess with people's judgment and could make things interesting going forward as these characters haven't always shown good judgment making abilities from the start.
EC:
In last week's roundtable, I talked about how
Stumptown
has the feel of a small-town drama. A love triangle is a staple of shows like that. I am not excited about it, but I think we could get to dig deeper into every character involved because the show is going that route.
Sue Lynn (Tantoo Cardinal) advised Dex to start putting her life in order. Was this something Dex needed to hear? Or was she already making progress in that direction?
DC:
See, for me, aside from being bothered by the fog of what happened with Liz at the casino, Dex seemed to be the only one who had things together in this episode. So, for so many characters to point out that she was falling apart and come down on her like they did came a little out of the blue and out of character for them. Did Dex need to hear she had more work to do? Probably, but I think she would have been better served by people noticing how hard she was trying and given encouragement to keep at it, rather than berate her for a slip, a drunken encounter/non-encounter that we learn was orchestrated by Liz. I just found it odd that suddenly Sue Lynn is concerned about Dex's well-being and that she should forgive herself. Where did this come from? That said, scenes between Smulders and Cardinal are one of my very favorite parts of this show. You never know what to expect and these two deliver every time. Half the fun of watching this season is trying to figure just what the relationship between Dex and Sue Lynn is.
EC:
This was an element of the episode that didn't quite work for me, this idea that Dex was backsliding. She partied a little too hard with Liz, but the last few episodes had shown her to be in a good place. It's true Dex has been the definition of organized chaos, but, to me at least, she hadn't been living on the edge quite enough for the reactions she was getting. Other than us hearing in the pilot that Dex gambled away too much money, we haven't seen her be so reckless as to justify how she and others react to the Liz situation.
Did Grey go overboard with his reaction? Did it make sense he was that quick to blame Dex?
DC:
I'm not cutting Grey any slack. Since Liz's arrival (and boy does it sound like I'm beating up on this character as a full-blown villain in this roundtable) he's not been thinking straight. His willingness to lash out at Dex and ban her from the bar, while at the same time forgiving Liz for not remembering what happened that night either is something I found highly hypocritical and out of character. And by throwing Dex out of the bar did that mean he was throwing Ansel out too?
EC:
We can give Grey some benefit of the doubt in that we don't know all the shenanigans that Dex has gotten up to over the years. Considering all that we've seen from them, it was a bit disloyal and rude and maybe even out of character for him to just walk all over her without even listening to her side of the story.
Ansel told Dex he wants to move out on his own? Did this twist come from left field? What are your predictions for how this affects the second half of the season?
DC:
I didn't see this one coming at all. I expected some sort of bombshell at the end of this episode to take us into the mid-season break, but I thought it would be Dex's revelation of whatever happened with Benny, or the arrival of their parents trying to take Ansel away. But Ansel wanting to move out was a shocker, although in retrospect they have been laying a few tiny clues. My mind goes back to him asking Grey about how much bartenders made after finding out how much Grey was paying Liz (there she is again). The evil part of me wants to lay part of the blame for this on Liz planting the idea in his head, however, I think the more likely reason is that as he stated in a previous episode, Ansel is 21 and feels the need to be on his own, maybe he also feels that by taking care of him he's hurting Dex, holding her back from things and he wants to help her. Either way whatever happens here is going to be a big part of the second half of the season. Dex is a people pleaser and she will do whatever she has to in order to help the people she loves. Ansel is the center of Dex's world, and she will do anything to make him happy, including letting him move out at the expense of her own well-being. I'm intrigued as well by Dex's secret about Benny, will its revelation destroy this tenuous peace between Dex and Sue Lyn, or will repercussions about it; Ansel moving out and being ostracized by Grey send Dex into the spiral everyone already believes she is in. The complexity of these characters and their interactions are what make this show must-see television for me each week.
EC:
I was surprised by this development. Although they dropped hints in this episode about Ansel wanting to be more independent, it hadn't come up in previous episodes as far as I noticed. I can only imagine that concern for his well-being will rise above all Dex's distractions. Keeping him sheltered seems to have been her anchor for some time, and she may struggle in major ways with empty nest syndrome. Of course, she may also resist the very idea of him moving out, as he may not be able to afford it, and she might try to establish a compromise where he has more freedom at home.
Sue Lynn and Dex seem to have mended fences. What are your predictions for Sue Lynn and Dex's relationship in the second half of the season?
DC:
I love it when these two work together. Scenes between them crackle with energy. I want to know where Sue Lynn's comments in the mid-season finale came from. Does she know something Dex doesn't know? Her comment about Dex forgiving herself seemed to come out of the blue as well and I wonder how far she will go to help Dex find peace.
EC:
They are going to keep teaming up. I hope that is the case anyway. In this episode, Sue Lynn's statement about Dex forgiving herself made me wonder if Sue Lynn suspects the truth about whatever secret Dex has been holding onto for over ten years.
Cobie Smulders keeps this show's heart beating. What was your favorite part of her performance in the midseason finale?
DC:
If ever there was a case of perfect casting, Smulders as Dex is it. I was excited to watch Stumptown when I heard about the casting and she has not disappointed in the least. After years of watching her play in comedies or action-adventure, as Dex, she gives us the best of both displaying her tremendous talents as an actress. In this episode, there were several scenes where she shined. I loved her reactions to her entitled students as their substitute teacher. Her pulling out being ex-military and it not phasing them was golden. And, as I've made no secret about, I would watch an entire episode of her and Cardinal playing off each other in scenes. This one, despite it being a little confusing about Sue Lynn's motivations, was one of the best. The subtle looks and little nuances between them were stellar. Perhaps though, Smulders' greatest moments in this episode come at the end with a wordless scene of Dex, literally and figuratively making her bed. The emotions playing over her face as she was grasping perhaps for the discipline she found in the military, trying to make military corners with the sheets, were masterful. Dex questioning her life and seeing her trying to take hold by making the bed was an incredible moment.
EC:
The case of the week got lost in the Liz drama, but I loved Dex's undercover operation at the school and her interactions with her high school nemesis "Perfect Penny" (an actually perfect Lindy Booth performance). Is there anyone that Smulders doesn't have great chemistry with?! The concluding scene with Dex making her bed was brilliantly acted out, with many fantastic nuances in the stages of frustration and pride she went through getting the layers tidy. This episode may have somewhat disappointed me, but Smulders never does. My enthusiasm for the show is dented but not dampened.
What were your thoughts on
Dex Education
, the mid-season finale of
Stumptown
? Share them in the comments below and don't forget to add your questions for the next
Stumptown
SpoilerTV Review Roundtable in January.