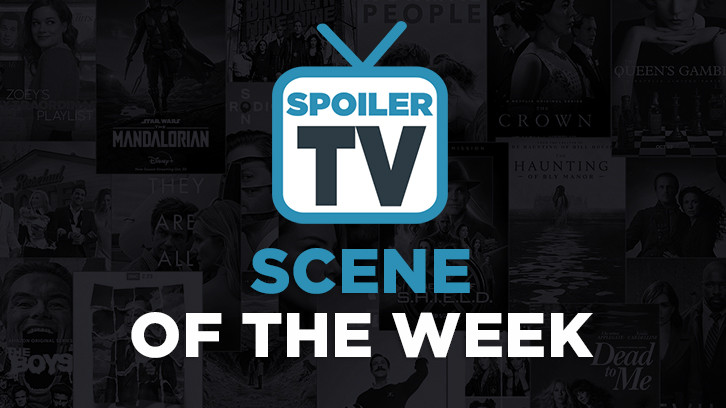 A weekly feature in which we're trying to find the most compelling, best acted, written, directed and just generally great, memorable scenes that we've seen in past seven days on TV.
MR. ROBOT, "whoami" & "Hello, Elliot", December 22, 2019, Actors: Rami Malek, Carly Chaikin, The Scenes: Mastermind hacks Elliot's computer & Elliot finds Darlene watching over him in the hospital
Jimmy:
Mastermind hacks Elliot's computer. One of Mr. Robot's trademarks was its realistic and accurate hacking scenes. Showrunner Sam Esmail obviously couldn't resist the temptation to include one in the fantastic series finale. The cinematography in this scene shouldn't have worked on paper, but it turned out beautifully. I've never seen anything like the robotic camera whip pans between the screen, keyboard and Elliot before.
Elliot (as Mastermind) awakes to find Darlene watching over him in the hospital. The 2 part finale was absolutely fantastic, but it's hard to surpass the sibling love that shone through in this series' final minutes. With Elliot's multiple personalities being revealed and explained at long last, Darlene's importance to Elliot's connection with reality was a great credit to her, and it was so fitting that Mr. Robot bowed out on this note. I'll really miss this series.
SOUNDTRACK, "Track 9: Margot and Annette", December 18, 2019, Actors: Marianne Jean-Baptiste, Madeleine Stowe and more, The Scene: "I Will Always Love You" performance
Marko:
Great emotional performance. With the combination of Whitney's and Dolly's performance.
THE MANDALORIAN, "Chapter 8: Redemption", December 27, 2019, Actors: Pedro Pascal, Taika Waititi, Giancarlo Esposito and more, The Scenes: IG-11 breaks the standoff & Moff Gideon emerges from his ship with the Darksaber
Justyna:
Once again, there are so many fantastic scenes on this show that I could include in the article but in the end I couldn't help but choose IG-11 arriving with the Child during the standoff and giving the Mandalorian and his friends a chance to fight back. First of all, it was probably not the most logical way to keep the Child safe in this exact moment but it was certainly the right one for his future. The Child is under the Mandalorian's protection so reuniting the two in the middle of the fight was unexpected but most welcome sight. IG-11's entrance and basically every action taken by the droid during the hour was wonderfully done. It was impossible not to root for this nurse and protector, and I wouldn't be surprised to see him named as a new fan favorite. Taika Waititi gave IG-11 a great voice and the team responsible for all the droid's movements and effects is excellent. IG-11 made such a big difference in this fight, he took down a number of stormtroopers, allowed the Mandalorian to take over E-Web heavy repeating blaster and is certainly the main reason why the whole group ultimately survived Moff Gideon's attack. The IG's actions made an impact on Din Djarin, already known for his mistrust of droids. It definitely made me think of Kuiil's words: "Droids are not good or bad. They are neutral reflections of those who imprint them." Even though he lost his life Kuiil's presence could still be felt through IG-11's actions towards the Child. IG has truly completed his mission in the end. It's been such a great journey, following the Mandalorian in this first season. Can't wait for second one already. Kudos to Jon Favreau, Dave Filoni, Pedro Pascal and the entire cast & crew for all their work on the series.
Sandi:
IG-11 saves the day. I fell for IG back in its first episode when it was still a bounty hunter instead of a nurse robot. Each of its swiveling and turning parts gives it such a uniquely fascinating range of motion when it is fighting, either hand-to-hand as with the two troopers at the start of the episode, or during this scene I have chosen when it is armed and shooting enemies in any and every direction. I love that the scene meant that IG-11's nursing instinct was to bring the baby back to the Mandalorian rather than take it back to the ship away from danger. Even though it had to dive headlong into all those stormtroopers to do so, IG knew that the baby was safer with Mando than without him. Hopefully, this has also gone part way towards Mando feeling a little less antagonistic towards all droids from now on too.
Laura B:
Moff Gideon emerges from his crashed tie-fighter with Darksaber! This episode was really amazing all around and I could have easily voted for just about every scene, but I chose this scene for both its ongoing mythological potential that could perhaps tie into the backstory of the resurrection of Darth Sidious, but also symbolically, as the Armorer's words to Djarin about eventually finding The Child's creed puts him on a possible trajectory to not only maybe find Ezra Briger or Luke Skywalker, but may also parallel the missing pieces of the Darksaber's origin story, seemingly about a Mandalorian (and his one of a kind lightsaber) being caught between his two creeds: The Jedi & The Mandalorians! In addition the scene was also just so bad*ss with the silly Jawas scrapping for parts, only for the newly introduced super intellectual villain of the piece to emerge with this cool McGuffin and being presented in live-action for the first time! Genius.
THE WITCHER, "Much More", December 20, 2019, Actors: Anya Chalotra, MyAnna Buring and more, The Scene: Yennefer lets her chaos explode
Justyna:
I really enjoyed the whole first season of the series. Finished watching it much faster than I expected. As a result, I couldn't quite decide which scene to highlight in this article. There were many moments that I would be happy to mention, including a number of interesting interactions between Geralt and Yennefer but in the end I decided to go with a part that is both important for our main sorceress and ends up making a real difference in the Battle of Sodden Hill. Watching the entire battle unfold, knowing exactly what Nilfgaardian Army is capable of after the fall of Cintra, was certainly a memorable and intense experience. We witness a number of magical attacks and defenses, people sacrificing their lives, mages fighting against an army much larger than their own. Just when it seems that all is lost, before the reinforcements even arrive, Yennefer finds her mentor Tissaia on the battlefield and is told to "let her chaos explode". Everything that has ever hurt her, everything she had buried, she hears the echoes of her painful past and lets it all out. Against all odds, Yennefer finds strength in herself to burn down the Nilfgaardian forces all around her and force the army's retreat. It's such a powerful view - her scream and unleashing fire on everyone in her proximity, both losing control and taking it in a way. Anya Chalotra does such a wonderful job throughout the season and this moment is no exception. Also I absolutely love Yennefer's main theme playing multiple times on the show, it's especially beautifully done in this moment. We do not see what happens with the sorceress once the fire blast ends, she's nowhere to be found, so the consequences of this choice remain to be seen. I'm already excited for season 2. Kudos to the cast & crew for all their great work on the series so far!