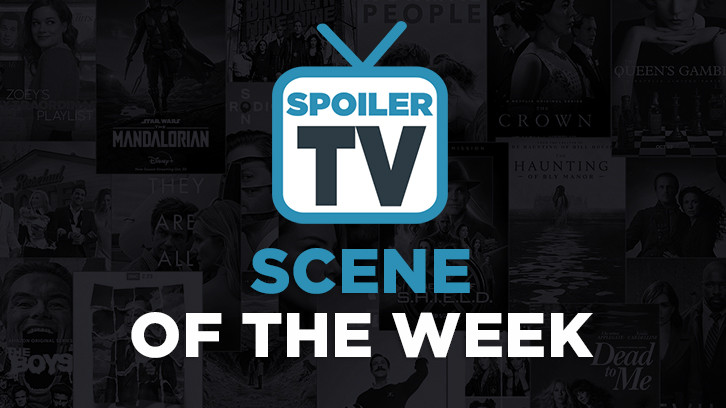 A weekly feature in which we're trying to find the most compelling, best acted, written, directed and just generally great, memorable scenes that we've seen in past seven days on TV.

ALL AMERICAN, "Coming Home", November 25, 2019, Actors: Daniel Ezra, Karimah Westbrook, The Scene: Spencer and Grace talk
Jessica: Honestly, there are about 5 different scenes that could have been nominated for scene of the week, but this one really spoke to me. Grace feels guilty and thinks she's the reason Spencer grew up without a father. Spencer reassures her that it's because of her he has dreams. He says that it's because of her he's going to go to the NFL and when he wins the Super Bowl he's going to tell everyone she's his MVP. Grace and Spencer have always had a special mother/son relationship, but in this scene I could really see how much Spencer loves and admires his mother and the sacrifices she's made for him. He doesn't blame her for his dad leaving. Ezra and Westbrook were amazing here, and this scene definitely made me cry.

ARROW, "Reset", November 26, 2019, Actors: Stephen Amell, Katie Cassidy Rodgers, Paul Blackthorne, The Scenes: Laurel says goodbye to Quentin & Quentin helps Oliver make peace with the end
Justyna: I'm so glad that we got to see Paul Blackthorne back as Quentin Lance one last time before the end of the show. It was a beautiful but also a painful return. There were many moments that I would love to highlight from the episode, almost everything from Oliver's first reaction to Quentin early in the hour. Laurel's journey was beautifully portrayed by Katie Cassidy Rodgers whose character got to say goodbye to Lance but also experience what it feels like to be fully accepted and loved by him for who she truly is. The way he responded to her news about his death in the real world was perfectly done. These two had a few wonderful moments, but ultimately I wanted to include here in the article the part where Lance helps Oliver make peace with his fate while embracing his own. There's a great sequence in the second half of the episode where Oliver does his best to keep Quentin safe, despite being completely surrounded by multiple assailants. They're trapped in a room and quickly running out of options, but Green Arrow refuses to give up. That's when Quentin tries to make Oliver realize that saving him is just not possible. Lance has escaped death many times in the past, but he knew, he recognized his end when it was approaching and he made his peace with that. Not giving up, but giving in. And it's time for Oliver to understand that too. He's been trying so hard to hold on but watching Quentin Lance take off the bulletproof vest and walk without hesitation towards his fate certainly made a difference for our main hero. Even through the mask we can see Oliver's pain and emotional state. Stephen Amell has been outstanding since the beginning of the season and his work here, alongside the wonderful Paul Blackthorne is yet another example of that. Like Oliver in this moment, I'm not quite ready to say goodbye to Arrow, but this final season has been such a memorable one. Kudos to the entire cast & crew for that!
DJRiter: Earth 2 Laurel gets closure by getting to say goodbye and thank you to Quentin Lance. It was such a treat to have Paul Blackthorne return to Arrow in this very creative episode but the highlight of the episode though was a tender moment between a dying Quentin Lance and Earth 2 Laurel. Cassidy Rodgers was heartbreaking telling the man she had come to care for almost as if he were her father thank you for believing in her and how his belief helped change her and she finally gets a chance to tell him that and say thank you when she didn't in their regular timeline. She and Blackthorne have always had a wonderful chemistry and this scene was especially poignant.

CASTLE ROCK, "Dirty", November 27, 2019, Actors: Lizzy Caplan, Elsie Fisher, Matthew Alan and more, The Scenes: Joy is converted to join the brainwashed townsfolk & Nadia and Chris fight at the hospital
Milo: Joy is converted to join the brainwashed townsfolk. This was a decent episode that finally brought Annie and Joy's plot into connection with that of Ace's, and seeing the two escape from Ace's home to find the townsfolk and the statue waiting for them was a chilling moment, especially seeing Annie's horrified expression when Joy was taken under the statue's spell. As ever, Lizzy Caplan was terrific and Elsie Fisher was equally brilliant. I'll miss these two characters the most once Season 2 comes to an end.
Laura B: Nadia and Chris fight the reincarnated satanist at the Hospital. Matthew Allen just really did a good job portraying someone who is struggling to keep his conscious forward, fighting off the conscious of another person from the past, but the relationship between Chris and Nadia has been a tragic love story and the hospital scenes did such a great job in showing what they have to lose, while also being a pretty scary experience to watch.

HIS DARK MATERIALS, "Armour", November 24, 2019, Actors: Dafne Keen, Lin-Manuel Miranda, The Scene: Lyra recruits Lee
Milo: Dafne Keen has chemistry with everyone on this show and seeing Lyra manipulate Lee Scoresby was fun and engaging to watch, especially with Lin-Manuel Miranda having so much fun in the role. I do love his daemon Hester too. As exciting as Iorek and Lee were in this episode it's important to remember that the real star is Lyra and Keen more than delivered in her best episode yet.

SEAL TEAM, "Danger Crossing", November 27, 2019, Actors: David Boreanaz and more, The Scene: Jason goes to therapy
Beth: Jason saying, 'Can you help me?' brought tears to my eyes. He has gotten to a place where he is ready to get some help after all he has been through. It has been heartbreaking to watch this character have panic attacks the last few weeks, but what they are doing is so important when it comes to narrative about mental health. Kudos to SEAL Team for going there with Jason and showcasing how isolating it can be to lead the life he has.

THE FLASH, "The Last Temptation of Barry Allen, Pt. 1", November 26, 2019, Actors: Grant Gustin, Michelle Harrison, The Scene: Barry admits how he feels to the Speed Force
Justyna: Barry has spent most of the season trying to help his friends and family prepare for life without him. It seems like he barely got to process this tragic news before he decided to fully dedicate his final days to making sure that everyone is going to be okay. With only two days left till Crisis the audience was led to believe that he has accepted his fate and only waited for the inevitable. And then Ramsey happened. He infected Barry and caused a deeply emotional, internal struggle that the viewers got to witness throughout the hour. And what a memorable hour this has been. I'm not sure that Barry ever stood a chance in this fight. Every vision, every promise and realization got him closer to the breaking point. Until finally the sight of his baby daughter that he wasn't able to take into his arms broke him down completely. He becomes desperate to believe that Ramsey's offer is a right one but we don't hear his thoughts until he tries to run away from Rosso's influence and finds himself back in his childhood bedroom with the Speed Force by his side, taking the appearance of his mother. That's when Barry finally admits to himself and to the Speed Force how he truly feels. He's spent the majority of his life driven by his past and he has barely started to live for himself. He got to marry the love of his life and meet his adult daughter. All he wants is to have more time with the people he loves and he's simply not ready to leave them. He doesn't want to die, especially now when he has finally started living. He tells himself it's a selfish need, it feels like he's letting everyone down but the Speed Force helps him see that his reaction is normal, it's what makes him human. More than that, his willingness to sacrifice his life, to move forward despite the worst possible odds, that's what makes him a hero. Even though the infection takes over Barry later in the hour, I thought that this was the moment when we truly got to see real Barry and understand how he feels before the fast approaching crisis. And that's something I felt like we were missing in the last few episodes. Wonderful performance by Grant Gustin. Grant and Michelle Harrison are always fantastic together, but especially in all those emotional, heartbreaking moments like this one. Kudos!

THE MANDALORIAN, "Chapter 4: Sanctuary", November 29, 2019, Actors: Gina Carano and more, The Scene: Cara Dune takes out a Guild bounty hunter
Laura B: Cara Dune takes out the Garindan just in time! Wow, what an interesting episode full of some bigger battle action and finally introducing the show's female co-lead, Cara Dune. I chose this scene because of how intense it was, nearly seeing The Child shot at, but more so at the protective nature that Dune instinctively employs was great to see. It's sad that The Child couldn't stay after all, but I think all viewers must know that The Child is the key to unveiling the true person hiding under The Mandalorian armor and it couldn't go any other way!

WATCHMEN, "This Extraordinary Being", November 24, 2019, Actors: Louis Gossett Jr. and more
The Scene: The reveal about Will
Milo: The reveal of Will Reeves being The Hooded Justice. It works in every possible way, it's a fascinating addition to the mythology and takes it in a brand new direction. Everything about this episode was just perfection and this revelation is arguably among the most important of the series so far.