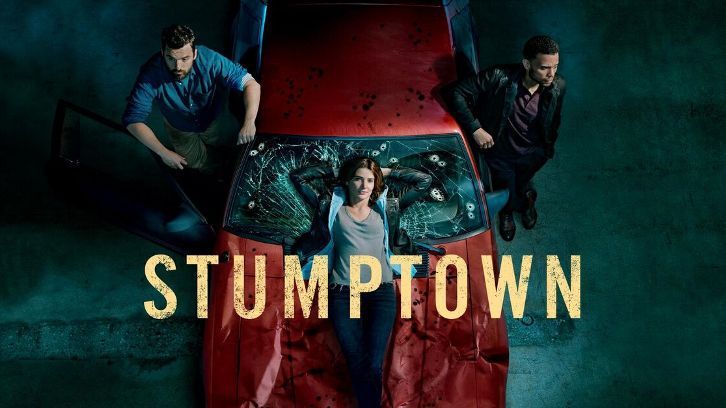 Stumptown continues growing into one of the best new shows of 2019 with an episode that explored the backstory and evolution of several characters. In Dex, Drugs and Rock & Roll, we meet Dex's ex, watch a new unlikely friendship form and see the strained relationship between Dex (Cobie Smulders) and Grey (Jake Johnson) reach a boiling point. All of this served to create some interesting questions for Ellys and me to discuss in this week's Review Roundtable. (Roundtable contributor Marko was unable to participate this week.) Share your thoughts about the episode or take a turn answering our questions in the comments.


We get to see the characters settling in to their world and going about everyday tasks, which gave us insight into all their personal lives. It was a cozy episode that buried all sorts of nuggets. What was your favorite character interaction and what moments gave you pause?
DC:
I was really taken about how carefully they crafted the burgeoning friendship between Lt. Cosgrove and Tookie. It was nice to see Camryn Manheim's character evolve and she worked nicely with Adrian Martinez. I was impressed as well with Cole Sibus this week and his reaction to Grey and the depth of emotion he conveyed when he was afraid his family was breaking up. He doesn't want to be separated from his sister again.
EC:
I was quite charmed by Dex and Hoffman (Michael Ealy)'s ongoing friendship and that she showed up at the bowling alley for him at the end. It's no wonder, considering her family history and her relationship with Benny, that it would be exceptionally difficult for her to put herself out there romantically. Dex and Hoffman's thing is a well-written emotional slow-burn that is moving at just the right pace.
For the second episode in a row Dex was nearly thrown off by her PTSD. It seems to be building to something bigger happening. Does she have a handle on it and at what point to do you think she'll ask for help?
DC:
Dex appears to be the type to ask for help and will think she's handling her PTSD in her own way. She believes asking for help makes you weak. She told Fiona that Ansel was the light of her life and I think she'll continue to try to handle things on her own until she has a flashback or episode that puts Ansel at risk or he gets injured.
EC:
In the previous episode, Dex's PTSD was triggered by gunshots and someone bleeding out in front of her. This week, it only took the stress of a noisy crowd coupled with the fear of not being able to reach Fiona in time. That could be a pattern of escalation which could lead to her being crippled during a future dangerous situation. It's unknown if she's ever admitted to struggling with PTSD or sought help, but her new line of work appears to be pushing those issues to the forefront. I expect one way or another that Dex will soon have to address her PTSD more directly.
After his fallout with Dex last week over Ansel's safety, was Grey too quick to take Ansel's forgiveness for granted? Was Grey fair to Ansel by having his new lady friend stay over when he was supposed to be taking care of Ansel? What did you think about Ansel's reaction?
DC:
To Ansel he, Grey and Dex are a family and he saw Grey's interest in a new lady friend as a threat to that family. I think as close as they are supposed to be Grey was extremely insensitive in not being intuitive to Ansel's feelings. After the first time Ansel dropped glasses, Grey should have put the brakes on his libido and been more considerate of Ansel's feelings.
EC:
Considering that Grey was just emotionally protesting to Dex about how he was trying to protect her and Ansel and that we saw Grey demonstrating that behavior, it felt out-of-character for him to brush that aside to make a romantic connection so soon. I'm not sure I consider that to be an authentic part of the storytelling. I also don't think Grey would have ignored Ansel's reactions, especially in light of the recent events. This twist for Grey's love life did give us some insight into Ansel. We saw how upset he was by Liz's presence because he was already worried that Dex and Grey's were going to "break up" their friendship. The two of them and Ansel are basically a family unit, with Ansel and Dex not seeming to have any other family and friends up to this point.
Dex and Fiona's relationship, besides being loaded with chemistry, is an important window into who Dex was 10 years ago when she first returned to Portland. It was also the first-time viewers not familiar with the graphic novel upon which the show is based, or who missed it in the series description, learn that Dex is bi-sexual. Do you think Dex and Fiona made a good couple? How were they good for one another, and how weren't they good for one another?
DC:
The chemistry between Dex and Fiona was palpable. Smulders and guest star Ionna Gika had this electric energy between them that dominated the screen during their trip down the memory lane of their relationship. When they were together years ago, Fiona did the best she could, and it was obvious at the outset of their reunion that she still cared deeply for Dex. In her own unusual way, Fiona was good for Dex, being an anchor for her during a time Dex needed someone to help her deal with just coming home from war. During the last ten years, Dex grew and matured while Fiona's lifestyle didn't allow her to. Sadly, Dex recognized that this was not what she needed now.
EC:
Dex and Fiona were on fire with their sultry revisiting of their past relationship, and it showed us more of how big a capacity for love Dex has. Fiona clearly helped Dex survive a difficult time of grief by giving her someone to take care of and look out for back in the day. (I got the impression that Dex didn't have Ansel with her until the end of her relationship with Fiona, and I want to learn more about that time in her life.) Fiona was also something of a wild child with her globetrotting dreams and drug habit, so she wouldn't have helped Dex find the stability that the latter needs in her life.
We were treated to the beginning of a beautiful friendship between Lt. Cosgrove and Tookie? What did you think of this pairing? How does it impact the rest of the show?
DC:
I loved this pairing. It totally did not go the direction I thought it would – the two of them bonding over cooking. It added a very nice layer to Manheim's character and continued the show's success of crafting interesting characters and successfully putting together odd pairings.
EC:
You wouldn't expect the show to put these two characters together in scenes, but doing so was a brilliant choice that elevated the episode and enriched the show. Not only is it just plain delightful to see Cosgrove and Tookie bond over their pursuit of delicious cuisine, but it also builds up the show's whole world by creating this sense of community. The best TV shows mix and match their characters to form new bonds that ensure future stories on the show land with more emotional impact. Also, this new friendship was a wonderful, pure foil for all the steamy romance in the rest of the episode.
Hoffman and Grey had different approaches in how they both tried to make things up to Dex after last week. Which one had the most success?
DC:
Clearly Hoffman made the most success. Based on the way he approached and treated Dex this episode he knew he'd crossed a line last time and showed to be genuinely sorry. Grey, in my opinion, is still putting his own needs first. Ansel's outburst during his last argument with Dex was like a rap on the head to a stubborn mule. He needed to be hit in the face with the fact that he needs to put someone else first.
EC:
Hoffman didn't have any ground to make up with Dex, but he is on her good side until future notice. They both recognize each other as their equal, someone who will have their back in a tough situation, and they enjoy hanging out. This friendship is in a good place. Then there's Grey whose tense post-Kane relationship with Dex will now be made more uncomfortable by them both trying to conceal their issues from Ansel rather than working them out. Add in his new love interest to the mix and pour out the gravy!
What was that standout moment that you think elevated this episode from good to great? Who was the performer who truly delivered this week?
DC:
I think the intense moments between Dex and Fiona and revisiting their relationship was very well done. Kudos too to the way they are telling the story of Dex's PTSD, I sincerely hope they continue to tell this story as well the rest of the season. To me, the performer who really delivered this week was Cole Sibus. Ansel's slow-burn meltdown at seeing Grey with someone not his sister was topped by his impassioned outburst at Dex and Grey. The way he told them how afraid he was someone was going to leave and he didn't want to be alone again is just laying a tremendous foundation of Dex and Ansel's backstory that I hope we get to see more of this season.
EC:
I have to give the episode's writers a heap of credit for crafting an engaging story. The plot might have been straightforward, but all the details and clues kept it fresh. The payoff for Fiona not knowing her tour schedule is one example. Ioanna Gika delivered a dreamy, sharp guest performance that will surely have many people looking up her music repertoire. This episode didn't waste any space from my perspective, and it had a great balance of heartfelt scenes such as Grey and Dex's sitdown with Ansel and humorous ones such as Cosgrove ribbing Tookie over pre-judging her Philly cheesesteak egg rolls. I also loved all the flirtation and banter that Dex had going with Hoffman.
The promo for the next episode to air (Nov. 20) teased a
Stumptown
Friendsgiving. Given the characters we now know more about, is this going to be a nice quiet dinner? What do you think will happen and who should and shouldn't be on the guest list?
DC:
This is
Stumptown
and Friendsgiving is going to be anything but peaceful. Like any family gathering, there are still going to be tensions between siblings not getting along, i.e. Dex and Grey; the awkward newcomer with Grey bringing his new lady-friend to dinner and I certainly hope Tookie and the Lieutenant will be there to do the cooking. What I would really like to see is Lt. Cosgrove and Sue Lynn (Tantoo Cardinal) sitting down over a glass of good Scotch lamenting to one another what it's like to have to deal with Dex in their lives.
EC:
My bigger question might be who would be on the guest list at all. Dex and Ansel and Grey have a very small friend pool. One can hope Tookie will be there to do the cooking, because I'm confident that neither Grey nor Dex can cook, and I doubt Dex will have Hoffman cook. For my entertainment purposes, I hope there's lots of squirming and polite insults that lead to Dex and Grey overcoming their present stalemate and chilling out. I wouldn't mind if the whole episode was just getting to know the characters, although I expect a case will factor in somehow.
There will be no
Stumptown
Review Roundtable next week as the show is being pre-empted for the CMA Awards.If you have any questions you would like us to discuss, please post them in the comments below.