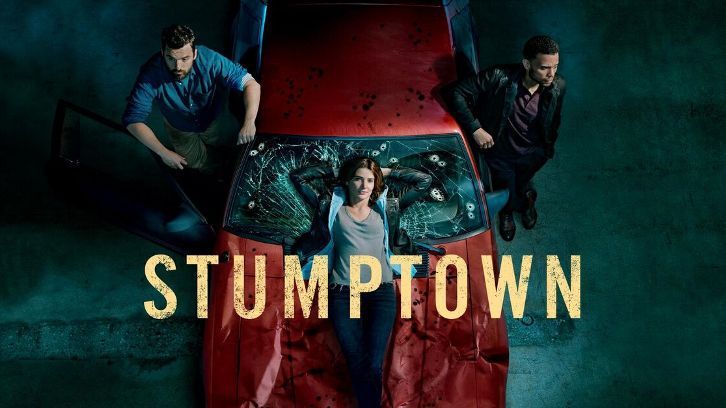 Stumptown returns with perhaps its strongest episode of the season on the heels of the announcement that the show has received a full-season pick-up. Dex, Ansel, Grey, and the gang will be bringing us more adventures all season! Marko, Elly and I discuss the most recent episode, Bad Alibis, in this week's review roundtable. Read what we thought below. And don't forget, if you have a question you'd like us to address in a future roundtable ask it in the comments below.


Becoming a PI seems to have slightly smoothed some of Dex's rougher edges, why do you think becoming a PI means so much to her? She even had trouble answering that question when posed by the lady from the License Dept, the wonderful Janeane Garofalo in a great guest appearance.
DC
I think Dex has realized that being a PI, is not only something she's good and but it also gives her a sense of purpose and security. During her raw, honest interview with the license department interviewer, played with just the right amount of acerbic edge by wonderful Janeane Garofalo, it hit her that it's the first thing she's found she's good at since she left the military. She knows she's not perfect, or probably not even the best candidate for a license, but she succinctly conveys that she's proud of finding something she can be proud of doing and needs to be able to keep doing it.
EC
Dex is drawn to helping people, in spite of herself. Her remark to Artie two episodes back that she was partially in it for the girl and partially for the money speaks to that. The work appeals to her, and she needs to make money. Dex has clearly struggled over the years with her PTSD (which affected her in this episode) and her other habits that have endangered her ability to take care of herself and Ansel (Cole Sibus). I think discovering her skills as an investigator has been a pleasant surprise for Dex, although she's still going to be questioning whether she has got what it takes.
MP
Dex eventually got it during her speech. Being a PI gives her a purpose. After her Army days, she was continuously struggling to keep a job and having a purpose. Being a PI gives her a positive sense of herself and her future. Besides doing some "good" she finally feels like she found her place in the world.
Det. Hoffman (Michael Ealy) is a determined man, defying his boss to go after Kane. He even went so far as to ask Dex to spy on Grey (Jake Johnson) for information. Do you think that was going too far? Was Hoffman out of line asking Dex to spy on Grey?
DC
Hoffman was out of line in my opinion, but I'll give him a little leeway as he was coming from a place of desperation and deep guilt and he was driven by the need for revenge. He knew what he was asking her to do and a part of him knew exactly how she'd react. He did make up for it some by taking her and showing her his chart, I think that tempered her response to his request.
EC
At first, Dex was mad at Hoffman, but she was mad at the suggestion that Grey was involved in criminal activity again. I think Hoffman asking her for help will ultimately strengthen their bond. She will be glad he was honest with her, that he came to her, and that he kept his word and made sure Grey didn't get any new criminal charges. No spoilers but based on some of the promos that have been airing this past week, we'll likely be seeing much more of Hoffman and Dex working together in the future.
MP
Hoffman`s judgment was clouded, the Kane case hit too close to home. As humans, we are defined by our wins and losses. Miles losing his partner all those years ago never left his conscience and formed his low opinion of himself. Did he cross the line? Slightly. He did manipulate Dex a bit but eventually, it paid off as they got the necessary clues to find Kane and Grey. Michael Ealy is so captivating in the role, the passion and conviction he has for the role and arc at hand were palpable through the screen. Sometimes you do have to cross the line for the greater good.
There were a lot of the great scenes that make Stumptown so good this week. It had a little bit of everything, humor, action, intense drama. Which was your favorite scene? Which performer stood out for you this week?
DC
There were so many great scenes, but this week my favorite is when Dex slid into the booth with Frank (Jason Manuel Olazabal) to rescue Ansel. Smulders expertly balanced her calm demeanor and façade with her brother and getting him out of the line of fire, while at the same time using the kitchen knife below the table to threaten the man holding him. This week for me the standout performer was Cobie Smulders who grows into this role more and more each week. In Bad Alibis she was called upon and delivered a myriad of emotions from Dex. She was the nervous interviewee needing reassurance from her brother, to finding just the right amount of desperation in her voice when explaining to the license department lady why being a PI meant so much to her. Moments later we saw a woman using her military training to rescue her brother all the while keeping a tight rein on her fear while walking on the edge of contained fury. Later, she got to unleash that fury on Grey, letting her hurt at his breaking their trust and putting her brother in danger explode upon him. Coming a close second was Sibus who showed great comedic flare when Tookie thought Frank was the restaurant critic, to later exhibiting a calmness and maturity when he cleverly tricked Frank and found a way to get a message to his sister.
EC
A standout scene for me was when Cosgrove (Camryn Manheim) stopped Hoffman from killing Kane (Colin Cunningham). It left some of those issues unresolved in terms of Hoffman's guilt over getting this CI killed, and it left us wondering whether he might pull the trigger in a similar situation. The conflict in his face (a great performance from Ealy) was just raw agony, which made that moment so powerful when Cosgrove gently pushes the gun away. And the sunset in the background of that scene added this natural awesomeness to it. I also loved Ansel calmly outwitting his captor. Even though he called Dex for help, he was still protective of her when she came to his rescue. I always love a sibling bond that rings true, and this one certainly does each episode.
MP
Dex taking down Frank was definitely my favorite. The unconventional way of shooting the fighting scenes always gets to me. The fight scenes feel much more natural and real and the writers and stunt team come always up with so many great ways to make those scenes happen. Performance-wise Smulders always stands out, but this week was all about Ealy. His performance was captivating and natural, perfectly dozed and making me want to hug him throughout the outing.
Grey's actions showed a different side to his character. Things ultimately turned out fine but by putting Ansel in danger, he has seriously damaged his relationship with Dex. How can he fix things between them?
DC
It was established early on that trust is very important to Dex and Grey seriously broke that trust this week. He did the one thing sure to anger Dex the most, he put her brother in danger. The intensity of Dex's reaction back at the restaurant after Kane was recaptured was raw and visceral. Grey is going to have to go to great lengths to regain Dex's trust.
EC
Grey kept his cool with impressive poise while in that life-and-death situation with Kane. Things could have gone so much worse. Dex's reaction to her brother being in danger showed us the sharpest version of her character yet. Finding out Grey was the cause of that danger and that he wasn't completely truthful about his past felonies was a blow she couldn't even suspect was coming. Grey brought stability to both Dex and Ansel's lives. That security was nearly ripped out from under them, and Dex might not forgive him anytime soon.
MP
Grey`s character was introduced as the simple boy next door and with each episode, they added a new layer to his character. Getting to this version of his character was an interesting path. Johnson added the needed complexity and internal struggle necessary to keep him likable/relatable. Looking at the situation he wasn`t guilty that Frank took Ansel but the secrets he kept certainly strained the relationship between him and Dex. Only time will tell where their relationship will go, but despite everything the two of them are loyal to each other and that will keep their relationship on the good side.

The show and cast seem to have found their footing, who has been a standout performer for you and who has surprised you so far this season? Is there a character you would like to see more of?
DC
As mentioned above Smulders is making Dex Parios her own, however, I have been pleasantly surprised and intrigued by both Sibus and Tantoo Cardinal as Sue Lynn. Both are performers I'd never seen before but the layers they are giving their characters and their performances have me searching out their previous works. As a long time fan of Manheim, since first seeing her on
The Practice
, I would love to see more of Lt. Cosgrove who gives all appearances of being another great multi-layered character on the show.
EC
I would like to see more of the existing characters together. Overall, though, everyone is growing into their character more and more in each episode. Smulders is pitch-perfect as Dex, but she's showing us different facets of who Dex is each week. That means delving into past loves, exploring hidden strengths, and learning the PI trade. She's enthralling. The supporting cast is meeting her at that high level. Sibus crushed it this week. Ealy did. Johnson did. They are all right at that threshold where I stop seeing the performer and just see the character.
MP
Smulders was born to play this role. She really put herself in the proper mental state to deliver all those scenes she is put in week after week. The cast all around is delivering with each new outing. We are only five episodes in, and I formed an emotional connection with all the characters. Adrian Martinez`s Tookie is a character to watch and one we need to see more on-screen. He brings in so much light to this show while living in his slightly delusional thoughts.
Stumptown has rightfully been picked up for a full season. How do you think the show will progress? What would you like to see happen?
DC
I was thrilled with the announcement of a full-season pickup and look forward to seeing Dex and friends tackling more random cases. Further exploring the complicated relationship between Dex and Sue Lynn is something I truly hope we get to see as well as learning more of Dex and Ansel's past. What happened to their parents? How did they find their way back to one another after being separated? Where was Ansel and how did he cope while Dex was in the military?
EC
Now that we've got everyone's backstories out of the way, I just want to see Dex and Hoffman cracking cases, either separately or together. I hope that the standalone cases will be engaging, and I want the show to dig into who these characters are and what keeps them ticking. I would like Dex to spend more time bonding with somebody, whether it's her brother or another character.
MP
The show`s quality really is a great reason to pick it up for a full season, the live numbers not so much. The show delayed viewing is the major reason it got a full season pick up. The show just wrapped its first chapter so where they will go with their story further down the line is really a mystery at this point. Hopefully, the show finds a natural balance between serial and procedural stories. Further down the line, the writers should make Dex open her own office and gather a weird-ish team to help her out during her cases. That is one of the stories I would appreciate further down the line.
Part of Stumptown's charm has been its use of an 80's style soundtrack, often courtesy of Dex's temperamental car. Do you think the music adds or detracts to the tone of the show? What is your favorite 80's tune?
DC
Being a self-admitted child of that era I love the music and how it's used. Dex, as a character is a little bit of a throwback to the TV detectives of that era. The music of many of the strong female performers of the 80's, Pat Benatar, Bonnie Tyler, Kim Carnes, etc. would fit perfectly as a backdrop for Dex.
EC
Most of the time, I don't notice the music, to be honest. My playlist often has the moody ballads from the 80s. Michael's Careless Whisper, Cher, Bonnie Tyler, etc. Stumptown's tracks are usually new to my ears, and I appreciate the variety.
MP
The music is definitely a positive. The tracks fit the scenes so well and lightness and doze of fun to those scenes.
What were your thoughts on the
Bad Alibis
episode of
Stumptown
? Watch this week and send us your questions for our next roundtable in the comments section, we'll choose one to use in the roundtable.