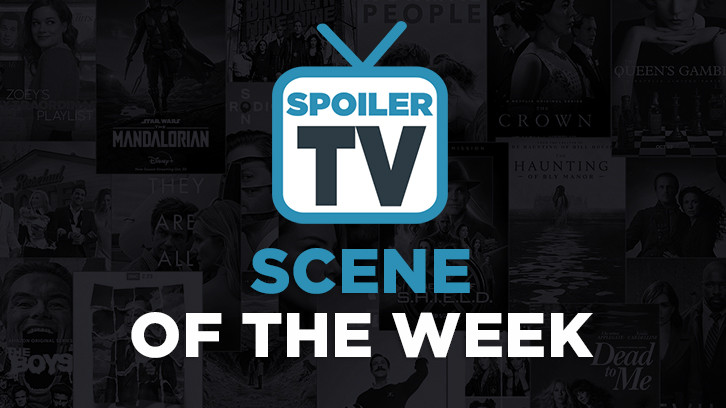 A weekly feature in which we're trying to find the most compelling, best acted, written, directed and just generally great, memorable scenes that we've seen in past seven days on TV.

A MILLION LITTLE THINGS, "The Perfect Storm", October 17, 2019, Actors: James Roday, Grace Park
The Scene: Gary checks on Katherine
Jessica: These two actors could have been nominated for the entire episode, but this was one of my favorite scenes. Gary genuinely cares about Katherine, and I liked that she felt she could be honest about how she's feeling. Park and Roday were both amazing, and I hope we get more Katherine and Gary scenes in the future. It's refreshing to see true male/female friendships on television.

ALL AMERICAN, "Speak Ya Clout", October 14, 2019, Actors: Samantha Logan, Cody Christian
The Scene: Olivia and Asher talk
Jessica: Olivia runs into Asher while he's working out and says he's been trying to get extra work in so he has a chance to go to a division one school. She smiles and tells him she's proud of him. In this moment you could tell how much these two mean to each other. Cody Christian especially did an amazing job of showing how much Asher cares for Olivia.

ARROW, "Starling City", October 15, 2019, Actors: Stephen Amell, David Ramsey, Katie Cassidy and more, The Scene: Earth-2 is destroyed
Justyna: This one took me completely by surprise. We spent the entire episode following different versions of Oliver's loved ones only to lose everyone at the end. It's not even the scene itself but its impact that hit me the most. The realization of how much we have lost in this short, sudden moment. The thought that the characters we met and have grown to love on "The Flash" (Harry!) have already perished, long before the crisis we all know is coming. I'm still holding out hope that someone has made it out alive, but the odds are certainly not in our favour. Oliver's reaction to seeing his mother and Tommy vanish right in front of his eyes (again) was painful to watch. Laurel's complete shock and confusion, the denial, will surely be hard to process in the next episodes. If anyone still had doubts about truly high stakes of this crisis I'm afraid they're gone now, along with the entire Earth-2. Incredibly memorable start of the final season of the show. This ending stayed with me long after the episode has finished.
Jamie: Earth-2 is erased. This episode has so many great nostalgic moments but the ending is what stuck with me most because it just showed how high the stakes are this season with the upcoming crisis. It was one thing to see Barry's vision of the future on The Flash, but actually seeing Earth 2 and everyone on it disappear on Arrow was quite something.

BATWOMAN, "The Rabbit Hole", October 13, 2019, Actors: Ruby Rose, Rachel Skarsten, The Scenes: Alice and Kate meet at the park & Kate saves Alice
Milo: Alice and Kate meet at the park. Alice has been such a great addition to the show and their confrontation, with Kate knowing now that they're sisters, was an interesting scene backended by the confrontation with their father and the Crows at the end of the episode. Rachel Skarsten is easily the MVP of the series so far and the show rectified the weak villain problem of the Arrowverse almost immediately.
Abby: Kate saves Alice. Kate, in costume, rescues Alice from a submerged van even though Alice is an unrepentant murderer. There's a moment when they're looking at each other and they aren't hero and villain but sisters. As Alice reaches for Kate's face an explosion blows them apart. It's a powerful scene that may foreshadow their turbulent relationship to come. We later learn that it's also the moment Alice figures out Kate is underneath the cowl.

BLACK LIGHTNING, "The Book of Occupation: Chapter Two: Maryam's Tasbih", October 14, 2019, Actors: China Anne McClain, Bill Duke, The Scene: Odell visits Jennifer
Jennise: Odell goes up against a teenager and... surrenders. It was a pretty short scene but had me laughing pretty hard. Odell "stops by" the Jefferson house to deliver a phone with a video message from her parents. That man never does anything that's not well calculated. Jennifer is nothing like the kids he's been dealing with since coming to Freeland. She wasn't impressed by the offer of exemption from rationing and accused him of being a creepy Peeping Tom. When he mentioned the surveillance system crashed, she casually admits that she crashed it. When he asked about Anissa she rather deftly got him to drop the subject by asking if he wanted to watch her in the shower. His only hope at that point was to walk away from the topic. That 17 year-old girl handled him pretty well.

CHARMED, "Things To Do In Seattle When You're Dead", October 18, 2019, Actors: Madeleine Mantock, Rupert Evans, The Scene: Macy tells Harry all she needs is a look
Beth: The dual Harrys is a very interesting way to explore what could happen with Macy and Harry. While the opening scene was sexy this one with the real Harry showed the insane chemistry and connection that Harry and Macy share.

EVIL, "Rose 390", October 17, 2019, Actors: Aasif Mandvi, Brooklyn Shuck and more, The Scene: Ben talks with Kristen's girls
Laura B: Ben talks with Kristen's girls, while he collects samples in their bathroom. In fairly darker episode, Ben brought a bit of humor and kindness when dealing with Kristen's 'little women'. The girls have been toted as series regulars and I was pleased to see that they had their own little side storyline that no doubt ties into Leland's attempt to destroy Kristen and her family, but where Ben seems to be the Jesus contemporary in trying to thwart darker forces at play. It will be interesting to see how the girls develop with Kristen as the series goes on. In the Good Wife Zach and Grace kind of never really evolved, as Alicia struggled to raise them amidst trying to have her own life, Peter's political career, and a slew of scandals.

GREENLEAF, "Reunited", October 15, 2019, Actors: Lynn Whitfield, Roxzane T. Mims and more, The Scene: Lady Mae attempts to make peace with Vida
WK: In one of the most emotionally gripping moments of the episode, Lady Mae attempts to make peace with Vida who was subjected to Mac's abuse in the past. As the former attends to the latter's pain, Vida and her mother Darlene quickly realize that Mae too was a survivor of sexual abuse. The moment was raw as Lynn Whitfield carefully honed in on the upset that the First Lady internalized for decades, while conveying empathy under heartbreaking conditions. Scenes like this continue to prove that Lynn remains a force. If there was any justice, this scene alone warranted accolades.

GREY'S ANATOMY, "It's Raining Men", October 17, 2019, Actors: Chris Carmack, Jacob Gibson
The Scene: Link sits with Josh
Jessica: Link sits with Josh while he talks about his girlfriend. This scene between Link and Josh was heartbreaking. Josh only knew his girlfriend for a short time before she was brutally killed. The way Josh spoke about his girlfriend and how they would sit together under the tree shows that he really cared about her. It's been a while since I've felt a connection to a patient or their family on Grey's Anatomy, but Josh and his grief devastated me.

LEGACIES, "This Year Will Be Different", October 17, 2019, Actors: Danielle Rose Russell, Matt Davis, The Scene: Hope tells Alaric who she is
Beth: Hope has had it rough these first two episodes. She's kept the Mikaelson stubbornness and has decided to go it alone, but after a rough day of pretending she was a stranger to the two people who mean the most to her, something had to give. When she showed up and told Alaric who she was, it was heartbreaking. But Alaric instinctively knew that this girl means something to him and his reassurance that it will be okay and embracing her back was a glimmer of hope (no pun intended) that she doesn't need to be alone, he will always be there.
Marko: Hope confesses to Alaric who she is. Despite all the badassery and power that Hope carries with her she essentially is just a little girl who needs a family, and Alaric is the closest thing to that she'll ever have. Her confession to Alaric was beautiful and painful at the same time. Their closeness can't be faked.
Jamie: Hope has been through so much in her life and has now lost everyone but it seems true connections can't really be erased. I absolutely loved this scene. Despite not remembering her, Alaric trusted her immediately when she told him who she was. A great performance from both actors.

MAYANS MC, "Tohil", October 15, 2019, Actors: Clayton Cardenas, Edward James Olmos, The Scene: Angel tells Felipe he is going to be a father
Beth: Angel has been suffering in silence since Adelita decided to give herself up. He kept telling everyone he'd be fine but in the end just needed his father. So when he went over to Felipe's house, they had a discussion that was a long time in the making. Angel told his pop that he was going to be a father, and Felipe told his eldest what had happened with Adelita the previous season and what their connection is. It was a moment of honesty that father and son desperately needed and I hope their relationship can continue to have these moments to mend the obvious chasm that had formed over the years.

POWER, "Deal with the Devil", October 13, 2019, Actors: Naturi Naughton, La La Anthony, The Scene: LaKeisha's death
WK: The conclusion of this week's episode found ex-best friends Tasha and LaKeisha at odds with one another under the worst circumstances. As the former confronted the latter about her actions, Tasha quickly realizes that Keisha was on the verge of skipping town. From there, she stumbles upon the document specifying LaKeisha's compliance with the FED's. This led to a physical altercation ensuing, prompting Tasha to shoot her former friend. La La Anthony delivered some of her best work to date as LaKeisha helplessly pleaded for her life before Tasha finally shoots her in the head. It was a jarring moment, making for a rather devastating sendoff for a character that has been a part of the series from Day 1.

PRODIGAL SON, "Designer Complicity", October 14, 2019, Actors: Tom Payne, Bellamy Young, Lou Diamond Phillips, The Scene: Malcolm watches the tape of his mother's police interview
Dahne: Malcolm watches the tape of his mother's police interview from the night his dad was arrested. After accusing his mother of knowing his father was a serial killer before he was caught, Malcolm is certain that he can confirm his worst suspicions if he can only see the tape of his mom's interview on the night his father was arrested. Instead of catching her in a lie, Malcolm watches as his strong mother breaks down and confesses to being human. It is so moving that Malcolm breaks down while watching it. This scene then becomes the catalyst for Malcolm to try to repair his damaged relationship with his mother, another highlight of the episode. Tom Payne did a brilliant job in this scene.

SANDITON, "Episode 1.8", October 13, 2019, Actors: Charlotte Spencer, Mark Stanley, The Scene: Esther marries Lord Babington
Laura B: While no doubt the talk of the episode, is the intended typical cliffhanger of Sidney not proposing to Charlotte and planning to marry his ex to save Sanditon from total ruin, I chose the happier result of Esther marrying Babington and him going into it knowing that her feelings aren't exactly like his. It was nice to see Esther come out on top, despite that odds being so stacked against her. I will be curious to see what her story will be, should we be lucky enough to get a second season to conclude this marvelously wild Austen-pastiche of a story!

STUMPTOWN, "Family Ties", October 16, 2019, Actors: Cobie Smulders, Tantoo Cardinal and more, The Scene: Sue Lynn and Dex team up to trap Tapper
DJRiter: The complex relationship between Dex and Sue Lynn has quickly become one of my favorite parts of Stumptown. Smulders and Cardinal have a wonderful chemistry and watching them spar with one another in scenes is a delight. This week there was a delicious twist when instead of sparring with one another, they took that chemistry and added some great banter and timing as they teamed up to take down the corrupt Tapper. Watching them go back and forth with one another is going to be a highlight of the show's first season.

SUPERGIRL, "Stranger Beside Me", October 13, 2019, Actors: Melissa Benoist, Chyler Leigh, The Scene: Supergirl fights with fake Alex
DJRiter: Supergirl has always had exceptional fight scenes but the one this week between Supergirl and J'onn J'onzz' shape-shifting brother, Malefic, disguised as her sister Alex may be one of the show's best yet. While it was strange to see the Danvers Sisters slugging it out on the ground and in the air above National City, one can't help but imagine how much fun Benoist and Leigh had filming these scenes. Just proof again, that scenes between them as sisters or combatants are golden!

THE FLASH, "A Flash of the Lightning", October 15, 2019, Actors: Grant Gustin, Jesse L. Martin, The Scene: Joe reminds Barry about his resilience
Justyna: I've been wondering which scene from the episode to highlight. Barry's entire journey in this hour was heartbreaking to watch but also wonderfully portrayed by Grant Gustin. In the end I decided to include here a moment when Joe visits Barry and offers him an advice, sharing wise words that he so deeply needs to hear at the moment. There's a very important difference pointed out by Joe, between making a choice to die and being willing to make a sacrifice when the time comes. And only one of those are an action of a real hero. It's a beautiful speech, another reminder of what a great character Joe West is and how much his support means to Barry. It's this moment that ultimately leads our hero to choose resilience near the end of the episode, running against the odds and never giving up. It was such a deeply meaningful, emotional moment, one that I think will stay with me for quite a while. Kudos to cast & crew for all their great work.

THIS IS US, "Flip a Coin", October 15, 2019, Actors: Mandy Moore, Phylicia Rashad, The Scene: Rebecca and Carol reflect upon the loss of their husbands
WK: In a flashback set during Randall and Beth's freshman year of college, both Rebecca and Carol bond in a rather heartwarming fashion as the two reflect upon the loss of their husbands. One of the most touching moments in the interaction involves Rebecca asking Carol how she keeps it together, prompting the latter to share her pain and her motivations. It was a moving sequence that captured Moore and Rashad's chemistry quite well. I also appreciated the fact that viewers had the opportunity to witness two women of different ages reflecting upon a tragedy that would devastate us all. The scene made me all the more eager to see them interact onscreen again.

TITANS, "Bruce Wayne", October 18, 2019, Actors: Brenton Thwaites, Curran Walters, The Scene: Jason almost kills himself
Justyna: The problem with this group of heroes living together under the same roof has to be their lack of communication at times. Everyone is so consumed with their own demons that they forget to notice and listen to the others. They make assumptions, not always correct ones, and this week a wrong accusation against Jason has almost pushed him over the edge (literally). Jason is quite a fascinating character, he certainly causes a lot of mixed feelings for both the Titans and the viewers. He can be charming, charismatic but also angry and impulsive. The thing is, his behavior during the hour didn't feel like his usual self at all. He was tormented by a nightmare which never seemed to stop, falling to his death over and over again. He was fragile, emotional, at times withdrawn and absent, someone in clear need of help. When he's accused of destructive behavior by the rest of the team it looks like he reached his breaking point. When Dick finds him Jason is almost ready to jump off the roof. He describes himself as a lost cause, someone who poisons everyone around him, no matter how much they try to help him. He blames himself for what's happened, now and before. He's almost gone until Dick tells him a secret of his own, a lie that's been following him for years. Both actors did a great job during the scene, special shout-out to Curran Walters for portraying a very different side of his character this week. I'm very interested to see how this experience will affect Jason in the future episodes. Can't wait for next episode already.

WHY WOMEN KILL, "Kill Me as if It Were the Last Time", October 17, 2019, Actors: Ginnifer Goodwin, Lucy Liu, Kirby Howell-Baptiste and more, The Scene: The murder sequence
Lip: The entire murder sequence was absolutely brilliant. I'll be shocked if this show isn't nominated for an Emmy. We finally find out who gets killed and who killed. Not a single word is uttered during the scene, only action and music that really captures the suspense of the moment. Time froze and we actually saw three decades in the same house at the same time, almost as if they were able to interact. Just brilliant.
Marko: A perfectly directed and thought through scene. The tension and uncertainty were palpable. Excellent work by cast and crew to create a memorable finale.

YOUNG SHELDON, "Hobbitses, Physicses and a Ball with Zip", October 17, 2019, Actor: Iain Armitage
The Scene: Sheldon's nightmare
Jennise: Sheldon's nightmare about Gollum and Sméagol. I was just so impressed by how Iain Armitage handled this scene that I had to put it on the list. The make up was spot on and the young actor did a fabulous job of bouncing between the two characters arguing with each other. This scene would be worthy of his Emmy reel.