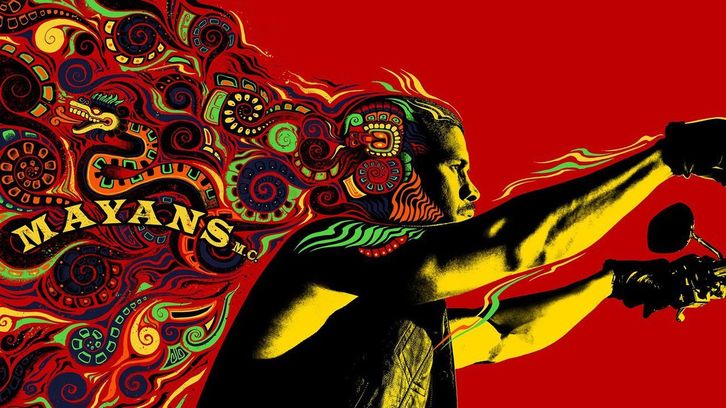 Mayans MC is firing on all cylinders this second seasons (pun intended). Let's dive in to what happened in the second episode of the season!

Fun and Games
The ice thawed this week between the Reyes brothers and it was a a welcome sight. When EZ showed up at Angel's doorstep last episode proclaiming he knew who killed their mother, there was no way Angel would turn him away. As Angel mined through EZ's precision work about Happy, he wanted to know what exactly EZ was doing holding onto all of this for eight months. EZ of course used the fact that Angel froze him out as the reason, but in reality it is obvious that EZ was being methodical in his research so he could draw his own conclusions first. Sure, he probably didn't think he could come to Angel at first, but when Bishop forced EZ's hand to fix their issues, it was the perfect in. Now, I am happy the line of dialogue is now open because I believe it was killing both of them to be this estranged, but EZ throwing it all at Angel's reluctance to reconcile as the reason he hadn't said anything was a little suspect. EZ's confession that Angel and Pop were the only thing real to him was completely honest for me and I am glad he expressed that to Angel.

The adventure Angel and EZ took while intense, was highly entertaining. From Angel knocking down the Slow Boys (honestly I don't even know their real club name, and for good reason), to the brothers engaging in child-like antics at the arcade, you could feel the bother bond healing and both had smiles of relief and familial love. Where they ended up by episode's end with the Stockton chapter shattered that bubble, but at least they are in it together.

Mercs and Mini
Last episode, Mini experienced something no child should ever even think about, but that is her reality and when Adelita was moved, she did what most children do.... act on impulse. The cat and mouse game to find her was suspenseful, but through it all you had to be impressed at how resourceful Mini is at such a tender age. She knew how to keep the mercs off her scent to make her way north to Adelita. When the Mayans found her, she found comfort in Coco but the rescue opened the MC up to Merc suspicion and now they know that something is off. Mini living in Madam Vicki's house wouldn't be ideal in most situations but at least the people she trusts most in Adelita and Coco are nearby to provide her security and comfort.

Dita's Adventures
Something is going on with mama Galindo and it is clearly not due to her cognitive function. Dita is plotting some sort of long game and another player entered the mix.... Felipe er Ignacio Cortina. When Dita slipped Miguel's detail, her first stop was the Reyes meat shop and we got our first indication that the past does not always stayed buried. Felipe looked confused and apprehensive to see her and their conversation was like a broken code the viewer would have to piece together through more episodes. I have my theories and their connection could actually be the real paternity scandal rather than who may have fathered Adelita's baby. The cozy snapshot we saw at the end of the episode with Felipe hanging onto the chair of Dita tells me that they are not just a passing interaction. Hedge your bets, is it possible Felipe has a third son in Miguel or possibly a deceased son in Miguel's brother Cristobal? Time will tell.

Random Thoughts:
* We got alone time with Angel and Adelita and while fun banter about the sex of the baby warmed my shipper heart, it is clear Angel still wants Adelita to open up. Could she be afraid of telling him the connection their families actually share? I think so. Her reluctance about him telling his family could be due to what she and Felipe know about their shared history and how Angel might feel about being left out AGAIN. Just a theory of mine, drop yours in the comments.

* Emily's Agro deal is in the proverbial toilet. On one hand I feel bad for how hard she worked to get this done, only to have it possibly taken away. But on the other hand, she wants legitimacy but isn't afraid to flex her husband's cartel connections to get Antonia in line. She is a tough nut to crack but I respect her devotion to her family.

* The death of Medina will probably circle the Mayans boats for all chapters, it should be interesting to see how they all come together to avenge their fallen brother at the hands of corrupt cops.

* Seeing Angel and EZ at the arcade was a glimpse into their childhood and I love it. I want more EZ remembering these childhood moments like we got in episode one.

* Does anyone else take issue with Felipe finally making a small effort with Angel only after EZ said they had talked? Yes, your son is mad but you are his father, it is your job to reach out even if met with silence and it doesn't appear Felipe even attempted to do that until that moment.

* I want to give a shout out to Clayton Cardenas and JD Pardo..... If I didn't know better, I would swear these two are actually brothers, their chemistry as siblings is THAT good.

What did you think? What will the club retribution be for Medina? Drop your comments below and remember a new episode airs this Tuesday!