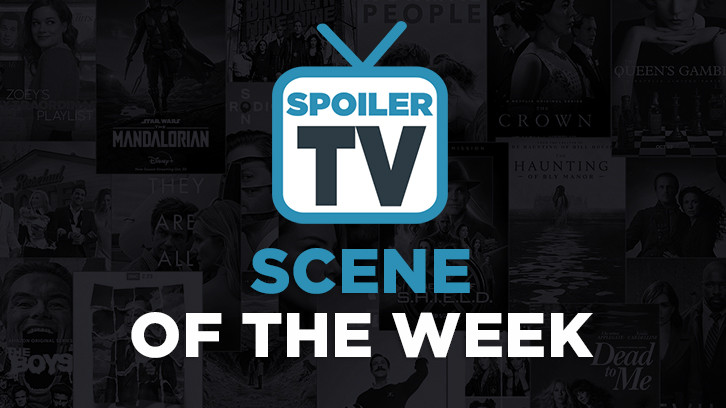 A weekly feature in which we're trying to find the most compelling, best acted, written, directed and just generally great, memorable scenes that we've seen in past seven days on TV.

ELEMENTARY, "Their Last Bow", August 15, 2019, Actors: Jonny Lee Miller, Lucy Liu, The Scenes: Holmes stays with Watson & The final scene
Justyna: I'm not sure where to start. It feels so strange to say goodbye to the show after watching it for so long. It's been a wonderful journey and this finale was filled with memorable moments. I loved Sherlock's final scene with (now retired) Captain Gregson and all of his interactions with Joan, so it's a challenge to highlight just one moment from the hour. Last season I went with the ending, the two of them together on Baker Street after admitting just how much they mean to each other. This one felt very similar, with less monologues but with beautifully portrayed emotions and a full circle reference. Somehow right where we started but better and stronger than ever. Ultimately I decided to choose the moment shortly before the ending, when Holmes learns of Watson's condition. His reaction hit me more than I expected. There's exactly one person in the world he truly loves and there's nothing, absolutely nothing, that could keep him away from her at a time like this. He wanted nothing more than to protect Joan and her son from danger and in this moment he understands that the best way to actually help is to stay by her side. They're always stronger together than they are apart. Joan's voice breaks as she struggles to act strong but it's clear that her friend's statement means the world to her. Sherlock simply saying "I'm staying" and hugging his best friend was such a heartwarming part in this heartbreaking moment. I loved Jonny Lee Miller's performance here and Lucy Liu also did a fantastic job. Showing strength when you're most vulnerable is a difficult challenge, but it's powerful and even beautiful when you have someone you love by your side. It's been a wonderful story, I'm so glad for the opportunity to follow it. Kudos to the entire cast & crew for all their work on entire series.
Jennifer: "I'm Staying" - I caught up with this show just in time for the finale, which was kinda mixed (that last attempt at a fake out in the final minutes seemed especially phoned in to me); but what did land beautifully, as it always does, was the deep connection between Sherlock and Watson. They both spend the better part of the hour trying to nobly let go of each other for the other's own good. In this scene, Miller and Liu get the chance to be more emotionally vulnerable than ever as Sherlock declares he's staying, and, I think for the first time in the series, initiates a hug. It's the moment where they absolutely choose each other, to remain as friends and partners, and housemates, and maybe coparents, and damn the complications, like kids, heroin addictions and cancer diagnosis. We don't even need the last scene in a way, even if the confirmation that Watson beats the cancer and gets a cute new wig is definitely appreciated. That hug, with Miller's tear-filled eyes and Liu's cracked voice, tells us definitively that no matter what, they're staying together. And that's all that matters.
Dahne: A well Joan and Sherlock head back to the precinct to ask Marcus for their old jobs back. There was a lot to love about the Elementary finale so it was hard to pick just one scene. The hug scene, the talk with Gregson, more Moriarty mentions than I could dream of...so much awesome. In the end though, I choose the final scene. There's something so right about them coming full circle, partners once more, doing a job that they both love. I adore Joan and Sherlock's banter in the elevator and how the theme music played as they stepped in Captain Marcus Bell's office, something they had done a thousand times when Gregson was Captain. It was saying goodbye, but in a way, it was like coming home too.

LEGION, "Chapter 27", August 12, 2019, Actors: Dan Stevens, Harry Lloyd, The Scene: Charles takes responsibility for David's life
Laura B: Legion finally comes to end (at least for now) and as I'm sure many predicted, it didn't leave us with a lot of answers, but instead hope for a better future. I chose the scene with Charles talking down a vengeful David, because it was the prosaic narrative that kept this series in line with X-Men tradition thematically, but counteracted it by not having a massive fight; it basically gave David the one other thing he was really looking for, an apology and sense of peace.

POSE, "Life's a Beach", August 13, 2019, Actors: Dominique Jackson, Indya Moore, Hailie Sahar and more, The Scene: Elektra's verbal takedown
William: As Elektra and her children indulge in a celebratory evening, the ladies get accosted by a privileged white woman who proceeds to misgender them while discouraging the group from feeling welcome in such an environment. Elektra takes it upon herself to not only protect her daughters, but to vouch for her own dignity by refusing to allow this hateful presence intimidate her. "I know our presence threatens you. We fought for our place at this table. And that has made us stronger than you'll ever be." As many of you already know, I live for Dominique Jackson's portrayal as Elektra. Watching her devour that racist, transphobic witch of a yuppie through the sharpness of Elektra's tongue was everything I needed to see. What made the scene even more delicious was watching Angel and Lulu cheerleading as the dragging commenced. The moment Elektra recollected herself with a sip of water before marking her prey, I just knew we were in for something remarkable!
Saloni: Elektra's excellent verbal takedown of the judgy white lady at the club.
Jamie: I wish I could print this scene out and frame it because it was absolutely perfect.

PREACHER, "Deviant", August 11, 2019, Actors: Dominic Cooper and more
The Scene: The hallway fight
Milo: The hallway fight between Jesse & DeSade's followers was probably the most intense TV hallway fight scene since Daredevil. I loved the way the camera panned back to give a view of the whole fight scene taking place before our eyes, as it showed the destructive carnage that Jesse can unleash even if he's outnumbered ten to one. Very Oldboy-esque, too.

SUCCESSION, "The Summer Palace", August 11, 2019, Actors: Brian Cox, Sarah Snook
The Scene: Logan and Shiv's talk
Milo: This was such a good scene - Sarah Snook and Brian Cox were amazing. Already one episode back and this show is knocking it out of the park.
Saloni: Logan and Shiv's talk which ends with him telling her she will be the successor.

THE HANDMAID'S TALE, "Mayday", August 14, 2019, Actors: Elisabeth Moss, Yvonne Strahovski and more, The Scenes: The final scene & Serena gets arrested
Jamie: Serena gets arrested. It bugged me so much that she seemed to go free after all she'd done, so this moment felt really great. Glad to finally see her get what she deserves.
Laura B: Final scene. It might be true that this episode was in some ways predictable given that many viewers are aware that there will be a season four, but it honestly didn't take away from how beautifully shot and directed the episode was, especially its last 20 minutes or so. I chose the scene where the other handmaids find June after she's been shot and begin to carry her back through the woods. June has finally earned the respect of becoming a rebel fighter and it was beautiful to see the others come back for her in attempts to save her life.

WHY WOMEN KILL, "Murder Means Never Having to Say You're Sorry", August 15, 2019, Actors: Lucy Liu, Jack Davenport, Ginnifer Goodwin and more, The Scenes: Simone demands that her husband doesn't die & Beth Ann contemplates what would happen if her husband died
Beth: The show is off to a great start partially because of Lucy Liu's Simone, she stole the episode as a fabulous woman who seems to have it all until she is confronted with pictures of her husband kissing another man. When Simone begins packing him up and preparing for her third failed marriage, her discovery of an empty pill bottle next to Karl enraged her. She demanded he not die so she could watch him suffer without her and the delivery of the line was hilarious. As she calmly rang up the ambulance, you could tell this woman is a boss and I cannot wait to watch more of her story in the coming episodes.
Ellys: A normal dinner scene between husband and wife takes on a wry undertone as he doesn't realize she knows about his infidelity. In the premiere of this highly anticipated new show, there's nothing quite as darkly funny. Goodwin's Beth Ann is almost lost in thought as she contemplates aloud what it would mean for her if Rob died. Her tone is genuinely thoughtful as she wonders about how death can come so soon, like it did to her uncle who choked on pimento. Initially startled by her musings, Rob begins to be more amused by them. Rob is on a completely different wavelength than Beth Ann, and Jaeger walks a fine line between goofy and clueless. His huge grin when he replies that, if he died, Beth Ann's new role would be his widow, is met with such absolute quiet irritation by Goodwin that we wouldn't be surprised to see Rob die right then and there. The scene showcases the engaging screenplay and gets viewers more invested in Beth Ann gaining the upper hand in the future.
William: Watching Lucy Liu transform into a radiant yet catty 80s diva was just what I needed to close the summer. I was both stunned and amused by the way Simone reacted to her husband's attempted overdose because it displayed a level of camp that Lucy truly excelled in. "You think you're going to get out of this by dying? F*ck you!" It's clear that she's having a ball with the material that's being given to her because we hadn't seen Lucy channel someone this vibrant before. That in itself makes me even more eager to see her story unfold as Simone already stands a chance of becoming the series' scene stealer.