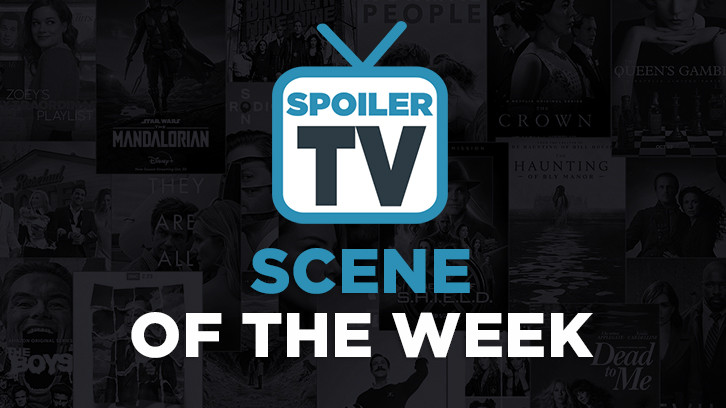 A weekly feature in which we're trying to find the most compelling, best acted, written, directed and just generally great, memorable scenes that we've seen in past seven days on TV.

BH90210, "The Reunion", August 7, 2019, Actors: Tori Spelling, Jennie Garth and more, The Scene: Tori steals her dress back
Beth: I am here to say that I thought this 'reboot' idea sounded terrible on paper but I was so wrong when I watched the finished product. The idea of this show is brilliant and this scene in particular was my favorite. Tori mirrored her own financial struggles and it all culminated when she broke the display case for Donna's prom dress and the group ran out of the hotel in hilarious fashion. The concept was so self-deprecating and extremely entertaining.

BLOOD AND TREASURE, "The Revenge of Farouk", August 6, 2019, Actors: Matt Barr, Sofia Pernas, Katia Winter and more, The Scene: The Ocean's 11 shot at the end
Beth: The final shot capped off a fun and surprising first season of the show. Sometimes ending a season on a good note and letting the good guys win is undervalued especially in today's shock and awe TV climate. There was payoff on several mysteries and Danny and Lexi ended the season together. When the credits rolled I was so satisfied and thankful that this show exists. Can't wait for season 2!

DEAR WHITE PEOPLE, "Chapter VIII", August 2, 2019, Actors: Nia Jervier, Courtney Sauls, Logan Browning and more, The Scene: The game of Mafia intercut with the discussion
William: As the students partake in a game of Mafia (led by the fabulous and charming Kelsey Philips), the scene gets intercut with a bleaker subject matter as the casualties discuss the rumours surrounding Moses sexually assaulting Muffy. The juxtaposition was executed seamlessly as the characters in the game playfully examine the likelihood of their own being the culprit, while the losers are left to face the harsh reality of that truth in their actual life. Such a method speaks to how sharp Dear White People is by bridging both humour and realism to evoke relevant conversations.

ELEMENTARY, "Reichenbach Falls", August 8, 2019, Actors: Jonny Lee Miller and more, The Scene: The opening scene
Justyna: I've been thinking about which scene to highlight from the episode as there were at least several memorable moments that I would be happy to see in the article. But in the end the part that probably hit me the most was the beginning of the hour and Sherlock's struggle to process everything that's happened. His father wasn't his hero, he was barely someone he could trust and yet his death makes a painful impact on our favorite detective. The idea that a giant, a titan like Morland, a head of a powerful (criminal) organization could be gone, just like that, comes as a shock to Holmes. He's the only Holmes left now and after every action they've taken in the last episode he and his friends are not only back to square one, but in a worse position than they could have anticipated. Sherlock Holmes isn't known for his emotional reactions to things so I felt that his response in the opening scene was perfectly done. He's struggling with expressing exactly how he feels, he wonders whether his father died a painful death and still he does his best to assess the situation and make a right deduction when it counts. Sherlock chooses to visit the crime scene, despite the fact that it's clear just how hard it is for him to even be there. His presence though, his strength to still be his great self, saves the lives of all the people there. One of the things I've always enjoyed the most about the whole show is Jonny Lee Miller's performance, especially in all the emotional parts. Here we get to see another of his memorable portrayals of Sherlock Holmes in the aftermath of a personal tragedy. Once again he's absolutely excellent in the scene. Kudos to the entire cast & crew for this powerful hour and this great SOTW.

EUPHORIA, "And Salt the Earth Behind You", August 4, 2019, Actors: Jacob Elordi, Eric Dane, The Scene: Nate confronts his dad
Sandi: Nate breaks down. Nate has been a fascinating character to watch develop, Jacob Elordi has added complex layers to his insecurities and the veneer of self-control and restraint he portrays through his scenes are just sublime. But this physical fight with his father is just raw, emotional fury, at his father mainly, but also at himself too I feel. The rage and anger that he constantly holds inside pours out uncontrollably, leading Cal to retreat to his study to reflect on what he has done to cause this in his son. Incredible performance from both actors involved. Also picked by Marko

GRAND HOTEL, "Long Night's Journey Into Day", August 5, 2019, Actors: Denyse Tontz, Lincoln Younes, The Scene: Danny and Alicia get together
Beth: Danny and Alicia finally go there. The payoff of Danny and Alicia finally getting together was better than I imagined. When Alicia laid her cards on the table, Danny casually strolled over to her and said what an idiot he had been and he didn't care how complicated everything was. It may have taken longer than I wanted but the wait was worth it for that scene when they finally got together. I really hope ABC renews this show because it is the perfect summer offering!

GROWN-ISH, "Dreams and Nightmares", August 7, 2019, Actors: Yara Shahidi, Trevor Jackson, The Scene: Zoey and Aaron kiss
Luana: I love these two and the way they get each other and are there for one another, I always knew these two were endgame which is why it makes sense they weren't together right away but I can't wait for them to finally be able to explore their feelings and figure out if they can work as a couple. Zoey still has lots to learn and I think Aaron would be good for her in that way.

JETT, "Miljan Bestic", August 9, 2019, Actors: Carla Gugino, Violet McGraw and more, The Scene: The ending
Sandi: Nothing went right for Daisy this time round, even though she set up all the chess pieces she could overnight in her attempt to get one foot ahead of Bestic. She has never felt the full emotions of motherhood, as we have seen throughout the season, but even so I was surprised that she left Bestic for dead in the hotel while his men had Alice. Seeing those emotions flood over her as the car drove away, however, was the right way to play it after all. I think it was made too obvious last week that Jackie was Alice's father, but I can see why they kept that reveal for now too. Hopefully Season 2 will be announced before too long and we'll see them, and Phoenix and Maria get Alice back again.

LEGION, "Chapter 26", August 5, 2019, Actors: Dan Stevens and more, The Scene: David turns up for dinner
Laura B: David turns up as a friend of Charles for dinner. While this scenario isn't going to last long due to the fact future Amahl has been freed (and because this is penultimate episode of series), it was fun seeing David have the upper hand on Amahl Farouk, if even for a minute. As for how it's all going to end is anyone's best guest (and I'm calling Switch's creators and Clockwork to come into play), but it's been a wonderfully hazy and visceral ride!

POSE, "Revelations", August 6, 2019, Actors: Ryan Jamaal Swain, Dominique Jackson, Hailie Sahar and more, The Scene: The argument during the celebration
William: In the climax of Pose's most pivotal episode this season, the unspoken tension among all the characters reaches a head. As the House of Evangelista celebrate Damon's graduation, the moment's met with resistance because of Angel's passive aggressive ways. The two verbally attack one another, prompting Damon to expose Angel's recent drug habits. The conflict escalated further once Blanca sided with her daughter rather than her son, leaving Damon furious. Pray Tell attempts to intervene, but it only heightens the intensity by putting himself and Damon at odds with one another. This leads to the revelation that Ricky potentially exposed Damon to HIV, in addition to the fact that Ricky slept with Pray. Dominique and Hailie were EXCELLENT scene partners as we watched Elektra and Lulu revel in all of the mess that unfolded, but Ryan, MJ and Billy truly brought the matter full circle by conveying a wide range of emotions in such a short span of time.

PREACHER, "Last Supper", August 4, 2019, Actors: Julie Ann Emery and more, The Scene: The car chase
Milo: Straight out of car chase classic Vanishing Point with a healthy dose of Mad Max: Fury Road, Lara and her group of Grail soldiers being ripped to shreds in a thrilling car chase that left them in the dust was one of the most exciting moments of this two-part premiere of Preacher. Well executed car chases are becoming an increasing rarity on TV so it's fantastic to see that Preacher has been able to pull off one as brilliant as this.

THE 100, "The Blood of Sanctum", August 6, 2019, Actors: Eliza Taylor, Paige Turco, Lola Flanery and more, The Scenes: Everyone reunites in the Sanctum & Clarke threatens to kill herself & Clarke breaks down after Russell takes Madi & Clarke lets Abby go
Justyna: There were quite a few memorable moments during this season's finale. I loved seeing Bellamy and Octavia fight side by side once again and that ending was both confusing and heartbreaking to watch. Then there's a number of scenes with Clarke's emotional battle already highlighted in the article. So the part that I decided to include here is focused on a short break from all the tragedy and loss. It's a quiet moment where everyone reunites back in Sanctum and they actually get a chance to talk, process and reflect on everything that's happened. We see a strange change in Jordan's behavior but he also points out an interesting thing to consider, whether our group's arrival has really had a good impact on Sanctum, regardless of whether they did better or worst than the last time. Then there's a couple of happy embraces and reunions - between Jackson and Miller, and Raven, Murphy and Emori - a truly heartwarming difference for once. Finally there's Bellamy and Clarke. Unfortunately despite all their attempts at doing things better this time Clarke still ends up losing her mother and almost Madi. It's clear she's barely holding on after all the pain and tragedy she has suffered during this finale alone. She needs to know, she's desperately hoping that their actions ultimately did improve things somehow, so she reaches out to Bellamy and asks him to reassure her that it all mattered in the end. He manages to find the right words to comfort her, about Abby and what they've been through. It's quite beautiful to see how far these two have come from their first meeting. To have someone that you can genuinely count on and allow yourself to be vulnerable with, it makes all the difference in the world. Eliza Taylor is once again wonderful in this moment and her scenes with Bob Morley continue to be perfectly spot-on. Kudos to the entire cast & crew for this emotional scene and the season overall. It's going to be hard to say goodbye next year for sure.
Luana: Clarke threatens to kill herself. It was obvious she wasn't going to do it, but she looked so defeated, Eliza has been killing it this season and she has been through so much, I'm looking forward to the last season, to her settling in her growth as a person and to these relationships they've been teasing for so long to finally be explored.
Marko: Clarke breaks down after realizing Russell took Madi.
María: Clarke lets Abby go. In another great performance of Eliza Taylor in this episode, we see Clarke go through different stages in a very short scene. First, she threatens to float the primes. Then, after Simone tries to play her by pretending to be Abby, she regains for a few seconds the hope of still having her mom alive, only to realize that it can't be possible, which finally leads her to let Abby go for good. We can see all this emotions reflected on Clarke's face, going from anger, relief, disappointment and finally sadness when we see her pushing her "mom" from her. This scene is completed with a beautiful and dramatic background music, which makes it more heartbreaking.

THE HANDMAID'S TALE, "Sacrifice", August 7, 2019, Actors: Elisabeth Moss, Julie Dretzin, The Scene: June chooses not to interfere in Eleanor's overdose
Laura B: This is one of those scenes where we see a character have to choose the many over the one and considering what June continues to go through, sadly I think Joseph was right in some respects, that June will never be the same with this being another devastating choice she's going to have to live with. Let's just hope she's successful with getting the kids out of Gilead. At any rate Elisabeth Moss has been on her game over the last few episodes and it surely helps that she has the likes of Bradley Whitford and Julie Dretzin to play off of.

YOUNGER, "The Debu-taunt", August 7, 2019, Actors: Sutton Foster, Miriam Shor, Nico Tortorella, The Scenes: Josh and Liza talk on the phone & Liza and Diana's heart to heart
Marko: Eliza and Diana's heart to heart.
Luana: Josh and Liza talk on the phone. Don't get me wrong, I love Liza with Charles, but the relationship she has with Josh is so special. They way they were talking was so intimate and the love was absolutely palpable, they're always there for each other when it's necessary and I love to see these little moments, even if they're teasing the return of the big triangle it doesn't make this moment less special.