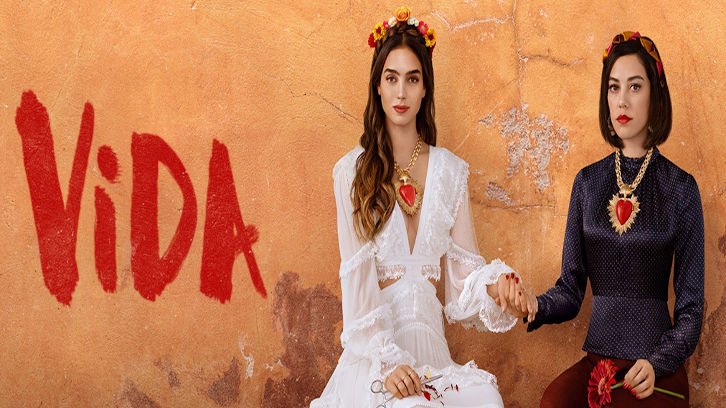 It's yard sale time for Emma and Lyn. To help the bar get up and running, the sisters decide to sell a few things and Nico is there to help them. Emma is also trying to have Marcos get the apartment left by Don Fulgencio, but Eddy doesn't seem to be thrilled by the idea, but is willing to meet Marcos and see for herself. Also, it's Emma's birthday and she doesn't want to celebrate, or at least that what we are led to believe in the beginning.


Have I mentioned how much I love Nico? She's a badass and she knows exactly what she wants and how to get it. I loved how she tried to help Emma and Lyn with the bar and the sale and how she wanted them to be focused on the next steps to take and do everything calmly, without freaking out, especially when Nelson ("
public enemy from across the street
") sent a fire marshal to bar and ordered to keep it closed for 30 days. Nico and Emma's friendship is becoming one of my favorite things on the show.
Lyn and Rudy, the counselman, are getting serious. He visits her at the yard sale. Johnny, who was there, noticed the two being close with one another and visibly showed Lyn how upset that made him feel. But I don't blame Lyn; she's entitled to have a life and be happy, she shouldn't feel guilty because she's moving on and trying to forget Johnny.
Rudy helps her find an "in" with the fire marshal, so that they have time to do the necessary renovations at the bar and have it checked at a later date. By counting down the days, Lyn realizes that it's the 14th and it's Emma's birthday. She felt bad for forgetting it, but then they let themselves loose and throw a little party just for the two of them. It was so sweet to see them be care-free and just grateful to have one another and to have each other's back. Family can be very hard to navigate sometimes, but I think we also have to remember that it is vital to have it when things get tough.
I really enjoyed this episode, especially those moments between Emma and Nico. I love them together, however this relationship is going to transform, because I think they are good for one another. Also, happy birthday Emma!
Favorite line:
Eddy: "
It's not for sale, Carol!
"
Carol: "
Do we know each other?
".
Eddy: "
Oh sh*t! Is your name really Carol? I just picked the first white name that popped in my head
".
What did you guys think about the episode? Isn't Nico the best? Let me know in the comments below!