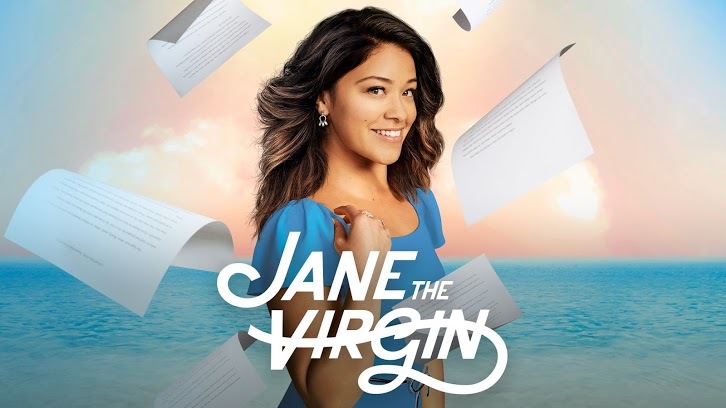 Where were we? Right!
Jane the Vir
gin "Chapter Ninety-Four" was written by the team of Valentina L Garza and Deidre Shaw and was directed by Fernando Sariñana. First let me apologize for having to do a little catch up with this review – but summers! This was another great episode – though very light on any magic realism or fancy gimmicks. Kudos to both Gina Rodriguez (Jane) and Justin Baldoni (Rafael) for some terrific performances. If I didn't know we still had six more episodes to go, this felt a lot like we were beginning to wrap up a lot of our plots….
The episode begins where we left off, with Rafael and Jane – finally! – reuniting – multiple times! #NSFW They decide to pick up right where they left off, and Jane packs to move back in. They worry when Mateo (Elias Janssen) is very low key about it that his new medication for ADHD is changing his personality. In the end, it turns out that he just doesn't believe that Jane and Rafael will actually get married and stay together. He's also worried that Michael might come back and steal Jane away again. It also turns out that Rafael has some of the same fears.
At the center of this episode is the board game Loteria. When Jorge (Alfonso DiLuca) pulls it out and wants to play it for family night, both Alba (Ivonne Coll) and Xo (Andrea Navedo) are adamantly against it. We learn as the episode goes on that the two have a history with the game. When Xo (Catherine Toribio) wants to drop out of school and join a Disney cruise as a dancer, the two play Loteria to decide. Xo accuses Alba of cheating, and Alba let Xo think that she did – although she denied it – because she and Mateo Sr. (Roel Navarro) had decided together to prevent Xo from going.
Meanwhile, Jane is impatient for Rafael to propose. She is snooping everywhere for the ring – and it's hilarious as he teases her with pretend proposals and tells her that she'll never see it coming… and she doesn't! I love how they totally set up the game to be the proposal. Rafael pretends he can't understand the rules and thus needs to be the caller. It turns out that Jane gets all the sayings/riddles – mermaid, which goes back to the very first episode and then tree, which has always been their special romantic spot, and finally ring!
Neither Mateo nor Rafael want to wait to have the wedding, so Jane concedes to having a quickie at City Hall, but when they go to get the license and see how ratty City Hall is, Jane isn't so sure. Rafael suggests that they follow City Hall with a special dinner at La Coeur.
It's hilarious when Petra (Yael Grobglas) discovers that Rafael and Jane are back together – I loved her seeing the Mirabella uniform on the floor and then realizing it's Jane when she sees the name tag! Jane goes to apologize to Petra for not telling her and to reassure her that she'll still be there, but Petra is mostly put out that Jane isn't asking her to be maid of honor – or so Jane thinks. So Jane gets Petra a big, puffy, mint green bridesmaid dress – which then gets ripped and has to be repaired quickly when it turns out they are going to have to get married the next day if they want La Coeur! Hilariously, while sewing, Jane gets her hair stuck in the sewing machine, which results in her getting a black eye and needing a neck brace.
Meanwhile, Xo appears to be dodging calls from her oncologist and Rogelio (Jaime Camil) and Alba fear the worst. It turns out that in reality, Xo is just talking to the nurse about going to nursing school – her cancer isn't back. Camil is hilarious – as always – as he has to wear his tail from the telenovela so that he gets more used to it. It turns out that it didn't look natural to the television executives and they will have to reshoot a lot of his scenes…
Xo is ready to give up on nursing school before she even starts when she is intimidated by just the sound of her classes. Alba challenges her to a game of Loteria to decide! In the end, Rogelio's tale exposes the card up her sleeve that Alba used to cheat to win – and then the whole story comes out about the previous game. Alba tries to explain that she and Mateo Sr were immigrants and as such they wanted better for their children. They wanted her to get a good education. Xo is still shocked and upset. I really loved that what was "better" for Xo was really following in Alba's footsteps.
Rafael finally asks Jane what happened in Montana. She tells him honestly about the kiss, but emphasizes that she realized then that she really loved Rafael and nothing else happened. Rafael is hurt and confused and doesn't feel he can trust Jane. Jane feels like she has to marry Rafael right away to reassure him.
When she goes to Petra to give her the dress, Petra finally reveals what was going on. I was so happy to be right that Krishna (Shelly Bhalla) and Petra were working together to fool Milos (Max Bird-Ridnell)! Petra tells Jane she just had to get her out of the office in case Milos was listening – she never really wanted an ugly dress!
Alba, Xo, and Petra realize that Jane doesn't want this quickie wedding. Petra goes to Rafael – dressed in the puffy mint green dress which looks good on her! She tells Rafael to talk to Jane. The two decide that they don't want to get married like this. This is just a terrific scene between Baldoni and Rodriguez and they both bring their A-game here. He confides that he still has trust issues – and Jane tells him that she chose him and she will keep choosing him – even if she has to chase him!
Petra then apologizes to Jane, and I love how these three have finally come together. It's sweet when Jane asks Petra to be her maid of honor for real and then Rafael says he wants her to stand up with him and the two fight over her. In the end, it's clear that Jane has more options.
Meanwhile, there's also a great scene between Navedo and Camil when Rogelio really gives it to Xo for giving up on her dream – especially after all he's been through to pursue his own. I loved that Xo immediately admits that Rogelio is right. She also goes and apologizes to Alba – and we get a sweet swing scene between the two. Xo tells Alba that she was right, and Alba promises to help Xo, especially with the science!
The episode ends with a sweet scene of Mateo – finally all bubbles and smiles like himself – marrying Jane and Rafael in front of his teddy bears! Of course, we also have to get a warning from the Narrator (Anthony Mendez) – the real wedding won't go this smoothly! But this is a telenovela, so who was expecting that it would!
And on we go to "Chapter Ninety-Five" written by the team of Liz Sczudlo and Madeline Hendricks and directed by Neema Barnette, whose other credits include
Bosch
,
Being Mary Jane
, and
Queen Sugar
. This episode starts us on the road to the wedding and sees the return of Lina (Diane Guerrero) who has a big favor to ask of Jane. I was happy to see Guerrero back because of the great chemistry between her and Rodriguez, and the two do not disappoint in this episode. We also get a cameo of Faith the cat in the episode!
As the episode opens, tensions are running high for everyone. Rogelio is consumed with waiting for the pick up of his show and dream, running a live Instagram feed for almost the entire episode, Xo is anxiously waiting to find out if she got in to nursing school, and Jane has that wedding to plan! Leading to this week's tag title –
Jane the Virgin Bride The Sequel
. Meanwhile, it also looks like Rafael might be getting back into the hotel business – but is that a good thing?
Petra is excited to own all of the Mirabella – and totally reminded me of Daffy Duck in that old cartoon, crying mine, mine, mine over a pearl… When she sees Rafael talking to Chef Ludo (Ludo Befebvre, playing himself!), she wants Rafael to introduce her. Rafael is angry and hurt – and Petra realizes that of course it would sting as he used to own the Mirabella. She invites him to come and work for her. They clearly have different ideas – she wants Ludo to spearhead a pop-up and Rafael thinks a branded restaurant would work better. Regardless, it leads to very long days and nights… and to Rafael missing wedding meetings while out at happy hour. Xo even jokes is he turning into the old Rafael!
First on Jane's wedding list is to secure an officiate. She's not going with her Priest out of respect for Rafael – plus she's divorced now – and sets up an appointment with Reverend Fairchild (Larry Sullivan). Rafael ends up missing the meeting, and thinks that that is why Jane decides not to go with Fairchild. I loved Rafael eventually going to try to make it right, only to find out that Jane went off on the Reverend when he suggested that Rafael wasn't committed enough to their family. We get a wonderful scene – in pouring rain – between the two as Jane confirms her trust in Rafael – and her commitment to letting him follow his dreams too.
Lina arrives to help Jane with another item on her list – the dress. We learn that Lina is attending FIT – the Fashion Institute of Technology – and that she and Danny have been trying unsuccessfully for a year to get pregnant. She then asks Jane for one of her eggs! This leads to all kinds of terrific egg puns – which the Narrator thoroughly enjoys! Me too!
I really loved this plotline as it really was a bit of a dovetail back to the very beginning of the show. Jane naturally angsts over the decision. I loved her telling everyone at family dinner and Rafael being the first to say he didn't think it was a good idea and then Alba and Xo jumping in, happy that he said it first, but also totally not thinking it's a good idea. Jane wants to do this for her friend very badly, but of course is protective of her eggs. In the end, she decides that she really wants to give this gift to Lina, and in the end, Lina can't let her. It's super creepy when the little girl has Jane's face! Lina realizes that she looks up to Jane too much – it would be too much pressure. But we do get some fantastic scenes between these two! I also really like their "hair day" and Jane deciding the first hairdo was too Khalesi,
Game of Thrones
! And it was!
Meanwhile, Rogelio continues to try to broadcast everything in order to boost his social media presence and pressure the network into picking up his show. Xo has to put the phone in a plant – with an eggplant emoji to go with it – so that she can distract Rogelio with sex to try to calm him down. In the end, Rogelio ends up having an attack while broadcasting and ends up in the hospital. This lead to a very sweet scene as Rogelio apologizes for ruining Jane's wedding dress shopping again – nice excuse for the flashback to him telling her he was her father! Jane is shocked to realize that was just 7 years ago. Xo points out that we regenerate all our cells in 7 years – so really, they've now known each other their whole lives – aw!
Jane realizes that it was her experience of not knowing who her father was that made it so important that Lina tell her baby where she – not sure why they all assumed it would be a girl! – came from as soon as possible. Lina realizes that she'd forgotten about Jane's insecurity over her father and agrees to answer all 37 of Jane's questions – without feeling like a bad mom – and then, as I already said, realizes she can't take the eggs anyway! Lina does ask Jane to be her baby's guardian and designs a dress especially for her for the wedding.
Rafael and Petra meet with Ludo to try to sign him. He thinks that Petra's idea of a pop up is stale, agreeing with Rafael, but when Rafael tries to pitch the branded restaurant, Petra undermines him and talks over him. After Ludo leaves, the two fight. Rafael resents her having gotten the hotel, and she tells him that he was running the hotel into the ground when he had it and she was the one to save it. Rafael quits.
Throughout the episode, a storm has been coming and it finally breaks when Jane catches up with Rafael at Reverend Fairchild's. After Jane tells him that she knows how committed he is to their family – and how the talk of eggs has made her more excited to have more kids, Rafael drops the bomb that he's decided that he doesn't want any more children. He feels like he's spread too thin already. Jane says she's ok with that and who know, maybe one of them will change their minds? And the Narrator tells us that eventually, someone – he's not saying who! – will change their mind!
Everyone ends up at Alba's to celebrate Rogelio getting out of the hospital. Alba once again makes a heartfelt prayer for all they are grateful for. I loved that it was Rafael who suggest it – but Jane know immediately what he's thinking – and they ask Alba to officiate at their wedding! Which is, of course, perfect. Alba is thrilled.
Rogelio finally signs off Instagram – but he still wants to be an American television star. Xo does get in to nursing school! It's hilarious and fun that come the fall of 2019, Jaime Camil will also be on a mainstream US sitcom… All I can say is – they had better not even dream of killing him off on this show!!!!
Jane is making headway with her wedding lists – but now Rafael has no best man. Jane tells him to apologize to Petra because he overstepped. Rafael calls – and he and Petra both apologize and agree to work together. Petra is getting in her car – and the storm is now raging – it's totally ominous! And then, suddenly, Magda (Priscilla Barnes) is in the backseat!!!! She tells Petra that now that Petra has the hotel back she has to help her – and then she warns her that as a fortune teller, she knows that something bad will happen to Petra if she doesn't help her! The episode ends in a blaze of light! Did Petra get into a car crash???? Again, show, do NOT kill off Petra! It looks like she will have to deal with her mother one more time before the end of the show!
Only five more episodes left! So much can happen on this show in five episodes! I wonder what other faces from the past we will see before we are done? Who do you want to see come back before the end? Let me know your thoughts on the last two episodes – and your hopes for the final episodes – in the comments below!