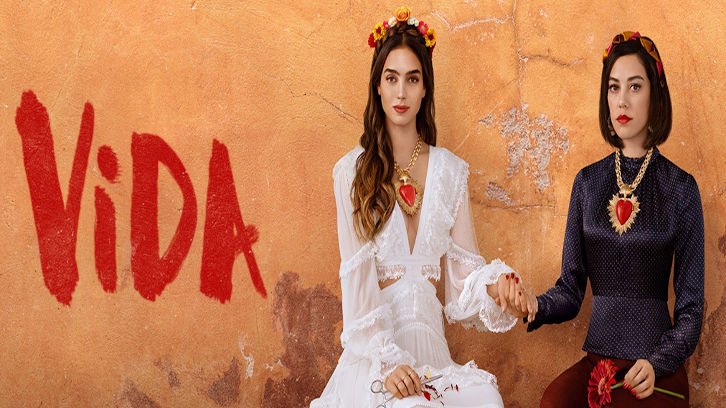 I didn't realize how much I had missed "Vida". The realness of this show and how unapologetic it is makes me glad to be a witness to this incredible piece of storytelling. Emma and Lyn have a special place in my heart, I love how interesting and complicated and fascinated and brave they are, they don't take anyone's BS and I am so here for it.


The first episode of season two sees the two sisters struggle with the situation of the bar, given that Eddy is still at the hospital after being beaten up. They have decided to organize an "
old school fundraiser
", as they call it. Emma doesn't seem to be really on board with the idea, while Lyn tries everything she can to help, noticing that the others working at the bar don't seem to be wanting her input on how to organize the event.
I don't really like how Lyn is perceived by the other people in her community, I feel for her ans it's a feeling that's a little too close to home. As someone who has always been seen as nothing but "ordinary", I can understand her frustations and her fears. We all want people to like us, because that's what we are: social animals. But being kind of ignored makes us feel useless and not loved. I love Lyn and I love her strenght.
Emma is busy dealing with the bar. She is trying to do her best, but when she finds out that Eddy and her mother might not be legally married, she starts worrying there could be problems with the will. What I love about Emma is that she wants the others to think of her as this tough and cold person, when in reality her strenght comes from caring and loving the people around her. Look how far she's come with Eddy and how evolved her relationship with Lyn is. I just adore the two sisters together; flawed and imperfect, yet
And then there's Mari, who's trying to find her place in the world. That's a feeling I can understand as well. As women, especially as young women, we are pressured to be and look a certain way. That is able to diminish what we are as human beings, because we put useless pressure on ourselves. It's always hard to cope with what happens around us, so we try to be like everybody else, forgetting that every life is different. I love Mari and her spirit, a rebel, a warrior, a kind girl.
What I've always loved about "
Vida
" is that it never shies away from representing women in the most sincere way possible; the opening scenes of this episode are the perfect example of why TV is now the place to be when it comes to portray women with raw honesty without apologizing for it. The women on this show do not ask for permission, they get what they want and it's glorious to see, it is so refreshing and real.
Favorite line:
Emma: "
I'll leave you a big fat tip if you stop talking to me
".
What did you guys think about the episode? Are you excited about season 2? Let me know in the comments below!