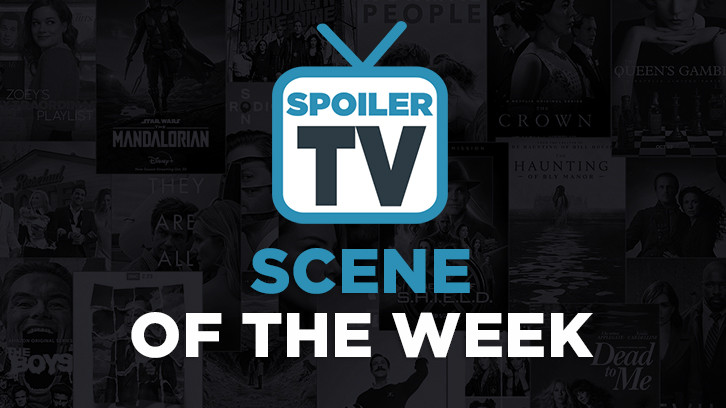 A weekly feature in which we're trying to find the most compelling, best acted, written, directed and just generally great, memorable scenes that we've seen in past seven days on TV.

AGENTS OF SHIELD, "Toldja", June 28, 2019, Actors: Jeff Ward, Henry Simmons, The Scene: Deke confronts Mack
Justyna: There were a few scenes that I would like to highlight from the episode. Jaco sharing his story with Yo-Yo took me by surprise, Enoch's goodbye was both sad and heartwarming, the interactions between Sarge and the rest of the team were very interesting to follow. But the most memorable part for me turned out to be Deke's response to the news about Fitz. Deke has been mainly used as a comic relief lately, a way to balance all the darkness and heavy topics on the show. However, this is probably the scene where I liked his character the most in a while. His anger directed towards Mack was completely understandable. While it seems strange that he hasn't tried to contact his family for a year, it's clear how hurt he felt after learning the truth and realizing that no one has decided to share it with him. Of course he cares about his grandparents and he would have done anything to help, including going to space to find Fitz. The way his behavior completely changed in this moment made it so much more powerful to watch. Great performance by Jeff Ward. I hope we'll get to see more interactions between Deke and FitzSimmons, as well as the rest of the team. Kudos!

BIG LITTLE LIES, "The End of the World", June 23, 2019, Actors: Reese Witherspoon, Shailene Woodley, Meryl Streep and more, The Scenes: Jane meets with Mary Louise & Madeline's speech
Claire: The scene between Mary Louise and Jane. All I could think of was where does this lady get her balls from? Mary Louise wants to be a part of her grandchild's life, a child that was conceived through a brutal rape perpetrated by her now dead son? This character has so many dimensions and each week a new layer is peeled away. I loved how uncomfortable this scene made me and I just wanted to scream: "you all should run far away from this crazy woman and quickly!" Though the women and the viewers are in a constant confliction of how to deal with this woman who is on one level in deep mourning for her son and on another level mean as hell. You just know there's going to be a backstory of what happened between Mary Louise's sons when they were young and one of them wound up dead. Meryl Streep is fabulously evil and Shailene Woodley holds her own up against this icon.
Laura B: Madeline's speech at the school assembly. Reese Witherspoon continues to shine in this role, but this is really the first time where we see her character publicly break down, while she takes someone else's cause to make it her own. But what struck out here most, was Ed's unwillingness to find some compassion for Madeline, which Celeste rightfully calls him out on later. It just was an emotional and memorable scene.

ELEMENTARY, "Command: Delete", June 27, 2019, Actors: Jonny Lee Miller, Tim Guinee, The Scene: Sherlock realizes the truth about Agent McNally
Justyna: NSA Agent Dean McNally has been an ally of Holmes and Watson for years. His character's first appearance was back in season two and he's returned to the show a few times since. "We're on your team, Holmes." While he wasn't exactly a friend, he was someone that Sherlock and Joan trusted on multiple occasions and decided to reach out to after the introduction of Odin Reichenbach. His history with the detectives is exactly what makes this betrayal memorable. McNally has chosen to side with Odin and focus on the "bigger picture". He doesn't mind being a killer if the deaths of a few can prevent the next 9/11. Whatever it takes. He has no problem with explaining his point of view before he threatens everyone that Holmes cares about - his friends, their families and most of all - Watson. I really like the way Jonny Lee Miller portrays Sherlock in this scene. His voice is quiet, he barely moves, but his words and his face expressions speak volumes. The betrayal, the disappointment, the anger. In this particular moment Holmes is losing but the fight is far from over. And something tells me there is going to be quite a confrontation once Sherlock moves past his calm demeanor. Can't wait to see what's next.

SIREN, "Serenity", June 27, 2019, Actors: Alex Roe, Eline Powell, Fola Evans-Akingbola and more, The Scene: The dinner party
Prpleight: The most awkward dinner party ever. Ever wonder how to stop all conversation at the dinner table? Announce that you're in a trilationship with two of the people at the table. Ben's mother throws a family/thank you dinner, after a medical emergency, in part to thank her son, Ben, and his friend, Ryn, for saving her life. Ben and Ryn agree to keep their romantic relationship on the DL. Unfortunately, the third person in that relationship, Maddie (Ben's girlfriend since season 1), didn't get the memo. In the middle of a polite (people are talking but it's all superficial casual conversation) meal Maddie announces that she, Ben and Ryn are in love and kisses each of them. All conversations stop and every eye is on them. LOL, even after they leave, the guests stare at each other in shock. Most awkward dinner scene I've seen in a while.

SWAMP THING, "Drive All Night", June 28, 2019, Actors: Crystal Reed, Elle Graham, The Scene: Abby examines Susie
Prpleight: Swamp Thing has, since the beginning, been one of the few shows that does creepy moments that actually strike me as creepy. Most of the time I find these types of scenes either make me laugh or just leave me feeling indifferent. The entire sequence was pretty creepy, but this scene in particular stood out. When Abby arrives, to examine 8 year-old Susie, she's a little surprised that the girl is humming a song that she's too young to know. Abby's not concerned, just curious. She assumes Susie learned this from her temporary guardian, Maria. What makes this scene really work for me is the way the scene builds its tension. It was Abby's slow realization that Susie is speaking as though she was Abby's best friend, Shawna, that had me holding my breath. Elle Graham's performance here makes it all work. She doesn't play over the top malevolent teen. She's just having a conversation. Shawna's anger is evident, but she's calm.

THE 100, "The Old Man and the Anomaly", June 25, 2019, Actors: Luisa D'Oliveira, Richard Harmon, Bob Morley and more, The Scene: The confrontation at the border
Justyna: I'm glad that Emori got her chance to shine during this hour. She's an interesting and complicated character but rarely finds herself at the centre of the attention. This time it's different. She's the one who gets to make an important choice with consequences for everyone around her. Emori decides to stand by her friends, to try to help save Clarke, but at the same time she refuses to give up on Murphy. It's a delicate balance but it's beautifully portrayed during this confrontation. After Emori steals the EMP and runs towards the radiation shield she's stopped by John and Josephine. Murphy wants to change her mind and make sure the two of them will get to live forever but he doesn't realize that she has already made her decision and told Bellamy where to meet them. I really loved how Bellamy and Echo were prepared for every question raised by Josephine as she tries to persuade them to surrender. They're definitely not willing to do that. Even when she threatens John's life, Bellamy pretends to distance himself from his friend, though Emori is clearly worried by Josephine's actions. In the end the combined efforts of everyone against the Prime lead to Bellamy being able to cross the border with Josephine in the attempt to save Clarke's life. Echo stays behind to help everyone else and Emori chooses to stay with John, even knowing it might cost her her life. So many little things take place during this one scene and it's such a defining moment for a number of these characters. Intense, memorable, well acted and written, clever and with significant consequences. Certainly a part worth to highlight as SOTW. Kudos!

THE HANDMAID'S TALE, "Household", June 26, 2019, Actors: Elisabeth Moss, Ann Dowd and more, The Scenes: June's walk & June asks Aunt Lydia to help her put the collar on
Claire: The scene towards the end where June walks out on the steps overlooking the Mall and the Washington Monument (now depicted as a cross). This was such a powerful scene made even more so by the horrifying imagery of the decapitated Lincoln Memorial and the mute coverings over the handmaids' mouths. I couldn't help but think what a sacred place this is where June and the Waterfords are standing; my mind kept flashing to Dr. King's "I Have A Dream" speech and thinking how fragile and fleeting our democracy could possibly be. Side note: the director mentioned during the inside look of the episode that just off camera there were crowds of tourists and onlookers. And when Elisabeth Moss walked out into view, they let out thunderous applause and cheers! But if they don't move this narrative along, they are going to lose me. And if June's baby ends up back in Gilead I'm done. Though I think Nick and Serena are working for the resistance from within.
Laura B: June asks Aunt Lydia to help her put the mouth-covering collar on. The trip to Washington D.C. put a lot of things into perspective in terms of really seeing the truth behind Gilead's lies, proving that this really was never about spiritual procreation, but about control and silencing the freedoms once enjoyed by the United States' past. With imagery of super devout Handmaids, Lincoln's bust removed, and the Washington Monument being turned into a giant cross, there's no way that message didn't get across. But it also shows a spectrum of how much worse it could be for June. The scene between June and Aunt Lydia before they depart for home was about forgiveness (considering what Lydia did during the last episode), or at least finding middle ground in a world that is so much more unfair than one would ever dare to imagine.