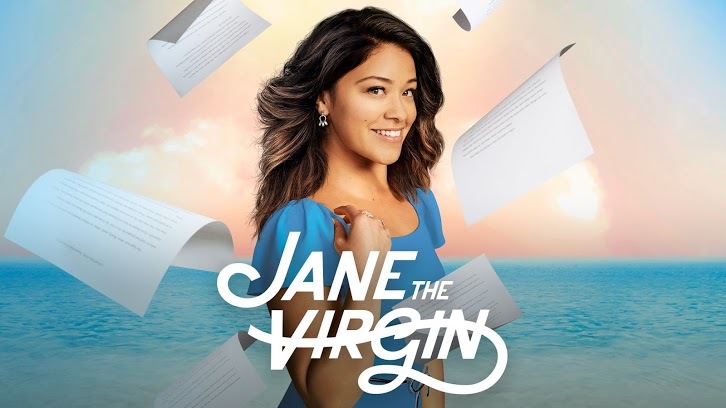 Jane the Virgin
"Chapter Ninety-One" was written by Joni Lefkowitz and was directed by Gina Lamar. This was a pretty busy episode plot-wise with Jane (Gina Rodriguez) ending up returning to her novel, Jane and Rafael (Justin Baldoni) coming to a new understanding, Mateo (Elias Janssen) finally being diagnosed with ADHD, Petra (Yael Grobglas) and JR (Rosario Dawson) breaking up, and Luisa (Yara Martinez) going back to Rose (Bridget Regan). Wow! A lot of this, is a bit of well-worn territory, however, so this wasn't my favorite episode of the series by a long shot – though of course, there are lots of enjoyable moments – let's dive in!
The gimmick of the episode is that Jane is so overwhelmed by all that she's agreed to take on that even the Narrator (Anthony Mendez) starts confusing the story she's working on with the Martian telenovela being invaded by Jane's own story. I also liked how Jane's schedule kept having to be adjusted – maybe it's just because I relate SO much to that!
Jane is thrilled when Rogelio (Jaime Camil) tells her that the network wants her to write the Pilot script, especially when she gets a check for $7500! I loved them doing their little dance again. And she's fine to be paired with a senior writer with more television experience. I loved the title card gimmick for the episode:
Jane the Virgin Martian
! So cute!
It turns out that the senior writer is Dina (Judy Reyes), who still hasn't forgiven Rogelio for cutting her out of the project to begin with. She agrees to work on the project – but will only communicate through Jane! Jane is ready to devote more time to the telenovela – schedule change!
Jane also meets with her mentor – Marlene (Melanie Mayron). It was hilarious to see Marlene so happy – Mayron is terrific in the episode. She admits that she has a new love in her life – who happens to be in publishing! Marlene is also effusive in her praise of Jane's novel – and she wants to show it to her new lover…
Jane becomes increasingly overwhelmed by trying to write the telenovela and the novel and goes to Xo (Andrea Navedo) for advice. Marlene's lover has loved the pages and wants to see more! Xo tells Jane to just focus on the telenovela – it's money after all. Jane also doesn't want to disappoint Rogelio. When Rogelio realizes that Jane is struggling to focus, he tells her that she can quit the telenovela if she wants to focus on the novel. She mentions the money, and he tells her that you can buy a lot of things with money, but you can't buy passion! I loved that he supported her art!
Rogelio then has to convince Dina to work with him directly. I loved that he brought Darci (Justina Machado), Xo, and River (Brooke Shields) with him to prove that he's changed! And it was a really nice reminder for us too of how much character growth we've seen with Rogelio! He's even brought a contract with rules that the other women promise to enforce. Dina agrees!
Meanwhile, Jane is also dealing with Rafael over continued issues with Mateo. Ms Everett (Jodi Harris) suggests that they get Mateo tested in case he has a learning disability. Rafael is vehemently opposed to any testing and insists that Mateo is just a boy with lots of energy. Rafael puts his foot down and Jane calls the Dr anyway to make an appointment.
I loved that Petra tells Rafael to get over himself about having Mateo tested. She reminds him that the twins are in therapy and he's on anti-depressants! It's clear that Rafael's concern over Mateo is really more about him than Mateo. Of course, when Rafael finally agrees to the testing, he finds out that Jane has already made the appointment and he's furious that she went behind his back. He tells her that he's calling his lawyer to draw up a new custody agreement! When Jane tells Xo, she takes Rafael's part and declares that it was terrible that Jane went behind Rafael's back.
Rafael tells Jane about adjusting the custody agreement at Mateo's testing, and then leaves to go and do an open house – that should net him his first $1M sale! Jane chases after him in her car, and Rafael ends up in a fender-bender. Jane immediately offers to go and start the open house while Rafael waits for the police. Jane trying to show the house is hysterical! Rafael gets there just in time before she completely blows it.
Rafael tells the buyers that if you plan when things are good, you're covered when things are bad in relation to them getting insurance for the house. But both Rafael and Jane realize that this applies to other areas of their life as well. Rafael does at least thank Jane for covering the open house until he could get there. Rafael admits that it was hard hearing the couple talk about their kids' future because he wants Mateo to have a normal future. Jane tells him that Mateo will – but it will be HIS normal. Jane is ready to be there to help him. Rafael finally forgives her.
Dr Flores (Sandra Cevallos) tells Jane and Rafael that Mateo does have ADHD – no surprise there! She tells them that it is hard for Mateo to focus and prioritize. I loved the Narrator giving us a little example of what life is like for Mateo. Here's another great issue that the show is tackling so well. Rafael handles the news well, but Jane falls apart a bit because she wants Mateo to have a great life – she doesn't want things to be harder for him. Rafael returns her own advice. Mateo is the same great kid he was yesterday. He tells her that they've got this. Together.
Meanwhile, JR has gone off to explore her job opportunity in Houston. I loved Petra's Housten alter-ego Patty! Grobglas gets to showcase all her many facets in this episode – comedy gold here. I also loved her scolding Rafael. I also loved that she doesn't hesitate to tell Jane that she interrupted facetime sex when she showed up at her office! Petra does admit to Jane that she is terrified that JR will take the job in Houston. Jane suggests that JR could easily find a similar job with immigration in Miami.
When JR returns from Houston, she's on her way back from the airport when she gets an offer for a similar job in Miami. Of course Petra has pulled some strings to get it for her. JR is furious, but it's not why she ends up breaking up with Petra. She tells Petra that being in Houston made her realize how much she needs a completely fresh start – and that has to be without Petra in her life.
Grobglas finest moment in the episode is when she shows up at Jane's – first she berates her for not locking her front door – and then she breaks down completely sobbing over JR. She begs Jane to let her sleep there for the night. I also loved Jane making a note to put more Petra in the novel! I get the feeling that this HAS to be a note that the writers made early on in the series – add more Yael Grobglas!!! While I'm sad for Petra, I really hope that JR is now gone – they've gone to that on-again-off-again well a bit too often already with this storyline.
And finally, in on-again-off-again news, Luisa once more tries to make up with Rafael, who categorically cuts her out again. Luisa goes to Bobby (Tommy Dorfman) for advice, and he tells her not to give up and to go to her ex-girlfriend to try to get the truth about the accounts – her brother's worth it!
Luisa goes to see Rose, and the truth isn't what she thought it would be. Rose reminds her that she did put all the accounts in Luisa's name to make her trust her! Rose asks her why she's trying so hard to get back into the life of someone who doesn't want her when Rose is right there and desperately wants Luisa! She then tells Luisa about Bobby and tells her to go to him when she's ready to come back to her.
Luisa tries one final time to convince Rafael that she's not working with Rose and that she signed the papers when she was blackout drunk. Rafael refuses to believe her and essentially pushes her back into Rose's arms. Luisa goes to Bobby and asks him what Rose wants her to do!
So it looks like Rose and Luisa are back on – or is Luisa still trying to prove something to Rafael? It's a telenovela so you never know! Another great performance from Yael Grobglas in this episode. I really like that they are tackling the issue of ADHD. It's always interesting to see how people handle their children's learning disabilities. They are nothing to be ashamed about. Rafael loses points here for making it more about him. Jane tackles it the right way – early diagnosis and being proactive with treatment. Even Petra does better here than Rafael! She's just practical – deal with it head on! What did you think of the episode? Let me know your thoughts in the comments below!