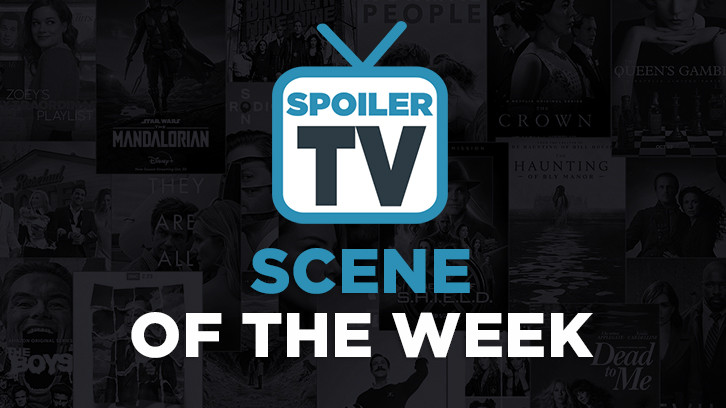 A weekly feature in which we're trying to find the most compelling, best acted, written, directed and just generally great, memorable scenes that we've seen in past seven days on TV.

ARROW, "You Have Saved This City", May 13, 2019, Actors: Stephen Amell, Emily Bett Rickards, LaMonica Garrett, The Scenes: Oliver and Felicity say goodbye & The Monitor comes to collect Oliver
Justyna: It was rather surprising to see the final fight of the season take place quite early in the episode. But in the end it was all the goodbye scenes that stole the hour for me. First in the bunker with Oliver truly seeing his legacy, the team of heroes who are ready to protect the city and carry on what he started. The title of the finale feels perfect in this moment - "You Have Saved This City". So many times and on so many occasions, yes, he did. With the help of all his friends. Once Oliver and Felicity leave the bunker and they shut the lights off there comes the next goodbye - the OTA. These three have been such a great team for most of the show and it's hard to believe that this is their last moment together. They exchange a few words about protection, new home and how they simply love one another. Diggle's exit marks a beginning of a beautiful montage - a happy life that Oliver, Felicity and eventually their daughter shared together for a little while. But all good things come to an end... Oliver's deal with the Monitor has to be honored and he's forced to leave his family behind, knowing that he'll never be able to return to them. It's heartbreaking, Oliver's goodbye to Mia and then Felicity. All his words are full of love and gratitude but it's clear how impossibly hard it is to leave. He's not leaving with hope that he might return, he has to accept his fate and trust that his actions might save the people he loves (and the rest of the universe). The goodbye is deeply emotional and both actors did a wonderful job with their performance during the scene. We know that this is also a goodbye to Felicity's character overall, which is why I loved her ending in the future. We don't quite know where this is going but it feels like after all this time she gets to be reunited with the love of her life. She looks hopeful and ready to fulfill her promise to find him again, so as far as endings go, this one is deeply moving and beautiful. Bigger than the universe... Kudos to cast & crew for their work on the show & especially this finale.
Marko: The Monitor comes to collect Oliver.

CHARMED, "Red Rain", May 12, 2019, Actors: Ser'Darius Blain and more
The Scene: Galvin sacrifices himself (picked by Marko)

CHERNOBYL, "Please Remain Calm", May 13, 2019, Actors: Jared Harris and more
The Scene: The three engineers try to prevent a potentially catastrophic explosion
Jimmy: The three engineers descend into the bowels of the stricken power plant in an attempt to prevent a potentially catastrophic explosion. The radiation is so intense that it causes their flashlights to fail, leaving them stranded in darkness. After just two episodes, this series has absolutely captivated me.

GAME OF THRONES, "The Bells", May 12, 2019, Actors: Nikolaj Coster-Waldau, Lena Headey, The Scene: Jaime and Cersei die together
Laura B: Jaime and Cersei die under the weight of power. On a first viewing I really didn't feel much for this penultimate episode, but on rewatch with a more open mind, I found there was really a lot more there than meets the eye along with a sense of magical realism. For everything Cersei has done and as even as betrayed by Jaime as I felt in the previous episode for leaving Brienne, I can't deny not only what an interesting way to fulfill the valonqar prophecy, but it was amazing that I could still feel for the deep love these two characters have for each other and that's a testament to Lena Headey and Nikolaj Coster-Waldau's acting in contrast to Dany's meltdown. It may not have been as cruel of death that Cersei deserved, but she did die with her unborn child stunned, being literary crushed under the weight of her own power, as the castle fell in on them.

KILLING EVE, "I Hope You Like Missionary!", May 12, 2019, Actor: Jodie Comer
The Scene: Villanelle displays a talent for accents
DJRiter: Now working with Eve to trap a killer, the enigmatic Villanelle cycles through accents for Eve to create a character to send undercover. She flows from one dialect until the next with ease. Comer has been on fire this season and the mastery with which she executes this scene just adds to the accolades she is earning this year. This is her year.

LUCIFER, "Who's da New King of Hell?", May 8, 2019, Actors: Tom Ellis, Lauren German, The Scene: The ending
Justyna: There were many scenes during the second half of the season that would be worthy of a mention. As great as it was to see everyone fighting to save Charlie or memorable to watch Amenadiel discovering the cruelty of the world with Caleb, I couldn't help but choose the very last minutes of the finale. Just when it seems that all the evil is over and we have a chance for a happy ending Lucifer makes Chloe (and the viewers) realize that demons will continue to return to Earth unless he goes back to hell and contains them. It's the last thing he wants to do at this moment but it's a sacrifice he's willing to make to protect everyone else. Because he did change, he did grow, he cares about people and he's so much more than the devil everyone knew him to be. His choice alone is important to highlight but the scene becomes so much more tragic when we realize the reason why Chloe went to see Lucifer. She's finally ready to truly accept him, exactly as he is, she even admits that she loves him, and his decision breaks her heart. Suddenly their moment becomes a goodbye, a final one and their mutual admission of love makes it all the more painful to see. Both actors are absolutely wonderful in so many of their interactions, but especially this one. I'm glad we got to see a glimpse of Lucifer's wings before he leaves, once again an angel at his heart. And then there's that final shot - Lucifer sitting at his throne in hell. Such a powerful view, certainly one to remember. I also have to give credit for the choice of music in the scene. "My Love Will Never Die" by Claire Wyndham is both a beautiful a song and perfectly matches this ending. I'm quite sure that "Unsteady" sequence is my all-time favorite moment of the show, but this one is yet another example of how much meaning can be added to the scene when the music fits it just right. Kudos to cast & crew for all their work. Fingers crossed for season 5.
Jennise: Lucifer returns to Hell. After the fight to rescue Charlie, Amenadiel's new son, Lucifer is about to dispatch Dromos when Chloe rushes in to make sure Lucifer is okay. Lucifer tells her to leave because he doesn't want her to see what he's really capable of. Chloe confesses that she's no longer afraid of him, she's afraid of losing him. At that moment it was clear that Lucifer was going to return to Hell. Lucifer has spent the bulk of the series trying to get Chloe to realize she loves him. But this story is basically a tragedy, once she makes that admission something had to happen to keep them apart. Lucifer must return to Hell. He may not be responsible for the sins of humans, but if the demons escape Hell again, that would be his responsibility. It's time he returns to his post. First, Lucifer tells Chloe that she is his first love. I was really happy, given the emotional connotation of his Devil wings, that he returns to Hell on his angel wings. The final shot of the season (I'm crossing everything that we get a season 5) was pretty cool. Lucifer on his throne, far far above Hell. Like Lucifer's Devil face, the visual was nowhere close to what I expected from the images I've seen in fiction and art. It was unique and, with the addition of that haunting song, a very striking final image. Kudos.

NCIS LOS ANGELES, "The Guardian", May 12, 2019, Actors: David James Elliott and more
The Scene: Harm's return
Klutzy girl: Although I don't watch this show, the long awaited return of Harm and Mac (showing up in the next week) reeled me in. I was so happy to see Harm again and the JAG theme playing over his return made me emotional. I'm excited to see what this arc brings to these characters we've waited over a decade to see again.

NEW AMSTERDAM, "Luna", May 14, 2019, Actors: Ryan Eggold, Janet Montgomery, Jocko Sims and more, The Scene: The ambulance crash
Justyna: It was such an emotional season finale. Throughout the episode we follow a difficult and painful fight to save Max's family. It's heartbreaking to see him being forced to choose whether to save his wife or his baby girl, especially after hearing Georgia's request. It's hard not to be moved by the moment when Max holds little Luna while his friends and colleagues try to restore Georgia's pulse, and "Kettering" by The Antlers is playing in the background, probably one of the saddest songs I know. But after all that pain and struggle there comes a wonderful little part where everything seems like it's going to be alright, Max, his wife and baby, Helen and Lauren are all on their way to the hospital and Georgia even wakes up and meets her daughter. Unfortunately that's not where the story ends, the final minutes of the season follow the aftermath of the most terrible accident, an ambulance with all our heroes inside is hit by another ambulance, stolen by a patient with drugs in his system. Just like that, just when they were so close to the hospital, Lauren is thrown out of the car and appears to be gravely injured. Georgia is once again unconscious and being examined by Dr. Kapoor. Helen is nowhere to be found. And then there's Max and the baby. It's truly a miracle that he somehow managed to hold on to Luna during the crash and they're both alive and mostly unharmed. But watching all the events around them is simply shocking. The doctors and nurses of New Amsterdam, their friends show up on the site of the crash almost right away but we already know not everyone is going to survive. Iggy's monologue and the music are perfectly matched with the scene and all the actors did a tremendous job not only with this ending, but the entire hour as well. As tragic as this scene is, this has been a wonderful first season and I'm so glad to be one of the show's viewers. Already can't wait to see season two. Kudos to the cast & crew for all their work so far!
DJRiter: The ambulance crash cliffhanger. In its first year on the air New Amsterdam has proven to be much like its lead character of Max, a rule breaker. The season's cliff-hanger is no different, an ambulance transporting a seriously weak Georgia following a traumatic childbirth; Max; their new daughter, Luna; Helen and Bloom is broadsided by another ambulance that's been stolen by a patient from the hospital with balloons of drugs in his stomach. We know Max and the baby are alive, but everyone else's life is in jeopardy. And according to a producer's interview following the show more than one cast member may not survive. It was gripping television as the fates of our favorites hung in the balance as their friends and colleagues race to the scene to help.

SUPERGIRL, "Red Dawn", May 12, 2019, Actors: Melissa Benoist, Chyler Leigh, Helen Slater, The Scene: Alex pleads with Supergirl to come back
DJRiter: As a lifeless Supergirl lays on the ground in the woods, a tearful Alex Danvers, her memories restored, pleads with her sister not to die, to not leave her alone. This was easily one of the most gut-wrenching scenes of this season. Chyler Leigh slays this scene in a virtuoso performance. Leigh has always been one of the show's greatest acting strengths, but in this emotional performance she takes that strength to an entirely new level of excellence. She taps into her character's despair and desperation with a guttural, raw emotion not seen from her since the powerful end of Season 2's 'Changing'. It is the type of performance that should be praised for its depth and garner all the acting awards for the actress. Leigh has been a standout performer all season tackling the risky mind-wipe storyline, but in this scene, she is something extraordinary and special. She is sure to be a leading contender for SpoilerTV's Performer of the Month for May, a title she has not won since 'Changing'. The time has come to rectify that oversight.
Zandarl: The Danvers sisters always pull at the heart strings and this episode gave us another great scene between those two. Alex finally remembers her sister is Supergirl as she beaten in a fight with Red Daughter. Alex's heartfelt plea to Kara to come back and take sunlight from the grass as it's dark has you reaching for the tissues. As Elsa looks in crying, fearing like Alex that her daughter is dead.

THE BIG BANG THEORY, "The Stockholm Syndrome", May 16, 2019, Actors: Jim Parsons, Mayim Bialik and more, The Scene: The award ceremony
Jennise: Sheldon Cooper has never been someone who thinks about what he says before he says it. Generally not understanding the effect of his words until he's punished by the people he's insulted or corrected by the people who love him. When he realized that he and Amy would need other prize winners on their side if they had any hope of beating the competition, he realized that none of them would offer their help because of what he'd said to them in the past. I was pleasantly surprised to hear him express regret that his behavior would hurt his wife. In the series finale, just before the Nobel Prize Ceremony, Sheldon manages to annoy and alienate all of his friends. They all decide to leave before the ceremony. (Honestly, he's like a kid on Christmas Day, so excited he's forgotten every behavioral lesson he's ever been taught.) But they're his friends. They can't not share this moment even it they're angry with him. Even Amy is annoyed with him. I chose this scene, not just because of the awesome speech Sheldon gave, but because of Sheldon's reaction when he saw his friends in the audience. Their presence, at one of the most important moments in his life, despite being so hurt and angry at him, literally, stopped him in his tracks. When he finally steps up to the podium, he introduces them as his other family.

THE FLASH, "Legacy", May 14, 2019, Actors: Jessica Parker Kennedy, Grant Gustin, Candice Patton and more, The Scene: Nora gets erased from timeline
Naomi: After Nora begins to disappear, Reverse Flash offers a solution; she can harness the Negative Speed Force to remain in existence. Barry and Nora race off to generate the force, but Nora decides that she doesn't want to live with all of the hate and rage that it takes to control that type of power. She forcefully tells a tearful Barry and Iris that it is her decision to deal with the consequences of her actions, even if that means she has to say goodbye to her parents. This was a very powerful and heart-wrenching scene. Powerful because Nora has completely accepted her role in The Reverse Flash's escape, becoming the hero that she has wanted to be, but heart-wrenching because her consequence for doing such a thing is so devastating to her parents. A heartbroken Barry and Iris have to look on as their daughter ceases to exist, not knowing if they will ever see her again.

THE GOOD FIGHT, "The One About the End of the World", May 16, 2019, Actors: Rose Leslie, Michael Sheen, The Scene: Maia leaves with Roland
Laura B: Sort of an odd season finale with things feeling more like mid-season finale, although The Good Wife ended some of its seasons with some cliffhangers too, but the idea of apocalypse coming was quite interesting, especially since Michael Sheen will also be seen in Good Omens at the end of the month! I chose this scene, because it shows how angry Maia really is by letting a darker, edgier and more cynical side shine through. Thematically feels like something very The Good Wife is being reintroduced into the narrative, which I think has actually been here in subtext from the moment Diane saved Maia as a kind of Alicia redux, but has only just come to the surface of the series. Some might think Rose Leslie is leaving the series, but I'm doubtful. It feels like things might only be just beginning with wherever this story is going.

THE VIRTUES, "Episode 1.1", May 15, 2019, Actors: Stephen Graham and more
The Scene: Joseph says goodbye to his son
Milo: 5 minutes into the series' first episode and you barely know any of the characters, yet that scene where Stephen Graham's character says goodbye to his son who is leaving with his ex to Australia, you can't help but be moved. It's such a phenomenal piece of acting in this slow burn, quiet drama that only reinforces Graham as one of the best actors on TV at the moment.

VEEP, "Veep", May 12, 2019, Actors: Julia Louis-Dreyfus, Tony Hale, Rhea Seehorn and more, The Scenes: Selina's funeral & Selina confronts Michelle
Giulia: I don't even know where to start. The series finale of Veep was absolute perfection. But since I have to pick one scene, I'm gonna go with the one where Selina confronts Michelle, Tom James' chief of staff. The way Selina tells her to basically dump him (both professionally and personally) is mind-blowing. I couldn't take my eyes off of JLD. She both insults her and gives her some advice, which kind of turns out as an epiphany for Michelle. Plus, Selina is feeling rather vulnerable at the moment, given that Ben (one of her most trustworthy advisors) is lying in a hospital bed, so she feels unapologetic (more than ever before), acts despicably (more than usual) and shows a power that she had never shown before. And it was grand. I have to say that I've never seen anything like that on TV. Not in terms of the character but in terms of the performance. Through Selina, Julia Louis-Dreyfus played the quintessential combination of tragedy and comedy, which is very hard to nail when playing a character, especially in a comedy. I'm gonna miss Julia playing Selina. I'm gonna miss Selina. I'm gonna miss Veep.
Milo: Selina's funeral. The entire epilogue was an emotional gut punch that hit home harder than most dramas. Seeing Gary return for one last devastating farewell for Selina was all the more heartbreaking, and catching up with every character to realise just how self-centered they still were gave us one of the most appropriate endings for any show ever, especially as in true Selina Meyer fashion - not only was her casket mishandled and not taken care of in a undignified way - but her death happened to fall on the same day as one of America's most beloved icons, Tom Hanks.
Eve: For a show that is a pure comedy and almost never showed any 'real' heart that series finale really tug on my heartstrings. The scene where Gary stands at Selina's coffin and says 'You would have hated the flowers' really made me shed a small tear. Poor Gary...

YEARS AND YEARS, "Episode 1", May 14, 2019, Actors: Rory Kinnear, T'Nia Miller and more
The Scene: The ending
Milo: The whole episode has been building up to this shocking ending introducing frighteningly real prospects in a nightmarish near-future of 2024. The launch of a missile from the United States during Trump's last days in office of his second term saw Britain caught in the crossfire with warning sirens flashing around the country, and the same warning message taking up the TV screen on every channel. Looking on helplessly, all the Lyons family can do is just sit back and watch. And it's only the calm before the storm, as like in those old war movies, the chaos only happens after the sirens stop.

YOUNG SHELDON, "A Swedish Science Thing and the Equation for Toast", May 16, 2019, Actors: Iain Armitage, Annie Potts, Wallace Shawn and more, The Scenes: The ending & Connie finds John on the roof
Jennise: Meemaw has to talk John off the roof. I almost picked Sheldon, in tears, certain he would always be alone, but in a way that moment was kind of expected. What was completely unexpected and heartbreaking was Dr. John Sturgis on the roof of his building. After an odd incident at work Meemaw discovers that he's been hospitalized for a breakdown before. When she doesn't hear from him, hours after she should have she goes looking for him and finds him on the roof of his building doing Tai Chi. Dr. Sturgis has been an eccentric, funny guy with more in common with Sheldon than his girlfriend (Meemaw). Sweet. Charming. The breakdown came out of left field, but it didn't feel like it. His comments about subatomic particles scares Meemaw. Wallace Shawn doesn't play the moment for a joke. His performance is subtle and...heartbreaking.
Claire: The end scene where Sheldon is heartbroken that no one except his mom showed up to his Nobel Prize party (at 5am). He sits and laments that he may eventually be a very lonely, friendless man. This is overcut with clips of all of his future friends as young children. This was so sweet. I've seen my own children struggle to make friends and it is heartbreaking so I loved this hopeful ending to season 2. Also a touching tribute to TBBT, which I would have included here, but I found the series finale to be very problematic as usual. Amy Farrah Fowler just won the Nobel, but she's worried about her looks?! Please...