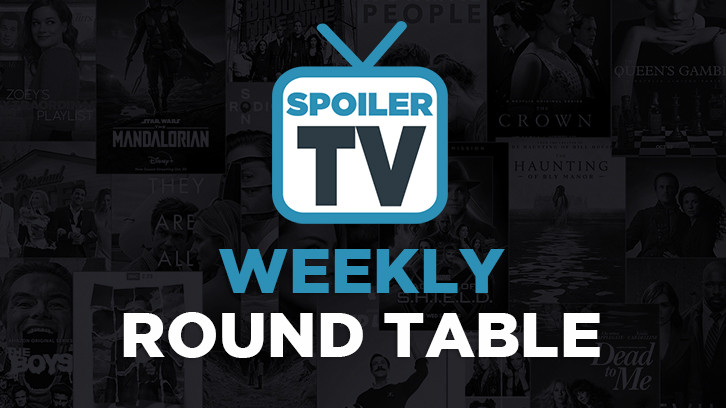 Hello and welcome to a new edition of SpoilerTV`s Weekly Round Table. Joining me this week is Milo, Kollin Lore, Klutzy_Girl, Prpleight, Bex W (BX), Claire (CS), Aimee T (AT), Sam Dismoor (SD), Michele (MI), and Jamie Coudeville. You just have to sit back enjoy the read and join the discussion in the comment section down below.


What renewals are you most happy with & which renewal has surprised you the most?
Milo: I'm happy the most for the renewal of Star Trek: Discovery, Season 2 was an all-timer for me and everything really shined - even though it may have ended on a closed loop it set up Season 3 to boldly go where the franchise hasn't gone before so it could be very exciting, especially with a new showrunner. Also very happy of course for The CW's mass early renewals, especially as this means Season 7 of The 100 is a go!
Kollin: I'm happy at The Rookie's renewal, had me on the edge of my seat with how long it took, and I guess you can kind of say I am surprised by it too. I am especially happy at The Orville's renewal! The show has been nothing short of brilliant, good to see it get its due.
Klutzy_Girl: I'm most happy about the The Goldbergs, Schooled, and Grey's Anatomy getting renewed (especially the fact that latter got two seasons!). The Blindspot renewal surprised me the most because I thought the show was dead for sure after NBC pulled it from the schedule but I'm thrilled they're allowed one final short season to wrap up the storylines.
Prpleight: Really happy about the Roswell, New Mexico renewal. The most surprising renewal was Blindspot. I've been collecting Blindspot on my DVR for the last season because it had stopped being very compelling for me.The discussion about the show seemed to have diminished as well, so I was expecting a cancellation.
BX: I'm very pleased SWAT was renewed, although I didn't doubt it would be. It's always a relief to see a fave show's renewal made official though.
I'm also happy about What We Do In The Shadows and The Orville being renewed. I had concerns The Orville might be cancelled so that renewal surprised me. FOX has broken my heart before.
CS: I am happy/surprised with the renewal of Good Girls on NBC. It is such a stellar show and after seeing the season finale, I've realized that it keeps getting better with each season. Also surprised/hopeful about The Twilight Zone renewal on CBS All Access; though the numbers were good. It has been quite a disappointment to this TZ fan. When it's good it's REALLY good and vice versa. I hope they use this second season to tighten up the writing on the show.
Surprised to see ABC's Schooled scored a renewal. It's just not that good, IMO. I feel the same way about The Goldbergs. It's simply gone down hill and every episode is a boring clone of the previous one. For ABC to cancel a wonderful and original new show like The Kids Are Alright and keep this schlock from Adam F. Goldberg on the air is beyond my comprehension. Also FOX's Last Man Standing was a renewal shocker and it's a real stinker of a show, too. With its ratings sag, NBC's Will & Grace was a pleasant surprise.
AT: Although already anounced last month, NBC's renewal of "Manifest" has me stoked the most. The freshman series gripped me from the start with its creative and original concept (and gained a significant audience for its efforts). However, major networks are more finicky about what constitutes a "successful" show, so its renewal is both exciting and a relief.
SD: I'm pretty surprised that Manifest and The Rookie got renewals since they didn't seem to be ratings winners. With Manifest, I want to be happy about it. I really wanted to like this show, but they had a pretty disappointing first season. I'm hoping they fix the problems they had last season and find their groove. I'm also happy about The Goldbergs and Good Girls. I was worried Good Girls wouldn't make it past their first season, but, here we are going into their third so I'm happy about that.
MI: I'm VERY happy that "The Bold Type" has been renewed by Freeform/ABC. It came in just under the wire, but it's my favorite show and I'm thrilled I won't be saying goodbye to the characters at the end of this season in a few weeks.
Jamie Coudeville: I only have a handful of shows where I actually care if they got renewed or not. As far as my other shows were concerned, I would be fine either way.The Bold Type was one of those shows that I still cared about and I was so happy to see it renewed, even though I didn't expect it. I was also surprised when The CW renewed all their shows (Dynasty especially) though now that the Netflix deal has fallen through, they may regret that decision.
Which cancellation has been the most shocking/surprising and which show are you hoping is given a second chance at another Network/Streamer?
Milo: I'm lucky in that this year has been a relatively quiet year for me outside the losses of Counterpart, One Day at a Time and Santa Clarita Diet and I'm hoping something happens with those 3 shows somewhere down the line. Gotham has ended so I'm not expecting much in the way of that, but would love to see some of the older versions of the characters show up on Batwoman!
Kollin Lore: I was surprised and absolutely, incredibly saddened by The Passage cancellation. Surprised because it was featured so heavily in Fox's new era promo after the merger was confirmed, and saddened because it was truly a quality show. A lot of heart and a lot of thought put into its writing. Such a bummer.
Klutzy_Girl: Although not the most shocking - I saw it coming - The Kids Are Alright's renewal hurt the most and although there's no chance, I'd love to see it picked up somewhere else. It was my favorite new show of the season, and I love every single Cleary!
Prpleight: I don't know if I can say the cancellation of The Passage was a shock or surprise, but It's the canceled show I'll miss the most. It would make me a really happy camper if it got picked up elsewhere.
BX: Not surprising given its ratings, but Whiskey Cavalier's cancellation still hurt a bit. Although unlikely, if any are given a second chance and picked up elsewhere, Whiskey Cavalier is the one I'm rooting for.
CS: Though not shocked, I was saddened to see the cancellation of Murphy Brown. The writing and chemistry were fantastic. It would be a great addition to CBS All Access. It's sad about ABC's The Kids Are Alright; what a shame. It was a quality show. An earlier cancellation of American Woman from Paramount was a major disappointment to me, also as was Netflix's Santa Clarita Diet. It never fails, good shows get cancelled and bad shows get renewed. Unfortunately, I don't think that this dynamic will ever change. I have still not recovered from NBC's cancellation of Freaks & Geeks in 2000.
SD: I was surprised about Whiskey Cavalier. I didn't watch it but it seemed like the network loved it and would give it another shot even though the ratings weren't stellar. I was also surprised ABC cut some of their sophomore/junior comedy shows. I thought Speechless at least would get another season. Then, Murphy Brown. First revival to get canceled after their first season back. I guess the ratings just didn't make up for the money they spent putting it back on.
MI: I really enjoyed "Whiskey Cavalier" and I'm truly sad to see it end so soon. Scott Foley and Lauren Cohan have amazing chemistry (though maybe too much) and I thought there were a lot more storylines to play out. Much in the way of Designated Survivor (ABC's other premature cancellation) last year, I'm kinda hoping Netflix wants to take Whiskey on.
Jamie Coudeville: There weren't really that many shocking cancellations for me. I was surprised to see Speechless canceled, I thought that was doing well. I expected midseason shows like Whiskey Cavalier to get canceled, they rarely do well. And while this may not be a recent cancellation, I'm still pissed that Netflix cancelled One Day At A Time.
What new show are you most excited about & which are you most disappointed didn't get picked up and hope gets shopped around?
Milo: Speaking of the above, Ruby Rose seems like a great casting choice for Batwoman and I'm really excited for that show. Fox's animated slate seems interesting too especially with the cast attached to The Great North and Duncanville, and Jane Levy is always reliable so I'm expecting big things from musical drama Zoey's Extraordinary Playlist. I've been looking for another modern western so Deputy might fit the bill, and Emergence does look among the more intriguing shows. PLUS: Stumptown has Cobie Smulders beating up some dudes in a car while Sweet Caroline is playing. What's not to love about that?
Outside of the network slate I've had His Dark Materials as my most anticipated new show of 2019 for a while now, joined closely by The Mandalorian, Catch-22 and Euphoria!
Kollin Lore: I'm most excited by Evil. I can never have enough supernatural-themed television. There are quite a few other shows whose premise is kind of blah, but the lead actor intrigues me enough to check it out, like Colbie Smulders as a PI in Stumptown or Stephen Dorff as a deputy in a modern day western, sign me up! Lastly, I've got a huge, huge crush on Ruby Rose, so hot, but I'm not so big on the CW superhero universe, so I'm kind of pulled on whether I look forward to Batwoman or not. Will check out one episode just to see. In terms of shows I am disappointed didn't get picked up? There isn't any, though I still long for Wayward Sisters, especially after seeing CW's new lineup and the ending of Supernatural in the wake
Klutzy_Girl: I'm excited about Perfect Harmony and Indebted (thrilled for Bradley Whitford and am so glad to have Fran Drescher back on my TV!) , Evil, Carol's Second Act, and Cobie Smulders' currently untitled show. Was really looking forward to Nana - love Katey Sagal, and it sounded interesting to me - and I'd be grateful if another network picked it up.
Prpleight: Last season I was excitedly waiting a couple of shows. This season nothing that really interested me was picked up. Apparently, The Lost Boys still has hope. I read the Alive ( AKA Frankenstein) script and really wanted to see what that pilot looked like.
BX: I'm not really excited for any new shows, because of the threat of cancellation after one season, but, if they do well in the ratings, at some stage I will be watching Evil, Emergence, and Lincoln.
CS: I think Freeform's new witch show Motherland: Fort Salem looks promising. I am a sucker for anything witch related. Hoping the NYPD Blue reboot gets a chance. Though it wasn't picked up for the Fall, it is still in contention as a mid season replacement after 'retooling.' But, I am beginning to prefer streaming to network television.
MI: I'm not in love with anything that's been picked up, just yet. But of the ones that I've looked into, I'm curious about "Not Just Me". It's got a solid cast and TV legend backbone, so it has all the makings to do really well. I'm sorry Sarah Drew won't be back on my TV screen this Fall, but I'll admit the pilot seemed a bit predictable. I'm also holding out hope that CBS will pick up "Surveillance" with Sophia Bush in the near future.
Jamie Coudeville: I didn't really keep an eye on the new shows this year. I could barely keep up with my current ones. That's why I've decided to not pick up any new shows next year (from the major networks), with the exception of spin offs. So I'll watch Batwoman, the Riverdale spin off and Mixed-ish. And I'll also check out Motherland For Salem on Freeform (not a major network so doesn't count ) because it looked really good.
So far Freddie Prinze Jr has been the biggest recasting casualty, how do you feel about that and are there any other recasting shuffles you'd like to see happen?
Klutzy_Girl: I was so excited to have Freddie back on my TV so I'm pretty upset about the recasting, even though I really like Scott Wolf.
Prpleight: The only reason I care one way or another about Scott Wolf replacing Freddie Prinze Jr., is because I've never liked Wolf's performances. Other than that I don't usually care about re-casting. I'm not the type to start or stop watching a show because of casting. I think it's all that time watching daytime soaps. (I've also noticed that British Television puts the story above the actors. I've seen shows that have come back with 60% or 70% recasts…and they continue to tell good compelling stories. I kind of share that opinion.) At least re-casting before a show starts doesn't affect the first impression of the show.
CS: I'd take Freddie Prinze Jr. over Scott Wolf ANY day.
SD: I feel bad for any actor that gets recast. It's never great but if it isn't working it isn't working. I don't know what Scott Wolf brings to the table that Freddie Prinze Jr couldn't, so I'm surprised about that. As far as other recasts, I feel like Constance Wu would probably like to be recast and I wouldn't be opposed to that.
Undoubtedly the biggest drama of Upfronts so far has been Constance Wu's reaction to Fresh Off The Boats renewal. Though she did attempt to back track, it has led to some in the industry revealing details on her alleged diva-like behaviour. What did you make of the drama & do you think she can still remain on the show?
Klutzy_Girl: Although Constance's behavior was pretty unprofessional, I'm still living for the drama and how it made this year's Upfronts ten times more chaotic. I think she'll definitely remain on the show even though she's clearly not happy about it.
CS: I especially liked and appreciated Constance's refreshing, curse-word laced honesty. I thought it was hilarious! She's stated that the renewal will keep her from taking another job that she was excited about. Honesty is not usually something you see much of from Hollywood.
AT: Constance Wu's social media/twitter tantrum was pretty surprising because she always struck me as someone savvier than that. The tirade was not only petty and unprofessional, but also showed a blantant disregard for the rest of the cast and crew (who are presumably happy to keep their jobs). Furthemore, she's now opened herself to added scrutiny and criticism going forward, which could potentially affect her ability to secure other roles. Overall her remarks were rather selfish and shortsighted (she's not being let go), but then again her name isn't Prudence (j/k).
SD: I think ABC needs Constance Wu on the show to help it retain any popularity it has so I doubt they'll be letting her out of her contract until she's fulfilled it. But if the diva rumors are true, keeping her on will probably not make anyone happy. If it were me, I would let her go if she wants to go, but it's a moneymaker for ABC right now and I get that they don't want to lose that.
MI: I think Constance has the right to be upset about her show, which I'm sure is demanding and time-consuming, being picked up again. Especially if she's already vocalized to higher-ups that she wants out. What crossed the line was being upset about it publicly, especially in the wake of many other people who woke up having lost their jobs. I'm not in her shoes, nor would I have done that, but I can understand feeling frustrated and being held hostage to a contract. I don't think it means she's necessarily "ungrateful" or a "diva", but morerather someone who wants to move on after 5 years in the same role. Some actors are very comfortable with a steady life and paycheck based out of LA - but Constance is young and unattached. It's pretty fair to assume that working on a a full-season network sitcom probably prohibits her from doing other (and bigger) projects that she would otherwise have the opportunity to do.
That's a wrap on this weeks Post-Upfronts round table! Sound off with all your thoughts in the comments below, and adios! Until we read again....