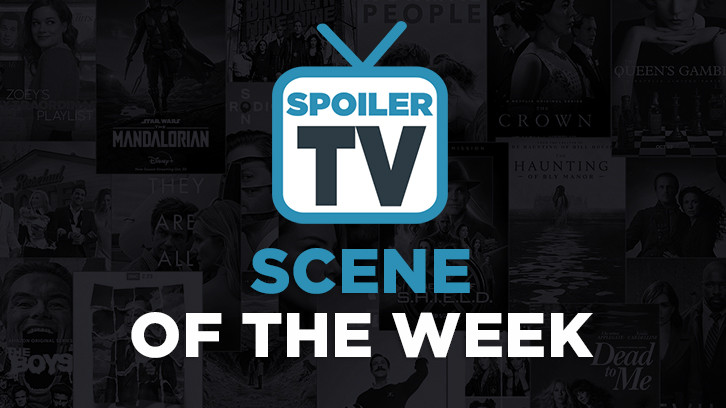 A weekly feature in which we're trying to find the most compelling, best acted, written, directed and just generally great, memorable scenes that we've seen in past seven days on TV.

AGENTS OF SHIELD, "Missing Pieces", May 10, 2019, Actor: Elizabeth Henstridge, The Scene: Simmons gets in Fitz's cryo-chamber
DJRiter: Oh, how we've missed these agents. While in deep space on a desperate search for Fitz, Quake, Simmons, Davis and Piper come across the wreckage of his ship and discover the cryo-chamber he encased himself in to get to them in the future last season. Only, the chamber is empty. Later while alone, a barely holding herself Simmons crawls into the chamber and closes the lid. At first her reasoning isn't clear, but then you realize she did it to be as close to her husband as she could without him being there. Enclosed in the chamber, surrounded by the essence of Fitz, she allows herself the first moments of grief, with tears in her eyes. She had to do it in the chamber in order to hide losing control in front of the others. Henstridge was masterful in that quiet, grief-filled moment.

DEAD TO ME, "I Have To Be Honest" & "You Have To Go", May 3, 2019, Actors: Christina Applegate, James Marsden, Linda Cardellini, The Scenes: Jen and Steve argue & Judy confesses the truth to Jen
Marko: Jen and Steve argue. Christina and James had great chemistry from the moment they shared screen, all the events culminated in their final encounter with pain, anger and confusion hitting against each other. Marvelous writing and acting. Perfect closure to an amazing first season.
Mads: Judy confesses to Jen about killing Ted.

DYNASTY, "New Lady In Town", May 10, 2019, Actors: Elizabeth Gillies, Sam Underwood
The Scene: Fallon and Adam fight
Beth: There was nothing earth shattering about this scene, it was just really funny. The faces both actors made when they were about to bite each other were priceless and I was in stitches.

FOR THE PEOPLE, "Who are we now?", May 9, 2019, Actors: Britt Robertson, Hope Davis and more
The Scene: Sandra finds out Jill is dating Roger
Mads: Sandra gives a powerful speech questioning the potentially compromised morals and client relationships in the public defender and prosecution offices.

GAME OF THRONES, "The Last of the Starks", May 5, 2019, Actors: Nathalie Emmanuel, Emilia Clarke and more, The Scene: The ending
Luana: "Dracarys!" I don't think I have to sell anyone on this one, this moment was epic and heartbreaking. Missandei has been amazing throughout and not only was she loyal to the end but she gave her queen permission to be the dragon she was born to be and burn the whole thing to the ground, maybe epic falls short. I can't wait to see what comes next.
Laura B: The show continues to subvert the fantasy elements in this intermission/transitional episode and Missandei's death further emphasizes just how lost most of our characters really are since she was an unwavering symbol of moral virtue and innocence now lost. It's hard to say what's going to happen going forward, but Missandei's final words are probably a good indicator that Daenerys may slip into Mad Queen mode...

GREY'S ANATOMY, "Drawn to the Blood", May 9, 2019, Actors: Giacomo Gianniotti, Ellen Pompeo, Camilla Luddington and more, The Scenes: Andrew takes the fall for Meredith & Jo opens up to Meredith
Luana: Meredith and Jo finally talk. If anyone could help Jo it was going to be Mer, and this scene was so perfect, sometimes the right words are all you need to start getting better, Jo needed to see herself and her misfortune in a new light and Mer was the best friend she could have in her corner at that time, amazing work by both Ellen Pompeo and Camilla Luddington.
Beth: Meredith asks Jo if she wants to stop. Meredith getting Jo to finally open up wasn't easy, but when she did, it was the first step towards healing. Jo needed to be reminded that she is not how she came to be, she is a survivor and healer.
Mads: Andrew takes the fall for Meredith and tells her while she's stuck in the hyperbaric chamber.
Klutzy girl: Andrew taking the fall for Meredith did not surprise me that much but the fact that he loves her that much absolutely killed me. And oh God, it hurt so much that she was stuck in the hyperbaric chamber and couldn't stop him as he walked away to be arrested.

IN THE DARK, "Tyson", May 9, 2019, Actor: Perry Mattfeld
The Scene: Murphy sheds Tyson's ashes in the lake
Marko: In the emotionally rawest outing to date, In the Dark went to a very broken territory and Perry was just there giving her all during it. The scene was simple but so powerful at the same time. Sometimes the sadness in one's big doe eyes is enough to tell a story, no words needed.

JANE THE VIRGIN, "Chapter Eighty-Eight", May 8, 2019, Actors: Gina Rodriguez, Brett Dier
The Scene: Jane says goodbye to Michael
Luana: I'm so happy about the way they handled this, it's a heartbreaking situation, but even though we can be persuaded by nostalgia, I'm glad Jane realized she has grown up, and she loves the family she and Rafael have created, and though getting back to a good place is going to be hard, she owed it to herself to explore and now she can be completely sure about the path she wants for herself.

KILLING EVE, "Smell Ya Later", May 5, 2019, Actors: Sandra Oh, Jodie Comer, The Scene: Villanelle shows up to kill Eve
DJRiter: Season Two of Killing Eve has been off the charts but never more so than this episode where Eve hires Villanelle to kill her in order to get the assassin's help in questioning another serial killer suspect. At least one episode each season should include a scene between Jodie Comer and Sandra Oh at Eve's house. This one was epic, Villanelle dressed in mourning clothes, and Eve nonchalantly inviting her in when she arrives to fulfill the contract. The electricity between these two actresses combined with brilliant writing results in a scene that is guaranteed to end up on everyone's top scenes of the year list.

LEGENDS OF TOMORROW, "Nip/Stuck", May 6, 2019, Actors: Matt Ryan, Ramona Young, Adam Tsekhman and more, The Scenes: Constantine's choice & Mona's performance review
Justyna: LoT is definitely a unique show. It embraces the craziest of ideas and makes them not only entertaining but also a real strength of the series. Personally I do feel that sometimes a certain plot might be too much but overall I'm enjoying the show for what it is. However, the biggest highlights for me remain the more emotional and powerful moments, such as Constantine's choice at the end of this week's hour. John Constantine isn't exactly a team player for most part, or really a person who displays affection easily but it doesn't mean that he doesn't care about the Legends. Not at all. They've become his friends and he cares enough to send himself to actual hell for a chance to save one of them. In this moment he has a possibility to stop Neron (and take Ray down with him), but he makes a different choice. He sacrifices his own life and risks everything to bring Ray's soul back from hell. That is a hero's action and it's a beautiful example of character development for Constantine. Excited to see what's going to happen next.
Jennise: Mona's performance review. Gary's nipple is an eyeball. I had to nominate this scene because it brought my brain to a complete dumfounded halt. This show is on my Bubble Gum TV list. It's glorious escapist television. I never expect (or get) surprises, but this moment...... I want to say more but all my brain is doing right now is repeating "Gary's nipple is an eyeball."

LINE OF DUTY, "Episode 6", May 5, 2019, Actors: Martin Compston, Vicky McClure, Adrian Dunbar and more, The Scene: Steve and Kate clear Hastings
Milo: Steve and Kate clear Hastings after one of the most memorable interrogation scenes ever. Everything was tense from the word go and both Steve and Kate swept in at the last to save Hastings just when Gill thought she'd finally achieved her objective. When Gill went for her phone and "H"'s identity was finally revealed the mystery that was running through the heart of this season was finally answered, in epic, grand style that proved Hastings' innocence once and for all.
DarkUFO: Steve and Kate clear Hastings and turn the tables onto Gill.

LUCIFER, "O, Ye of Little Faith, Father", May 8, 2019, Actors: Tom Ellis, Lauren German, The Scene: Chloe admits that she's terrified
Justyna: Season 3 might not have been my favorite, but season 4 turned out to be such a great surprise. Choosing just one scene from its first half wasn't easy but in the end I decided to highlight the one where Chloe admits just how truly terrified she is after learning the truth about Lucifer. The moment when she finds out about his vulnerability would be a close second, but truth be told the entire story, with all the ups and downs, told about these two during this season would be noteworthy. After Lucifer learns about Chloe not only lying to him but also (briefly) considering sending him back to hell he finds himself deeply emotional. He's angry, confused, hurt and he doesn't even know whether he can trust her anymore. Chloe shows up at his apartment to apologize but when she offers an explanation for her actions things take a turn for the worse and she's forced to admit how she truly feels about the truth. She's terrified that the person she fell in love with is the actual devil. The one who appears in all the stories, throughout time, as the embodiment of evil. And it's just too much for her (just an ordinary person) to process. It's clear that her words cut Lucifer deeply and even when she admits what changed her mind it's simply not enough. When Lucifer shows her his devil face again and asks whether she would be able to accept him, all of him, she's not able to say "yes". She's honest, she's trying, but he sees her response as the end of their relationship. It's such a heartbreaking moment for these two, but I love how true it actually felt. Chloe's situation is impossible to imagine and it was completely understandable just how much she's struggling with the reveal. Of course she would be suddenly forced to confront every story, throughout history, about good and evil, and that's more than any person could just easily accept. But as the viewers we're also aware of who Lucifer is, we've seen more of his point of view and it's hard not to feel for him, watching how painful Chloe's words are for him. Both Lauren German and Tom Ellis are absolutely fantastic in their performances during the moment (and the season overall). Kudos to cast & crew for this and many other memorable moments we were lucky to see this week. Keeping my fingers crossed for season 5!

MODERN FAMILY, "A Year of Birthdays", May 8, 2019, Actors: Ed O'Neill, Ty Burrell, Sarah Hyland and more, The Scene: The ending
Klutzy girl: Jay regifting Phil the World's Best Grandpa mug was the sweetest, and I loved the Circle of Life callback to the pilot. Mitch getting involved did not surprise me at all, and I love the family rallying around the two newest members.
Claire: The throwback to the pilot episode's circle of life theme. Though it made me truly miss what this show used to be...
Marko: Jay giving Phil the World greatest grandfather cup, the twins being carried with Lion King's music, so weird but so perfect and authentic to what this show is. A heartfelt moment and a great end to an impeccable arc. Hayley getting pregnant really dug the series out of a low.

SEAL TEAM, "My Life for Yours", May 8, 2019, Actors: Neil Brown Jr., David Boreanaz and more, The Scenes: Ray gets his faith back & The team finds Ray
Jennise: Ray gets his faith back. Ray, separated from Bravo Team, is in a shed with a captured Pakistani woman. He doesn't want to kill her, yet he realizes that it's his best option for survival. Ray's spent much of this part of the season struggling with a loss of faith that started with refusing to give a cartel killer Last Rights unless he handed over information the team needed. Before he lost his faith, it would have been an easy decision. Let her go and trust to God's will whether he lived or died. Now the decision is up to him. When she starts to pray he angrily tells her there's no one up there listening. It's not clear what she's thinking, but it is obvious she can read his body language. This man won't kill her. She tries to escape. He stops her but ultimately he lets her go and, for the first time in six months, looks to Heaven, hands it all to God's will and make a run for it. It wasn't some etherial moment with a heavenly sound track. It was a soldier coming to grips with his faith and the kind of man he will ultimately be. So, I can't say it was a beautiful scene or anything like that. It felt real and honest. That's saying a lot IMHO.
Beth: The Team finds Ray. Ray has been battling a loss of faith for much of the season and seemed to regain that faith in the most dire of moments. As he accepted that he was about to die, his brothers emerged from the hill above and saved him. Jason quickly lifting his best friend up and embracing him was beautifully shot and a welcome sight given the strife between the two lately. That is what this show is about, brothers who will always be there for each other no matter the issue.

SINGLE PARENTS, "Ketchup", May 8, 2019, Actors: Kimrie Lewis, Brad Garrett
The Scene: Poppy and Douglas share their feelings for each other
Giulia: Poppy and Douglas finally share how they feel for one another. It was such a sweet moment. To see Douglas at loss of words after he found the courage to go to Poppy's house and tell her how he feels was incredible. He didn't need to say anything because she already knew and she felt the same way. Words were not necessary, their eyes spoke for them. I love them so much and I can't wait to see their relationship move forward in season 2.

SUPERGIRL, "Will the Real Miss Tessmacher Please Stand Up?", May 5, 2019, Actors: Azie Tesfai, Chyler Leigh, Melissa Benoist, Katie McGrath, The Scenes: Kelly opens up to Alex about her past & Kara almost reveals her true identity to Lena
DJRiter: Kelly opens up to Alex about her past. Like Alex had been a few weeks ago, newcomer to the series Kelly Olsen is there to support Alex through her anticipation and disappointment about adopting a child. In a beautifully written scene by Natalie Abrams, Kelly reveals to Alex how she was engaged once and that her fiancé was killed but she couldn't openly mourn because they couldn't come out because they were both in the military and serving overseas, but that the wound on her heart healed and she realized there was someone out there to make her smile again. This is the first time we learn of Kelly's sexuality which was played very nicely and subtly by new cast member Azie Tesfai. And kudos to Chyler Leigh who played Alex's reaction to the news just right, with just the slightest flicker of emotion across her face and empathy in her eyes. These two share a very nice, slow building chemistry and this is the start of a beautiful friendship.
Zandarl: Kara almost reveals her true identity to Lena Luthor. Lena was terrified Kara had been caught in the explosion. However as Lena reveals how Eve's betrayal hurt her and the fact she lied to her every day, Kara replaces her glasses and decides against telling the truth as it would hurt Lena too much.

THE BIG BANG THEORY, "The Maternal Conclusion", May 9, 2019, Actors: Johnny Galecki, Christine Baranski, The Scene: Leonard stands up to his mother
Claire: Leonard finally stands up to his mother about how badly she has made him feel for most of his life. And she actually listens and they hug, I cried. It was tough for Leonard to open up and you could feel the tension between the two. Beverly will never be the 'hugs and kisses' type of mom, but that's okay...it was a wonderful way to wrap up the Leonard/Beverly story arc.

THE GOOD FIGHT, "The One Where the Sun Comes Out", May 9, 2019, Actors: Rose Leslie, Michael Sheen and more, The Scene: Maia shows Roland their new office space
Laura B: Maia shows Roland their new office space which she picked out and decorated. This season has had its ups and downs, but the back half has been quite excellent and after a couple of episodes of Maia going off grid, she finds herself back in devil's lair working for Blum, or really trying to get something for herself, but this was one of a few times this season where we had a scene that was really fun! It's probably all going to be short-lived considering how the episode ended AND that finale is next week, but it was nice to get it all the same!

THE TWILIGHT ZONE, "Not All Men", May 9, 2019, Actors: Taissa Farmiga and more, The Scene: The ending
Claire: Just a stellar episode in a series that has been truly lacking. I had knots in my stomach through this terrifying episode. 'Not All Men' stars Taissa Farmiga as Annie Miller, a young woman just starting out in her career. After a meteor shower in her town sets off a series of events that turns all of the men into homicidal maniacs, it is discovered that it wasn't the meteors but a choice the men made. The men made the choice to behave monstrously. At the end a soldier tells Annie that smiling more would make her look so much prettier and she says NO and brushes past him.