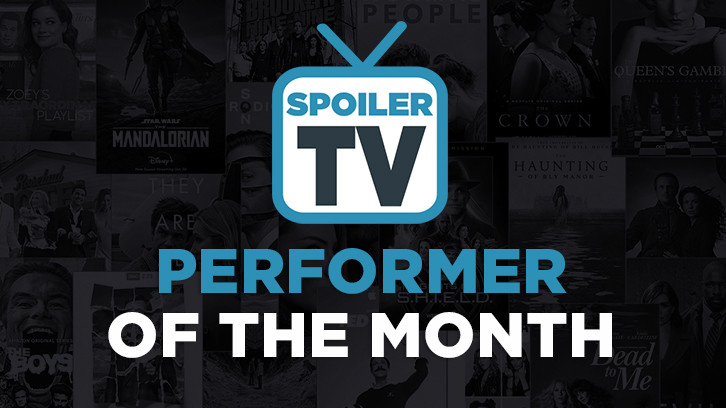 Results:

The winner of the Readers' Choice poll was a little slow to get started, but once the votes started coming in the winner surged ahead and was never caught again. The Staff winner was not decided until honestly the final minutes of the voting time frame. It was an immensely close race right to the very end.


As
Shadowhunters
drew close to its epic conclusion, the show continued to present its most satisfying character developments. Matthew Daddario's work as Alec Lightwood particularly struck a chord with our readers as he faced formidable emotional and physical trials in the penultimate episode
City of Glass
. In this episode, Daddario once again showed us the strength and vulnerability that has secured Alec forever in our hearts. He also broke those same hearts as Alec himself was shattered in the final moments. For Daddario's performance, and all the tears it cost us, he was voted by our readers as April's Readers' Choice SpoilerTV Performer of the Month.
Killing Eve's
Jodie Comer has been on fire during the second season of the BBC thriller. Her take on the enigmatic assassin Villanelle continues to earn her more fans with each subsequent episode. It's a testament to her skill that she's making viewers worldwide fall in love with a killer. Her performance in
Desperate Times
is the kind that wins awards, where she peels back more layers of this complex character and at times does it with just a head movement or expression. It's a tour-de-force performance of the many faces of Villanelle and has deservedly earned Comer the title of SpoilerTV Staff Choice Performer of the Month for April.
The winner articles for Matthew Daddario and Jodie Comer will be published by the end of the month. In the meantime please feel free to use the comments to discuss these winners and their amazing fellow nominees.
Original Post:
Thanks to all of you nominations we have an outstanding list of nominees. These 10 outstanding performers will now battle it out for the title of SpoilerTV's Readers' Choice Performer of April.
2018 Staff's Choice Performer of the Year: Sandra Oh
2018 Reader's Choice Performer of the Year: Alycia Debnam-Carey
January Winners:
Readers' Choice: Jared Padalecki (Sam Winchester) - Supernatural
Staff Choice: Andre Braugher (Captain Raymond Holt) - Brooklyn Nine-Nine
February Winners:
Readers' Choice: Jensen Ackles (Dean Winchester) - Supernatural
Staff Choice: Hale Appleman (Eliot/The Monster) - The Magicians
March Winner:
Readers' and Staff Choice: Camilla Luddington (Dr. Jo Karev) - Grey's Anatomy
Please remember that a performer can only win once in 2019. After that win, they will be ineligible to win again in 2019, but they will secure a spot in our year-end Performer of the Year contest.
Now comes the hard part where you can
only vote for 1 performer
. The poll will be live until
Saturday, May 11th at 6 pm ET
. After you vote be sure to make a pitch in the comments section for what the performer you voted for most deserves to win.