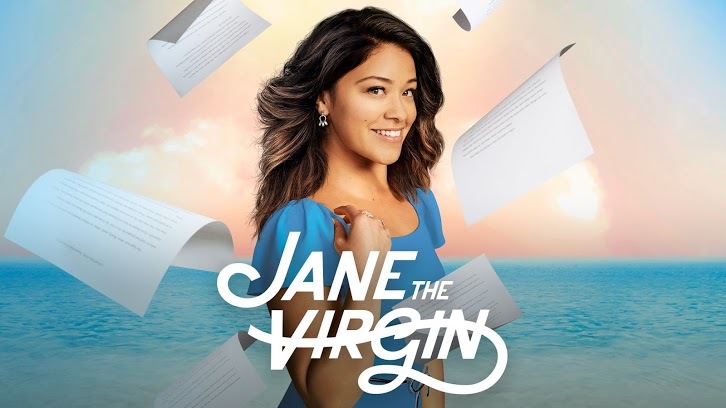 Jane the Virgin
"Chapter Eighty-Eight" was written by Deirdre Shaw and was directed by Stuart Gillard. Jane (Gina Rodriguez) and Michael (Brett Dier) head to Montana to explore their feelings away from their memories. The episode features some great musical and artistic flourishes/gimmicks – something I've been missing a bit this season.
As the episode opens, Jane calls an emergency family meeting and is surprised that both Xo (Andrea Navedo) and Alba (Ivonne Coll) are completely on board and think it's a great idea! By the next morning, Jane has convinced herself it's a terrible idea, but Xo is there, bright and early to convince her it's not. And just another shout out to the show and Navedo for their realistic portrayal of Xo's illness. You don't just get over chemo or cancer – it takes a toll.
Jane's biggest problem? What to pack. None of them have any idea what to wear on a ranch! I loved Jane having to rely on Brokeback Mountain (probably her best choice), Little House on the Prairie (no), and a telenovela (NO!), and then Rogelio (Jaime Camill) arrives with "wardrobe!" I loved him thinking that his lavender cowboy hat was too masculine! And his alternative for Jane is naturally even worse – but gives us the week's title card – Little Jane on the Prairie – Telenovela Edition!
Michael – "the love interest" – shows up with his "trusty dog Bo" – and is a bemused by Jane's luggage – but he also remembers her color-coded packing lists… Michael also reassures her that there are no expectations about her coming to Montana – plenty of hope – but no pressure. Almost inevitably, they have the trip from Hell – as everything that can go wrong does. Jane is not happy when she finds out that Michael is "off the grid" which will make it very difficult to call Mateo (Elias Janssen). She's even less happy when she sees where Michael lives – and it's pretty horrible! Until Jane wakes up the next morning and can actually see where she is….
Michael arranges for Jane to use the landline in the main house to call Mateo, and he calls Alba to give her the number there. He also plans a picnic for them, which is cancelled by Michael's nasty foreman, Rick (Bo Kane). Jane insists on helping Michael with his chores in order to get to know his world. Michael introduces her to the horses – Shelby, Ginger, and Banjo. While the hay fight was fun, I have to agree with the Narrator (Anthony Mendez) that the shower scene was totally hot!
Jane meets Michael's fellow ranch hands and friends at the nightly camp fire – honestly, this doesn't really happen on working ranches – but let's go with it. It's only when Keith (Rick Malambri) asks if Jane's going to move out to Montana to become a ranch wife that she finally starts thinking about the reality of it all. Of course there's no way that Rafael (Justin Baldoni) is going to want to move to Montana! I know the pain of having that one cell phone bar disappearing just as you need it, so I felt Jane's frustration in trying to connect with Xo – and again, what if she were living there permanently???
Meanwhile, Rick pressures Michael on whether he's staying of leaving. He ridiculously gives Michael 48 hours to decide. Naturally, they both lie about what they are feeling, but Keith spills the beans about the deadline to Jane. The two finally come clean about how they are feeling. Michael finds them a third option – they try a long-distance relationship before making any drastic decisions. Jane admits that she feels guilty about Rafael. But telling the truth does make her feel better.
When the prize bull gets loose, it naturally ends up on villain Charlie's (Haley Lu Richardson) property, who turns out to be a woman. She helps Jane get the bull – to get her to shut up and go away. Michael and Jane end up camping out under the stars – with snacks. And to her credit, Jane, who hates camping even with a tent, does go with the flow. When Jane asks Michael if he could ever see himself living in Miami again, he's honest and says he doesn't know. But he tells her that he's happy there right then with Jane. Jane sees how he can love it. And the two share a special moment before falling back to sleep.
Charlie wakes them up – with a gun – and accuses Michael of having stolen her prize chickens. Jane makes a stirring defense for Michael, only for him to admit that he lied – Bo ate the chickens. He lied so she wouldn't shoot his dog. Jane acts as mediator, suggesting that Michael replace the PRIZE chickens. Charlie agrees, and Michael decides that he's ready to come back to Miami. He wants to give up everything for Jane because he loves her.
And up until this very moment, I've been really impressed with how the show didn't make me fall out of love with Michael, but made me fall in love with Rafael – who had changed from the rich, spoiled, bad boy, into the working class good guy – that Michael was. But as much as Gina Rodriguez delivers a terrific performance, I was not happy with her deciding that her guilt over Rafael was love. What about guilt for Michael. He not only gave up his whole life for her – he also had his whole life ripped away from him because of her – and Rafael. Other than Keith, he appears to be surrounded by horrible people! As always, Brett Dier delivers a wonderful performance.
Michael tells Jane that he just wants her to be happy – would Rafael give up his happiness for Jane? I don't think he would… And when Jane gets back to Miami and goes to Rafael and pours her heart out, he tells her that he can't trust her and it's too late. I love Justin Baldoni – but I don't think I'll ever trust Rafael! Jane, however, tells Xo and Alba that she's going to fight for Rafael.
I really liked the gimmick in this episode. I felt the ranch characters were all a bit too stereotypically drawn and wooden. I liked that we got an entire episode with just Michael and Jane – and Rodriguez and Dier really deliver tremendous performances. But I'll make no secret that I am back to being firmly #TeamMichael – even though Jane has decided to abandon the better man. And because he IS the better man, he will do what Rafael is not – he'll support Jane's decision. I think that the show had done a really great job in shifting viewer loyalty – and they blew it here. We still have 12 episodes to go, but they are going to have to fight hard to get THIS reviewer back on side.