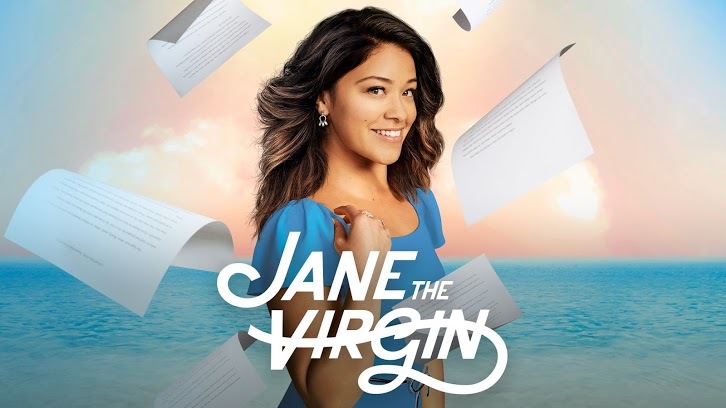 Jane the Virgin
"Chapter Eighty-Five" was written by the team of Carolina Rivera and Liz Sczudlo and was directed by Melanie Mayron. The episode centers around dreams and nightmares, and we're once again in familiar territory now that Michael (Brett Dier) has his regained his memory – Jane (Gina Rodriguez) is once again torn between Michael and Rafael (Justin Baldoni). As always, this episode is that magical blend of comedy and drama.
The episode begins with Jane's (Cali DiCapo) childhood dream that Lorenzo Lamas was her real Dad – but their tea party turns into a nightmare! As a child, Xo (Andrea Navedo) is there to comfort her and now, as an adult, Rafael is there. I loved them echoing the tea party nightmare with Rafael and Michael later in the episode.
We see Michael crying over his recovered memory, which was a nice reminder over what a great actor Brett Dier is. The narrator (Anthony Mendez) is very anxious for Jane to find out! Meanwhile, Rafael continues to be sweet, remembering Jane's Book-versary. Jane only has to see Michael to know immediately that he's remembered, and she chases him to the bus station – on a scooter!
It's a nice fake out when it looks like Jane has missed the bus only to have the bus pull out and reveal Michael still there. Jane asks him why he was just going to leave, and I agree with the Narrator – his explanation is SO Michael. He tells her that it's been four years. Jane has a life and he just wants her to be happy. Unlike Jason, Michael asks Jane if she wants to talk. Jane calls Rafael but can't tell him yet.
The two then catch up on four years. Michael tells Jane that he feels like two people. I loved this scene. In the end, Michael tells Jane that he knows she needs time to process, but he still loves her. Jane picks Rafael up at work and finally tells him. Rafael wants to know if Jane is still getting a divorce. When she asks Rafael for a beat, he is not as understanding as Michael. He just wants to move on with their lives.
Meanwhile, Alba (Ivonne Coll) is hoping that Jorge's (Alfonso DiLuca) feelings have changed based on the wonderfully romantic letters he's sending her. Jane tries to tell her that he has to make them convincing in order to make their marriage look real.
Jane isn't the only one having nightmares. Rogelio's (Jaime Camil) nightmare used to be getting a zit before a big photoshoot, but now it's Xo's cancer. Jane has asked Alba to step in for Grandparent's Day at Mateo's (Elias Janssen) school, but Xo insists she's going even though it's her last chemo treatment. Rogelio has gotten the Glam Squad for her – and Alba asks to get glammed up for Jorge's homecoming.
Petra (Yael Grobglas) continues to rely on Jane to help with JR (Rosario Dawson). I loved this storyline! I especially loved Petra's frantic texting to get Jane's attention – ending with a knife emoji! Jane finally goes to Petra because she knows that Petra will have an opinion on what to do about Michael and Rafael. The two end up day drinking. Petra tells Jane that Michael is her past and Rafael is her future. Jane helps Petra with a romantic text to JR by borrowing from one of Jorge's letters!
Day drinking is maybe not a great idea as Jane no sooner mails the divorce papers than she regrets it after running into Michael. Jane has to sweet talk the mailman to get the divorce papers back.
Meanwhile, Petra's reunion with JR is complicated by Magda (Priscilla Barnes) who has set up a fortune telling booth in the lobby – and served Jane with papers suing her for emotional distress. Madga handcuffs herself to Petra – who then drags Magda to JR anyway. Petra's worst nightmare used to be turning into her mother – being abandoned by her daughters! But Petra realizes that her worst nightmare is actually the possibility of living without JR. Petra vows never to lie to her again. The two kiss and make up – and determine that they will figure out how to deal with Magda together! Grobglas turns in her usual terrific performance and I love her chemistry with Dawson.
Jorge comes home and Alba hugs him to welcome him home. She tells him that she really loved the letters, and he makes it clear that they were his sister's idea. Alba tells him that she's dressed up for Grandparent's Day and leaves. When she gets there, everyone else is already there – and Xo looks fantastic! Alba tells them that she hasn't given up. She tells them that they were in love and feelings that deep don't just go away. Rafael and Jane exchange a look – can this apply to Jane's feelings for Michael too?
Xo and Mateo have a surprise for everyone and do a sweet little dance together. Unfortunately, it's too much for Xo. As soon as he sees her flagging, Rogelio zooms in and takes Mateo off while Alba and Jane help Xo, who ends up collapsing. At the hospital, it's clear that she's over exerted herself.
Rafael shows up at the hospital. He's brought comfy clothes for Xo and coffee for Rogelio. He's left Mateo with Jorge and is going to take Alba home so that Jane can stay later. When Rogelio drops Alba off, she tells him that she's there for him if he needs her. This triggers Rafael's memories in exactly the spot where Michael got his back. Rafael remembers all the times that Jane chose Michael over him in the past… Meanwhile, Michael reads Jane's book and texts her that he wants them to have a happy ending too.
Xo confides to Rogelio that she pushed herself because she doesn't want Mateo to remember her as weak and sick but as strong, vibrant, and fun – if the cancer should win. Rogelio shows her a tape of Mateo that the kids made for Grandparent's Day. He tells the camera that his Abuela is loud and tough – and you'd better not mess with her!
When Rafael gets home, he asks Jane if she still loves Michael. She answers honestly that she doesn't know. Rafael tells her that that feels like an answer. He tells her that waiting for her to pick Michael before almost killed him. He tells Jane that he needs her to leave! Mateo freaks out and says he doesn't want to go anywhere. He wants to stay with Daddy – and Rafael is fine with that. Jane then realizes that this is her worst nightmare.
More great performances from Rodriguez, Baldoni, Navedo, and Camil in this episode. I have to give it to the show. I was always firmly on #TeamMichael, but by having the time lag and the slow change in Rafael, I'm truly, truly torn. What did you think of the episode? Is Rafael being too harsh? Does Michael deserve to be happy too? Let me know your thoughts in the comments below!