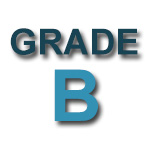 Need a refresher? Read my recap of the previous episode right here.
It's Chase's fourteenth birthday party which means it's time for a major blow-out Hollywood style party! It also means he gets drunk for the first time apparently. It's mainly Streeter's fault Chase gets drunk. He has no real idea of how to take care of a teenager, much less a famous one. He even buys him a car despite the fact Chase won't be old enough to drive it for at least two more years.
Brooke is disappointed Chase got drunk at a party like this one, she wanted his first time be a little more special. She and Lance (who is actually a really sweet guy despite his goofiness, and maybe perfect Brooke after all, the two share a tender kiss at the end of the episode) take Chase back home (to Justin Theroux's apartment) to look after him and nurse him back to health. Elsewhere, their mom is busy getting high on molly. At least Streeter has the decency to bring her home too!
Meanwhile, Carey is meeting up with the guy he connected with at his high school reunion. I was looking forward to seeing the two of them together again, but unfortunately, Carey has changed quite a bit since then. His obsession with carving out a niche for himself in Hollywood has essentially transformed him into an Instagay.
He's morphed into a much more self-absorbed, superficial version of himself and his date isn't impressed. Their date goes south pretty fast and before they can even hook up, he decides to leave. He tells Carey the guy he met a month ago would have made fun of the guy he is now, and it hits him pretty hard. By episode's end, he's crying into the fireplace as he contemplates his troubled identity - or as Brooke says, "he's doing
Call Me By Your Name
."
A new episode of The Other Two titled "Chase Drops His First Album" premieres March 21st on Comedy Central.