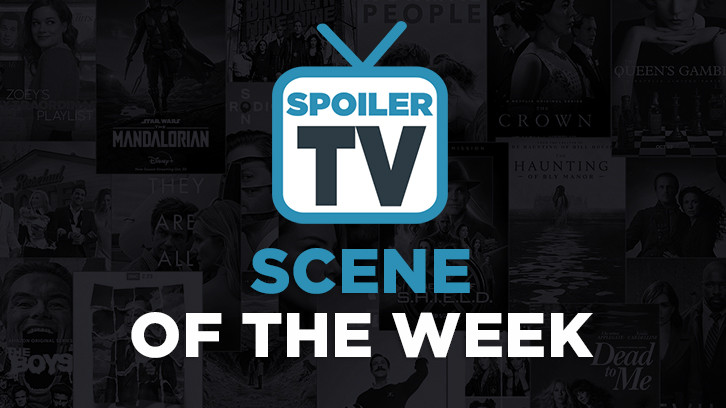 A weekly feature in which we're trying to find the most compelling, best acted, written, directed and just generally great, memorable scenes that we've seen in past seven days on TV.

BROOKLYN NINE-NINE, "Honeymoon", January 10, 2019, Actors: Andy Samberg, Melissa Fumero, Andre Braugher, The Scene: Amy confronts Holt about his behavior
Justyna: It's wonderful to finally have this show back on TV! I never realized just how much I've missed it until I started watching the premiere. It's not a surprise it was a great one. The series continues to be one of my favorites and I'm so glad to be supporting it from day one. In case you haven't had a chance to check it out yet, I highly recommend it. Genuinely hilarious, clever, heartwarming, beautifully written and acted. It's always hard to highlight just a single scene from B99 when there's so many memorable ones but since my favorite part of this week's story was the honeymoon trio I decided to go with this moment. As hilarious as it was to watch Holt constantly interrupt all the activities that Jake and Amy planned for their honeymoon, it was clear how much he needed their support. Andre Braugher is such a scene stealer in all those unexpected interactions and it's always great to watch him shine. When it becomes clear that Holt is planning to quit his job, Jake and Amy try to convince him to change his mind, with Jake saying just how much he's learned from the Captain and how important it is for him to stay. That's when Holt completely dismisses his words and Amy loses her patience. Melissa Fumero is absolutely incredible in the scene. Amy has been Captain Holt's greatest fan from the very beginning but when his behavior ends up hurting Jake and ruining their honeymoon she stands up to her mentor and finally gets through to him in the process. "I don't give a hoot!" speech is certainly a highlight and Jake and Holt's reactions are absolutely spot on. Simply a joy to watch. Kudos!

FAM, "Pilot", January 10, 2019, Actors: Nina Dobrev, Odessa Adlon
The Scene: Clem invites Shannon to come live with her
Luana: I'm loving this new little show and I'm looking forward to seeing these characters every week. A good family show is not always easy to find so I'm glad Fam came along, Shannon is hilarious, Nina Dobrev is always awesome, and everyone else is super sweet, can't wait to fall in love with this show and I really hope it does well.

GOOD TROUBLE, "DTLA", January 8, 2019, Actors: Maia Mitchell, Cierra Ramirez
The Scene: Callie leaves work to comfort Mariana
Mads: Callie and Mariana care about each other so much no matter what. I loved seeing Callie rush to Mariana's side to be a shoulder to cry on, even at risk to her own job. I've missed these girls.

MADAM SECRETARY, "Family Separation: Part 2", January 6, 2019, Actors: Téa Leoni, Tim Daly and more, The Scene: Elizabeth and Henry renew their vows
Justyna: In the middle of family separation crisis it's hard to find anything hopeful to hold on to. And yet near the end of the episode, when things are finally starting to look up there's a beautiful celebration and a moment worth highlighting for sure. Elizabeth and Henry are such a good, inspiring couple, it's always great to watch these two support each other, even or maybe especially when they don't share the same opinion on the topic. To love and stand by each other's side for all the years to come, sounds like one of the greatest love stories of all. The vows are lovely and heartwarming. It's clear that everyone involved is moved by this wonderful celebration, even if the couple is separated by the bars. "Grow old along with me. The best is yet to be..." Between Henry's letter and Elizabeth's everyday promises, this one is simply perfect. Kudos!

MANIFEST, "Crosswinds", January 7, 2019, Actors: Melissa Roxburgh, J. R. Ramirez, The Scene: Jared and Michaela kiss
Luana: This has been coming pretty much from the beginning so I'm glad it finally happened. It's rare to see one of these situations where no one's really to blame for the mess they're in, and they're both trying to do the right thing, but no matter how hard they try, someone is going to get hurt. I only hope they don't go on the predictable drama route where something happens that complicates his divorce. I guess we'll find out soon enough.

MODERN FAMILY, "A Moving Day", January 9, 2019, Actors: Ty Burrell, Ed O'Neill
The Scene: Phil finds out that Haley's having twins
Klutzy girl: Phil's reaction to finding out Haley's having twins. I'm still dying because you can pinpoint the exact moment his soul leaves his body after he learns that's why she and Dylan are going to live with them. Jay's response to the news is to offer him sausage, which is even more hilarious.

NEW AMSTERDAM, "Six or Seven Minutes", January 8, 2019, Actors: Ryan Eggold, Lisa O'Hare, Freema Agyeman and more, The Scenes: Georgia and the staff convince Max not to quit & Sharpe instructs Georgia how to perform a tracheotomy
Justyna: The show continues to be one of my new favorites and this was another brilliant hour with many scenes worthy to be highlighted in the article. I really enjoyed learning the story of Max and Georgia, making their connection and interactions all the more powerful and emotional. Through the flashbacks we got to see their relationship from a new perspective, in the present we watched the two trying to be the best version of themselves for each other. Right before he collapses, Max uses his chance to say goodbye to his sister to think about his old and new priorities, making a decision to always be there for Georgia and their child, to put them first. During his medical emergency Georgia saves his life and then remembers their life together, while also seeing how much everyone in the hospital cares about Max, just like he did from the start. As impossible as it may seem, when the moment comes for Max to admit to his staff that he has no other choice but to quit his job to try to get better, all his friends offer their support to make sure he could stay. Georgia also understands exactly who he is and believes it to be the best option for him. This job, saving people, it's simply who he is. Fighting for everyone who needs help has the power to keep him alive. It's such a heartwarming moment and it shows what an impact Max has already had on New Amsterdam hospital. It's clear how much this love and support mean to him. Max can barely whisper but the look on his face says it all. Lisa O'Hare also does a wonderful job in this moment (and episode), when Georgia recognizes what her husband needs and chooses to stand by his side, no matter what. The scene truly worth remembering. Kudos!
Mads: All the hospital staff gathers around Max's bedside in support. This was such a sweet and touching scene. Everyone united to help Max delegate his duties so he doesn't have to give up medical director while receiving chemotherapy just proves how long-lasting his effect on the hospital has been.
DJRiter: Sharpe instructs a hysterical Georgia through doing a tracheotomy on an unconscious Max over the phone. This was a tense, exquisitely written and edited scene in the series first episode back after winter hiatus. Both actresses excelled in this scene with O'Hare fighting her panic and placing her trust in her husband's doctor while they both fight to save him. Agyeman may have shown her panic on her face but she never let it show in her voice as she works to both calm Georgia and talk her through the procedure to save Max. This show is quickly becoming a season favorite for episodes like this one.

THE GIFTED, "meMento", January 8, 2019, Actors: Natalie Alyn Lind and more
The Scene: Lauren threatens the landlord of their apartment
Mads: I've been waiting for Lauren to start training and using her powers offensively since the start of the show. I love seeing her embrace this dark side and take control.

THE GOLDBERGS, "The Wedding Singer", January 9, 2019, Actors: Troy Gentile, Sean Giambrone and more, The Scenes: Lainey and Barry say goodbye & Adam tells Geoff how he copes with his family and insecurities
Samantha: Adam admits to Geoff he hides behind humour to cope with his family and insecurities.
Beth: Lainey and Barry say goodbye as the airplane Wedding Singer scene plays out. This scene was bittersweet for the couple but it was awesome that it was interwoven with one of my all time favorite movie scenes.

THE GOOD PLACE, "The Book of Dougs", January 10, 2019, Actors: Kristen Bell, William Jackson Harper, The Scene: Eleanor breaks down
Luana: Even though this is a comedy and Eleanor's ways are usually exaggerated and played for jokes, this is a well constructed character, her ways are clearly just a wall because she can't bare to feel vulnerable, and that's exactly how she feels now. She's happy for the first time in a while and she's scared it will go away, and there's nothing more vulnerable than the feeling that your happiness is in someone else's hands. I love Eleanor and Chidi together and I love that they're taking the time to explore these feelings even as all these crazy things are happening around them.

THE ORVILLE, "Home", January 10, 2019, Actors: Halston Sage, Robert Picardo
The Scene: Alara's father apologizes for being a bad parent
DJRiter: After his daughter has saved the day, Alara's father tells her he finally understands why being in the military is important to her. Then he apologizes for being a bad father and not seeing how special she was before. This is a lovely quiet scene between Halston Sage and guest star, the always wonderful, Robert Picardo.

YOU'RE THE WORST, "The Intransigence of Love", January 9, 2019, Actors: Chris Geere, Aya Cash
The Scene: Jimmy tells Gretchen that they have the best love story
Beth: Hearing Jimmy reassure Gretchen that their love story is unique and special was very sweet.