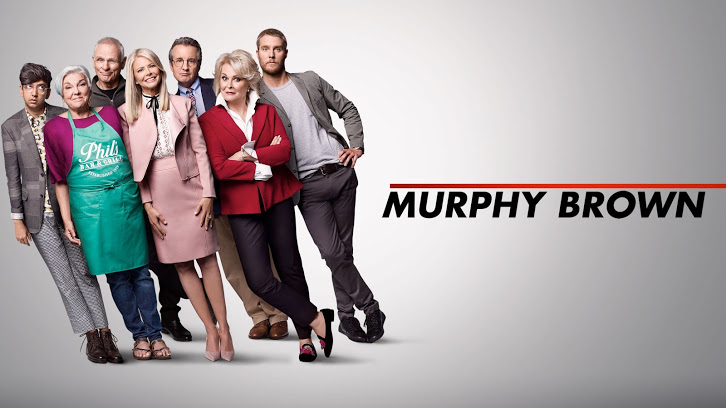 Murphy Brown
"The Wheels on the Dog Go Round and Round" was written by Laura Krafft and was directed by Pamela Fryman. This wasn't the series most hard-hitting episode politically-speaking, but they did highlight the plight of unwanted animals in shelters – good for the show! – and circled back to "fake news." Highlights of this episode for me was a nice little cameo by Peter Scolari as Health Inspector Fred Noonan. You may remember Scolari from
Newhart
– one of the other big sitcoms from the 80s/90s – or, the more recent,
Honey, I Shrunk the Kids
series. The other highlight was Jake McDorman's (Avery) performance. His delight in finally having a dog was, well, delightful! But he also delivered in the more dramatic portions of the episode.
The episode opens as another episode of Murphy in the Morning is wrapping up. Corky (Faith Ford) will be covering National Adopt a Pet Day at a local shelter, and she manages to rope Murphy (Candice Bergen) into covering it with her. It turns out that Murphy actually has something in common with her arch enemy, the current President. She's never had a pet and he's the first President not to have one! Once again we get our little taste of Julius (Andre Ward). This week he chastises the show for not having any black correspondents!
At Phil's Miguel (Adan Rocha) is on the phone with his parents. Once again, they thank Phyllis (Tyne Daly) for taking Miguel in. Miguel more than pays for his stay, however, when Phyllis is completely overwhelmed – and threatened by the arrival of the Health Inspector. Miguel tells her to let him handle it – after all, he grew up working in a food truck! Naturally, he has Noonan eating out of his hand before he leaves!
The gang arrives and discusses Murphy's trip to the shelter the next day. Frank (Joe Regalbuto) remarks that Murphy at a shelter is like Mike Pence at a gay wedding! Sometimes it's just too easy with this administration! Miles (Grant Shaud) tells them why he's not a dog person – a traumatic event with a girlfriend's standard poodle. Murphy, meanwhile, tells them that Avery always wanted a dog, but she worked and travelled too much and knew the care would ultimately fall to her. She tells them not to say a word when Avery shows up.
Avery shows up with big news – he's getting moved to 10pm prime time – right after Sean Haggerty's show! Everyone is thrilled for him, but Murphy refuses to admit that she was wrong – or even be enthusiastic. She warns him that Wolf will have expectations. He tells her that he's so far not had to compromise; he's always shown both sides of issues. Murphy warns him that in prime time, they will expect him to toe the line.
The next day at the shelter, Murphy is clearly a fish out of water. One has to wonder where she's been living that she has no idea how these shelters work. When she asks about the "E" on the cages and is told it means the animals are set to be euthanized – she is shocked! Death row for dogs! Murphy insists on adopting the dog that is next in line to be euthanized – and ends up with an adorable Boston terrier – in a wheelchair!
That night Murphy is feeding "257" some of her curry in the kitchen when Avery arrives home. You know that curry isn't going to end well – and it ends up on the floor of Frank's office the next day! Avery tells Murphy that his first show is going to cover guns in schools and be filmed in Texas. When Murphy tells him about being at the shelter, Avery delivers the exact same line as Frank about Pence at a gay wedding! It's a nice little nod to Avery's childhood – clearly, Frank has rubbed off on him.
However, when Murphy tells Avery that she got a dog – he is thrilled! I just loved how truly excited McDorman came across – just like a little kid. It was also adorable that he made no mention of the wheelchair – would that we all treated the differently abled that way. Avery immediately sets out to pick a better name – Uber! Scooter! Mario Andretti! It is a little sad when Avery wants to show the dog his room and he's left staring up at him from the bottom of the stairs – but that leads Avery to state that they need a stair-chair – and a bigger yard! They have to move! Ultimately, they settle on the perfect name – Ben Hur Brown – Benny.
The climax of the episode comes during Avery's first live broadcast from Lubbock, Texas. The interviews are going great. Avery is getting both sides of the issue – and some hilarious results from the gun-packing, near-sighted music teacher. However, during the break, Rachel (Lindsay Mendez) tells Avery that management called and is happy with how it's going, but they want Avery to read a statement that they've prepared at the end of the broadcast.
Avery tells her that he's had discussions with management, and they'd promised not to do that. Rachel tells him that he's playing with the big dogs now – a nice reference to Wolf networks, but also to the title of the episode and the dog plotline. She tells him to just read the statement – that's what everyone else does.
It looks like Avery is going to toe the line to keep his big break, but he only gets a small way into the propaganda about "fake" news when he goes off script. He tells the viewers not to believe what the Wolf network tells them. I loved his sign off: "This is Avery Brown signing off and taking my soul with me." Murphy is watching at home – and is clearly proud of him.
Avery returns home and tells Murphy that she was right. She clearly doesn't take any pleasure in it. She tells him that an opportunity with that many strings attached isn't worth it. It's nice to see her being Mom.
I thought this was another strong episode – in fact, I think the show is really just starting to find its footing again. We got a great performance from McDorman. I liked how the episode itself gave a balanced view on how someone could be tempted to just toe the line. I also liked the spotlight the episode was able to shine on the plight of so many homeless pets. Will you be visiting an animal shelter sometime soon? Remember, that it's better to adopt than to fall into a purebred, puppy mill trap. And realistically, Christmas is a terrible time to adopt a pet – to many end up in shelters after the holidays – be prepared for what will happen when you have to go to work – or if you travel a lot. Still, if we can remove more "E's" that would be a great thing.
What did you think of the episode? Let me know your thoughts in the comments below!