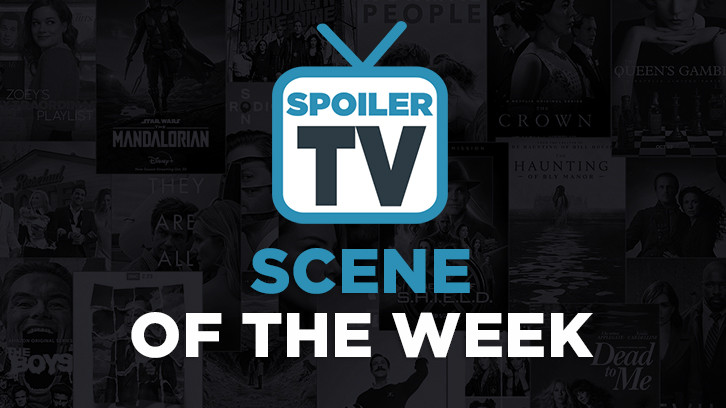 A weekly feature in which we're trying to find the most compelling, best acted, written, directed and just generally great, memorable scenes that we've seen in past seven days on TV.

9-1-1, "Haunted", October 29, 2018, Actor: Oliver Stark
The Scene: Buck leaves Abby's place
Beth: Buck has needed to let go of Abby for awhile and he finally did this episode. Buck seemed to be hanging onto the idea of being a better man because of her and was afraid to try that without her influence. In the end, Buck made those changes and letting go was the right move for him and I am glad he finally decided it was time.

A MILLION LITTLE THINGS, "Unexpected", October 31, 2018, Actors: James Roday, Stéphanie Szostak, Christina Moses, Romany Malco and more, The Scenes: Gary takes Delilah to the doctor's office & Regina finds Rome's letter
Justyna: First of all, I absolutely love Gary's character. Whenever one of his friends is in need, he's always there, showing up to support them every single time. Regardless of his own pain, he decided to stay by Maggie's side, "all in" even after her choice not to proceed with the treatment. He gave Eddie a place to stay and helped him throughout the hour with his fear of going back to the stage. And in between all that, he took Delilah to the doctor's office, to drive her home after an abortion. Just holding her hand and his words: "I got your back, D, okay, until the end of time" - it feels like a perfect summary of his character so far and it's impossible not to see what a wonderful friend he is. I could choose this scene for his kindness alone, but it's so much more than that. No matter what one might think about Delilah, it's clear how painful this decision was for her. Stéphanie Szostak did a wonderful job in the entire scene, portraying Delilah's internal struggle and isolation. She's scared and overwhelmed by her surroundings, not certain about the choice she's made. The part that stood out for me the most was the nurse who noticed what she was going through and held her hand for support. Such a small, yet meaningful gesture. The way this sequence is shot leaves the viewers unsure about the end result of the visit. It's only later revealed, back in the car with Gary, that Delilah has decided not to proceed with the abortion. For better or worse, she couldn't do it and of course Gary assures her she's not alone. I really like the friendship between these two. It took me by surprise but I think it might be one of my favorites on the show. Kudos for all the work on this emotional and memorable scene.
Luana: Regina finds Rome's suicide letter. This scene was so intense and heartbreaking, amazing job by both of them.

CHILLING ADVENTURES OF SABRINA, "Chapter Six: An Exorcism in Greendale" & "Chapter Ten: The Witching Hour", October 26, 2018, Actors: Kiernan Shipka, Lucy Davis, Michelle Gomez and more, The Scenes: Sabrina signs the Book of the Beast & Sabrina, Mary, Hilda and Zelda exorcise the demon from Jesse
Mads: Sabrina finally signs the Book of the Beast. Personally I had been waiting for this moment from the very beginning of the series. I wanted Sabrina to embrace her dark side and I loved when she was finally persuaded to and her hair turns the same platinum shade of the comics. That coupled with her summoning hellfire and her "bad girl" slow-mo walk and cheeky wink at the end made for a fantastic finale and a great setup for season 2. She is finally ensnared by the Dark Lord, what happens next?! Also picked by Laura B
Aimee T: Sabrina, Mary Wardwell, Hilda and Zelda exorcise the demon from Jesse Putnam. It was difficult narrowing it down to just one stand-out scene from the second half of the series. However, when the ladies channeled their collective power to free Jesse from possession it was an exhilarating display of strength and unity. I was majorly pumped watching the mini coven invoke the names of historical and mythological greats like Lilith, Artemis, and Tituba (among others) to fuel their incantation. And when the witches finally expelled the demon it felt like a breakthrough in terms of Sabrina's magical milestones as well as a strengthening of the sisterhood between them all.

DOCTOR WHO, "Arachnids in the UK", October 28, 2018, Actors: Jodie Whittaker, Bradley Walsh, Tosin Cole, Mandip Gill, The Scene: Ryan, Yaz and Graham join the TARDIS crew
Milo: This was such a cool moment for me that really stood out. Already in just a few short episodes we've come to know the characters really well and seeing The Doctor recruit them as part of her new TARDIS crew after warning them of the dangers it could bring was a satisfying moment that really paid off. #TeamTARDIS all the way.
DJRiter: The wonderful final scene where Yaz, Ryan and Graham decide to go with The Doctor saved what had become a disappointing episode for me, thanks in part to Christopher Noth's over the top performance. The Doctor inviting them to all pull the lever of the Tardis thus solidifying the creation of #TeamTardis will go down as a defining moment of Jodie Whittaker's tenure as The Doctor.

EMPIRE, "The Depth of Grief", October 31, 2018, Actors: Jussie Smollett, Toby Onwumere
The Scene: Jamal and Kai propose to each other
Luana: This was such a beautiful, adorable and even hilarious scene, I love these two.

GREY'S ANATOMY, "Flowers Grow Out of My Grave", November 1, 2018, Actors: Ellen Pompeo, Camilla Luddington, Chris Carmack and more, The Scenes: Meredith sees all the people she's lost & The final scene
Klutzy girl: Meredith sees all the people she's lost as she's leaving the hospital. It was a beautiful moment, one that caught me completely off guard, and also hurt (especially since I miss all of them). And the fact that Mark and Derek were standing together hurt the most.
Diana: The final scene. Meredith gets in Jo and Alex's apartment, she sees Link getting a new haircut. So she takes a pair of scissors and starts cutting a little bit. Jo then tells Alex she thinks they're cute together - well I think that too. I think Mer and Link would be beautiful together, if only she could give him a chance.
Saloni: Poor CGI aside, the scene with Mer's loved ones being around her was an unexpected callback for long time fans.

LAW AND ORDER: SPECIAL VICTIMS UNIT, "Caretaker", November 1, 2018, Actors: Mariska Hargitay, Kelli Giddish, The Scene: Olivia tells Rollins to keep the flowers
Ellys: The especially horrific case of the week sickened both women to the point that Rollins vehemently stated the murderer should be taken from the Earth. Olivia confessed that she watched Noah sleep for two hours the night before, a callback in itself to her finding the little boy's bed earlier and recognizing it as the one she wanted to buy her son. Rollins said she did the same thing with her child. They held each other for just a moment with tears in their eyes, and Olivia told Rollins she shouldn't get rid of the bright bouquet of roses her boyfriend sent (she's pregnant with her second child). "Sometimes we just need a little pretty." And then they go back to work.

LEGENDS OF TOMORROW, "Witch Hunt", October 29, 2018, Actors: Tala Ashe, Caity Lotz, Jane Carr and more, The Scenes: Fairy Godmother's introduction & The fairy godmother challenges Zari on the future & Sara beats up Puritans
Samantha: Zari is one of my favourite characters on the show because she has so much depth to her, and this episode was another example of why. We've seen how much she struggles with her family's fate, and being forced by the fairy godmother to admit that things in the future aren't for the better was extremely difficult for her. The fairy godmother was being ruled by her quest for revenge against humans that had wronged her, and it would've been extremely easy for Zari to stand by and let the fairy godmother finish what she'd started and kill the villagers but Zari knows that isn't the way. People are always going to be afraid of things they don't understand, but I loved the positive message that we can only change that by being better than them instead of stooping to their level.
DJRiter: When the evil Fairy Godmother, now transported to the time of the Salem Witch Hunt, began singing her curse in Disney Style verse this became one of my favorite scenes of this series ever. Her timing was perfect and kudos to the make-up and costume department for making her look like one of the fairy godmothers that had stepped off the page of a Disney version of Cinderella. Guest star Jane Carr nailed this character the entire episode.
Jennise: We meet Prudence's Fairy Godmother. There's just so much insanity in this scene. The Fairy Godmother begins to sing her Disney style song of explanation providing her own musical accompaniment. Then, as she attacks the Legends...she starts singing a new song! Every time I think these writers can't get any nuttier...they manage to do it.
Jamie: Sara beats up Puritans. Seeing Sara Lance beat up a bunch of Puritans was everything I never knew I needed.

MAYANS MC, "Serpiente/Chikchan", October 30, 2018, Actors: Clayton Cardenas, Edward James Olmos, The Scene: Angel confronts Felipe about EZ's deal
Beth: Angel's anguish and pain over finding out about EZ's deal from a third party was heartbreaking. He had already lashed out at his brother and now he needed to confront his Pop. Instead of getting aggressive or violent we saw Angel as a wounded son who knew all too well where his place was in the family dynamic. Clayton Cardenas displayed the perfect range of emotion for this scene as Angel and it made me want to reach through the screen and give this badass biker a hug.

MURPHY BROWN, "Results May Vary", November 1, 2018, Actors: Faith Ford and more
The Scenes: Corky melts down & The ending scene
Claire: The ending scene where everyone at CNC and WOLF are stunned by the results of the midterm elections since what happens on November 6 will decide what happens to our country for years to come. Great episode and also hilariously funny.
Jennise: Corky melts down. There are a few sitcoms I like and even fewer times that they get me to guffaw. But when Corky went off over saying "Damn" on the air... only to fix it by dropping the F-bomb. I lost it.

NEW AMSTERDAM, "Anthropocene", October 30, 2018, Actors: Ryan Eggold, Lisa O'Hare, Anupam Kher and more, The Scenes: Max tells his wife he has cancer & Dr. Kapoor accidentally gets a date
Justyna: This show has turned out to be such a wonderful surprise. It's such a moving, beautifully told story with great characters you want to root for. Max is the heart and soul of this hospital and his cancer is only starting to make a powerful impact on his life. First and one of the hardest parts being telling his wife the truth. Max has been trying to be the best version of himself for his pregnant wife, to rebuild their life together and finally they get to have this one, good day. At the end of it, Max is faced with the choice. He can either let them enjoy their perfect moment or truly let her in. His secret weapon, the mother of his unborn child, his love. It's clear he would do anything to keep her safe and protected but this time he's the one who really needs the support. So he makes the painful decision to tell Georgia the truth. The viewers don't even hear the exact words, the scene is so much more emotional than that. Max asks his wife to hold on to him, "hold tighter", we see the expressions on their faces, listen to the beautiful music in the background and see Georgia break down in his arms. It's absolutely heartbreaking but it's done perfectly for the show. Ryan Eggold and Lisa O'Hare are fantastic in the moment. They work wonderfully together and this scene is their best one yet. Kudos to the entire cast & crew of the show for all their work so far. So glad I decided to watch this one. Certainly one of the best new shows of this fall.
DJRiter: The final scene of the episode where Max finally gathers his courage to tell his pregnant wife that he has cancer. This was a beautifully shot and staged scene. Max and his wife, Georgia, in evening wear, stood alone in a near empty ballroom as workers began cleaning up around them after the fundraiser. Ryan Eggold continues to impress as Max, and this week Lisa O'Hare, became an infinitely more likeable character as his wife, Georgia. They have wonderful chemistry together, his "hold me" then "hold me tighter" broke your heart as the audience knew he was about to devastate her with his news. Then the director wisely, did the most basic tenant of storytelling, he exquisitely showed instead of telling, by having Max whisper the news to her, the pull back for a gorgeous long shot that showed her reaction, ending with her collapsing in his arms. This was magnificent television.
Jennise: Dr Kapoor accidentally gets a date. I was caught off guard almost as much as Dr. Kapoor when she grabbed that ticket then just went back to work giving him no opportunity to back out. Sweet and seemed like exactly what he needed to open up.

STATION 19, "Do a Little Harm...", November 1, 2018, Actors: Jason George, Chandra Wilson
The Scene: Miranda tells Ben she wants to take a break
Jamie: Chandra Wilson stole the show in this scene and it's not even her show. This was such an emotional moment, my heart broke for them both.

THE CONNERS, "There Won't Be Blood", October 30, 2018, Actors: Sara Gilbert, Ames McNamara and more, The Scene: Darlene confronts the principal
Shirleena: Darlene and Mark are at school fair but the principal won't let Mark in because he wasn't wearing a non-offensive costume. Then Darlene told off the principal and they walked off.
Claire: It was good to see the old 'Darklene' back in rare form!

THE DEUCE, "Nobody Has to Get Hurt", October 28, 2018, Actors: Chris Bauer, Gary Carr and more
The Scene: CC gets killed
Eve: CC was a real POS and we all knew his days were numbered but I didn't expect him to die like this. Bobby made a real mistake. CC was already on the mobs kill list but Bobby loses it and stabs CC out of nowhere. Frankie gets dragged into this mess thanks to f*ck up Bobby.

THE FLASH, "News Flash", October 30, 2018, Actors: Grant Gustin, Candice Patton, Jessica Parker Kennedy, The Scene: The family talk
Naomi: Barry, Iris and Nora finally have the talk. Iris tries to explain to Nora that dampening her powers in the future was only done to protect her, but Nora doesn't agree at all. She feels that Iris only did it to be controlling and in doing so, she took away her closest connection to Barry. She also felt alienated from everyone her whole life and never knew why so that was a source of constant frustration. Barry walks in on this discussion and Nora seems to feel empowered by his presence because he is a speedster and the fact that they have grown close since she got there. He listens to Nora, but surprises her by sticking up for the decisions Iris makes and will make for their family. Barry and Iris being in lock step with a decision about Nora was good parenting stuff! They knew she was hurting and they were hurting too, but they still had to stand tall and stick together. Everyone brought their acting chops to this scene!

THE GIFTED, "afterMath", October 30, 2018, Actors: Blair Redford, William Mark McCullough and more, The Scene: John tries to save Michael's life
Mads: Michael is a mutant cursed with acidic skin and blood. He literally secretes acid and it is impossible to touch him without suffering great personal injury yourself. John does it anyway when Michael's lung collapses and he needs a needle to create an airway for him to breathe. The visual of John's fingers suffering gruesome acid burns is a hard one to shake but it just goes to show how noble of a guy John is that he was willing to hurt himself to save a mutant he had only just met. Also picked by Laura B

THE GOOD DOCTOR, "Carrots", October 29, 2018, Actors: Freddie Highmore, Paige Spara
The Scene: Shaun tells Lea why he wants to live with her (picked by Luana)

THE GOOD PLACE, "A Fractured Inheritance", November 1, 2018, Actors: Jameela Jamil, Rebecca Hazlewood, The Scene: Tahani gets closure with her sister
Saloni: Tahani finally gets closure with her sister Kamilah. This was a scene three seasons in the making. I'm elated that both of them could come to somewhat of a happy resolution. Jameela Jamil was really, really good in the scene!

THE PURGE, "I Will Participate", October 30, 2018, Actors: Lee Tergesen and more
The Scene: The truth about Joe's actions
Claire: The scene where we realize what Joe is doing with all of the people he has 'gathered up'; who have 'wronged' him. He is putting them on trial where he is the judge, jury and executioner. This guy is crazy but there is something about him that is also endearing. Maybe it's seeing him as a teenager getting bullied. So well played by Lee Tergesen.

THE RESIDENT, "Nightmares", October 29, 2018, Actors: Emily VanCamp, Julianna Guill
The Scene: Nic's panic attack
Mads: Nic has a panic attack at the Halloween party and Jessie comforts her. This was a really nice scene between Nic and Jessie, who have had a tumultuous relationship. She points out how Nic takes care of everyone but she doesn't take care of herself, especially as she's been dealing with the panic attacks alone for about a year. It's nice to see Jessie taking care of her for a change.

THE WALKING DEAD, "The Obliged", October 28, 2018, Actors: Andrew Lincoln, Norman Reedus
The Scene: Rick and Daryl escape from the Zombie Pit (picked by DarkUFO)

WILL & GRACE, "Grace's Secret", November 1, 2018, Actors: Debra Messing, Robert Klein, The Scene: Grace tells her father she was sexually assaulted by his friend
Klutzy girl: Grace tells her father that his friend sexually assaulted her when she was a teenager. It was a heartbreaking, horrifying moment with a powerful performance by Debra Messing.
Samantha: This will probably go down as one of the most powerful scenes the show has ever produced and it was perfectly acted by Debra Messing. The dialogue was unfortunately completely on point. Robert Klein was unfortunately excellent in his portrayal as her father, who just didn't want to believe that his friend could be capable of such a heinous act and sought to try to play the incident down. Everything about it was just so heartbreakingly devastating, and full praise to the writers for being able to pull off a scene like this without it feeling forced.
Diana: Grace tells her dad about her experience with Harry, his friend. Grace admits she has been assaulted when she was 15. Debra Messing delivered such an incredible performance.