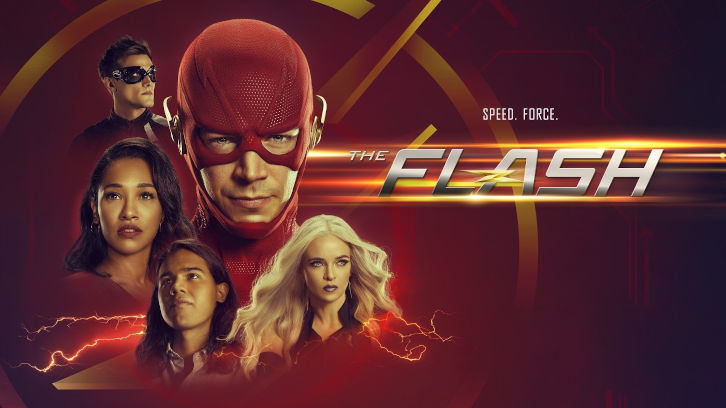 One of the things I often hear fans of The Flash say is how much they miss the feel of season one- the way it perfectly captured the wonder and awe of a young man discovering his super powers and the man he was meant to become. With the introduction of Nora West-Allen, it seems that the wonder and awe of being "the fastest woman alive" is set to bring the magic back to the series this season.

Nora and Barry

Though Nora is adorably the perfect fusion of Barry and Iris physically, she is a total daddy's girl at heart. The doe-eyed, pouty looks she gives Barry when he tries to make her stay put are cute, but belie the heartbreak of young woman who only knows her father through fantastic tales and the legacy of heroics he left behind years ago. The bear hug and the lie about being stuck in the past are all a testament to a daughter who desperately misses and wants to know the man she admires.

Their scene in the vault was so heartbreaking that watching it for the third time still leaves a lump in my throat. "You never come back" is the finality that Barry and Iris never imagined, though they had been staring at the 2024 headline for several years. The gold standard has defied the odds and set things on the right path so many times that it never seemed to dawn on either of them that their happy ending would never come.

Barry's losses have no doubt made him want to be the most hands on parent, so to find out that he isn't even around to watch Nora grow up must be devastating. Barry learning of his impending death in the same place and in the same manner that Iris learned of hers in season three was absolutely sad, but pretty damn poetic for the couple whose love defies worlds and time.

Nora and Iris

All of the energy spent worrying that Nora would be the kid from hell doesn't seem to be founded- at least not if the tone of the first episode is to be believed. The vibe seemed more eagerness to get to know Barry than negative feelings towards Iris. Iris just seemed to be taken for granted because she's "around". Around. Nora's use of the word could also imply that Iris has become a shell of herself in the future. Losing Barry, years of constant searching for him, and all while trying to raise a daughter with powers may have taken their toll.

The Iris West-Allen we know isn't the one Nora knows. The Iris she knows may not talk about Barry much-leaving Nora to learn about her dad through visiting The Flash Museum. The Iris she knows may hate that Nora is the city's savior- afraid she will lose her daughter too. Though it's hard to truly say what Nora's relationship with Iris is like in the future, there's some obvious strain.

Iris is smart and intuitive so she should be able to uncover this little secret pretty quickly; she also has a right to know if sadness or the inability to deal with her grief play any part in their issues. Iris is terrified of being like her mother and like Barry, she wants to be the best parent she can be. A shot at motherhood is a big piece of that happy ending Iris deserves.


Barry and Iris

West-Allen was back in full effect! Heart eyes, heart to hearts and all. Iris calling her husband the scientist was so cute and such a nod to what fans have been wanting to see from Barry. The back rubbing and pet names were just the sprinkles on top, but what we love most about Barry and Iris are their talks. The vulnerability and sincerity they pour into one another is so sweet, it could give you freakin cavities. Barry's fear about missing all of Nora's firsts because his parents missed so many of his was enough to break any Flash fan's heart. But as she always is, Iris was there to allay those fears and make him see the silver lining in their current situation.

Of course, Barry and Nora's secret is bound to cause some tension if it's kept a secret too long. I'm kinda with Barry on this one though- his disappearance is one hard truth that could wait a night or two. Plus, letting Iris put this together with her sleuthing skills would be interesting to see.


Team Flash and Things I Was Thinking

*I can't lie. Ralph's more subdued humor fit perfectly into the episode. One of my favorite things about the show is when someone gets the tight lipped looks and sighs when they say something ridiculous. Usually reserved for Cisco, Ralph got the majority of the shade. Thinking he discovered the multiverse and not realizing that people really travel in time was pretty funny.

*Cisco was also in top funnyman form. His drunken state and "Damn Gina!" were perfect reminders of why fans love Cisco Ramon.

*While Caitlin was pretty quiet, I am hopeful that her Killer Frost arc is fully and interestingly fleshed out.

*Joe and Cecile were not big here, but their presence was felt just enough to make the West family feel whole again. And surely Cecile's powers are gonna be of some use.

*Wally!! It was so good to see and hear him talk about his journey with the Legends. Wally and XS would have a great dynamic from the little nuggets that we were given. Nora seemed so giddy talking about her uncle's exploits.

*I didn't even realize that Harrison Wells was missing until I saw Tom Cavanaugh's name in the opening credits on my second watch. Oh, well...

*I don't want to see Iris feeling left out for too long with no explanation!

*Ralph really thinks time travel didn't already save him. Poor baby.

*Cisco- "I am fortune's fool!" LOL

*Not particularly intrigued by the villain, yet that didn't hurt the episode- who knew?

*Barry gets some firsts: teaching his daughter to phase and seeing her run. I'm not crying!!

"Nora" was one of The Flash's best episodes. That lightning in a bottle thing from season one seems to have found its way to the season five opener. Let's hope the spark continues.

What did you think of "Nora"? Sound off in the comments below or let me know on Twitter @NaomiAnna_! I'd love to chat with you.

The Flash airs on Tuesday nights on the CW.