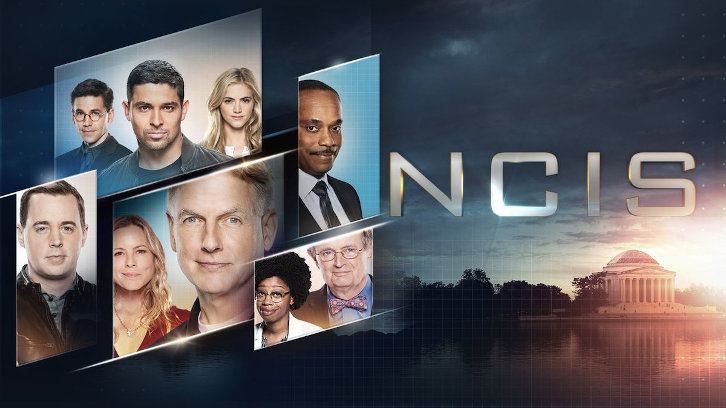 NCIS – Boom - Review

16.03 - "Boom"
Directed by Leslie Libman
Written by Brendan Fehily
Reviewed by KathM

In this week's episode we learn what can happen to thieves, people who join reality shows, women you should not pick up at your PTs office, and a bit about Torres's love for Shakira. Oh, and a look at sad side of McGee's television viewing habits.

When two package thieves grab the wrong box from Navy SEAL Todd Nichols's porch, they unfortunately find a bomb and meet a nasty end. Gibbs and the gang are on the scene questioning Nichols about who could want to kill him, his wife arrives and thows herself into his arms.
To his delight, McGee recognizes her. Her name is Sheba, a reality star on one of Delilah's favorite shows (right!) Real Wives of War. This might explain why she thought the whole blown up car and NCIS agents questioning her husband thing might be a "scene".
She might play the "wholesome" one on her show, but that doesn't stop Nichols from mentioning to Gibbs that his beloved might have been the one to send him the bomb. As he explains to Torres up in Interrogation Lite, Sheba isn't the girl Nichols married. She's become self-involved and superficial, always looking for a way to get herself more air time. He told her that he was having an affair because he couldn't live with the woman she's become, hoping she'd divorce him, but instead Sheba threatened to castrate him in his sleep. So, you know, blowing him up might be just the ratings gold she could be looking for instead.

This may explain why Sheba is down in Interrogation being questioned by Ellie while McGee and Sloane look on in the Observation room. It was interesting to see the Sheba character interact with Ellie, who is someone she can't manipulate with her looks and crocodile tears. Sheba even asks for someone else to question her, but she has to talk to Ellie. Poor Ellie.
During the autopsies Jimmy finds a strange shaped piece of gold embedded in one of the thieves' legs, but he isn't sure what it is. He passes it on to Kacie, who is also having trouble determining what it could be. She thinks it might be a brooch and watching her explain to Gibbs what a brooch is made me smile. She's doing research, though. Kasie is very much a background character, but she's beginning to fit in. Gibbs seems to like her.

In the Bull Pen, McGee is looking through Sheba's various social media accounts to see whether he can find someone with a pattern of behavior that might give them ideas about potential suspects. There are a lot of people showing shade at her, but about nine months previously there was a guy who was saying that Sheba deserved better than her husband. His name is Leonard Finnik, and when McGee and Torres arrive at his apartment they find a super-scary Sheba shrine, including a life-sized cutout of Sheba on the twin bed next to his. Shudder.

Sheba is aware of Finnik and considers him a "fan's fan". She's kept all of his creepy letters, all nine shoeboxes worth. In Observation Ellie and Sloane watch as Torres tries to question Leonard, who has a nightmare-inducing diorama featuring a poorly rendered Sheba and startlingly buff Leonard (could he not have just picked up a Barbie and Ken?), complete with Love Child and slaughtered buffalo. Leonard explains that Sheba told him in a dream how much she loved the whole scene, and Sloane doesn't think he has what was it takes to be a killer. Which is just as well, as McGee enters the Observation room to tell the women that another bomb has gone off, one delivered while Leonard was in custody.

The victim, Patricia Everett, seems to have no connection to Todd Nichols or his wife, but the NCIS kids solider on. Kasie calls Gibbs down to tell him that the same person made both bombs, and that there was another "brooch" as part of the bomb as well. Gibbs, however, has another type of embellishment in mind: a "Budweiser". This trident pin, awarded to all SEAL graduates, gives Gibbs the ammo he needs to help the gang eliminate the SEAL candidates who washed out in Todd's class until they come to David West, a SEAL candidate who passed ammo training but failed his psych eval. Shouldn't psych come before ammo? Anyway, the psychiatrist who evaluated him was Dr. Patrick Everett.

Torres and Emily head out to pick him up, only to find that West is armed to the teeth with automatic weapons and a number of grenades. One of the benefits of hoarding, particularly if those items are outside-sized, is that it gives any random NCIS agents who come by your house to arrest you a lot of cover options as you attempt to shoot and/or lob grenades at them. Torres gets shrapnel embedded in his back, but Gibbs and McGee arrive in time to disarm West and get Torres to a hospital.

Which brings us to Leon. Yes, Leon is in this episode. He's currently trying to wheedle another week of PT out of his therapist because he's a bit reticent to return to work. But Kayla is having none of that; after Leon puts off going to work for another day she calls Gibbs, who calls Sloan, who goes to visit Leon as she just happens to be in the neighborhood. She calls Leon on all of his fears and insecurities and tells him to get suck it up, which is what a guy like Leon needs. She drops the West bombing file in his hands as she walks out, and Leon gets ready to jump back into the saddle.

Which is just as well, because having to listen to West recite the SEAL code over and over again is driving Ellie and McGee a little nuts. Leon joins some of the gang in the Observation room as they try to get West to say something meaningful. When he hears that Nichols lived and that he killed the wrong Pat Everett, West isn't very upset. That's how it is, shrugs. You win some, you lose some. He keeps looking at his watch, though, which clues us into the fact there is undoubtedly another bomb.

Never one not to take advantage of an opportunity, Gibbs sends Vance in to pitch hit. Leon has a short but pointed conversation with West, eventually discerning that West is after his ex-wife. Watching his body language gives Leon the answer he needs to determine where West's wife is hiding, and the gang is able to get her on the phone and make sure she doesn't finish opening up the package she just received.
So that is the end of that, case-wise. But, y'all! Leon meets a WOMAN!!! She's in the waiting room, also for PT. I'm super excited until Leon walks out of the Physical Therapy office after asking the woman (Mallory) to dinner only to find out that her mission isn't to date Leon, but to spy on him. She's got a handler or a partner with candid pictures of Vance, saying that they'll keep an eye on Leon until they don't. I'm guessing that they're CIA trying to determine whether Leon was turned while he was being held captive, what do you think?

I wasn't overly impressed with this episode, despite the creepy bits. I just wasn't feeling it. And you?

What you should take away from this episode:

If you steal packages from people's porches, you may get blown up.

A point to ponder as we approach the holiday season.