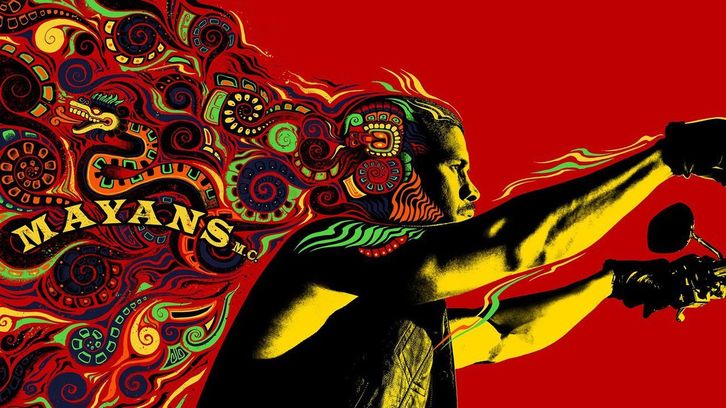 The penultimate episode of Mayans lived up to everything that a penultimate should be. Secrets were revealed, new alliances were formed and the Reyes family bond is tested.

What About Me?

Los Olividados
. Potter believes there is a bigger cancer than Galindo and it is the rebels and with the brothers assisting him, it should help his case. Angel obviously is just hearing noise because the last thing that resonates is that his little brother wasn't the forlorn man that just wanted a new life and purpose in his MC, rather he was playing a long game and using him to accomplish his goal. Angel and EZ are released on the grounds that they need to decide their plans quickly and just in case they refuse, Celia was literally chilling in the fridge and charges would be filed. Potter does throw EZ a bone when he informs Angel that EZ insisted on a clause that Angel and the Mayans would come away clean from any information he provided to the DEA.
Clayton Cardenas
captivated me as he processed and relayed the feelings of Angel, he has played the man with a long game, a comic relief and finally a brother and son betrayed flawlessly. I have to admit that I have not been privy to his previous work, but if the way he plays Angel is any indication, I may have to go back and find some previous work just to experience his full brilliance. Back to the task at hand, Angel wasn't done, he still had Felipe to confront and left EZ to contemplate his next move.
Los Olividados
and abruptly leaves his father's house with no explanation.
The Curious Case Of Miguel Galindo
Mayans
have been rough for Miguel. First he was framed while trying to retrieve his son and then he and his kin were held by the feds hoping to sniff out a deal. Miguel is at a crossroads, does he take the deal with the feds to be a cog in their wheel to take down the rebels across the border? Or does he go with Adelita and join forces with said rebels? With the Galindo homestead licking their wounds and putting things back together, Miguel and Emily have conferred and decided that Adelita and the rebels are the best choice. Devante scoffs at this and says the feds are the way to go and he once again tries to play on Miguel's blindspot with his father and what he would have done. Miguel seems to consider what Devante is saying until he realizes a truth about his brother.
Los Olividados
..... The same group that took their son to get their attention. They are sticking to devil they think they know and it is them against the world. The Mayans will no longer be cut rate couriers but rather important pieces to how Miguel and
Los Olvidados
run. This move in turn almost erases the fact that Team Rouge (Angel, Gilly, Coco and EZ) were working with Adelita
er
Luisa in the first place or at least one can hope. Devante is incensed, but Miguel has a plan for him.
Once the successful meeting is adjourned, Miguel rides with Devante and reveals that he knows that he lied to him about his brother being kidnapped all those years ago because he found the X-Rays confirming that Cristobal succumbed to pneumonia. Devante tries to sell Miguel that he was doing it for the greater good, but it is no use.... Miguel is done. We learn that Devante was the foot soldier who followed the priest's intel about Luisa's (Adelita) family's whereabouts and slaughtered them. Miguel shows a sign of good faith and hands Devante over to Luisa to meet the same fate. His hands are now washed of the last remnants of his father's regime. Devante accepts his fate but implores Miguel not to blame his mother Dita for the story she spun at his request. Miguel leaves and joins Emily and El Padrino of the Mayans on their way towards a new reality.
Alls Well? Right?
Odds And Ends:
* The Priest turned Bishop who betrayed Adelita/Luisa's family got his and I can't say I am sad. He ruined that woman's life and played it off.
* Emily confronted EZ this episode about the intel she saw while with the feds. I have to say if this is the 'love story' of this show, I have no idea how they get that back.... Emily seems totally bought in to what her husband is doing.
* On the other side, do Adelita/Luisa and Angel now have clear path to pursue their chemistry? I kind of hope so, but think it should be on the down low for now.
* Who else feels for Jimenez? He is almost out and honestly deserves to be with how much of a conscious he has shown. It kind of is heartbreaking to think EZ whom he has worked so hard to protect might be his undoing.
* Are Team Rouge really off scot free? I am still not sure but I hope so because I can't bear to lose any of them at this point!
What did you think and are you ready for next week? Let me know!