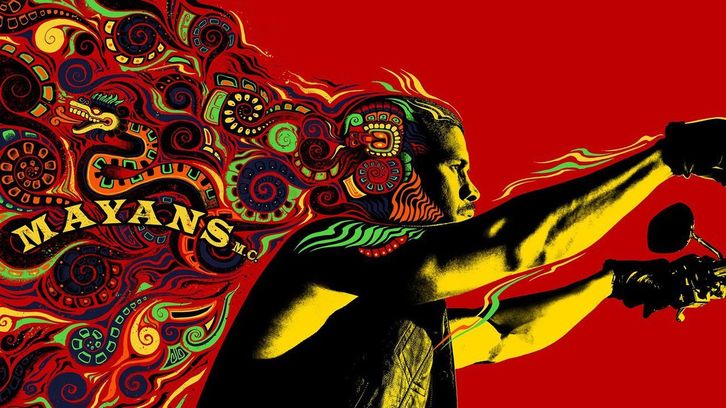 This episode of Mayans MC was intense and the strongest installment thus far. Let's Discuss.

Secrets Revealed....Sort of.

Collision Course?
Isis
and tells her husband and Devante that
Los Olividados
may be taking a page from their playbook. They come into places in ruin under the guise of saviors and convince the locals that they are answer. She suggests to Miguel and a skeptical Devante that Galindo shows their face at a local religious celebration across the border and manipulate a crisis of their doing to pick up the pieces and swing the court of public opinion their way. This move will make the rebels look like the ones that are the poison infecting their society. The planning is very hush hush and Miguel's mother Dita warns Emily that she cannot play both ends, she either needs to be in and put emotion away or be out and feel it all. Emily doesn't seem like one to sit around and have things taken so that is why it seems unlikely she follows Dita's path. By the end of the episode, their play is revealed as a nun with Galindo'a name literally written all over her is found dead in a church with
Los Olividados
propaganda fliers littering the floor and the chapel torn apart. It also looked a little too realistic because in the chaos, Emily was trampled by terrified festival attendees. Emily's first jaunt into Galindo business was rough and I wonder if she knew that the dead nun was part of the ruse or that was Devante or Miguel's idea. She may be in a vulnerable place after getting injured and this could open the door for what the DEA is wanting EZ to do should he agree. This event could also push EZ to agree because he wanted her to be safe and she clearly was not after this happened. Oh the angst that awaits us!
Night Raiders
When the Mayans want to drop in on Alice and her crew using the darkness of night to get more answers in a more aggressive manner, what awaits them is shocking. Dennis shoots first and takes off with Angel, EZ and Gilly in hot pursuit with Bishop ordering them to bring him back whole because they need answers about who is calling these shots. Meanwhile, the crew breeches the house a little too easily and discovers everyone in Alice's crew with bullets in their heads execution style. Back to the chase of Dennis, the crew tells him to stop running and when he doesn't Angel stops him with a bullet. Once Dennis is down he wants to know if the Mayans killed his guys, to which everyone is confused. He says that he has been communicating with 'Cole', once he won't give up anymore Angel takes his phone and shoots him in the head. EZ and Gilly are shocked, but Angel justifies it by saying he was going to bleed out anyway. Angel wants Cole's information and he doesn't want to share with the club because he wants to move the 6 bricks Adelita still has. Could Cole be someone that can help or should they take him out to get rid of the annoyance. Additionally, for the first time it looked as though his 3 other confidants were not convinced that he is doing the right thing and it may be time to cut ties with Adelita's crew. Angel is treading in very deep waters here, he either really believes in what Adelita is doing and wants a head start to see if this guy is legit or he is beginning to feel untouchable when it comes to his side business and that is dangerous. Angel is one of the most fascinating characters on this show, he wears the mask of a good soldier for the club whilst making moves he believes will free them from the cartel. The issue here is that his out of the loop club brothers may not see it that way, especially when he was ordered by Bishop to keep Dennis alive. Enough incidents like this will start to make others wonder and that puts him, Coco, Gilly and EZ at risk for club justice. It is times like this that I wish we could get a flashback or explanation of how Angel got involved with Adelita. If it is because he truly believes he can rid the club of Galindo, I can buy that, but if Emily is right and Adelita and
Los Olivdados
are just laying the groundwork for a take over, then he has hitched his life to wrong cause. Moves like this usually sign a character's death warrant so I hope that there are twists along the way to ensure that doesn't happen because Clayton Cardenas is the breakout star of this series thus far in my eyes and I want more of Angel for years to come should we be fortunate enough to get multiple seasons of this show.
Other Odds and Ends:
* SOA Connection: Chucky is back again and delivering notes. For those who didn't watch Sons, Chucky, the man with fake fingers was a character in SOA with quite the colorful past. The club helped shield him at the request of one of their incarcerated brothers (Otto, played by creator of both shows Kurt Sutter). Chucky is good at cooking the books and counterfeiting money and had gotten himself in some trouble with the Chinese. Long story short, Chucky is a cockroach that always survives and the club came to trust him. As to why his hands are like that, there is no delicate way to say this... He is an impulsive masturbator and it was freaking everyone that came in contact with him out. The Chinese grew tired of it and lopped off all of his digits except for his two index fingers. When he came back into the possession of the sons and proved his worth, Gemma took pity on him and bought him fingers because his hands were freaking her out. Chucky freaks a lot of people out, but he is loyal to a fault and that may be why the Mayans have now retained his unique set of skills.
* Cristobal is sick and needs to be back home. Yes his father is a ruthless cartel leader, but he could get him the help he needs and a child could be back with his mother. Should the unthinkable happen to Cristobal, EZ will never forgive Angel or himself.
* The street rat embedded with
Los Olvidados
just came through big for Galindo because he now knows who Adelita is and she has his son.
What did you think of the episode? Are you worried for Angel's life yet? What was Felipe running from? Do you think EZ will try to flip Emily? Let me know!