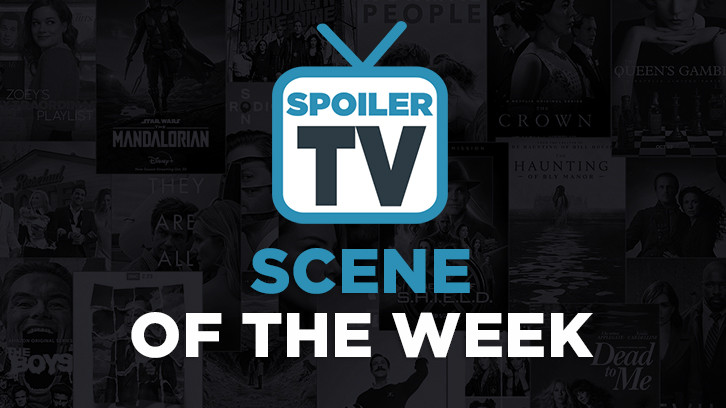 A weekly feature in which we're trying to find the most compelling, best acted, written, directed and just generally great, memorable scenes that we've seen in past seven days on TV.

CASTLE ROCK, "The Box", August 1, 2018, Actors: Noel Fisher, André Holland and more, The Scene: The final scene
Nirat: The ending was something I never saw coming. I've been worrying about Zalewski for a while, a genre like this isn't always kind to good souls but I had hoped for him to survive a bit longer. Regardless, the ending was truly shocking, many shows overhype an unexpected twist or ending and I often feel the outcome isn't as jaw-dropping as it's made out to be (of course that's all a matter of perception and how someone watches a show and the sheer secrecy helps) but this had me in disbelief and despondency. The use of Roy Orbison's song, Crying, was utterly perfect. It really evoked how tragic Dennis Zalewski's demise was. The lyrics, "the touch of your hand can start me crying", was really well matched with the scene. I loved that the camera never really followed Zalewski around whilst he executed the guards rather we watched via the monitors, in a way it kept us distant, helpless, it played out as someone in a news story, we follow along shocked by the devastation surrounding them but unable to connect as you would face to face. We feel devastated that we can't help and that's the reality of Zalewski's situation and it evokes just how intense such a dark deed is. To me, that lens was such a unique form of storytelling. It's heartbreaking that right after all this madness occurred Zalewski's first words after coming out of his trance (his eyes glitched back into reality which seems to convey he was unaware of what occurred which is heartbreaking because he's immediately shot dead) were wanting to testify. Noel Fisher has been just great as Zalewski, he was one of the few decent people at Shawshank, who genuinely cared about the prisoners and saw them as people first, and it's heartbreaking how his act of kindness (that friendly fist bump) cost him his life. It's also fantastic how the crossing out of the guards on the camera monitors were precursors to the ending of the premiere episode. Zalewski had always assumed it was The Kid who went out on a murderous rampage, leaving death in his wake but in fact it was himself (via The Kid's touch) that caused such ruin. It's fascinating how Zalewski was showed a glimpse of the future, his fate but with The Kid's face. The way it all came full circle was clever and I can't wait to see where the writers take this show next. It's such a refreshing mix of originality, Stephen King familiarity and psychological brilliance that's so captivating.
Laura B: Castle Rock has started off strong and proves that it is willing to dive right into the horror and supernatural aspects that often make the psychological storytelling so darn scary with this interesting juxtaposition to Dennis in a scene from the last episode where the nameless kid seemingly now an empath, causing Dennis to horrifically act out in a prison shootout, leading to his own death, as he almost makes his way to Henry, who witnesses Dennis being taken out right in front of his eyes! A very climatic scene indeed! Can't wait to see how this continues to play out! Also picked by DarkUFO

CLOAK & DAGGER, "Colony Collapse", August 2, 2018, Actors: Aubrey Joseph and more
The Scene: Tyrone talks to the cop about his rights
Marko: Throughout its season 1 run C&D was always a bit political and realistic. That fact is what kept it above other comic book based shows. Tyrone's speech was truthful, emotional and delivered perfectly by Aubrey Joseph.

SALVATION, "Let the Chips Fall", July 30, 2018, Actors: Tovah Feldshuh, Santiago Cabrera and more, The Scene: The assassination of President Mackenzie
DJRiter: Tovah Feldshuh has been impressive all season as President Mackenzie so I will be sorry to see her time on the show end. There was sort of an irony that she had espoused to Darius that there were still good people in this country just moments before she was shot and killed. Her death and the aftermath will send the show in interesting new directions now that Darius is the President. Kudos to the writers this season for keeping viewers on the edge of their seats!

SHARP OBJECTS, "Ripe", July 29, 2018, Actors: Amy Adams, Patricia Clarkson, The Scene: Camille and her mother talk
Luana: If I could I'd nominate the entire episode, from Wind Gap's death tour to that creepy ending, but the conversation between Camille and her mother was mesmerizing, Amy Adams and Patricia Clarkson absolutely nailed it. Camille's face when she put down her walls and allowed what her mother was saying in for the first time since she came back, the vulnerability on her face, and then the heartbreak when all her mother could come up with were spiteful words, absolutely amazing. Also picked by DJRiter

THE 100, "Damocles – Part One", July 31, 2018, Actors: Marie Avgeropoulos, Bob Morley, Adina Porter and more, The Scenes: Octavia's sacrifice & Bellamy tells Octavia the massacre is her fault
Justyna: This was quite an episode. Very emotional and brutal at times. It was also focused on choices and making amends. First there's Clarke and Madi, Clarke still desperately trying to do everything in her power to keep her daughter safe but finally learning how to let her go. I loved their goodbye scene, I don't think their relationship has ever been as beautifully portrayed as in this moment. "... I am the commander of death and I say we will meet again." I would most likely choose to highlight this scene if it wasn't for the ending. Octavia and Bellamy's relationship has been one of my favorite things about the show since the beginning but after everything that's happened this season it feels more broken than ever before. In this final scene of the episode, Octavia truly understands the damage she's caused and the danger she's put everyone in. So she makes a different choice, the one that finally seems like something she would have done before the Red Queen. She says goodbye to the people she cares about the most - her brother and Indra - and decides to sacrifice her own life so that they can escape. The most heartbreaking part of the moment (for me) comes when Bellamy grabs her arm, instinctively trying to save her, but not able to say anything to stop her. Between pain, anger, even hate, it's love that they share most of all in the end. So she repeats his lifelong mantra - "my brother, my responsibility", bringing tears to his eyes. And as painful as it must be for the two of them, he finally lets her go. There's a short moment when it truly looks like Octavia is about to die and something about her look reminded me of Lincoln which made this even more emotional and meaningful than I expected. Finally, the help comes just in time to save Octavia and she drives away with her friends to fight another day. I'm still hoping there's a possibility to bring back Octavia from the darkness she's in, so I was glad to see her take responsibility but also get another chance. Marie Avgeropoulos and Bob Morley are doing such an excellent job with this story. Kudos to entire cast & crew for all their great work.
Beth: Bellamy tells Octavia the massacre is her fault. The fact that Octavia once again tried to blame Bellamy for her actions made me mad. But this time, he gave it to her straight and said the blame was on her and her alone after what she did to get them to march on the valley. That scene looked rough to shoot because of the elements, but both Bob and Marie made it flow flawlessly.

THE BOLD TYPE, "Trippin", July 31, 2018, Actors: Katie Stevens, Dan Jeannotte
The Scene: Pinstripe tells Jane he's serious about her (picked by Luana)

THE ORIGINALS, "When the Saints Go Marching In", August 1, 2018, Actors: Joseph Morgan, Daniel Gillies, Danielle Rose Russell, The Scenes: The ending death scene & Elijah tells Klaus he'll die with him & Klaus and Hope say goodbye
Mads: The ending death scene between Klaus and Elijah. The show went out on the perfect note in my opinion. Klaus has been on this path to redemption for several seasons now and I think, in death, he has ultimately found peace. I think he and Elijah have committed so many atrocities in their lives that they needed to die to truly find solace or true redemption and the fact they went out together after being able to say their goodbyes, was a beautifully poignant end scene.
Marko: Elijah tells Klaus he'll die with him. The moment Elijah broke the stake my heart skipped a beat and the tears would pour down my face like a waterfall. Elijah once more stating his undying love for his brother which was the whole focus of the show once again broke my heart.
Beth: Klaus and Hope say goodbye. I could have picked the last scene but this one made me cry the most. I was thinking back on when I first met the character of Klaus and how he scared the daylights out of me, flash forward to this scene and it made me so happy and devastated at the same time. He loved another so unconditionally and was sacrificing his life without a second thought, his littlest wolf changed the very core of him and this was the final heartbreaking step to his redemption. Both actors destroyed me in this scene.

THE OUTPOST, "Strange Bedfellows", July 31, 2018, Actors: Jessica Green, Jake Stormoen
The Scene: The opening sparring scene
Mads: The opening sparring scene between Talon and Garret. It was sweet, sexy, and fun in addition to being a great way to showcase their chemistry and budding relationship.

THE SINNER, "Part I", August 1, 2018, Actors: Elisha Henig, Carrie Coon and more, The Scenes: Julian kills his parents & The ending
Laura B: Julian kills his parents and rearranges their bodies. It seems everything I'm currently watching this week is centered around eerie murder! It was hard to say if the Sinner coming back without following source material would work or come off as strong, but so far I think the first episode was all together well-done and they did the right thing by using Ambrose as a story axle character to tell another tale, but one that seems to be about three stories, giving viewers more to chew on, including going deeper with Ambrose. The subject matter alone continues to be harrowing in tradition of the first season, but the young actor that plays Julian is the key that making this work and is no small feat. So far he's living up to challenge. Also picked by Samantha
Luana: The ending. This season already started strong but those last moments with Ambrose and Novack realizing the kid had no belongings with him and Carrie Coon showing up saying she's Julian's mother gave me chills.

YOUNGER, "The Bubble", July 31, 2018, Actors: Sutton Foster, Peter Hermann, The Scene: The first time
Ellys: After nearly five seasons of a scrumptious slow burn romance, Charles and Liza finally open their hearts to each other. They share their memories of the first time they saw each other at the office. The whole scene is perfectly scored to Camilla Cabelo's "Never Be The Same", which echoes Liza's declaration that they can never go back to the way things were before. A gorgeous celebration of a love story that could only truly begin once both characters allowed themselves to be seen for who they really are.
Marko: That was quite sizzling. The perfect combination of steamy and intimate, made all the right sparks fly. Strong writing, with great directing and truly hot people always make up for a great scene.

WYNONNA EARP, "Colder Weather", August 3, 2018, Actors: Melanie Scrofano, Dominique Provost-Chalkley, The Scene: Wynonna tells Waverly she's stuck with her
Samantha: This episode really brought the feels for understandable reasons, and none more so than with the second to last scene of the night. Being told she didn't have a burial spot is obviously something that took Waverly by surprise, as it's once again calling into question her heritage. Wynonna could've let her wallow in that & try to reassure her, but instead she completely dismissed the idea of either of them ending up there with her trademark humor of not facing her old high school. Seeing that her sister was still a little unsure, Wynonna reassured her they'd be buried side by side on the homestead. The show will obviously always have its critics, but Wynonna & Waverly is hands down the best sibling dynamic currently on TV. Melanie & Dominique just have that natural chemistry together, the showrunners know it and completely allow Waverly & Wynonna to be at the centre of the show and deliver wonderful scenes like this.