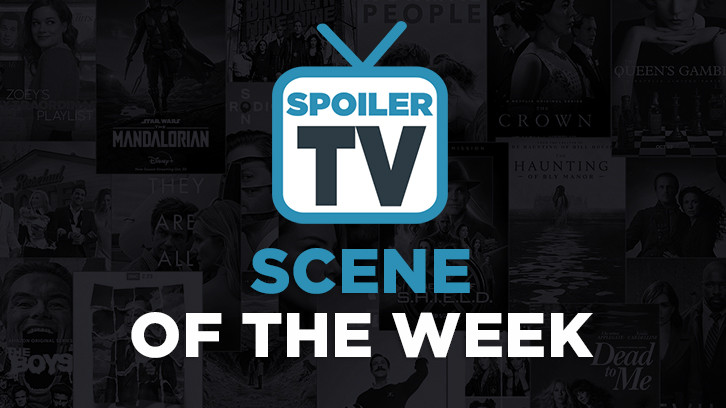 A weekly feature in which we're trying to find the most compelling, best acted, written, directed and just generally great, memorable scenes that we've seen in past seven days on TV.

AMERICAN WOMAN, "Obstacles and Assets", August 16, 2018, Actors: Jennifer Bartels, Tobias Jelinek, The Scene: Diana is forced to work late with her boss
Claire: Diana is forced to work late with her boss, Mr. Bishop, to correct the mistakes made by Jeff. Incompetent Jeff was promoted over Diana. Diana and her boss have a tender moment talking about their aging and ailing parents. Mr. Bishop makes a move and Diana pushes him away. When her boss tells her how difficult it is for men to read signals, Diana lets him have it: "women work twice as hard for a quarter of the pay, are called a bitch just for speaking our minds and have to choose between work and family." Diana is a powerhouse and has evolved over these nine episodes into a strong woman who knows what she wants, speaks her mind and can finally stand up for herself. Those are no easy feats, especially in the 70's. Can't wait for the season finale next week and am hoping for a season two.

ANIMAL KINGDOM, "Homecoming", August 14, 2018, Actors: Finn Cole, Laura San Giacomo
The Scene: J takes Morgan out to sea
Joey: This was a very powerful character moment for J and opens up a ton of possible paths for him to head down, all of which will be very fun to watch.

BETTER CALL SAUL, "Breathe", August 13, 2018, Actors: Rhea Seehorn, Patrick Fabian, The Scene: Kim lashes out at Howard
Laura B: I was very torn between this scene and the scene with Jimmy's job interview, given how layered that other scene is, but it was rare to see Kim behave this way and gave the underrated Rhea Seehorn something new to do! It's another marker of the shift this season is taking towards its Breaking Bad counterpart. I just hope Kim makes it out alive.

CASTLE ROCK, "Filter", August 15, 2018, Actors: André Holland, Rory Culkin, Charles Jones, The Scenes: Henry meets Odin Branch and Willie in the woods & Henry gets put in the soundproof "chamber"
Laura B: This episode took a bigger inch towards Stephen King's magnum opus, as Odin & Willie explain the sounds of God and "the parallels" to Henry, which I was not expecting from this series! On top of it, the juxtaposition of Odin becoming deaf and having this young white protege` Willie often speak for him was haunting echo of space-time for whom Henry "could" be, not to mention it reminded me like the shiners from the Shining gone wrong crossed with Mr. Wrench & Mr. Numbers from season 1 of Fargo! I'm very excited to see where we are going with this and if what Odin believes come to fruition for residents of the Dark Tower, errr, I mean Castle Rock.
DarkUFO: Henry gets put in the soundproof "chamber". Also picked by Claire

ELEMENTARY, "Uncanny Valley of the Dolls", August 13, 2018, Actors: Jonny Lee Miller, Ian Hart, The Scene: Sherlock confronts Baynes
Justyna: It's such a quiet moment, in the middle of the case. Sherlock invites his old colleague, Baynes, to the precinct to present him with an offer. It's a fantastic job opportunity, one that Baynes believes he was denied because of Sherlock's actions in the past. His anger and jealousy get the better of him earlier in the hour and he refuses to let Bell join his class just to get back at Holmes for solving a high priority case which could have made Baynes' career. Sherlock is calm, apologetic, he admits that years ago he was still actively under the influence of drugs and wasn't a great person to be around with. However, he's surprised that Baynes' hate is actually related to Sherlock's genius rather than his behavior. Putting things aside, the job offer has the chance to turn Baynes' life around and the only reason why he's hesitating to take it is the fact that he doesn't want to see Sherlock "win" again. I really liked how Holmes admitted he would go to great lengths to protect his friends. But the best part was the threat he addressed to Baynes at the end. Because Sherlock Holmes can be an incredible ally but if you go against him, he could become an adversary unlike any other. "You might have seen me as an enemy before, but I assure you, Baynes... I never was. You will not like having me as an enemy." He's kind, yet threatening at the same time. Another great performance by Jonny Lee Miller. Kudos!

FEAR THE WALKING DEAD, "People Like Us", August 12, 2018, Actors: Kim Dickens and more
The Scene: Opening Scene with the flying walkers (picked by DarkUFO)

PREACHER, "The Tom/Brady", August 12, 2018, Actors: Tyson Ritter and more
The Scene: The various Humperdoos explode one after another
Milo: The various Humperdoos exploding one after another as The Grail tries to come up with a formula to create one that will carry Genesis. This may be classic Preacher, putting an uplifting backing track to a scene of over-the-top graphic violence, but there's a reason why it's the trademark of the show and it just worked so well.

SALVATION, "Abre Sus Ojos", August 13, 2018, Actors: Charlie Rowe, Melia Kreiling, Dennis Boutsikaris and more, The Scene: Liam shuts down TESS
Justyna: I've recently caught up with the show and this might be one of my favorite episodes yet. The hour was quite an insane, but very entertaining adventure. The whole idea of Darius' other persona turned out to be just the thing we needed to finally fix what was broken. I've spent most of the season wondering whether I should still even like Liam, so it was good to see his old character showing up again. And finally, working together at last, Liam and Darius were able to shut down TESS and stop the nuclear threat made by RE/SYST. In a surprising turn of events, Croft sacrificed his life to help, becoming unlikely hero in the end. Liam also helped Alycia realize just how deeply wrong choices she's made. She fought and cried for a computer system like TESS but didn't hesitate to execute an actual human being. Not to mention the fact that she was ready to destroy New York just to prove her organization's point and keep her power. Melia Kreiling delivered a powerful, emotional performance during the confrontation. Kudos to all the cast & crew for this great episode!

SHARP OBJECTS, "Cherry", August 12, 2018, Actors: Amy Adams, Eliza Scanlen, The Scene: Camille and Amma bond in the yard
Laura B: Camille and Amma bond in the yard and sneak into the house. For all of Amma's (and really, many of the young girls in this town) problems and oversexualized twisted behavior, which is laced with child-like dispositions, this episode and this scene was so telling in that it exposed the vulnerability of Amma, when she admitted her own flaws to Camille. In return we see Camille embrace and once again remember her other sister, as quick flashes of flashbacks are interwoven with the contemporary scenes, as the two enter and go through the house. It was a moment the two had yet to have and it was nice to see it, even if it's only a glimpse.
Claire: It was so nice towards the end of the scene between Amma and Camille to see some genuine sisterly affection. It clearly showed the two growing closer, though Camille has been leery to let Amma into her life; not really trusting anyone.

TAKE TWO, "Shadows of the Past", August 16, 2018, Actors: Rachel Bilson, Eddie Cibrian
The Scene: Eddie gives Sam a St Michael's medallion
Klutzy girl: Eddie gives Sam a Saint Michael's medallion because he always gave one to his partners and now she's one too. I love how their relationship has progressed, and I'm looking forward to seeing more of it.

THE SINNER, "Part III", August 15, 2018, Actors: Elisha Henig and more
The Scene: Julian's interrogation
Mads: Julian's interrogation scene at the prison and the unsettling Mosswood philosophy that Julian parrots about what happens in death followed by his subsequent breakdown in the room. Elisha Henig is a great little actor.

WYNONNA EARP, "Jolene", August 17, 2018, Actors: Dominique Provost-Chalkley, Zoie Palmer, The Scene: Jolene tries to convince Waverly to commit suicide
Samantha: Many parts of this episode were difficult to watch, but none more so than this scene and it was terrific acting from Dominique Provost-Chalkley and Zoie Palmer which no doubt must have been extremely difficult to watch. Life had obviously been extremely difficult for Jolene, being born into the darkness whilst Waverly was born into the light and basically had everything that Jolene desired. But still, trying to convince a person to commit suicide? It's horrible and the pain etched on Waverly's face as every bit of venom was sinking into her was heartbreaking to watch. In moments it did seem like Jolene was going to convince her and Wynonna would be too late to save her, but Jolene pushed it too far when she claimed Wynonna didn't love her. That's something Waverly knows will never be true and it was enough to make her remember she was surrounded by people that love her, and she does matter.