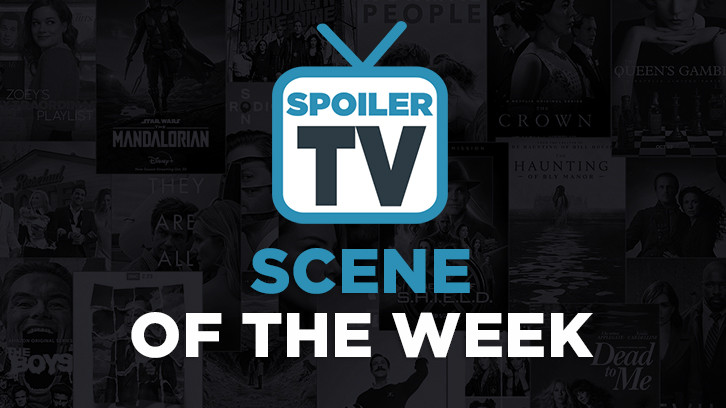 A weekly feature in which we're trying to find the most compelling, best acted, written, directed and just generally great, memorable scenes that we've seen in past seven days on TV.

AMERICAN WOMAN, "The Breakthrough", August 9, 2018, Actors: Mena Suvari and more
The Scene: Kathleen attends her first EST meeting
Claire: She finally comes to her senses and realizes that she is the most important person in her own life; not her gay ex-fiancé, her rich daddy or her dear friends. The actors on this show just bring their A-game each week.

BETTER CALL SAUL, "Smoke", August 6, 2018, Actors: Bob Odenkirk and more, The Scene: The opening sequence
Laura B: It was teased from the EPs that season four would begin to inch into Breaking Bad territory and although I have not seen much of Breaking Bad, it was easy to feel the shift or "mix" of tone change the episode encapsulated. From seeing a well-known Breaking Bad character, to Jimmy having zero personality, to the tenseness of Nacho's scenes this episode didn't feel much like Better Call Saul at all, say for Mike's warehouse stint and Howard's never-ending obituary providing a small shreds of comic relief. I chose the future scene though, because it was so different than previous future scenes, given that it took place in three locations and was much more tense and story driven. It felt deeper and so on point to where the prequel story currently is. The EPs also gave some hints on a podcast this week about the time period and "who" might be the taxi driver. They also said before that they might be interested in telling a full fledge post Breaking Bad story in a later season. This opening sequence feels much like a lead into that idea and I think that makes every going forward much more interesting.

CASTLE ROCK, "Harvest", August 8, 2018, Actors: Bill Skarsgård, Scott Glenn, The Scene: The reveal about the Kid
Nirat: Every Castle Rock ending has been superb and this was no exception. Alan Pangborn's astonishingly brave confrontation of The Kid was entirely fantastic. "Don't look at me like that fucker, you know me, you remember me" this line was impeccably articulated by Scott Glenn. For such strength in isolation, in the middle of the night, to confront something so unknown, it takes a whole lot of courage (good thing he had some liquid luck before this). The entire scene was eerie, I constantly questioned if the Kid was going to move closer and attack him. Even though it's clearly not his style, he seems more of a window watcher who has yet to get his hands dirty. The sheer menace Bill Skarsgård evokes with only his eyes is more than enough to make me anxious for anyone in his vicinity. He's just excellent in a role that requires emotive acting above vocal acting (and if you think this is good, the subsequent episodes are even stronger). The use of the flashback scene added more context and depth to an already great scene, whilst also dropping a major revelation; The Kid has not aged. "I can't remember my own dead wife's face but I never forgot yours. Not for 27 fucking years", what a jaw-dropping moment! This piece of dialogue has such power because death works in ways we can't predict. Sometimes you love someone so much you hope you don't forget them but time has a way of healing through forgetfulness and moving on but nightmares, haunting images, regrets, fears are much harder to remove because they fester, linger and dwell within the mind. Now that's not the case for everyone but I really liked this piece of writing. I had always assumed from the first episode this unnamed person was caged as a child. I never expected time to not pass for The Kid. So much of the show has been somewhat grounded so it's fascinating to see it evolve beyond that. I assumed that it'd be easier to lock away a child with seemingly dark abilities compared to an adult. Children, though loud and occasionally difficult to control are easier to manage than someone like Bill Skarsgård who towers over you like something from a nightmare. The way he uses his body to show innocence, crawling into a childlike structure or to become a threat, stretching out above a person is spectacular. It makes me question how Dale Lacy even got a person his size down into that cage at Shawshank. The Kid's own acknowledgment earlier in the episode, "I shouldn't be here, I should be in the hole", makes me wonder if he allowed himself to be locked up so easily (or was he not fully in control of his actions during this time, the lack of sunlight may have helped subdue him). I'm sure it's got to do with his ominous, "you have no idea what's going on here" line but I cannot be more intrigued. I loved how the camera only ever concentrates on the faces of Alan and The Kid throughout, it highlights the phenomenal talent of Scott Glenn (and Bill Skarsgård). Every single piece of dialogue delivered by Alan was spoken with such conviction. You felt his anger and his confusion, "then what the fuck are you?!." Not only was Scott's vocal talent on display, "he asked me to trust him, God help me, I did", but his facial acting. I felt his actions with the utmost certainty. The way Scott effortlessly switched from annoyance to fury, "Are you the devil?… Then what the fuck are you?!", was such a sight to behold. Bravo, Castle Rock.
DarkUFO: The reveal that the Kid hasn't aged in at least 27 years.

KILLJOYS, "What to Expect When You're Expecting... An Alien Parasite", August 10, 2018, Actors: Hannah John-Kamen, Aaron Ashmore, Luke Macfarlane, The Scene: Johnny admits that he can't live in between anymore
Justyna: First of all, I'm so happy to see Johnny back. This storyline turned out to be more painful to watch than I imagined. I never expected the worst part of this change to be the constant shifts between old Johnny and Hullen one. His confession that he couldn't take it anymore was absolutely heartbreaking. "Do you know what it's like to be caught in between? Why I can't stand looking at your beautiful damn face anymore? Because it hurts. My heart, it keeps switching from Hullen to human, and I keep losing you, both of you, over and over again, and I don't even care which one I am anymore, but I can't live in between." Aaron Ashmore is absolutely brilliant in this moment. He's scary and broken, and you can truly see the internal struggle in Johnny's words and gestures. He's finally pushed to the edge and he breaks his own neck, just to make the pain stop. It's such a shocking and intense scene. And Dutch and D'avin's reactions perfectly show just how much Johnny means to them. Fortunately, this desperate measure is what allows them to find a solution to bring the real Johnny back. Still, it doesn't lessen the emotional impact of the moment. In an episode filled with memorable exchanges and a terrifying look into the future, this part is still a clear highlight for me. Kudos to all the actors & fantastic crew for their great work. Can't wait to see what's next.

PREACHER, "Hilter", August 5, 2018, Actors: Pip Torrens, Betty Buckley
The Scene: Herr Starr meets Gran'ma
Milo: This was a pretty awesome scene seeing these two great villains share the same room at last. I loved watching both of them play off each other, especially helped by the fact that the whole episode, not just this scene, was a good showcase for the acting talents of Betty Buckley and Pip Torrens who stole the show this week.

SALVATION, "The Madness of King Tanz", August 6, 2018, Actors: Jennifer Finnigan, Ashley Thomas, The Scene: Grace confesses to Alonzo that she killed Claire
DJRiter: It's difficult to put into words how incredible Finnigan and Thomas are in this extremely intense scene. Grace has arrived home to find an intruder in her house and gun drawn goes to confront them. Only she finds an angry Alonzo drinking in her kitchen. But she knows why he's there. He taunts her about the identity of the person who has turned themselves in for killing Claire, knowing full well it's her father. His anger finally pushed him to a point that Grace confesses, that she's not protecting her father, but he was protecting her, that she was the one who killed Claire. And she goes on to tell him she would do it again because his sister was a traitor and about to kill Harris and if he wants revenge then she's the one he wants and she slides her loaded handgun to him over the kitchen island. He takes the gun point and shoots, all around her, then throws the gun down and says he's not going to kill her father he's going to torment her more by making her wonder what's happening to a loved one. Thomas' rage that he barely keeps in control topped with Finnigan's defeated resolution makes this one of the most intense scenes ever on the series.

SHARP OBJECTS, "Closer", August 5, 2018, Actors: Amy Adams, Patricia Clarkson, The Scene: Camille's mother admits she never loved her
Justyna: With each episode we learn more about the extent of Adora's cruelty and Camille's (emotional and physical) scars. From the fitting room confrontation to the conversation on the porch, it feels like more and more pieces of Camille's heart and soul are falling apart. Though her editor, Frank Curry, genuinely cares about her, his advice for her to face the past has only caused her pain so far. But I did love that phone call they shared in the middle of the hour ("Camille, you want to come home, kiddo?"). It was heartwarming and provided such a powerful contrast to her final scene with Adora. In this meeting, Adora appears so quiet and gentle but her words cut deeper than one could imagine. She talks about Camille's cold nature, supposedly inherited from her father, but she's the one who's openly admitting to her eldest daughter that she never loved her. Hard to imagine a more painful thing a child can hear from a parent. Patricia Clarkson's voice changes from soft to haunting with this one sentence. But it's Amy Adams who steals the scene for me, as Camille is trying her best to stay still, not display any emotion and above all, not to break down again. It's such an important moment for these two. After all these years, Camille can finally see her mother exactly for who she is. All I hope is that she finds enough strength in herself for this truth to set her free. Kudos to both actresses for their wonderful performances!
Mads: Firstly, I had a hard time choosing between the scene I chose and the fitting room showdown because both were incredible scenes and completely indicative of the complex, cruel, twisted relationship between the Preaker women. I ended up choosing the scene towards the end of the episode where Adora finally verbalizes her lack of love for Camille. Clarkson is so chilling and casually ruthless it leaves you feeling cold. Most of the moments of violence and darkness in this show are hidden in the quiet. This scene perfectly demonstrated that. We're lead to believe Adora wants to actually apologize to Camille for her reaction to the article, but I think anyone who watches the show felt a red flag at her invitation. It turns out she just wanted an excuse to nudge Camille a little closer to the edge. They talk about Camille's scars and the inevitability of the detective discovering them when they become intimate and Camille says she never lets it get that far. Adora's response: "But that's what I wanted to apologize for. You can't get close—that's your father. And it's why, I think, I never loved you." It's just the perfect summation of their relationship. Adora allocating the blame of her own abusive tendencies towards her eldest daughter on a father that has long since left the picture; she delivers an ice cold and penetrating blow. The resulting scene is proof that no matter how much Camille wants to distance herself from Wind Gap and her life there, Adora is as capable as ever at getting under her skin. Also picked by Laura B, DarkUFO and DJRiter
Claire: The scene with Camille and Adora on the front porch. This encounter between the two was devastating. For a mother to tell her daughter "I never really loved you" is so evil that this one scene has stuck with me since I first saw this episode back in June. Both actresses are doing an amazing job, but Clarkson has it a little tougher IMHO in playing the proverbial bad guy.

THE 100, "Damocles – Part Two", August 7, 2018, Actors: Eliza Taylor, Bob Morley, Christopher Larkin and more, The Scene: The ending reveal
Justyna: So much has happened in the final minutes of this season finale. Clarke and Bellamy wake up from a cryosleep which they believe lasted for 10 years. It doesn't take long for them to realize it's been much, much longer than that. They also learn about entire lifetime of moments their friends, Monty and Harper, wanted to share with them over the years. They never chose cryosleep and instead lived quietly watching over the others and looking for ways to ensure humanity's survival. They also had a child, a son named in a memory of Monty's best friend, Jasper. The kid, Jordan Jasper Green, is now a young adult, standing next to Bellamy and Clarke and explaining to them his father's last wishes. As it turns out, Monty understood that Earth isn't coming back so he searched for another planet for the people to live on once they're awake. It took him decades but he eventually found a new home for human race. The farmers did save the world, after all... The final shot of the episode leaves Bellamy, Clarke and Jordan looking at the new planet and thinking of all the possibilities it represents. There's so much hope in the end - to do better, to be the good guys, to start over. And yet the hope meets heartbreak in this scene as both the characters and viewers have to suddenly say goodbye to Monty and Harper. It's incredibly sad but still feels like a perfect ending for the two. All they've wanted for a long time was a chance to live in peace and they got to spend their lives quietly together, even with their beloved son. Their story finishes on a hopeful note and chance for a better tomorrow, so it's a send-off more beautiful than anything we could expect from The 100. Also, Jordan already seems like a perfect combination of them. Kudos to all the actors involved in the scene. It was emotional, game-changing, memorable, heartbreaking and heartwarming. Just the right ending for the season. Can't wait to see what's next. Monty and Harper, you'll be missed. Kudos to Christopher Larkin and Chelsey Reist!
Beth: The ending twist with Jordan and the time jump. This moment had it all.... hope, happiness, surprise and devastation. The last ten minutes of the episode were perfectly spent telling Harper and Monty's story about their son and how they found a way to save everyone in cryosleep for a hopeful tomorrow. Even if they could not see it themselves. Additionally, the introduction of Jordan Jasper Green was amazing and Shannon is perfectly cast to look like his TV parents. Finally, the scene beautifully concluded with the last shot of Clarke and Bellamy standing at the window staring at the hopeful beginning their friends had found for them.

THE BOLD TYPE, "We'll Always Have Paris", August 7, 2018, Actors: Sam Page, Meghann Fahy
The Scene: Richard shows up in Paris
Luana: We've been waiting so long for these two to finally stop finding new excuses to not be together, they need something a bit easier for once.

THE SINNER, "Part II", August 8, 2018, Actor: Natalie Paul, The Scene: Novack finds the large blood-stained rock
Laura B: The show continues to preserve what made the first season so compelling by starting to unravel the pain of characters through this case, but brilliantly expands as the show is really following three tales of pain all centered around this town and this cult. But for Novack, who's clearly holding out on her deeper connection to the compound, it was harrowing to watch her begin her search to find her own personal answers knowing that her friend seemingly went into the barn-like building and either she never saw her again, or she was changed. But the mythology with shadow philosophy and this Druid-like dark stone over set under a revolving sky light and upon stage similar to an altar was truly unnerving. It reminded me of the works of Stephen King or David Mitchell and I wasn't expecting that.

WRECKED, "Bush Man", August 7, 2018, Actors: Rhys Darby and more
The Scene: Steve explains bush pants to the group
Beth: This show is like a hilarious breath of fresh air from all the heavy stuff on the air. Steve trying to explain the attire of the 'bush man' he saw and everyone getting stuck on semantics is why I love this show. They know how to do comedic timing to perfection and I am so glad it is back to bring the funny.

WYNONNA EARP, "No Cure For Crazy", August 10, 2018, Actors: Melanie Scrofano, Tim Rozon
The Scene: Doc and Wynonna kiss
Luana: I can't get enough of their scenes, they're so sweet, and they can't seem to catch a break, someone's always in mortal peril, so it's nice when they have a few quiet moments.

YOUNGER, "Honk if You're Horny", August 7, 2018, Actors: Sutton Foster, Peter Hermann
The Scene: Charles cooks Liza dinner
Luana: I love these two on more day-to-day ground, I hope they get back there soon, they're just adorable.