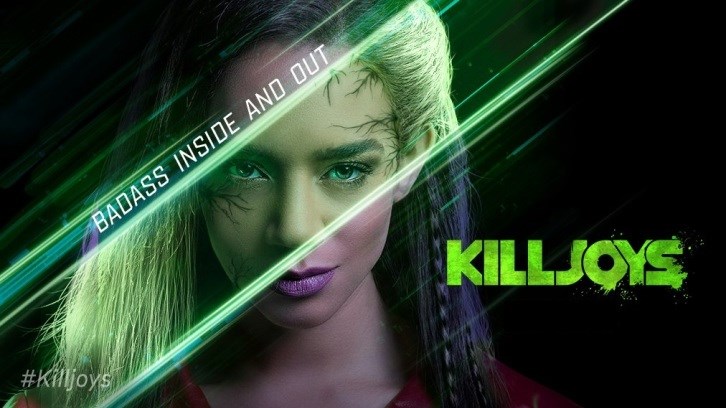 Killjoys
"What to Expect When You're Expecting… An Alien Parasite" was written by Nikolijne Troubetzkoy and was directed by Stefan Pleszczynski.
D'av (Luke Macfarlane) fills Dutch (Hannah John-Kamen) in on what she's missed. D'av and Zeph (Kelly McCormack) discuss the benefits of some of the team being unconscious. Nothing seems to be going D'av's way. Lucy (Tamsen McDonough) knows 432,000 bedtime stories. Pree (Thom Allison) is a big help to Zeph.
There's an unexpected complication with Delle Sayeh's (Mayko Nguyen) labor. Delle Sayeh has an interesting reaction to Dutch. There's an interesting parallel plot point to The Handmaid's Tale. Delle Sayeh is faced with a difficult choice.
John (Aaron Ashmore) and Dutch to not have a happy reunion. John takes drastic measures. Hannah John-Kamen does some impressive double duty as both Dutch and Aneela. Aneela gives Dutch some good advice. Ashmore is also terrific in this episode.
The real fight is just beginning and we start to see a little of where we might be going. Don't forget to watch this new episode
Friday, August 10 on Syfy at 10/9c!
And for your guessing pleasure, here are a few dialogue teases!
Should I say something?
Why is Pip on monitor detail?
Are you sure you want me to do that, Dutch?
It's all about the tiny hands.
Pain is just a state of mind.
I don't play well with others.
If I did know, I wouldn't be here, you shitty-bitch!
If I get out of here little flea, I will own everyone.
You're lying.
I don't tell you how to shoot – don't tell me how to science.
Compliment not accepted, you creepy stalker!
Actually, he banged the green out of her.
I'm hullen not dyhydrated.
Why can't you just do it. You're the professional.
And also 8% adorable.
I started delivering calves when I was 12.
It's baby o'clock!
I cannot live in between.
I could really use that drink right now, please.