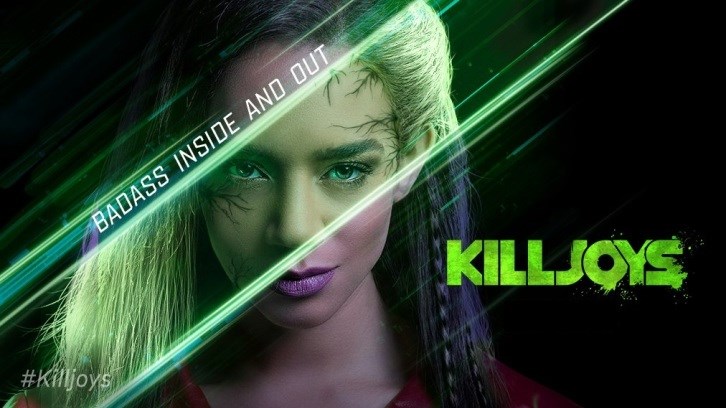 Killjoys
"Bro-d Trip" was written by Julian Doucet and was directed by Samir Rehem. There's lots of action in the episode on three fronts.
D'av (John Macfarlane) is not enjoying his roadtrip with John (Aaron Ashmore), but John has a great time. John still doesn't like Delle Seyah (Mayko Nguyen) and as a plan to find Dutch. Hullen-John seems to have hidden talents. D'av gives a pretty good pep talk. Look for an Obi Wan Kenobi/Princess Leia type moment. John and D'av have a heart to heart.
We find out what Pip (Atticus Mitchell) and Zeph (Kelly McCormack) got up to while they were on their own. Delle Seyah, as usual, has no trouble looking after herself until she does. Delle Seyah makes a new friend.
Zeph does a lot of thinking. Not all of it has a positive outcome. Turin (Patrick Garrow) is not entirely comfortable with Zeph's work. Turin swears in some new Killjoys who have some issues with the vows.
Zeph, Pree (Thom Allison), and Pip find themselves in a tough spot – with a countdown. There may be some singing. Two characters are in bad shape by the end of the episode. The episode airs
Friday on Syfy at 10/9c!
And some dialogue teases – in no particular order!
Oh. That's a bit of bad news.
You are completely nut-crackers.
Who says he'll be around to see it.
Little brothers are the worst.
Then we tried and died.
Every couple has a song.
Are you sure your bomb's gonna work?
Shit nuggets.
Why do we always split up?
It smells like armpits dipped in feet.
Should my ears be burning?
Should we shoot it?
I never want to mess with men like this, but if I don't, they'll never learn.
Always focusing on the negative.
Just keep your head down and hope they leave soon.
She's coming.
I'm sorry. Sometimes things get a little messy upstairs.
If you're not cool with those terms…