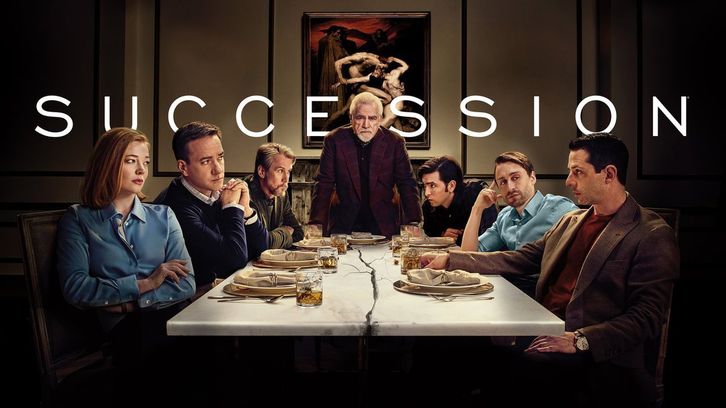 It was one hell of a party in this week's episode of "Succession". An actual party. Things were said, feelings were hurt and Kendall did not care about any of it, except when the opportunity to take his father's company came along. And he made the deal with his dad's greatest enemy. Talk about loyalty, Kendall!


Prague was supposed to be the destination for Tom's bachelor party but the plan fell through and Roman had to come up with a new idea. Stewy, Kendall's college friend, has a girlfriend who throws low-key parties à la Eyes Wide Shut, where nothing and everything happens. You get there by an elevator and you basically get transported into a new dimension, made of lots of drugs and booze, weird art, neon lights and very normal music. It all started in a very dull way, but it quickly turned into some sort of an inside look at everyone's fear and way of behaving in the world.
Roman had the courage to bring up an old story about Kendall locking him up in a cage and feeding him dog food when they were kids. Connor told Roman that he liked it a lot, that he actually asked for it. Is it true? Isn't it true? It was actually a good way to understand what kind of person Roman is and why he is both so damaged and insecure.
Connor spent the night on Molly, creeping up on women with his stupid conspiracy theories and that was basically it. Kendall used the party to establish himself as a new person, somenone who truly doesn't care what other people think of him. It's a different Kendall, very different from the one we see in the pilot, so controlled. He's the only one leaving the party with something more than when he walked in. I can't wait to see Logan's face when everything unravels.
Greg was basically there to babysit Kendall (which he couldn't really do) and to try cocaine for the first time (which he actually did do). It was hilarious to see.
Tom got permission from Shiv to do whatever he wanted because "they're adults", so the best he could do was to end up ejaculating into his own mouth. Sorry to be so graphic, but only someone like him could get himself into a situation like that.
Shiv had to juggle the intricacies between her professional and personal life. The politician she's working for had a very rough interview at ATN News, a company owned by Waystar/RoyCo. But that was not the toughest moment for her. She met her father to talk about what's going on between them and things got pretty heated. The result was that Logan decided not to attend Shiv's wedding and the worst part was that he had Marcia call her to let her know. It was the first time I saw Shiv actually be sad about something. Her shell came crumbling down while she still maintained her cool. It was heartbreaking to see, because it's always hard for a daughter not to have her father by her side on what is supposed to be the most important day of her life. Oh, and when she got the news, she was in bed with Nate so I get the hypocrisy, but it was hard to see anyway.
The boys left the party and each of them left in a different way. It was emblematic to see their bodies lined up like that in the end, with Kendall far from the others. He's becoming his own man again and he's ready to be exactly like his father has always wanted him to be. I am curious to see where he'll go, because I think the last episodes are going to be interesting.
Overall, it was a good and entertaining episode. The script by Jon Brown has some memorable lines, especially from Roman, whose dialetics is enviable. I also liked how the episode was directed (by SJ Clarkson), with a very intimate touch, used to convey the difficulties that these characters have when it comes to living their lives.
Favorite line:
Shiv: "
How was the play?
".
Logan: "
Oh, you know... people pretending to be people
".