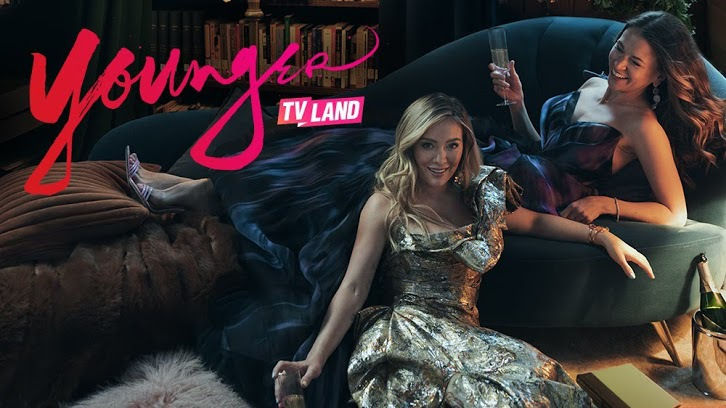 This week we saw the aftermath of Charles finding out Liza's secret and it didn't exactly play out like I thought, but his approach makes sense. Elsewhere Josh returned and broke everyone's heart and Liza learns a new slang while wondering why Charles is acting so strange towards her.


You pulled it off

I want to once again start with Charles because these last two episode have been heavily centered on him and rightly so because it has given a glimpse into a how he deals with the rug being pulled out from under him. This episode showed us how a man that in his own words,
has pretend so much
feels about being betrayed by a woman he admittedly loves.
Charles begins the episode staring at the two worlds of Liza, the one she parades around Empirical and the one that she hides as a 40 something divorcee with a grown daughter. In these moments I felt he was also straddling the emotions of anger and relief. Anger because she lied and now as his lawyer later tells him is in an an impossible place because he cannot fire her on the heels of the L.L. Moore scandal. Relief because she is his age and it was why he was so drawn to her and in another world these two would probably be a great match. In the end, Charles makes the choice to keep the information about Liza to himself because of the implications for his company. Seeing Charles tell her at the end without telling her was an intense moment and so well played by him. Adding these Layers of Charles in these last two episodes has really done wonders for me with him as a character. Before, I viewed him as a bit wooden and unable to show true emotion, but since the start of the season, I have really seen him in a different light and I appreciate the writers for fleshing out these parts of him.... Does anyone else feel the same?
We also finally got resolution with Pauline. I am glad that Charles didn't retreat into giving marriage another shot with her, especially since earlier in the episode, she tried to guilt him into a decision using their daughters. He did the right thing and finally told her they are done personally. Pauline is a wildcard here, because she was angry and hurt and would no doubt love to get her hands on the information Charles has about Liza. I have no doubt that Pauline would jump at the chance to expose Liza and take away a chance for those two to become a real couple once she pieces together Liza is the woman Charles has feelings for. Stay tuned to see if the writers take that route, but I see it as a distinct possibility.
Millenial does it again
On the professional front, Liza has a big win without knowing that her personal life has now become a dumpster fire.
Marriage Vaction
got picked for Reese Witherspoon's book club and once Liza learns what
sliding into your DMs
is, she private messages Reese and thanks her for choosing the book and suggests that it would make a great movie starring Reese herself. Liza once again uses both of her worlds and is able to get a meeting with Reese's people which was pretty awesome because it is moves like these that makes
Millenial
the saving grace of
Empirical
. Liza also is able to broker a huge
'incubator deal'
using her same business savy that got them in the door. This deal is two fold because after some reluctance from Charles, it helps to steady the company who is in turmoil since they dropped L.L. Moore. I love Liza in these moments, had her life charted a different course she could have been a big name in the publishing world and it makes me sad for her and more understanding as to why she did this. I hate that she has to lie in her personal life and it affects so many people, but I understand why she has done all this professionally. Hey, if she ever gets exposed fully, I think her memoir would be a great way to close the series!
Real Men Cry
Josh had a short but meaningful presence this week and it did a lot for the narrative that men can show their emotions. Josh's marriage is over before it begun because Claire is not coming back. Their honeymoon was a disaster and they are not a good match. Even though it was for all the wrong reasons, Josh is devastated. Liza finds him in despair and instead of buttoning up, Josh cries about all the things that never seem to go right. Too often men are told to just 'take it like a man' and that 'boys don't cry'. Here we got to see a man who has had so many personal failures finally break down and show the toll it has taken on him as a person and he let's himself be vulnerable to the woman who has arguably hurt him the most. It was an important moment for the show and an important way to spotlight that yes, men can cry and it is okay to do so, it doesn't make them less of a 'man' which is a thing that should go away when it comes to manhood in my opinion.
Some odds and Ends
*Liza needs some cheater glasses, but how can she pull that off when she is supposed to be 27?
*Maggie also returned this week and of course she found a way to make the annoying bus tour work in her favor using her awesome personality! I adore that woman so dang much.
*Kelsey shared a little bit with Zane about her upbringing and it was a sweet, tender moment. But of course these two quickly returned to their cat and mouse game as quickly as that moment came.
*Zane totally has nothing coming down the pipe as he tried to make it seem. He should just beg Kelsey to join Millennial.... So she can turn him down.
*Lauren needs to learn the difference between being great and good. That video she made for her PR firm was hilarious but who is going to take that seriously? And how epic was her meeting Diana, it was about time. Even if Diana told her she may slide into her DMs as a way to be cordial and Lauren took it in the way that phrase is usually intended.
*This is random, but how distracting was that HUGE bracelet Diana was wearing at the start of the episode? That woman knows how to wear accessories, no doubt, but that thing was over the top.
That's it for me! I am loving this season thus far, what do you think?