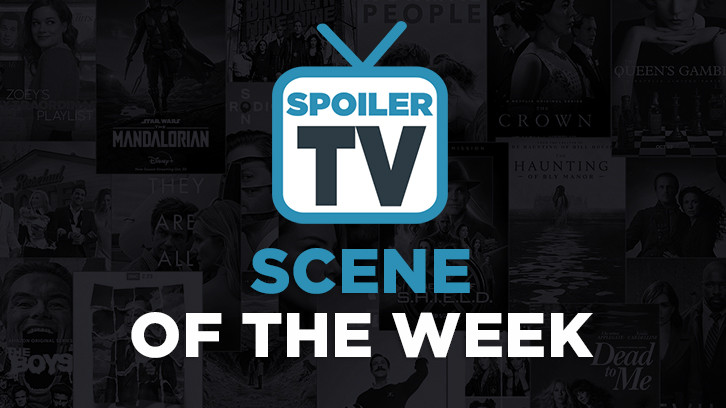 A weekly feature in which we're trying to find the most compelling, best acted, written, directed and just generally great, memorable scenes that we've seen in past seven days on TV.

AMERICAN WOMAN, "Liberation", June 7, 2018, Actors: Alicia Silverstone, James Tupper
The Scene: Bonnie confronts Steve about his affair
Claire: The scene where Bonnie confronts her husband, Steve, about his affair. It's the 70's and standing up to your breadwinner husband is not easy but Bonnie does it. She is a woman ahead of her time. He threatens her and she pulls a knife to get him to leave HER house.

CLOAK & DAGGER, "First Light" & "Suicide Sprints", June 7, 2018, Actors: Aubrey Joseph, Gloria Reuben, Rachel Ryals, Maceo Smedley III and more, The Scenes: Tandy and Tyrone are trapped underwater & Tyrone argues with his mother
Justyna: First of all, this was a great start for the show. I'm not familiar with these comics, so watching the night when Tandy and Tyrone got their powers turned out to be surprisingly powerful and emotional experience for me. It's not an easy task, to make the viewers care about the show's characters right from the start, but I feel like the cast & crew did a wonderful job to grab everyone's attention in the first few minutes of this series premiere. We're starting with the two as kids on the worst day of their lives, when Tandy loses her father and Tyrone watches his big brother getting killed by a cop. After a nearby Roxxon rig explodes, Tandy gets trapped underwater, drowning in a car with her dad. Meanwhile, Tyrone jumps into the lake, trying to save his brother who got shot and fell into the water. It's such a heartbreaking view, to see these little children struggling to get free, realizing that their loved ones are gone, almost dying themselves... until a pulse of energy is released, giving them extraordinary powers that end up saving their lives. I loved the way this scene was shot and edited, shifting between the two characters until they're finally pushed towards each other. Such great loss makes for one memorable beginning. I'm excited to watch these heroes born from a tragedy slowly come together for the next chapter. Kudos!
Beth: Young Tandy and Tyrone are trapped in the water. The song choice, the cinematography and the little actors did such a great job. The scene was intense and emotional.
Marko: Tyrone argues with his mother.

COLONY, "The Emerald City", June 6, 2018, Actors: Josh Holloway and more, The Scene: Will is herded by Drone Walkers
Laura B: This episode was certainly an interesting one, trying to accommodate Bowman's grief by not being able to have time to acknowledge what happened to Charlie, due to Gracie's dire state, but also contrasted with learning more about an algorithm that was used or rather misused to classify people for IGA. I chose this scene because clearly there is now some kind of "calculated" purpose for Will, as these drone walkers not only allow Will and his remaining family to live, but they pushed him towards Seattle, a place given the episode title Emerald City, seems to apply with combination of hidden truths and falsehoods.

FEAR THE WALKING DEAD, "The Wrong Side of Where You Are Now", June 3, 2018, Actors: Alycia Debnam-Carey and more, The Scene: Alicia takes out the ambulance with the grenade launcher (picked by DarkUFO)

LEGION, "Chapter 18", June 5, 2018, Actors: Dan Stevens, Rachel Keller, Jemaine Clement and more, The Scenes: Syd gets pulled down the rabbit hole & David tortures Oliver
Laura B: Syd gets pulled down the rabbit hole. This scene is a small surreal scene or sequence compared to more bolder scenes in this episode, but it was the way this sequence was done and the artistic choices of putting a giant light pink plug with a pearl chain juxtaposed to the giant hole in the middle of the dry desert, an object so symbolic to Syd herself, while also preserving Legion's nautical themes, as she saves and strokes the soft "white rabbit", only to be caught and be pulled down the hole itself that was so brilliantly done, as unraveling Syd is a way to "pull the plug" on David's plans, which in itself is at the heart of this season's debate.
Sam: David tortures Oliver.

SENSE8, "Amor Vincit Omnia", June 8, 2018, Actors: Doona Bae, Jamie Clayton, Tina Desai and more, The Scene: "I Feel You" sing-along
Milo: There were many scenes that stood out for me in this feature-length finale such as the Wedding and the final showdown, as well as Jonas' final moments, but I'm going to go with the Journey to Napoli featuring pretty much the entire main cast of characters singing along to Depeche Mode's "I Feel You". It was a fantastic moment that called back to the first season's use of 4 Non Blondes' "What's Up?" where Wolfgang and Kala met for the first time, and really worked as it brought in the characters who weren't part of the cluster but were still close friends with the individual members in a fantastic, inclusive way.
Beth: The Cluster and their friends and significant others sing to 'I feel You'. I loved this scene the most because that is what the show was to me, love and acceptance. Their friends and family accepted the cluster and their unique way of communicating wholeheartedly. When the show started, the cluster first got to know each other with 'What's Up' and now their loved ones got to join in for one of those moments.

THE BOLD TYPE, "Feminist Army", June 6, 2018, Actors: Meghann Fahy, Sam Page
The Scene: Sutton breaks up with Richard (picked by Marko)

THE HANDMAID'S TALE, "Women's Work", June 6, 2018, Actors: Elisabeth Moss, Yvonne Strahovski, The Scenes: Serena breaks down & The opening scene
Saloni: Serena slowly breaks down in her room after Fred whips her, June asks if she is alright. It's not easy to feel bad for Serena but this episode proved she just got lost in her way and is paying the price. Her husband is the big bad. It was tough to watch the scene in which he's lashing at her with his belt but this quiet scene after, when she is crying and muffling softly, showed Yvonne Strahovski's strength as an actress. I loved that June warmly asks her if she is alright from outside the door, even if she got turned away. I hope this is the start of Serena rectifying her mistakes and switching teams.
Claire: The opening scene with June and Serena working together for the final time before the commander returns. Lionel Ritchie is playing on the record player: "easy like Sunday morning..." Serena is showing signs of a possible redemption and there is a tiny ray of hope... It is during these times when the normal world catches up to this horrid place called Gilead that I find to be the most compelling. The amazing Yvonne Strahovski and Elisabeth Moss.

THE ORIGINALS, "God's Gonna Trouble the Water", June 6, 2018, Actor: Joseph Morgan, The Scene: Klaus carves Hayley's name into the tree
Beth: Klaus carves Hayley's name into the tree in the Bayou. These two characters had such a complicated history and were forced to form a co-parenting relationship for the good of Hope. Something shifted after season 3 and they became friends and grew to understand and even admire each other and what they mean to Hope. Hearing Klaus talk to Hayley and tell her he wanted Hope to live and be like her mother and that he was lost was heartbreaking. In fact the entire episode Klaus was wracked with pain and guilt over Hayley's last moments, and seeing a character like him come this far is satisfying for me as a fan of this show.

WESTWORLD, "Les Écorchés", June 3, 2018, Actors: Thandie Newton, Jeffrey Wright, Ed Harris, Anthony Hopkins and more, The Scenes: Maeve takes down the Man in Black & Ford takes over Bernard
Justyna: This was such a fantastic episode, with many memorable meetings and confrontations, that it's hard to select just one scene to highlight in the article. But in the end, I decided to go with Maeve and William's brutal reunion. The Man in Black is used to fighting and winning, he believes Maeve to be another face which Ford placed on his road to the Valley Beyond. He doesn't expect to see the real strength in her, her awakening and the plan to get her revenge. She remembers the day when he destroyed her home, the first time when she went against her programming to mourn her daughter. So this time she decides to destroy him instead. Using her new abilities she sends the hosts after William and she even helps Lawrence finally see the truth until they are all gunned down by the Delos forces alerted by Lee. That's when this memorable confrontation turns into another tragedy for Maeve and she's forced to watch her beloved daughter get taken by the Ghost Nation again. I absolutely love all the reunions between the characters this season, especially seeing how far they've come. This one was even more intense with the power shifting between the two. Thandie Newton continues to be one of the brightest stars of the series and Maeve's journey brings her closer to her daughter only to break her heart all over again. Such a fantastic scene, from the beginning to the last shot. Very excited to see what's next for both Maeve and William. Kudos!
Milo: The showdown between Maeve and The Man in Black was incredibly awesome this week. It was action packed and explosive, and I was worried for both characters, it makes the stakes all the more important and the fight all the more tense because of that. This isn't a simple fight showing a character you like fighting a character you don't. The writers brought them together in a classic old-school Western showdown for a memorable gunfight that really left an impression on me.
DarkUFO: Maeve takes down the Man in Black.
Laura B: Dr. Ford Takes Over Bernard. Once again I was torn between so many scenes from Maeve's showdown with the Man in Black or Angela blowing up the Cradle, Dolores switching from the rancher's daughter back to Wyatt when confronting Charlotte, and even Ford talking with Bernard inside Arnold's House inside the Cradle, but the reason I chose this scene is because it stayed with me all week. I have been watching Anthony Hopkins for over two decades of my life and I have never seen him pick up a weapon and be quite so aggressive with it. The way the scene is shot going back and forth between a blank-faced Jeffrey Wright to a delighted-faced Anthony Hopkins was so disturbing and distinct. Anthony Hopkins is 80 years old and his acting abilities never fail to surprise me!! And Jeffrey Wright too is just so delightful opposite him. I often feel the core of this show is between these two actors, since Ford's history with the park and his plans for the hosts is carrying much of the weight, as the fate of all the other characters continues to be in his hands...