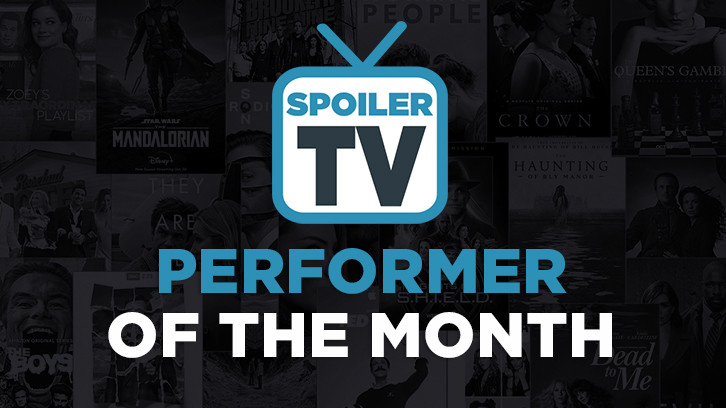 Results:

This month was an interesting race on the Staff side, but on the Reader side, there wasn't anything remotely close about the competition. The winner surged to take the lead right out of the gate and was never again within reach of any of the other competition.


Despite being up against a very strong field of nominees Tom Ellis easily swept the poll this month with no competition even close to him. He won for his performance in the Season (maybe, but hopefully not, Series) finale of
Lucifer
. He was a standout throughout and utterly brilliant as he took Lucifer on a vengeful journey to avenge a fallen friend. And it all led up to the most anticipated moment of the entire series. He skillfully navigated a whole array of emotions and intense confrontations with incredible talent and charisma while infusing his natural charm into the mix. With cast contracts set to end at the end of the week and
Amazon
in active talks to possibly save it this is a crucial week for the show. This is make or break time, but no matter the outcome Tom Ellis will go down as one of the most passionately fierce leads to ever fight for a cancelled show. He has handled the cancellation like a consummate pro and fought with all he has to try and save the show he and his cast so obviously passionately love working on. No matter the outcome, he has endeared himself to his fans thanks to his incredible talent in portraying Lucifer and his passionate drive to try to save this show that so many love and adore. He consistently delivered profoundly powerful and hilarious performances throughout the run of the show, but there was something truly special about that final episode. His performance in that episode made this a very deserving win for him and it's even better that it was his fans who made it possible for the title of Reader's Choice Most Outstanding Performer of May to be bestowed upon him.
The staff competition was much fiercer with the top winner changing right up until the end. In the end, the prevailing winner was Keri Russell from
The Americans
. In her final outing as super spy Elizabeth Jennings, she delivered a performance that was nothing short of awe-inspiring. She showed Elizabeth as strong and determined while also being able to show that it was all a façade put up to be brave for those she loves because leaving her children behind did break her heart. Elizabeth Jennings might have been a Cold War spy and she was very good at it, but her heart was far from cold when it came to her family and Keri Russell beautifully brought that to light time and time again. Her performances throughout the run of the series were consistently steady and on point. She never once faltered or delivered anything less than a topnotch performance during the six-season run of
The Americans
. But her performance in the series finale was perhaps her very best. She was truly a deserving winner of the title of Staff Choice Most Outstanding Performer of May.
The winner articles for Tom Ellis and Keri Russell will be up by the end of the month, so keep an eye out for them. In the meantime, feel free to use the comments to discuss these winners and all of their amazing competition.
Original Post:
A lot of people turned out this month to place their nominations. We ended up with a very intriguing and talented group of nominees. All but one of them is either on a show that got cancelled, the series ended, the character died, or the character was left in a precarious position as the season ended. It'll be interesting to see if one of them will prevail for a big win. The competition will be stiff because this is a strong group of nominees, so be sure to vote and tell others to do so as well.
Now it's time to determine who will be our May Reader's Choice Performer of the Month. The results will remain hidden for the duration of voting. The results of this poll and the Staff voting will be revealed after the poll closes.
2017 Staff's Choice Performer of the Year: Tatiana Maslany
2017 Reader's Choice Performer of the Year: Sam Heughan
January Winners:
Reader's Choice: Camilla Luddington (Jo Wilson) - Grey's Anatomy
Staff Choice: Justina Machado (Penelope Alvarez) - One Day At A Time
February Winners:
Reader's Choice: Tala Ashe (Zari Tomaz) - Legends of Tomorrow
Staff Choice: Mandy Moore (Rebecca Pearson) - This Is Us
March Winners:
Reader's Choice: Sarah Drew (April Kepner) - Grey's Anatomy
Staff Choice: Iain De Caestecker (Leo Fitz) - Agents of SHIELD
April Winners:
Reader's Choice: Abigail Spencer (Lucy Preston) - Timeless
Staff Choice: Sandra Oh (Eve Polastri) - Killing Eve
Please remember that a performer can only win once in 2018. After that win, they will be ineligible to win again in 2018, but they will secure a spot in our year-end Performer of the Year contest.
Now comes the hard part where you can
only vote for 1 performer
. The poll will be live until
Monday, June 11th at 6 pm ET
.