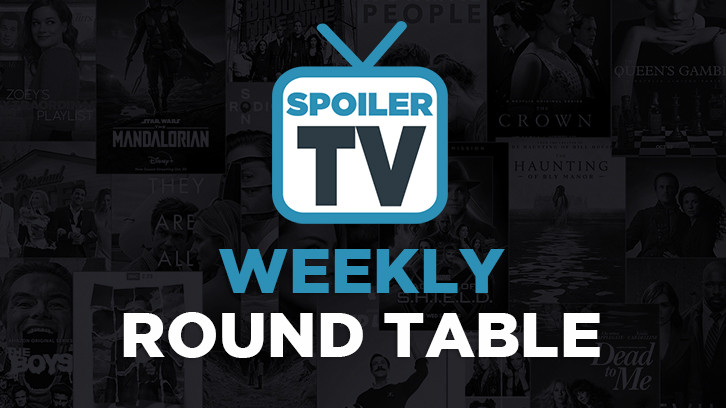 Exactly 1 year ago STV embarked on this wonderful journey, which we named SpoilerTV´s Weekly Round Table. On June 11th, 2017 the the 1st Edition was posted and a bunch of phenomenal articles were created and published on the site. But back to business now, today we are covering some hot topics as summer is raising its long game. Today I (MK) am joined by Jamie (JC), Chris/popcultureguy (PC), Beth (BW), Jaz(JZ) and Yon (SJ).


1. Summer is hitting up the Nothern Hemisphere and it is getting hot all over the place. Which TV couples are the hottest and what makes their chemistry so delicious in your opinion?
JC:
It's really hard for me to say which couple I find hottest. Chemistry is still something I find very difficult to put into words. For me lately, it's been f/f pairings where I've noticed the most chemistry, particularly non-canon ones. I can never quite put my finger on why I ship certain non-canon ships but I do believe it's chemistry related.
BW:
Oh wow well for a past couple, I will never get over the chemistry Fiona had with Jimmy/Steve on Shameless. Yes they were chalk full of issues but when they were in the throws of it, it was ELECTRIC. I consider this currently because it just ended but Lito and Hernando on Sense8 had amazing chemistry as well. Hernando was a calming force and Lito would bring out Hernando's wild side, perfect pair. Two other pairs that I currently find to have amazing chemistry are Buck and Abby on 9-1-1, I was weirded out by them pairing those two at first until I saw them together and then I got it, they played off each other so well. Conrad and Nic on The Resident are electric, their scenes whether they are at the hospital around a bunch of people or simply alone are hot.
JZ:
I don't really thirst or feel "hot" for canon couples I ship, basically because I feel a little bit uncomfortable with doing that. I guess from an aesthetic point of view the sexual tension between Ed/Lee was fantastic as were Barba/Tabitha (although I have more genuine feelings about the latter)! I was also a huge fan of Barabra/Ed's thing in s3. Gotham by far has the best cast whose chemistry sizzles no matter what pairing it is! The show is a living reminder of why I'm bisexual every day.
My favorite canon (non-thirst) pairing this season has been Coldray from Legends of Tomorrow. Leo and Ray had better chemistry and backstory in 10 minutes than some pairs get over seasons. It was a gay pairing played by gay actors and you could just TELL by the genuine performances by Russell and Wentworth.
Another ship would have to be Nic and Conrad from The Resident. Like wow. It's just such a genuine and caring ship. Even when they were "broken up" there wasn't that shitty drama, they still looked out for one another and remained friends. I've never loved a main pair like I have with these two.
From a non-canon perspective, I'm just loving what Winn/Brainy and Winn/James are putting down this season. Still better love stories than some of the canon ships they've got going on there.
SJ:
I mean....... How much time do you have? As I've gotten a bit older I've found I've stopped paying attention to the couple aspects of Television, and focus more on the story aspect, but when something is hot, it is HOT. Ryan & Marissa on The OC were probably my first OTP. Also loved Michael & Fiona on Burn Notice, Peyton & Lucas on One Tree Hill, I found Sara & Ava on Legends of Tomorrow to be quite cute, seconding Jaz on Leo and Ray and echoing a gay couple being played by gay actors makes a difference. It's not a show that's on the air anymore, but I can't speak about chemistry and not speak about Yon & Amaia on Grand Hotel because they were basically chemistry personified. Literally from the first second Julio and Alicia were on screen, you were falling for them (not exactly surprising since Yon basically has chemistry with everyone). Chemistry is of course down to perception and what one might think is cute another might not, but I think what makes the actual chemistry work is the actors. You need to be paired with someone who you can have a good type of 'banter' with so to speak. Someone who reassures you in scenes, makes you feel comfortable and safe, because no matter what is written in a script and a director is telling you to do unless you feel comfortable, it's just not going to work. I spoke a bit about Kate and Rana last week, who are playing by tremendous actresses in Faye & Bhavna, and you notice in the little things that Kate and Rana do, it's actually the actresses adding that in because they feel it's right for their characters rather than something they've been told to do.
MK:
As for hottest couple I have to go with Deek and Kensi on NCIS LA. I don`t even watch the show properly but they are heating up my screen to the melting point. They have something truly special between them it is transferring very well to the screen. Not to say how much I was shocked after the reveal that the two of them are inlaws. Also loved the chemistry between Meredith and Derek on Grey`s Anatomy, quite sizzling. Jessica and Neal from The Good Doctor are another good example for what great on screen chemistry looks like.
2. Netflix overflow. Netflix is developing and producing more and more content with almost every week having a new premiere. Should they put a break on it or do you think their pace works?
JC:
I like that there's so much content on Netflix. The more shows they produce, the more chance you'll find something you like. What they do still need to figure out is their promotion. They still overpromote certain shows and barely promote others.
BW:
I am starting to resent it actually because some of those shows feel like they are there simply so they can slap the 'Netflix Original' on it but there is no depth. Two years ago, I felt like they cared about the quality of what they are putting out, now...not so much.
JZ:
I don't mind the quantity of the shows because it means I get more range coming into hiatus season. With an Australian Netflix account, it means I get to catch up on some "Netflix Originals" that aren't on my weekly rotation like The Blacklist. I also really enjoy the weekly news shows like The Joel McHale show and The Break with Michelle Wolf.
The variety is good for Netflix as it keeps people on their streaming service for longer, but I wished they spent more time on advertising. Sometimes I miss good shows because I simply do not know about them in time and it sucks when you hear about a show being renewed for a 4th or 5th season and you didn't know they existed in the first place. The actors on various movies and shows do a fantastic job promoting their shows on social media, but it's not enough.
SJ:
There is far too much content on Netflix. Every day I basically bemoan my overall watch list and chuck stuff off it because I know I'm never getting through it, but compared to everything Netflix has to offer? I'm doing good! What they have on offer does also depend on the region that you're in which can be slightly problematic, and occasionally when I'm bored I do go through Netflix, but it's rare for anything to take my fancy. Sometimes it does feel as though Netflix is coming up with shows for the sake of coming up with them, and not necessarily because they think the idea is good, but that's something everyone is guilty of in some way. I also think the problem is with some of their shows having too many episodes. One show might work with 13 episodes, but another show might be better off with 8-10. And then, of course, there's the thing of having so many shows, but only a select few of them get the huge promotional onslaught. Sure Strange Things fans may like seeing the cast touted out everywhere and it helps bring the viewers in, but can Netflix really complain about another slightly less well-known show not bringing the viewers in when people aren't actually aware it exists in the first place?
MK:
I agree here on with Jamie them overflowing us with content isn`t the primary issue the promotional campaign is as some quality shows are flowing under the radar. The fact that Netflix is continuously growing but adding new content will eventually become an issue as the amount of weeK´s within one year won`t grow.
3. National Best Friends Day!!!!! Which pair of Besties do you enjoy on your small screen and which TV character would potentially be your best friend?
JC:
There are so many options to chose from but one of my favorite on-screen friendships is a recent one. Jane, Kat & Sutton from The Bold Type is one of my favorite friendships ever. I think I would get along perfectly with all 3 women. Other characters I would love as friends are Josh from The Originals, Elena from One Day At A Time, Lena from Supergirl and Haley from One Tree Hill, just to name a few.
PC:
Whenever I think of great TV friendships, my mind usually goes to Leslie and Ann on "Parks and Recreation". But I also just (finally!) finished season two of "One Day at a Time" and I really liked how they developed and deepened Penelope and Schneider's friendship this year.
BW:
Oh well gold standard for me with a current show is Danny and Steve from H50. They bicker and have epic 'carguments' but also care so much about each other. When one of them is the danger, the other is almost unhinged. As for who I would want to be my best friends.... Lucy from Timeless, Hayley and Brooke from OTH and Alex from Supergirl.
JZ:
I love Sucre and Michael from Prison Break. A legit ride or die brotp that's stood the test of time. Another timeless brotp would have to be Emily and Nolan from Revenge who are friendship goals. From a current perspective, I'm really loving iZombie's Ravi/Liv and Liv/Peyton.
SJ:
I absolutely adore the iZombie friendships. Can't pick just one because they are all so great, and it helps that the cast really get along. Reaching into my Spanish TV vault again Julio/Andres on Grand Hotel were so funny, Marcos/Ivan on El Internado started out as love rivals but then became best friends which did wonders for Marcos's character. Garcia and Morgan on Criminal Minds is one of the best crime show friendships I've ever witnessed. I loved the banter, I loved how much they cared for each other & I really hope Shemar Moore continues to make the odd appearance every now and then. Jane, Kate and Sutton on The Bold Type are really well done, Haley/Brooke/Peyton on One Tree Hill were such an OT3, as were Parker/Hardison/Elliot on Leverage, Sam & Michael on Burn Notice were great & I, of course, can't not mention Max/Caroline from 2 Broke Girls who were the absolute best and I will never not be bitter the show was cancelled. As for which TV character would potentially be my best friend..... that is too hard to answer because I love all of the friendships I mentioned above and trying to choose a TV best friend is like trying to choose your favorite character.
MK:
Personally my snarky personality would possibly work best with Fallon or Alexis from Dynasty. I personally love how Alex and Meredith are written on Grey`s Anatomy, they balance each other out so well. The Will & Grace foursome is another level of friendship goals. The writers hit all the right notes with their interaction.
That is a wrap guys! Thanks for reading and joining the discussion in the previous year and cheers to many more to come. Till next week. . .