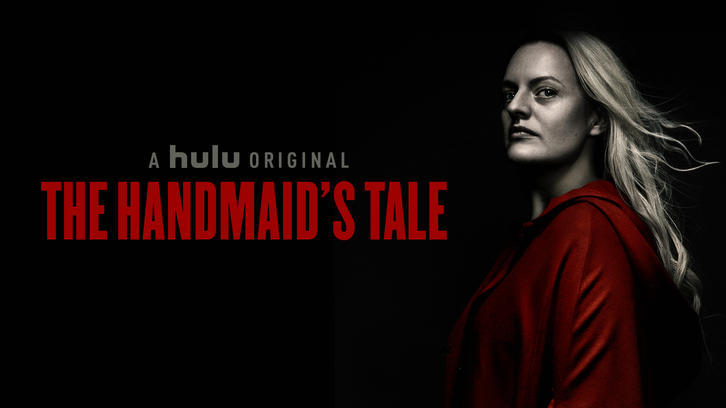 The Handmaid's Tale
"Baggage" was directed by Kari Skogland with the teleplay by Dorothy Fortenberry. I loved how the title of this episode resonates throughout the episode, referring to June (Elisabeth Moss) as literally baggage, but also the emotional baggage we carry with us. We all carry the baggage from our relationship with our mothers, and mothers carry the baggage of their children. The episode introduces us to June's (Elisabeth Moss) mother played by Cherry Jones – who doesn't have many scenes but is terrific in all of them. But baggage also refers to the emotional baggage that the survivors who have gotten out still carry. Responsibility is also baggage that we carry – whether that responsibility is to our biological family, those we consider family, our gender, or society in general.
I am continuing to love the musical choices this season. The opening montage of June and Moira (Samira Wiley) both running if perfect. June runs through the Boston Globe factory and offices, stopping to tend to her memorial. She muses that she's been there for two months. It's amazing how adaptable women are and what they can get used to. Is that a good thing, however? Is it because women have to be adaptable because they have no control? We also see Moira running, but outside and free. She too runs past a memorial but without stopping. Does she feel the weight of it the same way that June does?
Moira, Luke (O-T Fagbenle), and Erin (Erin Way) are living together, and Moira appears to be acting as mother. We see her making breakfast for all of them. Erin is still struggling as she doesn't speak and retreats to her room for the day. Luke has a job and is obsessed by watching events unfold. The military – both Canadian and British troops – are gathering at the border. Is an invasion imminent?
Moira appears to be an intake counsellor now. Moira helps Kyle (Vas Saranga), and we see that the women are not the only ones with baggage. He was in the army and was simply made a Guardian. He found himself hanging gender traitors before he knew it – but one of the men was someone he'd dated in college. Clearly, Kyle was living in terror that he'd be discovered, but he's equally scarred by the things that he was forced to do. I liked that they provided this balance. Moira sees how traumatized he is and tells him that they have trauma counsellors there – and that it gets easier. However, I don't think it's gotten a lot easier for her.
We see Moira later in the episode in a bar. She's drinking but doesn't seem to be taking any enjoyment from it. She's dressed very differently than the very conservative outfit we see her in at the centre. She makes eye contact with another woman – Caitlyn (Michala Brasseur) – and the two have sex in the bathroom. Or rather Moira performs sex on Caitlyn without seeming to get any enjoyment out of it. When Caitlyn tries to return the favor, Moira turns her away. In fact, Moira hides behind her Jezebel's name – Ruby. It's baggage that she just can't seem to get rid of. This is a beautifully shot scene as we see Moira at the end of it staring into the mirror and we see two images of her. She is trying to reconcile the things that she had to do to survive.
However, there is a spark of hope when she goes home to the apartment. Erin is actually sitting at the table eating cereal. Luke is lying on the couch – presumably his bedroom. Moira, mostly jokingly, points at Erin and says "You go fuck yourself." Without missing a beat, Erin meekly replies "Blessed be the Fruit Loops!" And all three dissolve into laughter. Maybe they can all help each other find normalcy and peace on the other side.
June has become obsessed with the records at The Boston Globe. She spends her days going through the tapes and cutting things out of the newspapers. Will all this information prove useful? She tells us that she's grasping at straws, but straws can be useful – one of the Little Pigs built a house with straws… She also remarks, "You were there all the time, but now one noticed you. Well, not no one…" She's referring to Gilead – they'd been planting seeds and setting the stage for some time. The ones who saw were those like her mother who protested and called them out on what they were doing.
In a flashback to when June (Asia Rempel) was 8, she remembers her mother taking her to a protest. Women were burning the names of their rapists. She remarks that there were so many papers, it was like it was snowing. It's a different take than in the novel where the women are burning pornography.
Nick (Max Minghella) has spent the night with June – and brought her real coffee that he'd stolen from Rita! I loved that June told him he needed to stop stealing it because Rita would kill him! He tells June that they've made contact – they'll be moving her soon. He has no idea where, when or how – and it's safer that way. June is reluctant to leave because of Hannah (Jordana Blake), but Nick insists that it's safer for everyone, including Hannah. Of course, Nick may have some self interest in wanting to protect his own child. The two hug before he leaves with a vague promise to come back on Tuesday for a couple of hours. June clearly has feelings for him, but she doesn't cry as they part, and it's hard to see it as love.
June is waiting for her delivery and finds out that she's the delivery. When June tells the Maintenance Driver (Philip Craig) that she's left some things upstairs, he simply says he'll get rid of it. There's no suggestion that she might actually want to keep any of it, and June doesn't make a big deal of it. The Driver has no idea who Nick is. Again, safer. There's a great shot of her looking through the slats of the truck at the building as she pulls away – just as she's had only a partial view of everything that's been happening to her.
We get another flashback to June arriving at her mother's apartment just after Holly and her friends have returned from a clash at an abortion clinic. I loved how both of these protests highlighted the control which Gilead stripped from the handmaids. June is fairly clearly a disappointment to her mother. June has just dropped by to pick up a blender so that she and Luke can make a special dinner for Moira. Holly shows no interest in June's job but praises Moira's work on a website for a queer women's collective.
The Maintenance Driver drops June in the middle of nowhere in a warehouse full of old signage from the Boston area. She's looking at a sign for Salem when Omar (Yahya Abdul-Mateen II) arrives and somewhat hilariously asks her if she's a good witch or a bad witch. It certainly does feel like she's gone over the rainbow into Oz! June tells him that it depends on who he asks – and he laughs at that. He asks for her name and her mother's maiden name. I loved how the important names her were all women.
He tells her that she'll meet a pilot who takes blackmarket stuff across the border who will take her to Canada – tomorrow night. Until then, he'll be taking her to a safe house. And then he gets a text that totally freaks him out. The safe house isn't safe anymore and he's just going to leave June there! She tells him NO! and then says please. Moss is fantastic in this scene as she tries to reclaim some of her independence and control, but ultimately is at the mercy of a stranger.
Luckily, Omar is a decent guy. He takes her to his apartment and sneaks her in. We learn that there is another group of people in Gilead – The Econos. June muses that she could have been one of them if she went to the right church – and wasn't an adultress. Omar's wife is not happy to see June at all. She responds with "NO" to June's "Under his eye" greeting. Their son Adam (Isaiah Rockcliffe) is a lot more welcoming and asks June to play with him.
June tries to thank the wife for taking her in, but she tells June it's not her decision. She tells June that they're kept in line with the threat that they can be made into handmaids. She also tells June that she doesn't know how anyone could give up their baby – she'd die first. June tells her that she used to think that too… but of course, Aunt Lydia showed her that that isn't an option for a Handmaid.
The three dress for church – Omar says they make a public show of faith. As the wife puts on Adam's shoes, June has a flash of putting Hannah's shoes on. Omar tells June that they'll be back by two and warns her to be quiet. June thanks him and asks him if he's brave or stupid for taking her in – something he'd said about the people who help get people out. He smiles at her and tells her that he's not brave. And that may have been her undoing right there.
We get another flashback to June with Holly. Holly complains that she never sees June anymore – the complaint of all mothers with adult daughters! She then tells June that she had her when she was 37 – it was very hard. But she is adamant that June was wanted. Holly then wants to know if June really does like her job. June assures her that she does. Holly reminds her that June wanted to be on the Supreme Court when she was little. She goes on to say that she sacrificed for June and it pisses her off to see June just settling. She then goes on to tell June that marrying Luke is a mistake! Throughout the conversation, June stuffs down her own feelings – clearly she is hurt and angry – who wouldn't be? But she keeps a smile on her face and doesn't lash out at her mother.
While she's waiting, someone comes to the door, and June hides under the bed where she finds a Quran and a prayer rug. Clearly, Omar is Muslim, but no doubt having to pose as Christian.
We get another flashback to June and Moira at the Red Centre. Aunt Lydia (Ann Dowd) is lecturing the Handmaids on the past and how they had poisoned everything. She tells them that through the work of the penitent, they can earn back what they've lost. She shows them pictures of the colonies – and June sees a picture of her mother undergoing hard labor.
That night in the dormitory, Moira and June talk about it. Moira wonders how they got Holly. Maybe through the abortion records. June tells Moira that she'd warned Holly that what she was doing wasn't safe. Moira muses that Holly's death will likely be fast, but June tells Moira that no one can fight like her mother. I'm hoping that we'll see Holly and Emily meet.
In the present, as the day wears on, June decides that she's not going to wait when it is long past 2 – almost 5. She waited before and she vowed she'd never do that again. She dresses in the wife's clothes and blends into the crowd, taking the train to the last stop and then escaping into the woods. All she has to go on is a very vague map of where the airstrip is.
We get some beautiful shots of June running through the woods. She then flashes back to running through the woods with Hannah the day they were caught. June is clearly consumed with guilt over leaving Hannah behind, but she thinks it's too late. She muses that Hannah is too young – will she have succumbed to all their brainwashing?
June ultimately finds the airstrip and hides under a plane. She thinks, "raise your daughter to be a feminist. She spends all her time waiting to be rescued by men." But June underestimates the role she's played in her own escape.
It's dark by the time the plane lands, and June runs after it frantically. The Pilot (Trevor Hayes) is freaked out, tells her to stop and pulls a gun. June tells him she's the Handmaid and shows him her ear as proof. A guy (Alex Harrouch) shows up and says that he was a Driver – for Commander Wells – but he's looking to get out too. The Pilot welcomes them to platinum, executive, diamond, plus – before putting them in the tail of the plane. June has a final thought of Hannah as a baby before climbing in.
There is a final flashback of June and Holly driving down the highway that feels very Thelma and Louise. It also feels more like June is the parent and Holly the child. June is driving and tries to turn the music down, but Holly, who is barefoot – very bohemian! – turns it back up. The two sing along to Gwen Stefani's "Hollaback Girl." There's plenty to unpack from this song. Stefani was criticized for being 35 and singing about being a high school cheerleader – and there's that element of not "growing up" about Holly. But the song is about the HEAD cheerleader – the one who leads the chants, not the ones who simply repeat them. It's also about speaking out and being a leader. There's also the lyrics – "this shit is bananas" – and that could certainly apply to Gilead! It's a terrific musical choice.
June on the plane is musing that no mother is completely the ideal of what a mother should be to her child – but then no child is ever the ideal of what a child should be to her mother either. June thinks that they did as well as most. She wishes her mother were there so that she could tell her that she forgives her and she wishes that she could ask Hannah to forgive her. Neither mother was able to save their child – at least not yet.
And then just as we think that June is actually getting out, there is a barrage of gunfire and vehicles everywhere. The Pilot is killed and the young driver is wounded and dragged away. June is like a wild animal, but is ultimately grabbed and dragged from the plane. It's impossible to know who betrayed her – or if anyone actually did. We know that the safe house was compromised, so it's entirely possible that the airstrip already was too. Omar might have betrayed her, but it would be more likely to be the wife. We may never know.
This was a powerful episode about the baggage we carry with us from our past and our family. It's also about the emotional baggage that trauma adds. Another brilliantly written, directed and acted episode beautifully topped off by the music. Moss and Wiley give terrific performances. What did you think of the episode? Did you think that June had a real shot to get out? Let me know your thoughts in the comments below!