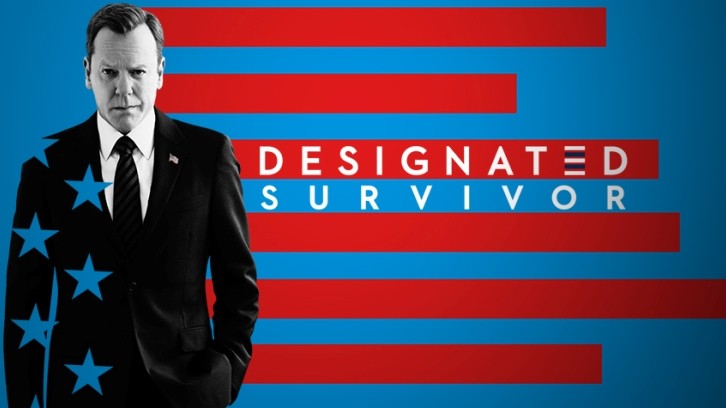 Designated Survivor
"Capacity" was written by Keith Eisner and was directed by David Warry-Smith, who moves into the Director's chair from the First Assistant Director's chair. It featured the second guest appearance by Michael J Fox as attorney Ethan West and centered on West's investigation into the President's (Kiefer Sutherland) mental fitness. It also – finally! – focused on Hannah's (Maggie Q) tendency to go rogue and resulted in the President firing her – sorry Maggie Q fans, but YEAH! And I know she won't (sadly) stay fired, and I know that her being fired almost inevitably has to mean that Andrea Frost (Kim Raver) is guilty – too predictable and *dislike.*
As the episode begins, Tom is dreading the inquiry and having to sit and watch his life fall apart, but Kendra (Zoe McLellan) assures him that he's just going to sit there and watch them win. Kendra does do an impressive job throughout the episode in countering what West throws at her. Michael J Fox is – as always – a joy to watch work.
While the inquiry is going on, the White House business must carry on, and the staff work to try to get the Budget passed. They are close to an agreement, but Lyor (Paulo Costanzo) is particularly worried that they'll lose their leverage if news of the inquiry gets to the committee – which of course, it inevitably does.
First on the stand is Dr Louden (Timothy Busfield). He's understandably upset that this leak has devastated his career. West tries to prevent him from giving a full testimony, but Louden insists he be heard. I love Timothy Busfield, and I hope they find a way to keep him in front of the cameras. He insists that the President has improved and that he never said that Tom wasn't fit to be President. When Kendra asks him point blank if the President is of sound mind, Dr Louden says yes.
Aaron (Adan Canto) also takes the stand. West directs his questions towards the incident in Kunami and Tom's decisions look bad. Kendra, however, again comes through with a good counterargument when she asks Aaron if war is ever rational – it isn't. But it can be necessary.
Hannah comes to Aaron right from the hospital and wants to go to Tom dripping with Damian's blood. Aaron tells her no – and that she needs more evidence. Even Chuck (Jake Epstein) sees that Hannah is acting irrationally and forcing the evidence to point to Andrea as Gamine.
Hannah finally does go to the President and presents her case that Andrea is Gamine. Tom tells her that there still isn't enough evidence. Tom isn't happy that Aaron knew about the investigation and didn't tell him. Aaron says they need to connect all the dots, and Tom doesn't want them leaping to conclusions.
Tom doesn't simply dismiss Hannah's concerns out of hand. He calls on his old friend Dax Minter (Chris Butler) to get his opinion on Andrea. He tells Tom that she's a unicorn – she's unusual, smart and driven. Tom wants to know if she'd commit sabotage. Dax says she's brilliant enough, but the real question is whether she would or not. He points out that no one gets to the top without being ruthless, and then questions how well anyone knows anyone else…
West surprises everyone by calling Andrea to the stand. Andrea admits that the President expressed doubts about his own abilities to carry out his office. Kendra wants to suggest that she might be the hacker but Tom won't let her. Kendra urges Hannah to find iron clad evidence against Andrea. Hannah goes to West to find out how he knew about Andrea's conversation with Tom, and he tells her that it was an anonymous tip when she threatens to have him charged as a co-conspirator in the bombing.
Emily (Italia Ricci) is also called to the stand. West wants to know if she carries out the President's orders, and it seems like the questioning could lead to her dubious actions, but all West really wants to know it about the President's obsession over loyalty.
Emily and Aaron commiserate that their testimonies didn't do much to help Tom. The two are preparing for the worst, and planning on what they will steal when they leave the White House. Emily asks Aaron if he ever thinks about their kiss, and he admits that he does – and I was really worried that the writers were going to do a really ham-fisted job of re-visiting this storyline. However, I was pleasantly surprised when Aaron explained that he purposely didn't pursue it because of their careers – and this way, they can be friends. Yeah for a sensibly written character!
It's inevitable that West will call Moss (Geoff Pierson). Moss, of course, hangs Tom out to dry. He talks about Tom's growing paranoia and erratic behavior. He says he doesn't think that Tom is fit to continue as President. Kendra tries to get Moss to admit that he was fired and this is just revenge, but Tom, of course, did the honorable thing and gave a press conference in which he said he reluctantly accepted Moss's resignation… It looks bad.
West comes to Tom and makes an offer. If Tom simply steps down, he can just resume his post at HUD. Tome tells him that if the Cabinet want him out, they will have to do it the hard way.
At this point, Lyor and Emily have lost all the gains that had been negotiated for the Budget, but it looks like it could get worse, and Tom agrees to just sign it before he may no longer be President.
West and Trey (Breckin Meyer) seem to just bump into each other in the cafeteria. Trey tells West that if he knew what kind of man his brother was, he wouldn't be engaging in this witch hunt. And of course, West ends up calling Trey to the stand. West says that the Kirkmans have a history of mental illness and reveals that Trey was diagnosed as bi-polar and is on medication. In cross, Kendra asks if Tom has ever been diagnosed with a mental illness, and Trey says no.
Tom had no idea about Trey's illness, and we get another great scene between these two. Trey tells Tom that he never wanted to be a burden. Tom insists that when "this" is over, he wants some real time together as brothers – anywhere Trey wants to go.
Tom finally decides that he's not going to concede on the Budget. He's determined not to sacrifice medical innovation and research or access to medical care. He tells the committee that they are just playing politics. He insists that they made a deal and gave him their word. He tells them that the time for playing games is over, it's time for them to do their jobs – I love it when Tom really get authoritative! He also tells them that he left a letter for Vice President Darby (Aunjaue Ellis), telling her to sign only the Budget that had been agreed upon! He knows that she will keep her word.
Finally, Tom takes the stand himself. As we've come to expect, he takes the high road. He doesn't deny any of what's been said about him. He says that he's made mistakes – because he's human. He questions why he's fighting for a job that he never actually asked for, and he emphasizes that he thinks the Presidency is more important than any one man. He then simply excuses himself to go and sign the Budget – he still has work to do!
Darby comes to tell him that the Cabinet voted and the majority wish for him to continue as President. Tom admits he wasn't expecting that. Tom asks what made them change their mind, and it was two things – the loyalty of Tom's staff, and of course, Tom himself.
West stops in to congratulate Tom. Tom says that normally he'd say thank you, but this time he's taking a pass! West tries to say it wasn't personal, but Tom points out that it was. West insists that he won because his job was to simply give the Cabinet the information they needed to make the right decision – and he thinks that they did make the right decision!
In the final scene, Tom calls Hannah to his office. She took it upon herself to accost and accuse Andrea in a public restaurant. She totally went off the rails! Tom tells her that everyone has to be accountable for their actions – and he fires her! I'll admit that I pumped my fist. Honestly, if they turn around and have Hannah "be right" about Andrea, I'm not going to be happy. How can she be an effective, professional FBI Agent if she can't even control her own impulses? It's ridiculous! So, please show, do NOT ever excuse this behavior and do not make her right!
I thought this was an excellent episode – I quite liked the way the inquiry was woven throughout the episode. What did you think of the episode? Is Andrea Gamine? Should Hannah have been fired for her actions regardless? Let me know your thoughts in the comments below!