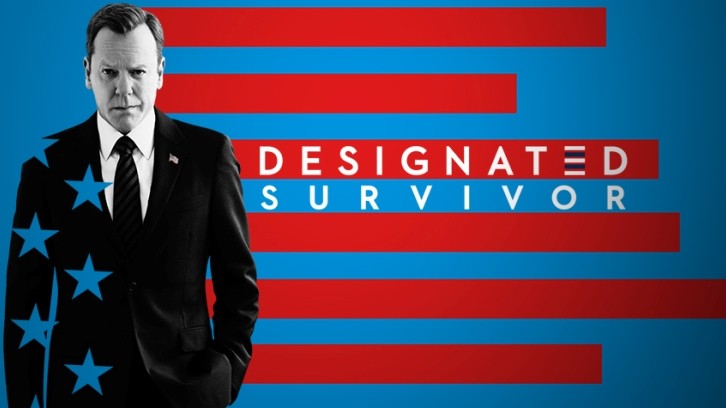 Designated Survivor
"Bad Reception" was written by the team of Tom Garrigus and Jessica Grasl and was directed by Chris Grismer. I liked how the title of the episode worked on a couple of different levels – referring to the reception marred by the Ambassador Dewan's (Keone Young) death as well as bad reception of messages – through the hacking and the issues with Flannery's (Michael B Silver) appointment. I thought the Ambassador's poisoning was a bit of a clever story as was the bait and switch with Andrea (Kim Raver) and Dax (Chris Butler). What I really didn't like was the stupid fake out with Hannah (Maggie Q) – don't get me wrong, the fake out was fun – but having her then turn around and QUIT at the end of the episode? I'm so done with her storyline.
The main plot centered around yet another fabricated country – Bultan. The Ambassador is trying to leverage an American teenager – Matthew Jennings (Gage Munroe) – who is being held in prison – and is then charged with 20 years hard labor for graffiti. Bultan wants to be able to do offshore oil exploration in the neighboring Poolu Islands.
The Prime Minister (Jon Jon Briones) uses the poisoning as leverage to put pressure on Tom (Kiefer Sutherland). He assigns Mike (LaMonica Garrett) to get to the bottom of it, and Mike enlists Chuck's (Jake Epstein) help. I love these two working together! It turns out that the Ambassador was poisoned by his neighbor over a tree on their property line – a bit lame in the end.
Meanwhile, Ethan West (Michael J Fox) takes an inexplicable interest in the case. His posturing – and leaking information to the press – don't help the situation, and in fact, end up making it worse. It turns out that he knew the boy's aunt and feels responsible for her death. Fox was his usual delight to watch, thought again, the story seemed a bit thin. While the stories on the show are engaging, very few stand up to much real scrutiny as far as character motivation – it's all about moving the plot along.
In the end, West is instrumental in helping Tom play hardball with the Prime Minister over environmental atrocities that Bultan has already committed in the Islands. The Prime Minister has no choice but to agree to Tom's terms that Matthew be releases and that his only punishment will be to wash the graffiti off himself in public.
In the secondary plot, Kendra (Zoe McLellan) has recommended her first boss for a Judgeship. Flannery plays a little hard to get at first, but when Kendra tells him that the President wants him to serve, he seems more interested. Emily (Italia Ricci) seems to have reservations about him but leaves the decision up to Kendra. When an harassment charge comes to light, Seth (Kal Penn) who knows the woman who brought the charge because she's gone from being a lawyer to a journalist, meets with her. Kaitlin (Emily Coutts) tells him that she was passed up for promotion after turning him down for a date. She didn't have proof and couldn't fight the old boys club.
Kendra asks Lyor (Paulo Costanza) to do a little more digging, and while he finds one more instance, he doesn't believe it will give anyone pause about the appointment. However, it's gotten Kendra thinking. She tells Emily that she slept with Flannery one night many years ago. She felt that it was completely consensual at the time, but now she's not so sure. She was very young and looked up to him and he was an authority figure. I did like how they handled this small look into the #metoo movement. A lot of women simply accepted being treated in a certain way, but now question these events. In the end, Kendra tells Flannery he's not getting the appointment.
Meanwhile, in a pretty cool sting, Hannah goes to Dax and asks him help her investigate Frost. She's going to break into her apartment while Dax takes her out to lunch. We see Chuck helping her break into a house, but it's never quite clear whose house it is – though if you are paying attention, the closet with the fake wall is full of men's jackets. Hannah finds the hacker's base in the basement and downloads the proof they need, and in a very well-worn plot, downloads the information and gets out just as the owner is coming in.
Tom calls Dax into his office to reveal that he found the bug in the model car that Dax gave him and has the proof that Dax is the hacker. Dax is not sorry at all. He tells Tom that the biggest threat to the country right now is government interference and over regulation which is stifling innovation. Tom is devastated at the betrayal by his friend – but he's mostly angry. Tom reveals that they staged Hannah's firing.
Chuck tells Hannah that he found a large payment to Valeria Poreskova (Nora Zehetner) and footage of her going in to an abandoned building. It's clear that Valeria was trying to kill Hannah, not Damian. Anyone else want to lay bets that Valeria staged Damian's death and he's currently a convalescing prisoner in that house? Hannah quits to continue investigating her.
Mike drops by to see Chuck and tell him he did ok in the field. He also tells Chuck that he's lucky that Hannah wasn't fired – he knows all about him helping her on the QT with the break in. I loved Mike telling Chuck that nothing happens in the White House that he doesn't know about! But he also gives Chuck some really good advice – Chuck needs to look out for himself.
We get a final scene between Tom and Andrea. Tom confides is disappointment in Dax who he thought was his friend. He tells her that he just has to accept that he's not really his friend. Andrea tells him that she's glad to have made a new friend in him, and Tom thanks her for her friendship and support. Then Andrea drops a bit of a bombshell – she's moving to San Francisco to acquire a new aerospace company. So perhaps she is just the trial, re-bound girlfriend after all! She tells him that they have a connection though. They've both lost their spouses and part of the healing process is making room in your heart for someone else. The two hug good bye.
I'm a bit sad to see Andrea go – but I'm sure they can find a way to bring her back… I want to see more Mike/Chuck team ups! I'm beyond done with Hannah. I liked the way the episode handled some of the really complicated issues with #metoo. What did you think of the episode? Did you have a favorite guest star? Let me know your thoughts in the comments below!