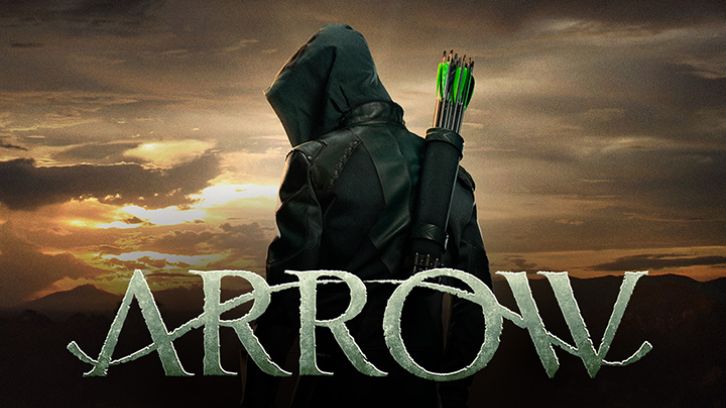 Arrow
"Docket No. 11-19-41-73" was directed by Andi Armaganian, whose only other directing credit is Supergirl, with the teleplay from the team of Ubah Mohamed and Tyron B Carter based on a story by Marc Guggenheim. Mohamed and Carter have also written for Legends of Tomorrow. "The Ties That Bind" was written by the team of Ben Sokolowski and Oscar Balderrama and was directed by Tara Miele, whose only other credits include Hawaii Five-O and some shorts. The highlight for me of these two episodes was the return of Colin Donnell as Tommy Merlyn. It was great to see how easily he slid right back into the role. On the other hand, seeing this version of Tommy also made me sad for what might have been if they hadn't killed Tommy off.
"Docket No. 11-19-41-73" deals with Oliver's (Stephen Amell) trial. Catherine Dent guest stars as Prosecutor Alexa Van Owen fresh off a recurring role on
Agents of S.H.I.E.L.D.
The episode opens with Diggle (David Ramsey) parachuting into "Karnia" – a war zone – and looking particularly bad ass as he rescues a prisoner – who we eventually discover is Christopher Chance (Wil Traval) – who then impersonates Tommy.
While it was nice to see the Brat pack regain their brains to come to Oliver's aide, it really didn't make any logical sense for them to care suddenly about his going to jail. But then their storylines have been anything but logical all season. Rene (Rick Gonzalez) is most adamant about doing whatever it takes to save Oliver until Diaz (Kirk Acevedo) waltzes into the courtroom with Zoe (Eliza Faria) – and who didn't see that coming?? Wouldn't you think making sure your loved ones were safe would be high on their to do list?
Dinah (Juliana Harkavy) mostly lies – in a good way! – until she falls back on the 5th. Curtis (Echo Kellum) is unhappy that he didn't get asked to testify! And why not? I don't buy that nobody realizes who he is… Doctor Schwartz (Venus Terzo) also lies, saying she was too busy trying to save the Black Canary to notice who the Green Arrow was! Diggle also lies.
Oliver takes the stand after initially not wanting to because it would put a target on Felicity (Emily Bett Rickards) and William (Jack Moore) and because it would mean that he could never stop being the Green Arrow. Oliver first testifies to clear Roy – paving the way for Colton Haynes to return next year. He's interrupted by the arrival – through the ceiling – of Tommy as the Green Arrow.
Judge McGarvey (Gaalen Engen) has Tommy arrested – and Diggle and Rene rescue him – and we see it's Chance.
Things are looking pretty bleak and Oliver and Felicity have a moment together. Oliver is upset over seeing Tommy again, which I thought was a really nice touch. He tells Felicity that if he goes to prison, he wants her and William safe in Argus protective custody.
It's down to the last witness – Laurel (Katie Cassidy). Diaz is angry with her for not outing Oliver when she had the chance when Quentin (Paul Blackthorne) was being interviewed by the news and the reporter asked Laurel if Oliver was the Green Arrow. Quentin encourages Laurel to stand up to Diaz, but Laurel is clearly scared. In the end, however, she testifies that Tommy is the Green Arrow.
There's a nice scene between Cassidy and Blackthorne as she tells him that he's the reason she changed her mind. I think it is a definite blow for the show to lose Blackthorne, who is departing to star in another show, but I hardly blame him as he's had precious little to do on Arrow for some time.
I loved that Raisa (Kathleen Gati) knew that Oliver was the Green Arrow. Oliver waits with Felicity and William for the verdict. This is a really nice scene between Amell and Moore. The verdict comes back far too quickly and Oliver is found guilty. Loring (Teryl Rothery) asks the Judge for a judgment notwithstanding, and he surprisingly grants it and declares Oliver not guilty!
Back at the bunker we discover that the Judge was actually Chance again. Diggle gives the credit to Rene for the plan. Oliver goes to Rene's apartment, and they both apologize to each other.
The Judge is dragged in front of Diaz, declaring his innocence, but Diaz kills him anyway. Laurel tries to take out Diaz, getting the drop on him long enough to get one good scream in. Her mistake is not to shoot him in the head immediately. He has a scream dampener and takes her prisoner. He tells her that he's implementing Plan B – kill everyone Oliver cares about and then kill Oliver.
"The Ties That Bind" sees Plan B go into effect. Oliver, Felicity, and William are having a nice family dinner, Diggle and Lyla (Audrey Marie Anderson) are at the hospital having his arm checked out by Schwartz, Rene and Zoe are watching a movie, and Curtis is showing Nick (Evan Roderick) his work, and Dinah is taking out a bad guy when they are all attacked. Anatoly (David Nykl) tips off Oliver, who sends out a 911 to everyone else. Nick is shot protecting Curtis and taken to a secure Argus medical facility. I'll admit that I kind of liked the Dinah scene – and her quip about sound waves bouncing.
Everyone meets in the Brat Lair and have to watch as the Green Arrow's lair is completely destroyed – guess we get a new set next year! They determine that Quentin is safe because he's too high profile as mayor to attack – really? Lyla says that Argus isn't chartered for law enforcement but offers fire power support. Oliver sees Anatoly as the one thing that Diaz won't see coming. Oliver meets with Anatoly to get him to get Diaz to move from his secure location.
Anatoly convinces Diaz that his location isn't secure – just by saying so – um, really??? So he moves to SCPD. Meanwhile, Cassamento (Gina Ravera) tells Diaz that the Quadrant isn't happy with his move from careful and precise to loud and messy. That makes two of us – do all villains have to be stupid? Why be patient for so long and then just abandon all reason.
The team attacks Diaz, resulting in Curtis losing his mind and going after him. Diaz almost kills him but choses to grab his necklace instead of delivering the killing blow – again, really? How long would one stab/slash have taken? Curtis is shipped off to the Argus medical facility. He does come back later and there is actually quite a good scene between him and Dinah (of all people!). Harkavy and Kellum are usually almost unbearable to watch, but are very good in this scene as Dinah finally admits that she was wrong to go rogue after the death of her boyfriend.
The team decides that they have to go after the thumbdrive in Diaz's necklace and can use Felicity's sniffer to do it. For some reason, she has to be in the field to hack it, but Lyla is the only one who can go in to plant the sniffer. Meanwhile, Diaz's own nerd is checking that the drive is ok and gets an alert that it's being hacked before Lyla can get back out. We get another fight scene.
One thing that I did really like in this episode is the parallel move that Lyla and Diggle make working as a team in the field, with Diggle saving Lyla at the hospital and later Lyla saving Diggle at SCPD. I also liked Felicity asking Lyla for advice on how they make it work – and Lyla's suggestion that divorce was a good motivator!
Felicity rushes into the firefight to retrieve the sniffer. She takes out Diaz's nerd, but Oliver has to rescue her when Diaz has her dead to rights. Felicity determines that the drive contains all of Diaz's financial records but it's encrypted, and that will take time. Oliver pulls Felicity aside to scold her for running into a firefight. She tells him it was too important, and Felicity's mission is also to save the city. She tells Oliver that there is no alone for them anymore – they're married. They are each other's strengths.
Diaz's nerd gets the team's location. Cassamento tries to object again and Diaz knifes her in the throat. By the end of the episode, Diaz has taken out another member of the Quadrant and basically just taken it over. Anatoly manages to evade blame by letting the Quadrant take it.
Oliver and Diggle also have a good scene together. Oliver tells Diggle that he took to heart what he said to him, and things have changed. Diggle tells Oliver that he didn't mean throwing away everyone who gives Olive strength – and what?? Didn't Diggle walk away?? But he's only talking about Felicity…
Diaz and his army attack and flood the building with gas. Felicity refuses to leave until the file has finished decrypting. Oliver stays with Felicity until the last moment – when they have to give up and leave without the files linking Diaz to everyone on his payroll. Diaz is waiting for them, and Oliver is weakened by the gas. He gets away by blowing the building. Oliver and Felicity regroup with the rest of the team outside and head for Argus.
Lyla sends in a forensics team and Diaz's body isn't there. Oliver calls William who's been moved to the Norad site along with the other family members for safekeeping. We get a cute moment between Oliver and Felicity as he admits that he should have trusted her.
The final scene has Oliver going to Agent Watson (Sydelle Noel). She agrees to help Oliver but wants two things. The first is for Oliver to "say it." He tells her that he's the Green Arrow. And the episode ends as she's about to tell Oliver the second condition. Why do I have a feeling it's going to be something like his going to work for the FBI?
There were, as always, some great fight scenes in the episode. Overall, it felt like the team came back together again for as flimsy a reason as they broke up. Don't get me wrong, I'm happy to see some things fall back into place, and I'm really happy to see Anatoly coming back to the good side. One more episode to go in this season, and I'll admit that I was going to give up on the series. However, now that we know we have a new showrunner for next season, I'm hopeful the show may yet get back on track. What did you think of the last two episodes? What are you hoping to see in the finale? Let me know your thoughts in the comments below!