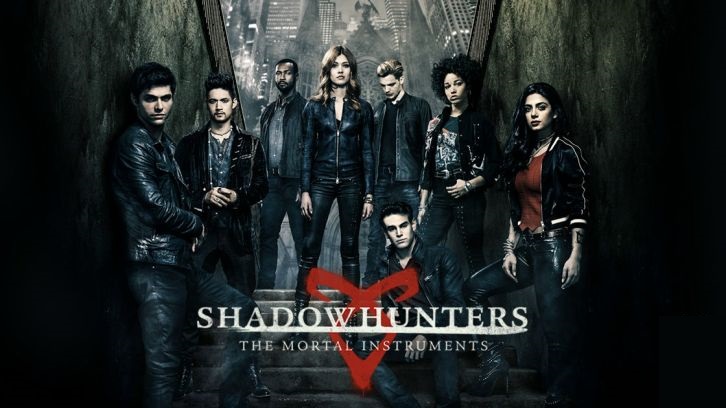 Previously on Shadowhunters, Jace consulted Luke on his family history as his worries over his mental health increasingly troubled him, Clary and Izzy teamed up to investigate a rogue vampire (Heidi) which lead to Izzy uncovering the truth about what exactly Raphael has been up to, and after being kicked out of the Jade Wolf, Simon quickly finds the perfect apartment, but a secret phone call between his new roommate and Luke might indicate that it's all a set-up.


In
'Stronger Than Heaven'
Jace, still suffering from the effects of his resurrection last season, partakes in a little day drinking at the Hunter's Moon. Simon, who is also there trying to reorganise a gig of his that was somehow cancelled (although not by him), happens upon Jace and explains his current situation, which leads to Jace helping him. Jace checks out Simon's new apartment and immediately becomes suspicious, both of the perfect decor and how exactly it all came to be. Something just isn't adding up for him, and Jace may not be the biggest fan of 'Kyle'. Throughout the episode, Jace also considers how he may be able to receive help for the problems he thinks he's having, but Clary and Alec may not be as on board as he is with the idea.
In this week's episode, Clary goes to Luke and Cleophas to explore a different option in helping Jace. Clary comes clean to Luke about what happened at Lake Lyn and he agrees to help after seeing how much guilt Clary carries over the situation. The episode's events involve an experiment of sorts which may end up drawing the attention of powerful forces and putting multiple characters in danger.
Elsewhere, Magnus dwells on a black box that he keeps in his apartment, which leaves Alec feels curious. In this week's episode they also broach the topic of moving in together, which leads them to talking about their time together and may segue into even bigger discussions about Magnus' romantic past and some of the larger differences between the two of them. We've had glimpses of this from their first date back in season 2 (and even season 1), but it's somewhat surprising that it's been somewhat allowed to settle and is only now rearing it's head.
Elsewhere Lilith, following her encounter with Magnus, devises a plan to bring Jace further under her control which may bring one of his loved ones in harm's way.
At the halfway point in 3A, 'Stronger Than Heaven' separates some of the main characters in order to advance several of the main plots of the season, focusing on finding the courage to fix the problems in your life and once again, the consequences that having secrets can have on you. Remember to tune in Tuesday at 8.00 on Freeform.
And with that I'm going to leave you with a few teasers to tide you over until Tuesday:
- Izzy Lightwood fight scene!
- Lilith appears to have done her research on Magnus.
- Alec has a scene with another Shadowhunter that highlights his strength.
- One character does something that may have dire consequences.
-
"I'm not a job!"