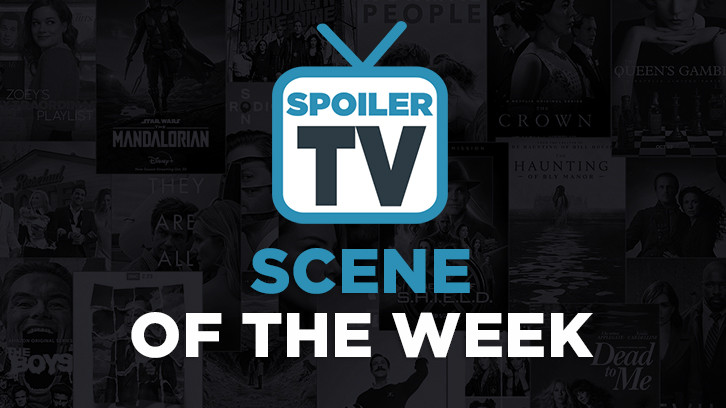 A weekly feature in which we're trying to find the most compelling, best acted, written, directed and just generally great, memorable scenes that we've seen in past seven days on TV.

AGENTS OF SHIELD, "Rise and Shine", March 30, 2018, Actors: Iain De Caestecker, Elizabeth Henstridge, The Scene: Simmons tells Fitz that Deke is their grandson
Justyna: Another great episode! Coulson learning about "Destroyer of Worlds" project and HYDRA's actions gives a new understanding to the events of the season. Fitz and Daisy's confrontation was both hard to watch yet worked so well. And Talbot's return was absolutely heartbreaking. But despite all these amazing scenes, once again I'm going with the moment between Fitz and Simmons at the end. Jemma shows up when Leo's struggling to share the hopeful news regarding their future and tells him about Deke being their grandson. And Fitz's reaction is my favorite so far. Despite his current situation, he managed to made me laugh with the "he's the worst" line. I love how he completely missed the point that Jemma was trying to make and went into protective father mode, getting angry about his future daughter's choice of husband and naming her son Deke. It was such an unexpected reaction, but it made all the sense in the world. It was funny and wonderfully done. I'm so glad all three members of the family are now aware of their bond. Can't wait to see the next interaction between Fitz and Deke. I do hope that Jemma's words about the two of them being invincible will inspire and help them, instead of causing any reckless behavior. As always, Iain and Elizabeth are brilliant in the scene. Kudos to cast & crew for another fantastic hour!
Samantha: Fitz's reactions to things are beautiful. I love that Simmons told him about Deke as a way of giving him hope for them getting through this rough patch, and he's just hung up on their future daughter getting with an idiot to make Deke.
Klutzy girl: Fitz finds out Deke is his and Jemma's grandson. His reaction was absolutely hilarious, and I was dying at "He's the worst" and "Our daughter marries a space goon and gives birth to a Deke!".

BARRY, "Chapter One: Make Your Mark", March 25, 2018, Actors: Bill Hader, Henry Winkler and more, The Scenes: Barry tells his life story to Gene & Barry does his first read on stage
Kollin: In this scene, Barry spills out his life story to the acting class teacher, Gene. Bill Hader did a wonderful job expressing the anxieties caused by his life - we felt it as he talked as if grasping for air, and we see it in his cold, pleading eyes - just a masterful performance from the comedian. To top it off, after a moment of silence, Gene responds with a hilarious response telling Barry how his story needs work, but the performance was mesmerizing, believing that that was Barry's monologue. Too funny. All hilarity aside, this was a turning point in the premiere where Barry finally took that one step forward to change his life, performed masterfully by Bill Hader, and a scene that cemented Barry as a must watch show on my schedule.
DarkUFO: Barry does his first read on stage at the acting class.

BASKETS, "New Year's Eve", March 27, 2018, Actors: Alex Morris, Zach Galifianakis, Louie Anderson, The Scene: Ken asks Chip for permission to marry Christine
Claire: It is so sweet. Chip has turned into a decent human being. He asks Ken if he should call him dad and asks him not to kill himself like his first father did; so sad and touching.

BLACK LIGHTNING, "Sins of the Father: The Book of Redemption", March 27, 2018, Actors: China Anne McClain, Nafessa Williams, The Scene: Anissa confronts Jennifer
Naomi: Anissa confronts Jennifer about her refusal to accept the role of a superhero. As Anissa continues to escalate the argument, Jennifer's anger causes a more powerful version of her abilities to manifest. This was an awesome scene for the special effects, but also because it highlights the age old "with great power, comes great responsibility" argument between the sisters.

BROOKLYN NINE-NINE, "The Negotiation", March 25, 2018, Actors: Andy Samberg, Craig Robinson
The Scene: Jake and Doug Judy have one last karaoke sing-a-long together (picked by Laura)

EMPIRE, "Birds in the Cage", March 28, 2018, Actors: Trai Byers, Jussie Smollett
The Scene: Andre comforts Jamal after he breaks down over killing Angelo (picked by Marine)

FOR THE PEOPLE, "18 Miles Outside of Roanoke", March 27, 2018, Actors: Susannah Flood, Britt Robertson, The Scene: Sandra and Kate negotiate
Luana: This is exactly why I love this show, these two forces of nature sat down to negotiate and gave it their all, and both had us on their side at one point or another showing exactly why the law can have so many different takes. Why are the rules more important than the people they're designed to protect?

GREY'S ANATOMY, "One Day Like This", March 29, 2018, Actors: Ellen Pompeo, Justin Chambers, Sarah Drew and more, The Scenes: The ending scene & April's conversation with Eli before he dies & Meredith and Nick talk about "what if" version of their lives
Nick: In an emotional whirlwind of an episode the ending scene shows Meredith telling Alex about her patient, a smart funny hot guy who made her feel something she hadn't since Derek. Someone opens the door at Jo's bar and Meredith turns her head, and the scene fades to a mirror scene from season 2 where Meredith was waiting for Derek to walk through that same door. As if I hadn't shed enough tears already.
Max: April treats a rabbi who helps her address her crisis of faith. After helping her acknowledge her struggle and discussing the mysteries of faith, he passes away with April holding his hand, seemingly leading to the breakthrough she's needed for weeks.
Patrycja: April's conversation with Eli before he died. The scene was heartbreaking but also extremely powerful. Sarah Drew was beyond amazing in the scene.
Beth: Meredith and Nick talk about what life would be if they weren't doctors. I loved this because Mer showed a little of herself that she normally doesn't, especially with someone she just met. She seemed very at ease with Nick, even though she was resistant to be at first.

iZOMBIE, "Goon Struck", March 26, 2018, Actors: Rose McIver, Jason Dohring, Dawnn Lewis and more, The Scene: Renegade is executed
Justyna: Throughout the episode we see Chase struggling with the decision to make about Mama "Renegade" Leone. It's clear he doesn't want her to die but with each meeting and person he encounters he becomes more convinced that they're out of options. In the end, he feels like the only way to make things better for the city is to proceed with the execution. The weight on his shoulders, the struggle, it's all there until the very end when we see his immediate reaction at the final result. Jason Dohring did a wonderful job in the episode and this scene especially. And Chase's isn't the only perspective that we follow in this moment. There's also Liv who desperately looks for the solution to save Renegade but is forced to helplessly watch her die, along with Ravi and Peyton. Major turns his back on what's happening and is focused on the crowd where the mix of different people call for forgiveness or death to Mama Leone. And finally there's Renegade herself. She's afraid to die but she quietly warns Liv to stay away and let her go. She painfully accepts her death and as the voices almost disappear in the background she takes her final breath. The entire scene is such a powerful view and surely a turning point for the characters. Especially considering that Liv ends the episode with a choice to continue the work of Renegade. Kudos to cast & crew for this wonderfully done scene!
Samantha: This was an extremely funny episode, that quickly got real so fast and by the end I was in tears. Chase has been underused slightly this season, but somewhat owned the episode with his struggles over killing Renegade. He didn't want to do it cause he'd been brought up better than that, and she desperately didn't want to die but he had no choice. Ravi, Peyton & Liv all having to stand by helplessly, whilst Major had his back turned on it all & the crowd mixed between baying for blood and mercy was so powerful. And the looks exchange between Renegade & Liv as she was basically telling Liv not to do anything? Gutted me.

LEGENDS OF TOMORROW, "I, Ava", March 26, 2018, Actors: Caity Lotz, Jes Macallan and more
The Scene: Ava discovers she's a clone
Samantha: This was generally speaking a surprisingly funny mixed with emotional episode & Ava passing out when she discovered her clone was just so funny and wonderfully acted by Jes.

LUCIFER, "Orange Is the New Maze", March 26, 2018, Actors: Lesley-Ann Brandt, Tom Ellis
The Scene: Maze realizes she's always second best (picked by Jaz)

SANTA CLARITA DIET, "Halibut!", March 23, 2018, Actors: Drew Barrymore and more
The Scene: A new religion begins (picked by Luana)

SHADOWHUNTERS, "The Powers That Be", March 27, 2018, Actors: Katherine McNamara, Dominic Sherwood, The Scene: Jace tells Clary she is special (picked by Marine)

SILICON VALLEY, "Grow Fast or Die Slow", March 25, 2018, Actors: Jimmy O. Yang and more
The Scene: Jian-Yang explains to the guys where he got a cadaver from
Saloni: Jian-Yang explains to the guys his complicated process of getting a cadaver that looks like Erlich. It was just crazy and funny scene. Jimmy O. Yang is so great with his dialogue delivery.

SIREN, "The Lure", March 29, 2018, Actors: Fola Evans-Akingbola, Eline Powell
The Scene: Maddie and Ryn in the car (picked by Luana)

THE ALIENIST, "Castle in the Sky", March 26, 2018, Actors: Daniel Brühl, Luke Evans, Dakota Fanning and more, The Scene: Laszlo's toast
Claire: The scene where Laszlo, John, Sara, Marcus and Lucius are gathered around the dining table in an expensive restaurant. Laszlo gives a toast to the group's accomplishments and the friendships that have developed.

THE AMERICANS, "Dead Hand", March 28, 2018, Actors: Matthew Rhys, Costa Ronin, Keri Russell and more, The Scenes: Philip and Oleg's meeting & The opening montage
Saloni: Philip and Oleg's meeting where he tells him to spy on Elizabeth! What an incredible and smart way to pull Philip back into the game, working possibly with Oleg no less! A twist I did not see coming but one that I hope really plays out in the season. Also picked by Laura B & DarkUFO
Max: The opening montage set to "Don't Dream It's Over" where we catch up with Elizabeth and Philip, setting up the stark contrast between the lives they're both leading 3 years after the last season.

THE GOOD DOCTOR, "More", March 26, 2018, Actors: Freddie Highmore, Richard Schiff
The Scenes: Aaron shares his Maggie story with Shaun & Aaron lies to Shaun about getting better
Marko: Aaron shares his Maggie story with Shaun.
Jaz: Aaron lies to Shaun about getting better.

THE GOOD FIGHT, "Day 429", March 25, 2018, Actors: Cush Jumbo and more, The Scene: The Lucca Reveal
Laura B: Again it's one of those episodes that were packed full of delightful things from Diane giving Elsbeth an apology along with some personal effects, to the introduction of the character Tully, the return of Kurt, humanizing Liz with her son and his school, an episode (in part) about the legality of legal advice technology, and a follow through from season seven of The Good Wife, where Lucca once mentioned she had a brother! One top of it, it was an extra creative episode, as viewers watched two stories overlap! I chose this scene when Lucca's brother calls her out on her pregnancy (at the party), because of the affect this could have on her and, eventually, on Colin too! Even more so, it's also a really perfect and most ironic juxtapostion to Alicia too! Alicia left the buisness to raise her kids and support her husband's political career and The Good Wife was about her coming back. In the same breath TGW viewers also often saw antagonistic characters like Andrew Wiley, Patty Nyholm, and Mike Kristieva have/had kids and use them as distractions or political weapons. Assuming Lucca is not going to quit her job, it will be very interesting to see how this character moves forward with a possible child in tow and how the other characters react to it as well.

THE MAGICIANS, "The Fillorian Candidate", March 28, 2018, Actors: Summer Bishil and more
The Scene: Margo is crowned as the High King of Fillory
Saloni: Maybe its Margo's character development, maybe it's Summer Bishil's beautiful performance, or maybe it's that a woman was rightfully made the leader here, but this scene simply stood out. It was very well done.

THE PATH, "Blood Moon", March 28, 2018, Actors: Hugh Dancy, Michelle Monaghan
The Scene: Sarah talks Cal out of suicide (picked by Jaz)

THE RESIDENT, "Lost Love", March 26, 2018, Actors: Matt Czuchry, Violett Beane and more, The Scene: Lily's death
Justyna: This show really took me by surprise. Didn't expect to enjoy it as much as I do, but the actors are doing a wonderful job, the stories are very engaging and it makes me think of another medical series I used to love. Overall, glad I decided to start watching this one. One of the most powerful stories yet resulted in a heartbreaking tragedy at the end of this week's episode. A cancer patient dies in the final minutes of the hour. And the worst part is the fact that it wasn't her disease that killed her in the end, it was her doctor. I knew that Dr. Lane Hunter wasn't exactly a great person but such a cold-blooded murder is something I didn't see coming. Lily was exactly the kind of good-hearted person that many people cared and fought for. This cruel ending, especially after she realized what was happening and completely terrified asked for help, was heartbreaking to watch. As was Conrad's desperate attempts to save her. His words to Lily, the request to "stay with me..." echoed in each of his actions. Until finally a room full of his colleagues made him realize he has to let her go. Conrad has to call time of her death when he can barely stand, exhausted after CPR and once everyone leaves he is left sitting next to her bed with a puppy she was so happy to find earlier in the hour. Such a powerful ending and a turning point to one of the show's main arcs. Wonderful work by cast & crew. Kudos!

THE WALKING DEAD, "Do Not Send Us Astray", March 25, 2018, Actors: Norman Reedus and more
The Scene: Daryl starts the firefight by riding through the gate (picked by DarkUFO)

TIMELESS, "Hollywoodland", March 25, 2018, Actors: Abigail Spencer, Matt Lanter and more, The Scene: Lucy sings 'You Made Me Love You'
Kollin: Most fans would probably put Lucy and Wyatt finally kissing as the scene of this episode, but I particularly got the most feels from Lucy singing 'You Made Me Love You.' Just to watch her transform from this woman scared to sing in front of an audience, her shakiness, and then when she looks at Wyatt and feels that love and then out comes just the most beautiful voice. Wyatt's expression as he realized she was singing to him was just so heartfelt and raw, a truly breathtaking and emotional moment in the series.
Bex: Lucy singing "You made me love you". From getting over her initial fear, from not having sung since her car accident in college, to Wyatt's face as he realised she was singing the words to him, it was a beautiful scene, of raw emotion, that helped give these two the little nudge they needed to sort out that pesky UST.

WILL & GRACE, "One Job", March 29, 2018, Actors: Eric McCormack, Debra Messing and more, The Scene: The celebration of Grace's mother's birthday
Shirleena: Grace, her father, sisters and Will celebrate Grace's mother's birthday, who passed away. It started off with the sisters fighting, and ended with the sisters singing their mother's birthday song. What made it an emotional scene was the wonderful and beloved actor, who played girls' mother was Debbie Reynolds who passed away last year.

YOUNG SHELDON, "Killer Asteroids, Oklahoma, and a Frizzy Hair Machine", March 29, 2018, Actors: Jason Alexander, Iain Armitage and more, The Scene: Mr. Lundy takes over Sheldon's role
Claire: Sheldon is overcome with stage fright on opening night of the school's production of Annie. He is the lead, but the theater teacher, Mr. Lundy, played by Jason Alexander must fill in for him. The sight of Jason Alexander in a red curly wig and dress, beard/mustache and all, was hilarious!