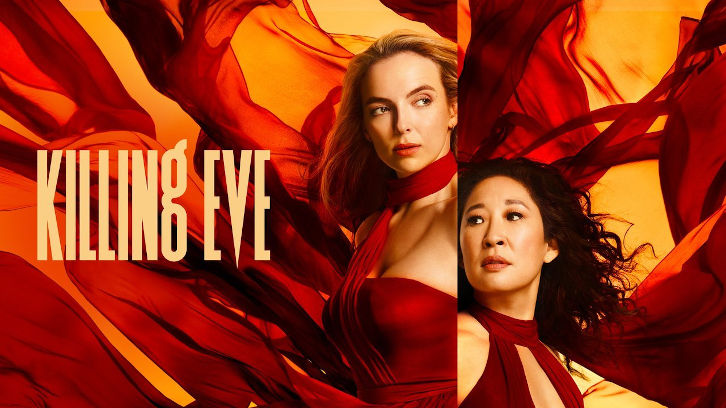 ****SPOILER WARNING – Please note this review may contain spoilers from the first episode of Killing Eve

There are multitudes of series vying for your viewing attention each year. Some good and some great that makes you want to watch each week. Then, there are those that fit into a special category all their own, so exceptional that you don't want to watch every week, you HAVE to watch every week. Tonight's premiere of Killing Eve on BBC America, written by Phoebe Waller-Bridge (Fleabag) based on novellas by Luke Jennings, and featuring stellar performances from stars Sandra Oh (Grey's Anatomy) and Jodie Comer (The White Princess) is just such a series. People will be talking about this show and these two characters for some time to come.


Much like another special series,
Orphan Black
(that also aired on BBC America),
Killing Eve
opens with a very memorable scene. A young woman, Villanelle (Jodie Comer) sits quietly enjoying ice cream in a Vienna cafe, making eye-contact and trying to get the attention of a young girl also enjoying a frozen treat. But, when the young girl's attention is drawn to the man behind the counter who smiles at her, you see Villanelle's whole demeanor change. When her attempts to smile at the child don't get the same results, she calmly picks up an airline ticket, checks her watch wiping a speck of blood from its face, and leaves but not before she reaches out and dumps the child's ice cream in her lap, she exits the café with a satisfied smirk. That simple scene tells you so much about this enigmatic character, played in a masterful turn by Jodie Comer. Villanelle is a Paris-based paid assassin with a seemingly cold indifference to the brutality she dispenses when performing a job. Her attractive appearance and innocent looking face make her the perfect assassin, her targets don't realize how deadly she is until it is too late. Yet, thanks to an exceedingly well-written script and subtle touches of body language and facial expressions from Comer, in an amazing performance, you learn there is so much more to this character than meets the eye. She is cold, she is smart and cunning, but she is also almost childlike in her attachment to her handler, Konstantin (Kim Bodnia -
Watership Down
). She's vain, narcissistic, and enjoys the finer spoils of her work, even perversely buying a silk throw identical to one she admires just before killing a man.
Equally compelling is Sandra Oh, in her first starring role since leaving Grey's Anatomy. American born MI-5 agent Eve Polastri has a nice, safe boring desk job with the protection detail in London. She may be too smart for the job as she often goes her own path with a case, bringing her at odds with her superiors. She has a seemingly loving marriage with her math professor, bridge-teaching husband, Niko (Owen McDonnell-
Paula
). Except, that's not the life she yearns for. She longs to be a spy, chasing the serial killers with whom she seems to be oddly obsessed. Her latest case, a young woman brought to London after witnessing the murder of her companion on a Vienna street, will turn out to be her most challenging. Despite being told to back off her investigation of the murder, which Eve is convinced was committed by a woman, she goes rogue and her actions result in her finally being fired. Fortunately, Eve's intelligence and determination to pursue the case catch the eye of the head of the Russian desk of MI-5, Carolyn Martens (Fiona Shaw –
Harry Potter
). By the end of the episode, Martens surprisingly offers Eve her dream, the chance to become a spy with the Russian desk. She needs someone like Eve to help her division in tracking down a serial killer they and other agencies have been chasing for two years, a young woman they believe to be based in Paris. And, Marten isn't the only one who sees something special in Eve, so does Villanelle.
If the opening scene of Killing Eve, one between Oh and Comer share late in the premiere is the one that says you HAVE to keep watching this series. At a hospital to try to talk to her witness again, Eve leaves the young companion she's brought with her to translate to step into the ladies' room. Inside, tired and exasperated, she stands before the mirror fussing with her hair. Like most women normally do in a public restroom, she nods and acknowledges a young woman in a hospital uniform who comes out of the stall behind her. The young woman washes her hands then stops to stare at Eve a moment as she alternates putting her hair up or leaving it down. Stopping before leaving the room, the young woman turns back to Eve and tells her to leave her hair down. It is such a compelling scene, and the only one Oh and Comer share in the premiere! There is just two lines of dialogue in the scene, but it is the crackling chemistry between these two actresses that leaps from the screen as their acting connection makes this a standout moment of the premiere. What a pleasure it is going to be to watch the cat and mouse game the ensues between their characters, who it appears become obsessed with one another in future episodes.
Killing Eve
is one of those rare television series that grabs you from the first moment and doesn't let go. The kind where people tell you to buckle up for one heck of a ride! What did you think of the premiere of
Killing Eve
? Post your thoughts in the comments below.