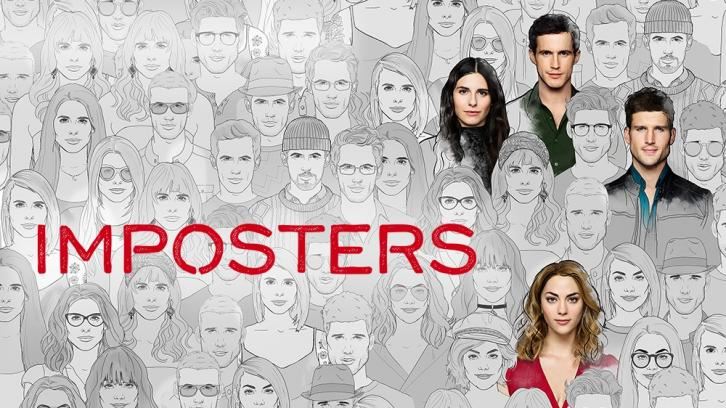 Previously on Imposters, Maddie tried to settle in and open up at the wellness retreat, the Bumblers made some progress in getting back to America as Ezra fell deeper into the con artist life (and bed) with Rosa, and Max was confronted with Sally who is very very much alive.

This week we see Shelley Cohen in hospital where it's clear that he survived Maddie's attack, but seems to be under arrest. A measly pair of handcuffs in an unguarded room aren't going to stop him however, and after uncuffing himself using a syringe he gets talking to the other person sharing his room. His charms make short work of getting Louie on his side, and we see a fully dressed Shelley ready to take on the world and the policeman approaching the room, walking stick ready to swing.

Back at the motel, Sally is interrogating Max on everything that went down after her disappearance. Whilst Max is talking freely to Sally, The Doctor listens in from the room next door. He calls Sally and gives her instructions, which she agrees to. It involves herself and Max leaving the hotel, with Max thinking The Doctor has given him a second chance. Somehow I don't think it's going to be that simple.

In Mexico, Jules meets with her contact at an art commune in order to deliver the pictures she took last episode and get the passports so they can return to America. Herman approves the pictures, but wants to keep things strictly business when Jules tries to tell him why she wants the passports in the first place. They agree on the passports being ready by the following week once he gets more money. Didn't they just raise $5000 for these passports, and now Herman wants more? I didn't realise it would take so much for them to get back and it's certainly going to encourage all three of them to con people more, which won't be good for Ezra at all. As Jules is walking back to the apartment, she notices a street sign that triggers a conversation she had with Ezra; seems like someone has been lying to his friends and he's about to be found out.

Jules, completely suspicious of Ezra, drags Richie along to follow him, where they see him meet up with Rosa (who they suspect is 'R' from Ezra's journal). Jules sees it as a total betrayal of their code and their friendship; Ezra is doing cons with someone else and it's much deeper than just doing it to make money. Jules tells Richie that she's done and returns to the art commune from earlier.

Back at the commune, we see Jules meet up with Esme, where she takes something that leads her to dig up memories of her past, where we see the first glimpse of her sister Poppy. They're the exact opposites of each other on the surface; Jules is the black sheep of the family whereas Poppy is prim and proper and probably the perfect daughter. It seems like they both have their roles to play in the family but it might be something that they're equally tired of.


We return to Maddie, who is still struggling with flashbacks to what Shelley did to her. She attempts to open up in therapy, but clearly isn't ready and ends up walking out. In her one-to=one with Gail, she's asked about the previous night's events and the disparity between what she's saying in the group sessions and what she's been sharing privately; looks like Maddie can't keep her lies or story straight anymore. Gail uncovers exactly who Maddie is and worries that she's losing herself in trying to give other people what they want, which as evidenced in what we say of Maddie in the first season, is absolutely true. Who is Maddie Johnson? She's probably been her job, someone else, for so long that she doesn't even know any more. Gail gives her an assignment - imagine her own funeral and what the attendees would say at it. The only people she imagines there are her parents, and of course Ezra, Jules and Richie. As she imagines Ezra eulogising, what starts as something sweet quickly devolves into something sinister as Shelley shows up. He shoots Ezra and turns and aims at Maddie, before she's abruptly woken up by Linda. I'm going to go out on a limb here and say it wouldn't be out of this world if Maddie comes to realise that she actually does have feelings for Ezra. I can't see it ever going anywhere because they're in two entirely different places in their lives right now, with Maddie wants out of the con life and Ezra seemingly wanting in, but Maddie imagining Ezra talking about love and being scared of losing him doesn't seem that subtle of a metaphor.
Back in Mexico, Richie is playing a game on Ezra's account when he receives a message that makes him run straight to Ezra. Ezra, who is with Rosa, is still in his bubble with with her, but Rixhie's arrival bursts this when he reveals Ezra's real name and the fact that that's not the only secret he's been keeping from her. Rosa, feeling foolish, leaves the hotel immediately. Ezra tries to run after Rosa but Richie stops him and says he has to call his parents immediately. It turns out that phone call is picked up by none other than Max. He tells Ezra that his parents are safe, for now, which makes it clear that the trio are going to have to make it back to America sooner than planned. A trip to Herman suggests that their passports won't be ready before the time he originally stated. The trio walk off to find a quicker way back to the US to try and ensure the safety of Ezra's parents.
We finally see Patrick again, who is definitely being underutilised this season so far. He's still on the hunt for our main con artists and the ring, but takes time out to go to a birthday party for his children. Consumed by his work, his ex-wife gives him a choice between that or his family. It appears that he chooses his family, and requests time off from work in order to give them the attention that they need, which is granted albeit unpaid. I can see this time off somehow being devoted to Patrick going to Ohio to try and find Ezra, which is actually where Ezra will be headed.
Ezra finds his other way to the US in Rosa, who agrees to help him after he explains the situation and the value of the ring. She wants 10% of the worth after he sells it, oh and her name isn't Rosa at all, but she forgives him enough to want to sneak him across the border. Ezra tries to explain how Rosa will help them across the border with the assistance of a coyote she knows, but Richie vetos it entirely, after mixing up a mule and a coyote. Jules agrees that they shouldn't trust Rosa and that the situation seems a little bit too good to be true. Even with Ezra and Rosa lying to each other, he still seems to have rose-tinted glasses on when it comes to her. Reminded of the threat to Ezra's family, Jules and Richie agree to use the coyote, even though it will take their biggest con yet in order to raise the $10,000 they need before the following day. Or maybe not, as Jules decides to contact her family for the money. Surely that is going to open up a can of worms for her.
At the Bloom house, Ezra's brother Josh unexpectedly comes over to borrow some gardening equipment, but noticing his parents acting strange he looks for clues around the house that something might be wrong. He sees Max's reflection in the grandfather clock, and as his parents notice it, they mouth for him to call 911 and send him on his way. Unfortunately he doesn't listen to a word they say and instead tries to be heroic. Try being the key word, as it looks like Max breaks his nose and takes him hostage as well.
Patrick, now on his leave from the FBI, visits Agent Cook who is leading a less than glamorous and fulfilling life following her failings in the first season. He tells her that he thinks he has a lead on Maddie, and asks for her partnership in finding her. She agrees, but only if once they've taken down Maddie, they go after The Doctor as well. They shake on it, and it looks like the two of them will be off to Pennsylvania.
The episode closes with Maddie, refusing to open up about her life, chooses to leave the wellness centre. Linda tries to persuade her to stay, even offering to pay for her treatments after Maddie tells her that it's the cost of the place that is making her leave, but Maddie chooses to walk out the door anyway. As she retreating from the grounds, flashes of Shelley plague her and she starts running in order to escape something that isn't even there. She just about makes it to the main road, where we then see her turn back and return to Gail for thera[y. Her PTSD and lack of escape from her past life is definitely an important storyline, but whether the show will allow it to pay off in a meaningful way still remains to be seen.
'Old Unresolved Sh*t' shows some of our main characters making personal progress, and slowly getting closer to both professional and moral redemption, but still seems to be lacking the fun of the first season. Are you enjoying this season so far? Do you think Patrick will be able to take down Maddie and The Doctor by the end of the season? Let me know in the comments.