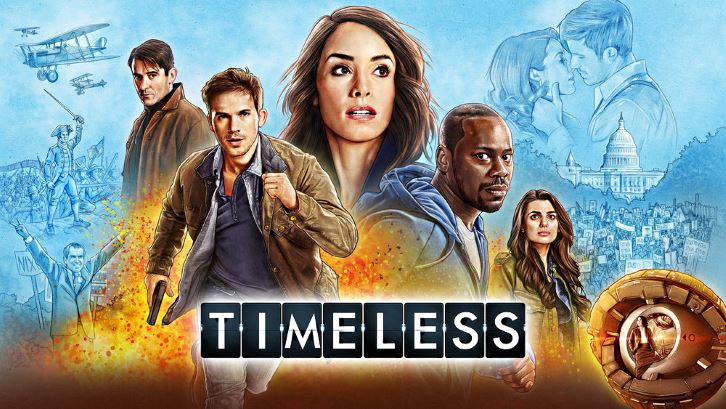 Timeless
returns at its new time on
Sunday, March 11 at 10/9c on NBC
for its miracle second season with "The War to End All Wars." The episode was written by the team of Arika Lisanne Mittman and Tom Smuts and directed by Greg Beeman. The show has absolutely terrific period costumes and sets and we're treated to a fun history lesson – though you have to pay attention or you'll miss it while following the main storyline.
The episode begins with a WWI dog fight and then we hit the ground and one of the wounded soldiers is not who he seems. Rufus (Malcolm Barrett) and Wyatt (Matt Lanter) are in the Lifeboat and ready to jump, but they can't find Lucy (Abigail Spencer).
There's a six week time jump. Wyatt is injured and very angry. Rufus is frustrated – but keep an ear out for a shout out to the fans – the Clockblockers!! Look for Rufus and Jiya (Claudia Doumit) to be as cute as last season!
The teams on the Lifeboat and the Mothership have changed. Flynn (Goran Visnjic) doesn't figure much in this episode, but Emma (Annie Wersching) figures prominently in the episode. Susanna Thompson is back as Lucy's mother Carol and looks to have a substantial role to play this season.
Lucy is forced to do something shocking. And she finds another historical figure to geek out over – Marie Currie (Kim Bubbs)! Rittenhouse is determined to acquire Nicholas Keynes (Michael Rady) who is important to the past, present, and future.
I don't want to give too much away because the surprises in this episode are so much fun! But to end, I will pass along a plea from Eric Kripke. In addition to thanking the Clockblockers for getting season two, Kripke has also asked that people watch season 2 live or within 3 days of the airing – because those are the ratings that NBC will be watching. In order to get another season, it's going to take cold, hard ratings. So make sure you continue to tune in and live tweet when you can, but even more importantly, keep convincing everyone you know or meet that this is a terrific show! If you like adventure, history, or science fiction, this show has it all! So remember to tune in
Sunday, March 11 at 10/9c on NBC!
Dialogue Teasers!
This is not helpful. You are not helping right now.
I don't recommend travelling on a full stomach.
Let's go change history.
There is no room for error here.
Get him out of here.
You're a better shot than that, Emma.
We're historians!
You can't smell history in books.
You're French is terrible.
I thought this would be a little easier than hotwiring a car.
You're in love with Lucy! Just admit it!
So you're not a monster? You just collaborate with monsters?
Be on the right side of history.
The only thing you do by leaving, is give Rittenhouse another opportunity to kill you.
You should take a break. Get some rest. We don't need you getting another one of those headaches.
Yeah. We need our historian.