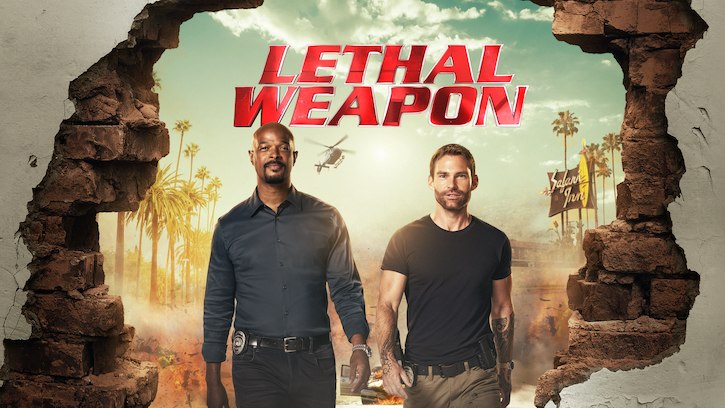 Welcome Back! So my Olympic hangover lasted a little longer than I thought, so I am treating you to a double review!

An Inconvenient Ruth
This episode was a lot of fun with the dynamics between Ruthie and Riggs, I loved the chemistry that Swoosie Kurtz and Clayne Crawford had. This episode was also a bit painful to watch as a fan of Trish and Roger's relationship. I understand what Roger is going through but when we met him, he was so worried about coming home to his family after his heart attack and it seems one time getting mistaken for Harper's grandfather made him forget about all of that. The case of the week was kind of easy to figure out but gave us some great moments with Ruthie and a Freaky Friday sort of situation with Riggs and Murtaugh.

Meet Ruthie

Murtaugh and Riggs show up to the scene and are introduced to Ruthie. Riggs starts to question her but she is being evasive. Riggs feels off of his game because that help he asked for has led him to quit drinking and he is now shooting full whiskey bottles to make sure he still has his edge. When he misses one, he storms into Cahill's office and asks her to slap him. She is apprehensive for a split second but gives in and it was probably a bit of a release to do that to a guy who is arguably her toughest patient. Riggs admits that he uses self-harm like drinking and digging things into his finger nails to feel anything. Cahill is very worried about this behavior but once again he takes the consul she tries to give and twists to suit his needs. When he meets Ruthie, it is obvious he's met his match. She is not cooperating with the simple questions Riggs is asking, so he goes into her RV to check her registration and leaves the door open to be clipped by an incoming car. We will discuss more of their shenanigans shortly but we must talk about Roger's deep decent into full on mid-life crisis mode.
Harper's Grandfather?!?!
Grandfather
to Harper. One should never assume such a thing and that guy was kind of a jerk but what Roger does next is hilarious and for Trish, infuriating. He tries to take Harper down the slide and gets stuck! This is just the beginning of his attempts to invert his age of 52 to 25 and it causes big troubles in his personal life.
While investigating the case, Roger decides to bring out his inner Riggs by jumping on the top of a self driving car, taking it upon himself to dispose of a bomb with his bare hands and running back into a gasoline soaked cabin for a little boy's cat fracturing his ankle in the process. Oh and at a birthday party for one of Harper's friends he also destroys a bounce house whilst trying to challenge perfect firefighter guy. I found his continued reckless behavior funny at first but I began to worry about how much he longed for these things to be on film to show what a badass he is. This is a man with a beautiful wife and three amazing kids, he shouldn't be doing this to prove he is a young 52 and it even seems to worry Riggs so you know we are in trouble!
When he returns home that evening, Trish is not very happy and even left him at the hospital once she saw him hamming it up with Bowman and Avery about his glorious explosion moment that was caught on film. She tells him that she got that call once before when he had his heart attack and she doesn't want to keep doing this. Roger doubles down and tells her he isn't going to stop or apologize because he feels very alive. This earns him a trip to the couch because if Trish is going to eventually live without him, she might as well start now. I am totally team Trish here, I get that Roger is a cop but the risks he took were unnecessary and he is being a bit selfish.
Ruthie and Marty
Once her RV is repaired and Riggs realizes during the case that he hasn't lost his edge, he feels good about where he is and even attempts to be a little Ruthie-like and skinny dip in the ocean. He drops the robe that Ruthie stole from the hotel and is about to take the plunge when his new neighbor at the RV park drives up..... Ruthie! So she's sticking around and it makes me happy.
Case Notes
As for the case this week. It revolved around the couple in the jewelry store. The husband is the suspect at first when a hit is put out on his wife via the dark web for insurance money but in actuality it was her scamming her husband Herb. She stages a kidnapping and Riggs figures it out when he is rescuing her. Herb is freed and the wife is shot by Riggs at the gas-soaked cabin and taken into custody. Another win for team Lethal Weapon!
Ruthless
As the title teases, Ruthie has stuck around and taught Riggs the art of playing
Mah Jongg
. He is really enjoying her company and far-fetched tales of interactions with celebrities and I have to admit it is pretty cute. Murtaugh is even teasing him that he is in a new relationship! This comes a screeching halt when Ruthie gets a call and says she has to leave today. Riggs is not going to let this go because the phone call sounded a bit ominous with Ruthie discussing money owed. Roger is still on the couch and his kids are fed up but neither their mother or father are budging in this stand off. Also, Avery gets to commiserate about crazy subordinates under his command with an old college friend who works for the ATF and it was hilarious watching them compare problem children.
The Art Of War
The Art of War
has taught him, you must not give in to your opponent. To further get under Trish's skin, he has taken up riding his motorcycle again and is subjecting the kids to two separate dinners a night, which is just fine with RJ. I am just getting fed up with Roger's line of thinking here, Trish is right and he knows it. This is just getting out of hand and he continues to dig in and not budge.
Trish being the amazing woman she has easily gotten Riggs and Avery on her side much to Roger's annoyance. They are telling him he needs to cut it out and apologize ASAP but he will not because of his pride and because of that stupid book. Trish also takes out her frustration on Roger's bike by 'accidentally' hitting it in the driveway to which Riana takes her to task about. Riana really shows some great maturity in this episode and she is growing into a lovely young woman, with her skills she could either be a lawyer like her mother or a detective like her dad. By the end of the episode, Trish makes a nice dinner for Roger and they talk and make up but Roger's impulsively gets him again when Riana walks in and wants to know whose car that is. Well it is Roger's that he bought without asking Trish! The war seems to be back on.
Take A Load Off Annie
Once Riggs realizes he may be trying to hold onto Ruthie, he shows up to take the boot off her RV and Ruthie apologizes for being so harsh. She makes a great point that Riggs may not be afraid to be alone but afraid that he put down roots here and that isn't a bad thing. Ruthie was so good for Riggs in many ways, she challenged him and also was there for him even if they both wouldn't admit it. They are cut from the same cloth and while at times it was a disaster, it was also kind of heartwarming. For her parting gift, Ruthie gives Riggs her
Mah Jongg
game and tells him maybe he will find someone to play it with. He doesn't have to look very far for a partner because Murtaugh shows up with an overnight bag to crash with his bro and they play a round, roots indeed.
Case Notes
This week we had a case that revolved around a gun buy back in the city. A group of guys decides to rob it and one of them ends up shot. When Murtaugh and Riggs investigate, it turns out the shooter is an undercover ATF agent that has gone off the rails named Booker. This is when Avery gets to have that aforementioned competition with his old buddy about who had it worse. Booker had shot the guy when he was about to shoot a uniformed officer and was desperate to catch the gang king pin. Roger got to regale everyone with tales of this two weeks undercover when he used the alias
Randy
who may have inspired Denzel's character in what I can assume was the movie
Training Day
(highly doubtful given the fact he only rode with Rog for one day). Anyway, Booker loses it when he can't get out there and finish off the case and abducts Roger, leaving him in an elevator where Riggs saves him. They end up taking out the bad guys at a club and Avery wins the 'who has it worse?' contest when Riggs behaves like... well.... Riggs!
So what did everyone think of Ruthie? Are you Team Trish or Team Roger? Let me know!