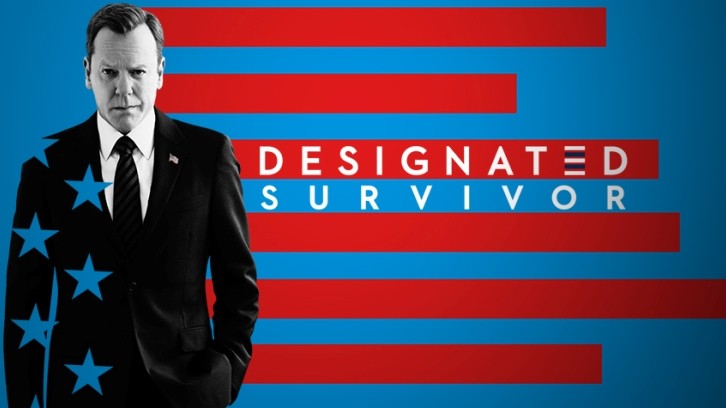 This review will quickly catch up on the last two episodes of
Designated Survivor
. "Original Sin" was written by Ashley Gable and was directed by Bosede Williams, who moves from Script Supervisor to the director's chair. "In the Dark" was written by Bill Chais and was directed by Carol Banker, whose other credits include
The X-Files
,
Code Black
and
NYPD Blue
. Both episodes play on their titles in multiple ways. I'm still underwhelmed by the continuing secondary storyline involving Hannah (Maggie Q). I'll admit the on-going hacking is doing a better job of tying it in - but I still ask whether it's necessary.
"Original Sin" refers to both the on-going restitution owed to the indigenous peoples of North America – the original sin committed by settlers – and the 'original sin' of Cain and Abel – reflected in the drama between brothers Tom (Kiefer Sutherland) and Trey (Breckin Meyer). Meyer is a terrific addition to the cast, and I'm really enjoying the brotherly chemistry between him and Sutherland. For once, the title also has a connection to the FBI plot as Hannah learns that Damian (Ben Lawson) also slept with his Russian handler – Valeria Poreskova (Nora Zehetner) – so the original, original sin. But I'm am NOT happy about this part of the plot degenerating into a "woman scorned" plot.
Lacy Cousins (Tanis Parenteau), the Ocheole Tribal Chairwoman begins a sit-in at the White House during a tour, and the incident soon blows up to include a further 60 tribes protesting outside the White House. While Parenteau isn't Ocheole, she is Metis, so I was very happy to see her cast in this role. I was also very happy to see Tom get on board on the right side of this issue. I also liked how they wrangled the land use into his sphere of interest because it all went back to an early contract with Tom's company.
We meet Tom's first hire at his fledgling architectural business – Billy Winton (Ari Cohen). This makes a nice contrast with the other person from Tom's life we meet in the episode – Trey. It appears that Tom is very much closer to Billy than Trey – but it also turns out that Tom and Trey are more in tune with their values. It was also nice to see Nigel Bennett guest star as Alton Prast, Tom and Billy's client who is about to launch stage two of the project that will evict the Ocheole from their land once again.
I thought the show did a very good job with this issue. Indigenous people are tied to their land through cultural practices and to each other through the land. This doesn't mean that they have the same relationship with buying and selling land, however. It is also a clearly demonstrated fact that tribes do disperse when they lose traditional lands. It's also a serious issue that treaties are often not respected, so I loved that Tom – and the team's – solution was to fall back on an original Spanish treaty to restore the lands to the tribe.
Tom is particularly disturbed when he finds out that Billy kept a letter from the former leader of the Ocheole from him. It was nice to see Tricia (Chelsea Harris) get to play the important role of finding the letter. This incident spurs Tom to address the leak of the video of him confronting the man responsible for Alex's death at the prison.
Trey shows up at the White House as a trustee of the Foundation that Alex established in her will. It seems clear that she was hoping to bring the brothers back together. Trey slows the Foundation business until Kendra (Zoe McLellan) gets Tom to meet with him. This was Trey's plan all along. Kendra points out that Alex must have liked Trey because all the people who were named as trustees were those close to Alex. Tom initially avoids the meeting by naming Kendra his proxy.
We get to see Leo (Tanner Buchanan) invite Trey to a game – and Trey sidestep it. Leo points out that his mother's death should bring the brothers together and tries to get a commitment from him to stay. Trey insists that he's just a phone call away, but he does seem to be living up to Tom's accusation that he's a "runner."
Leo asks Tom if he asked Trey to go away. He tells his father that he doesn't make Trey feel welcome and points out that the two brothers are very much alike. Leo also calls Tom on talking about the importance of family, but not doing anything about their own. We also learn that Grandma has returned to Paris – so much for her grandkids! In the end, Tom calls Trey back and the two brothers begin to mend their fences and learn about each other.
I actually really liked Lyor (Paulo Costanzo) in this episode. He quickly ensures that the protestors are treated well – the White House endorses civic engagement! I also liked him complaining that he hates a free press – because CNN saw the protest, they will get a meeting with the President. This is a nice slam against the current administration and their utter disdain for the Press.
But the nicest bit with Lyor was his interest in the Wesleyan Applicant (Forrest Goodluck). He engages with this young man who is doing more than simply sitting for the sit in. He gives him the kind of encouragement that we learn in the next episode that Lyor would have gotten from him own father. In the end, the Applicant takes only some of Lyor's advice about his entrance essay. He doesn't write a boring piece on what he wants to be when he grows up – but he also doesn't really write about the sit in. He writes about Lyor being "a petty Despot!" And Lyor loves it! I also liked that Lyor didn't just step in and say, hey, I sit on the board at Wesleyan and I'll get you in.
In the Hannah storyline, they get her investigating the video hack at the Prison – which is an excuse to get Damian out of prison and into an ankle bracelet. They put him up in a safe house to use him as bait and Hannah kills the assassin when he shows up – I guess it's a good thing that Damian chose to wear a towel to come down for his midnight snack… Damian isn't happy to be used as bait, and the only thing that they get is the assassin's laptop, which contains the signature hacking code, but then explodes.
Damian maintains that what he had with Hannah was real, but she doesn't believe him. However, in her meeting with Valeria, Hannah is adamant that Damian be protected – she isn't willing to give him up to the Russians because she's convinced that they'll kill him. Valeria warns her that Damian will compromise Hannah the same way he compromised her – and is adamant that both Damian and his knowledge belongs to her.
"In the Dark" is about a power outage – so a pretty obvious meaning to the title. But there are also other echoes about people learning things that they are 'in the dark' about. Naturally, the power outage is the latest iteration of the hacker. It feels like Hannah is just bumped around to the crisis of the week, but at least that crisis now seems to revolve around the hack – which is taking a painful amount of time to be wrapped up – though we do seem to see some progress here.
Damian is able to get out of his ankle bracelet and take off – giving us yet another scene in which Hannah refuses to wait for back up. Chuck (Jake Epstein) repeatedly warning her and her repeatedly ignoring him is getting old. We get it. She's too brave (or stupid) for her own good. Move on. Thinking that Damian is behind the entire hack, Chuck uses solar powered traffic cameras to track his stolen car. Also getting old? Chuck's jealousy of Damian. Hannah finds his wrecked car – done on purpose so she could find him – and Damian with a gun on a dead guy. Damian has killed the guy and Hannah finds her address on the body. Damian has stopped the assassin from killing Hannah.
Damian is able to tell them that Lou Kinney was hired by the hacker and Ray, his brother, was trying to avenge him, but he doesn't know who turned out the lights. Damian insists that he only ran to try to protect Hannah. Chuck realizes that the code he identified as Alan Turing's birthday – and really? Who doesn't know who Turing is? Does Hannah have to be a mindless jock too? Regardless, Chuck saves the day by recognizing it as a call and response that can turn the lights back on. Hannah goes to Valeria and tells her that she knows she tried to have her killed. Valeria tells her that Damian asked her not to do it, and Hannah tells her that if she tries again, she better not miss.
Lyor and Emily (Italia Ricci) go to see Japanese Finance Minister Omono (Clyde Kusatsu) about an extension for a $600 billion bond loan that is due at midnight that night. The two are trapped in an elevator during the blackout after Lyor pisses Omono off enough to deny the extension. The two demonstrate their different reactions to the situation and we get some insight into both of them. Lyor points out that Emily often mistakes motion for progress. He criticizes her management technique as overkill. Emily fires back that she believes in rules and he doesn't think that they apply to him. Lyor insists that thinkers have special dispensation. But he also thinks that she should run for President one day.
Later, when Lyor specifically asks for an African Violet colored mentos, Emily accuses him of being annoying. Lyor insists that he is simply precise. Lyor then goes on to tell the story about how he built the Parthenon as a 10 year old for a school project – and learned conversational Greek! His father carefully studied the project for some time before remarking that Lyor had gotten the columns wrong. Emily thinks that his father was too harsh, but Lyor saw it as a compliment. The story sheds light on Lyor's character – and why he is so precise – and over thinks things. He also won't take the candy after Emily touches it!
Meanwhile, back at the White House, Tom is trying to deal with the city being in the dark. Aaron is doing double duty as Chief of Staff in Emily's absence and Homeland Security. This is not a great chain of command decision as this is precisely when he shouldn't have to wear two hats… but we'll let that go. DC Mayor Eleanor Darby (Aunjanue Ellis) comes to the White House, and Tom sets her up with a command center in the Truman room so that she has power to deal with the crisis.
When things go from bad to worse, Tom wants to send in the National Guard, but the Mayor begs for more time. She tells him that federalizing the crisis isn't the answer. He'll simply alienate the public. When Tom insists, she pulls back all her officers. Tom insists that they should be working together. She asks for one hour and she'll call in all her people – reserves and off duty police too. Tom thinks they should be declaring Marshall Law, but gives her the hour.
When the Mayor fails, Tom thinks there is no alternative. The Mayor is devastated and remarks that it's an indictment of the city and the people – her community. Tom seems surprised that she lives there – there is a residence requirement, so not sure why this is news – but she has a vested interest – I'm also not sure why the Mayor would live in the worst part of town… At any rate, Tom asks Mike (LaMonica Garrett) if he could protect them – so no way this would be happening either. Yes we can send people into a riot and clear it to be safe for you within 10 minutes – um. No. Let it go…. The two show up and on camera distribute blankets, water, and baby food to the refugees.
The two then hold a news conference, emphasizing that the Mayor lives in the city – and it's home for both of them. Neither are leaving. As they deliver their stirring speech – to a pretty sparse crowd – the light come back on to cheers.
The next day, Tom, who has been looking for a new Vice President and didn't want to name someone not elected, announces the Mayor as his choice for VP. I have to admit that I was worried he was going to nominate his brother! This is a better choice on a number of levels for the show too.
Meanwhile, Trey has told Tom that he's staying in DC because he got fired from his job. Tom later learns that Trey actually quit. He is committed to being there for his brother – another secret out into the light! Trey also takes care of Penny while Tom deals with the crisis. In fact, Trey is the one to solve the problem with Omono.
Kendra tells Tom that Omono has rejected the extension. Kendra also fails to stop the markets from opening on time to buy them time to solve the problem. When Omono comes to the White House so that Tom can make a personal plea, he learns that Trey has already secured the extension. Omono got to know Trey years ago when they worked together on a financial matter before Omono was in politics. Trey has reminded Omono that Japan extended the bonds to the US because they were betting on Tom – no the country – and Tom's word is his bond. It was a really nice vote of confidence by Trey.
Finally, Seth (Kal Penn) is still in the dark about his relationship with Emily. He's worried about her when she disappears during the blackout and goes to her office to leave her a note. He finds a signed copy of All the President's Men with a note addressed to him. Emily's assistant Sasha (Jenny Raven) tries to shoo him out, but Seth realizes that it's a six month anniversary gift! They aren't broken up, broken up – and really how does one become this clueless about their own relationship?
Seth struggles to find a gift for Emily – he really is in the dark when he buys her power bars. Kendra sets him straight that that will only make her think he thinks she's fat! Kendra advises him that she just needs to know that he's thinking about her.
In the end, Seth gives her an envelope with all the tickets and events that they missed because they were working. How many things did they go to? Who attends that many things in 6 months??? It is sweet, however, as Seth tells her that he didn't mind missing any of them because he didn't miss anything – after all, they work together! He doesn't care how they are together as long as they are together. It's clearly just the right gift and sentiment as Emily extends her hand to lead him… home? Clearly, she's made her decision that they are on again.
I thought these were two solid episodes. Maybe not perfect – but these are the flaws that the show has to balance off its many strengths. I really like the addition of Meyer. I'm not as taken by Ellis, but I do like her as a choice for VP. I enjoyed the insights into Lyor's character. The second episode nicely informed his advice to the Applicant in the previous episode. What did you think of the episodes? Can Damian be trusted? Are you happy to see Seth and Emily together? Do you like the addition of Trey to the Kirkman family dynamic? Let me know your thoughts in the comments below!